How to Choose Your Christmas Color Scheme
It's Christmas in July!
Too soon? Not for me! I love thinking about the upcoming holidays and planning for all of the fun decorating that is in store! And, I love planning my Christmas color scheme for the year!
I have some very talented friends who are joining me today in sharing Christmas decorating ideas. Don't miss any of their posts. I promise…AMAZING!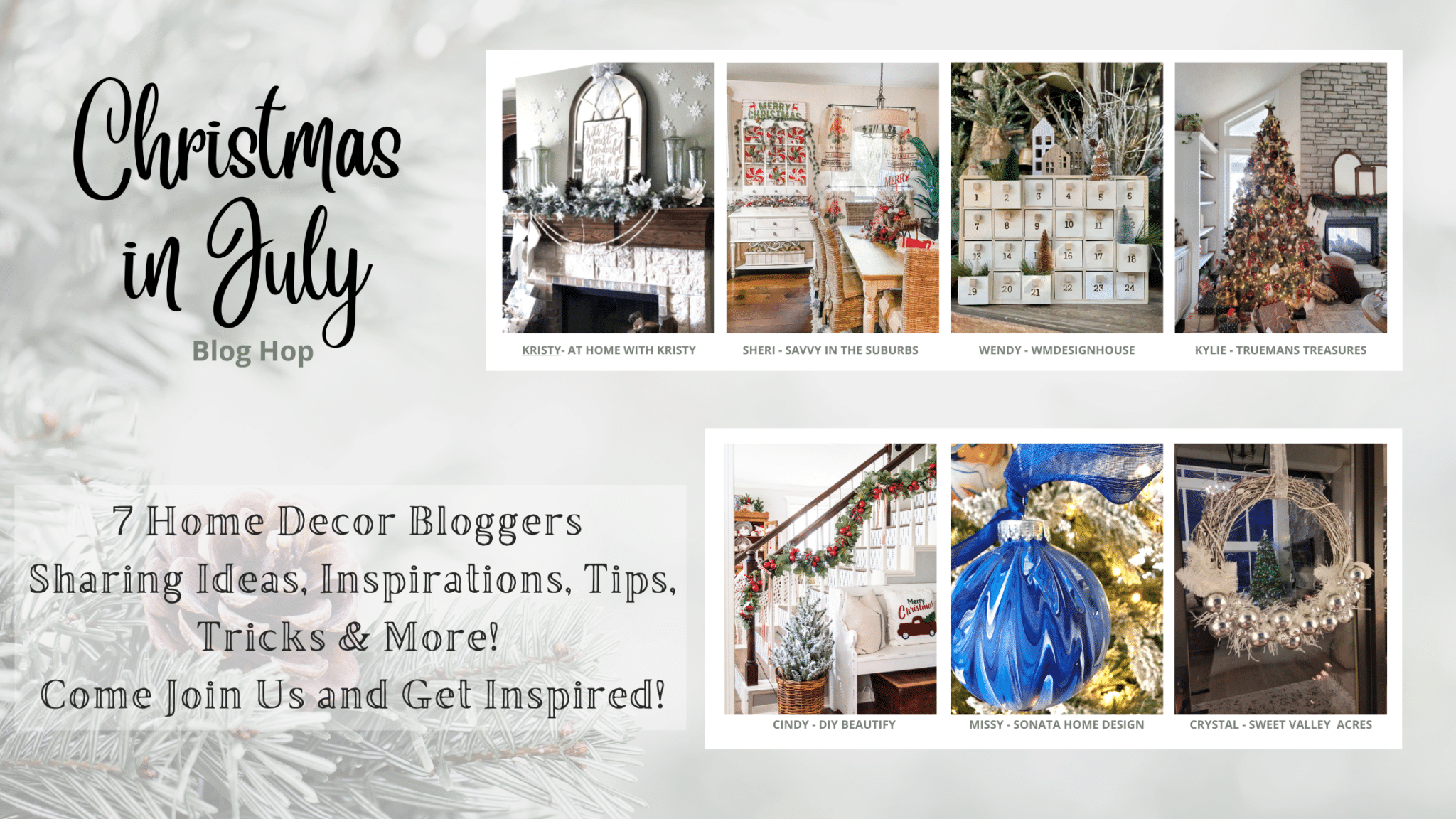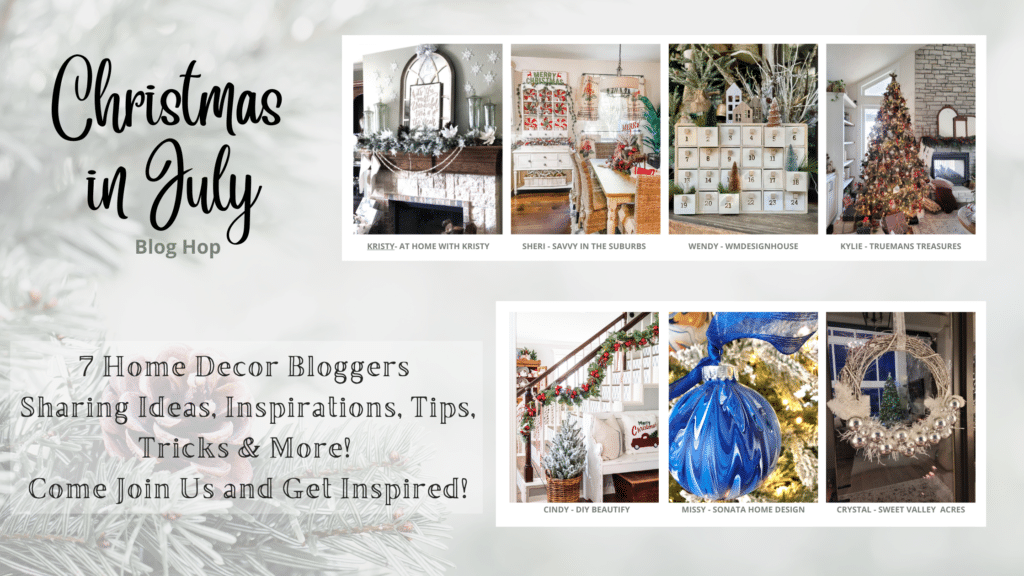 If you are hopping over from Cindy at DIY Beautify…Welcome! It is so fun to share Christmas in July ideas and Cindy is not short on fabulous inspiration!
Christmas in July is all about the anticipation but in my mind…
…it is also about the planning!
Does anyone else feel like, once July 4th is over, the world hops into warp speed?
Back to school, Halloween, Thanksgiving…Christmas!
So, embrace Christmas in July and start the planning now! Starting with…
…your Christmas color scheme!
Choosing a Christmas Color Scheme
Selecting the colors you will use in your Christmas decorating is one of the joys of the season. Even when it is 6 months in advance!
So many options!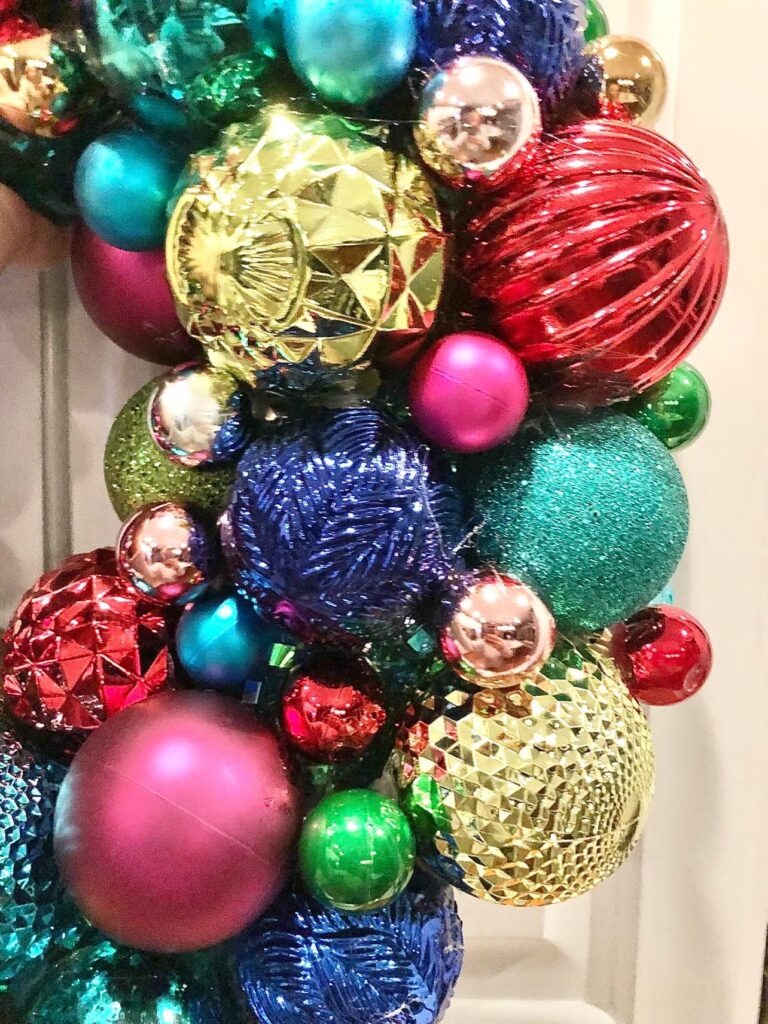 If you are like me, you have a few boxes of Christmas decorations…"few" being an understatement!
Of course, you will want to use what you have purchased, created, collected, and stored over the years.
But sometimes it is a good idea to step back and re-imagine how they can be used within a new color scheme. Here are some inspiration sources:
Find inspiration in what you already have. Sometimes that could mean a single ornament, a special family photo, a travel souvenir, or a favorite keepsake.
Look at your holiday gift wrap! What colors and patterns have you been drawn to when wrapping packages in the past?
Check out your pillows. The decorative pillows you use in your home are a certain give-away to colors that you love!
The same goes for your closet! What colors do you wear every day? Chances are…if it looks good on you, it will look great in your holiday home!
Open your photo albums. Nostalgic decorating never goes out of style! Take a walk down your childhood Christmas memory lane and recreate your favorite color combos.
Choose a special ribbon or ribbons that you really love. Pull colors from the ribbon and then USE the ribbon in your Christmas decorating. It becomes the literal "thread" of your home!
Jump onto Pinterest for a never-ending stream of color inspiration. (Wink, Wink…Would LOVE for you to follow Sonata Home Design on Pinterest! I have lots of ideas!)
So what are good color schemes for Christmas?
Oh, my friend, I've got you! Let's pull some colors from the crayon box!
Traditional Christmas Color Scheme
Red, green, silver, and gold are traditional Christmas colors that will never go out of style!
Here is a tip…incorporate various shades of these traditional colors for a modern twist.
This ornament wreath has all the red, green, and white goodness! But notice that there are several shades of green, several textures of red, etc.
The ornaments themselves range from lights to darks with lots of fun textures and color tones.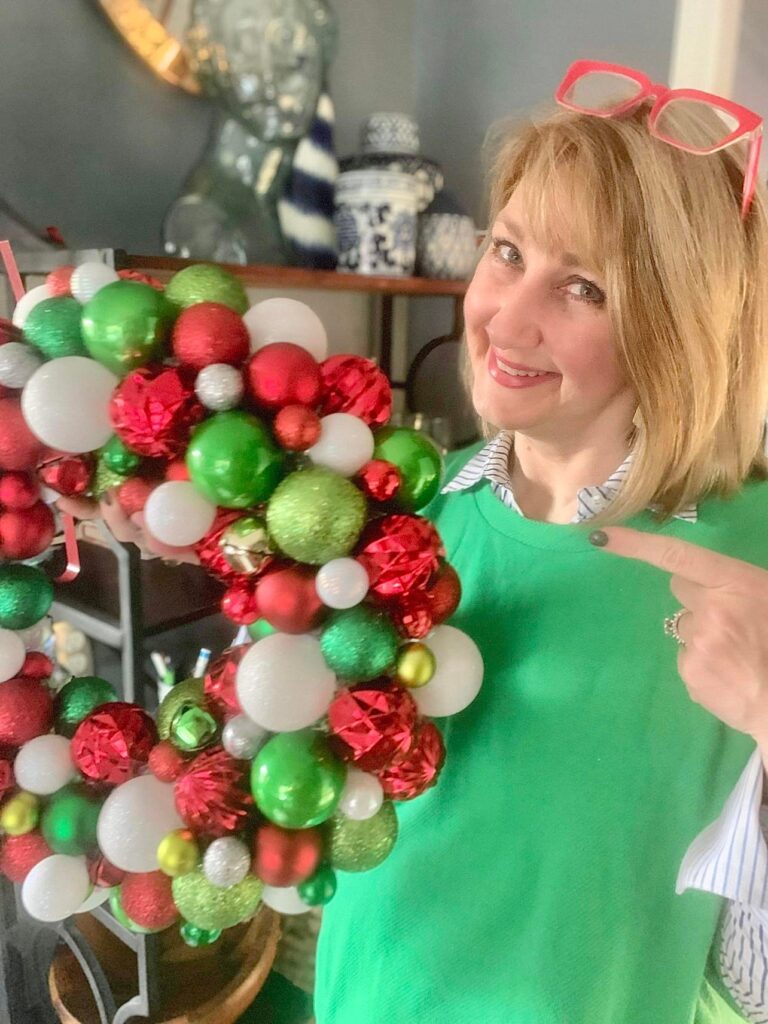 Red and white are cheerful, whimsical, and energetic!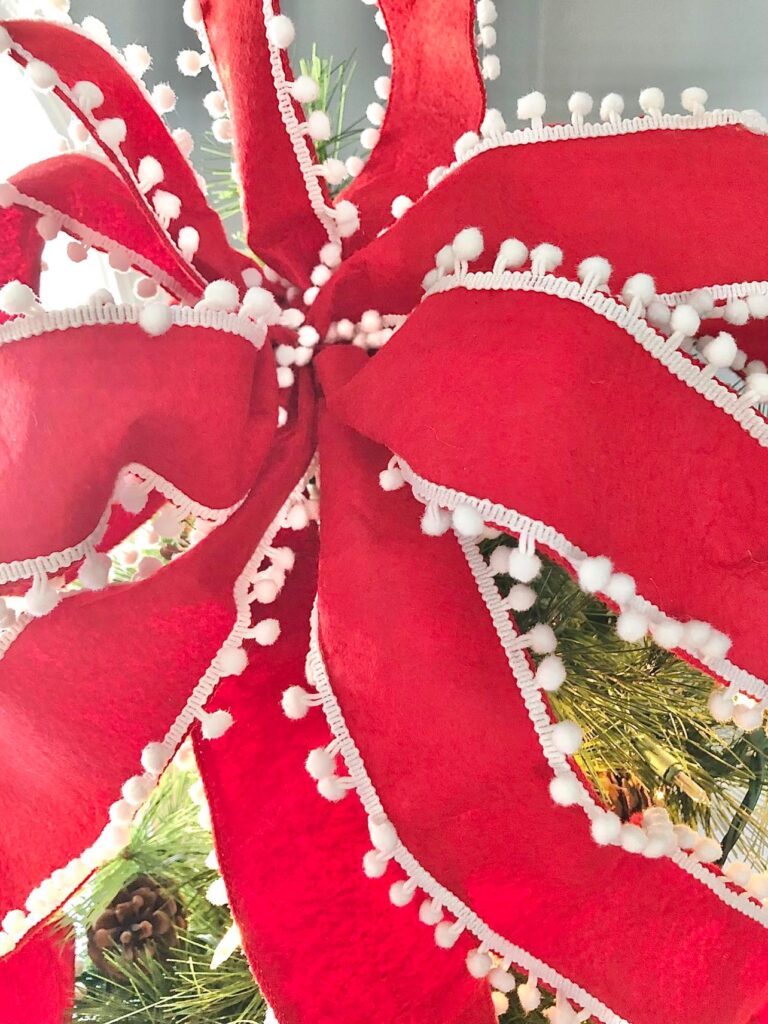 Add some shades of blue to your red and white palette!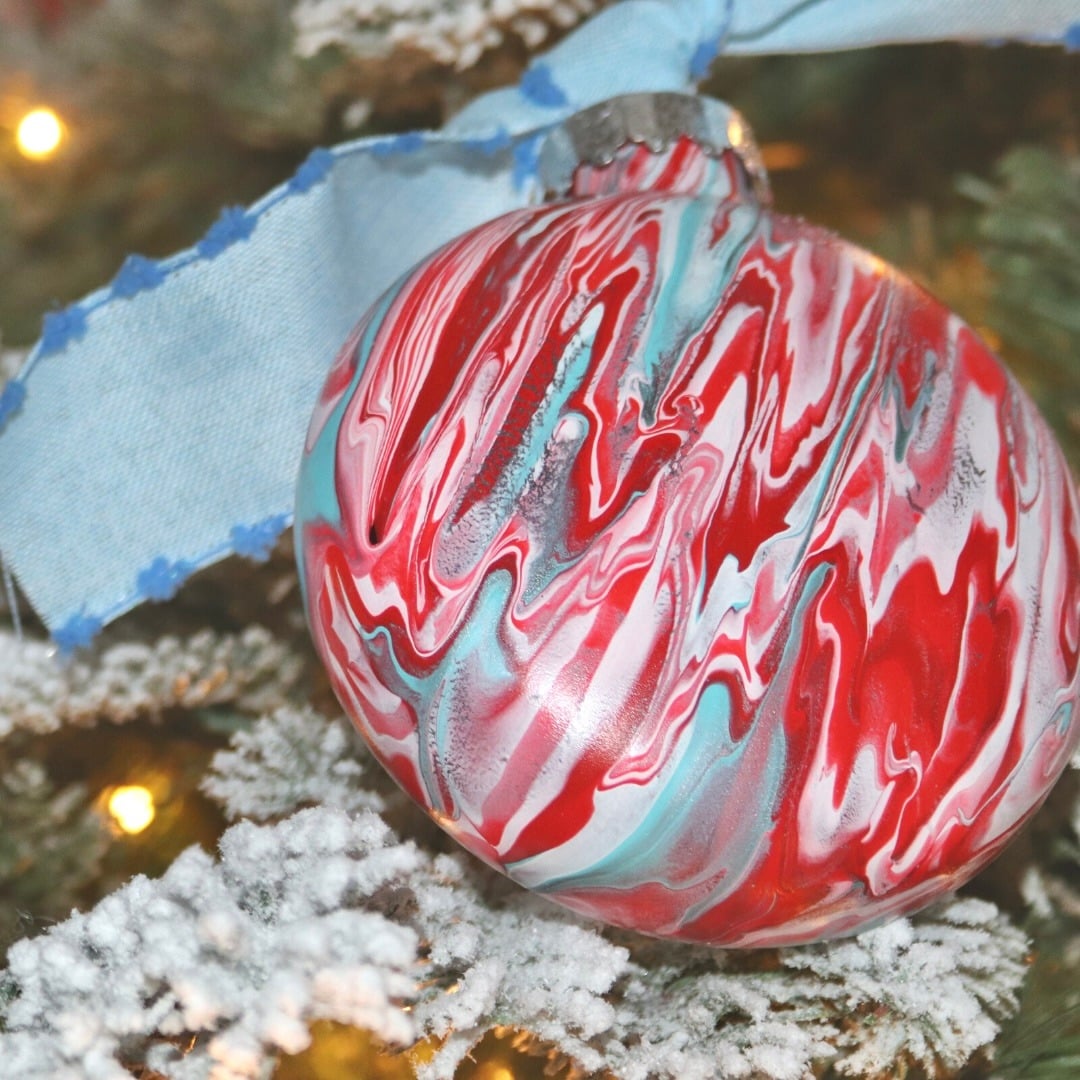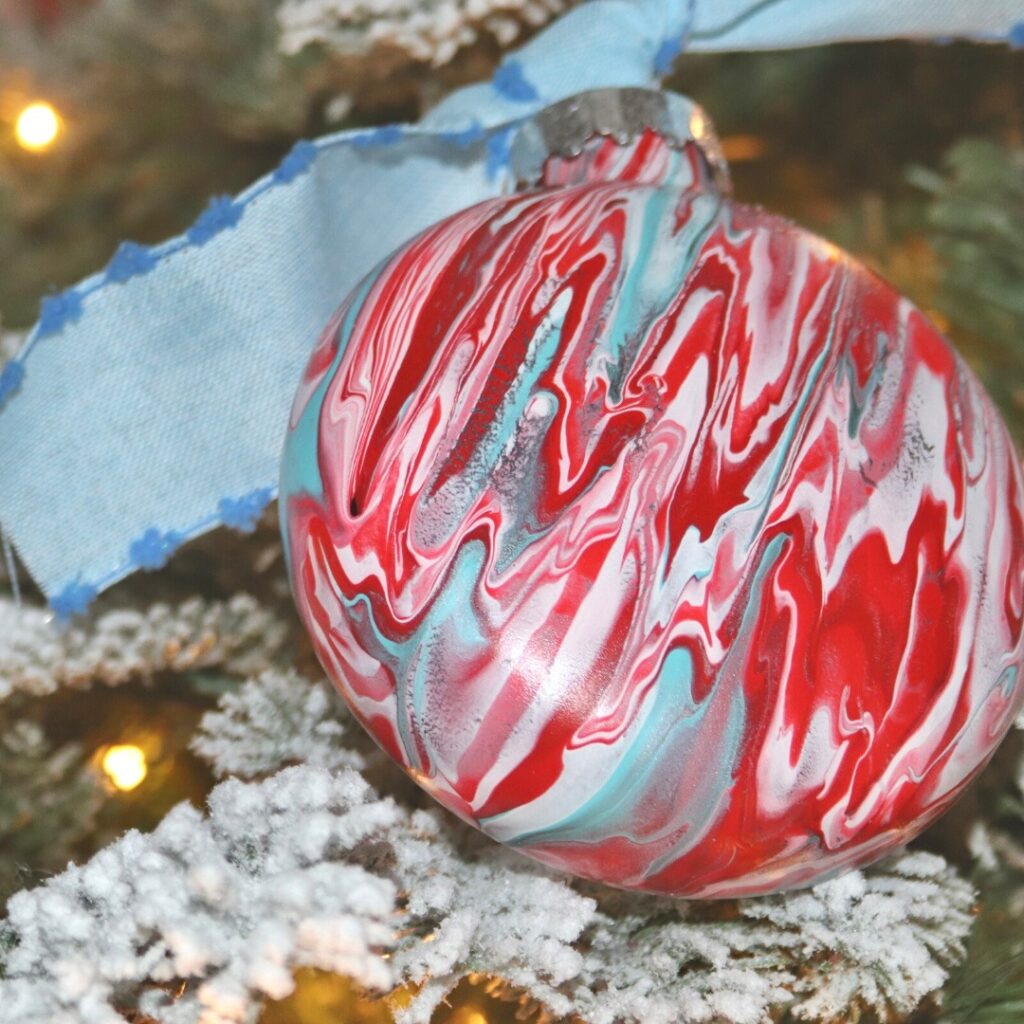 This pillow and throw get a traditional twist with a bold black and white buffalo plaid pillow.
The key here is that the pillow is edged in red. I want to jump into this cozy goodness with a book, hot chocolate, and our dog!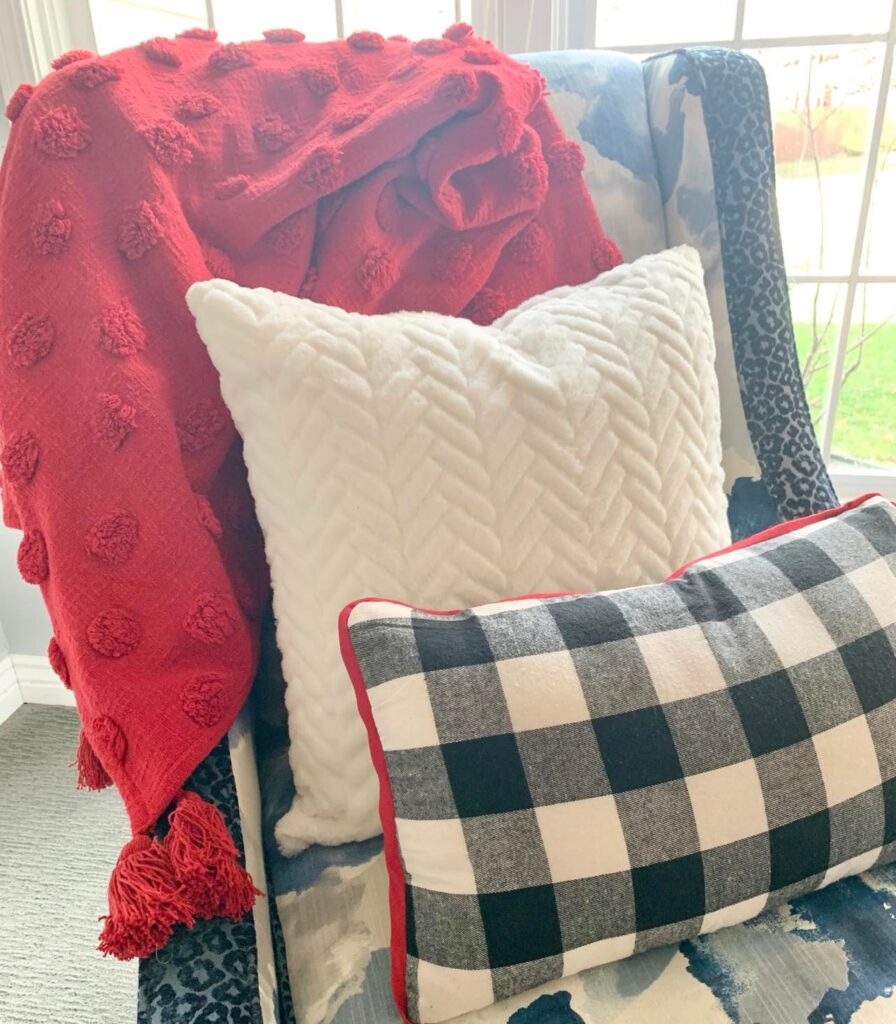 Speaking of Plaid!
No, plaid is not a color, but it often incorporates many of the traditional Christmas colors.
Your use of plaid can be as small as a ribbon on a lantern…
…or as bold as an entire bedding collection!
Traditional red and white plaid gets a little kick from some blue…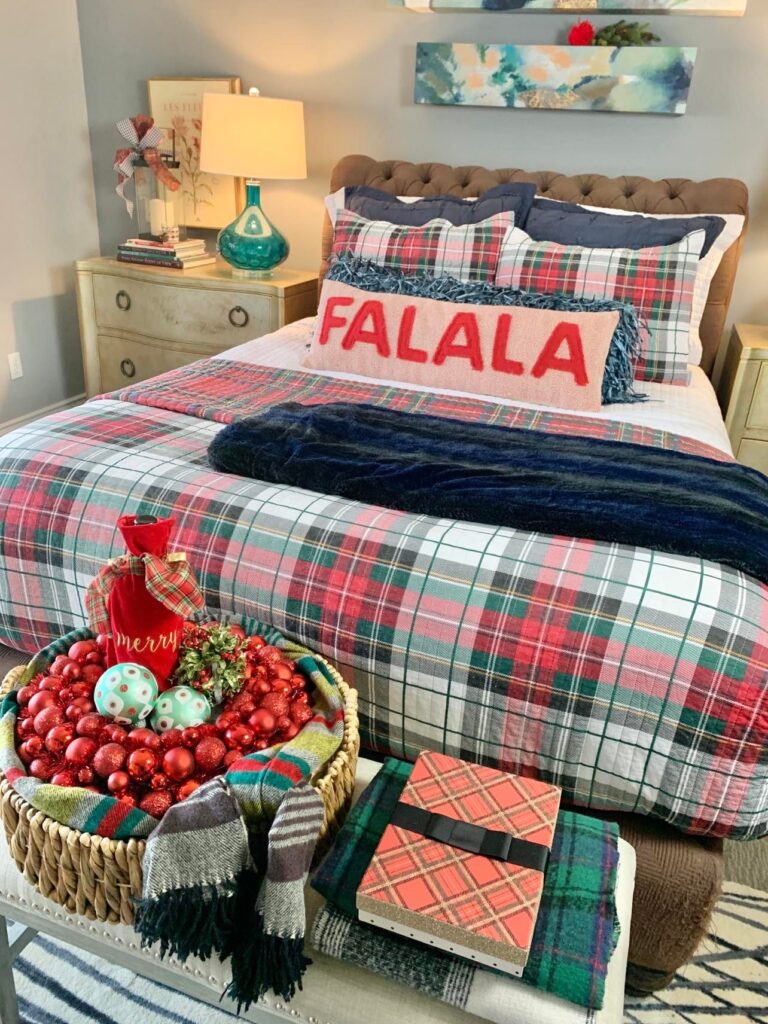 And Now for Some Blue!
Let's invite the color Blue to the Christmas party!
Blue can reference a midwest falling snow or bi-coastal ocean waves, Frosty the Snowman, or North Pole elves!
The color blue pairs beautifully with silver, white, and any icy shade in between.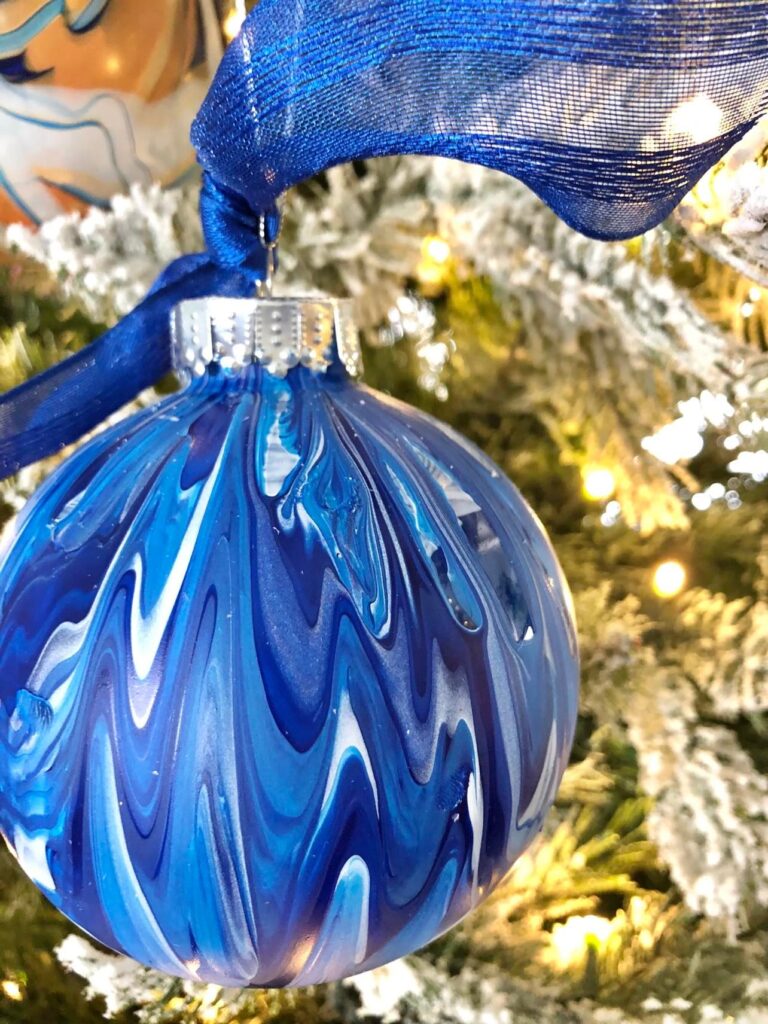 Blue is also fantastic with shades of green!
I love the combination of blue and green with a little metallic silver. Perfect with Christmas greenery!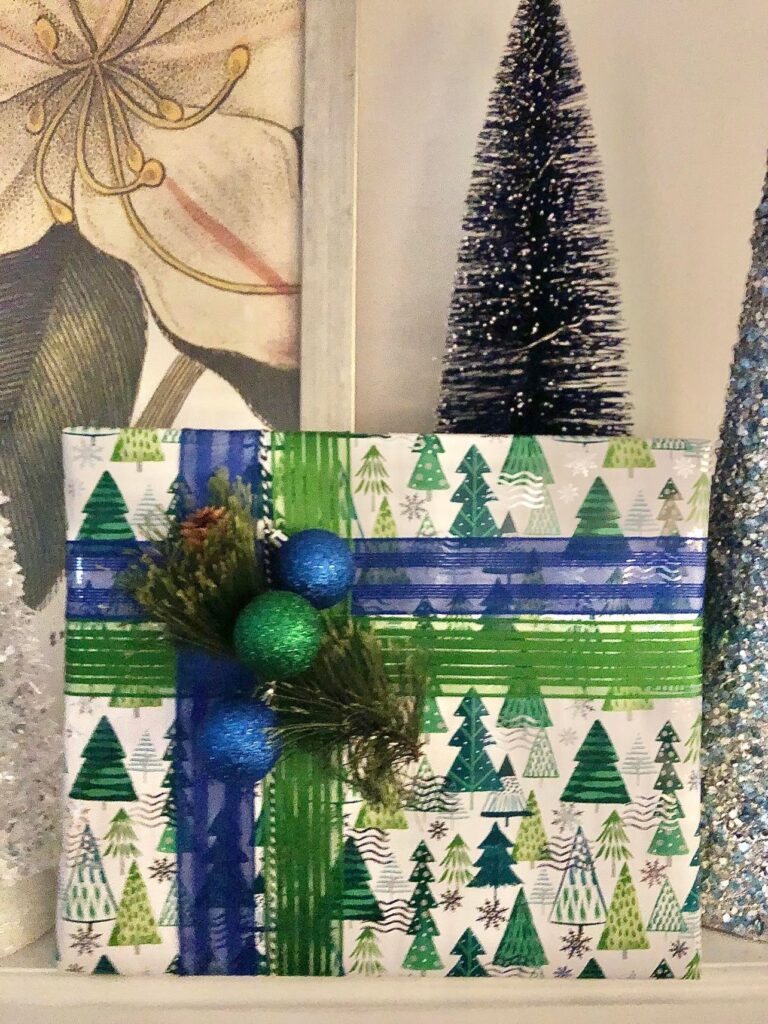 And then there are the Pinks!
"Millennial Pink" has had a wonderful moment in the decorating world.
And it is not quite done yet!
Expanding the palette to include other shades of pink will create visual interest.
Take it further and layer pinks with gold, champagne silver, and brown. Oh so hip!
Throw in a little animal print and we're really getting jazzy!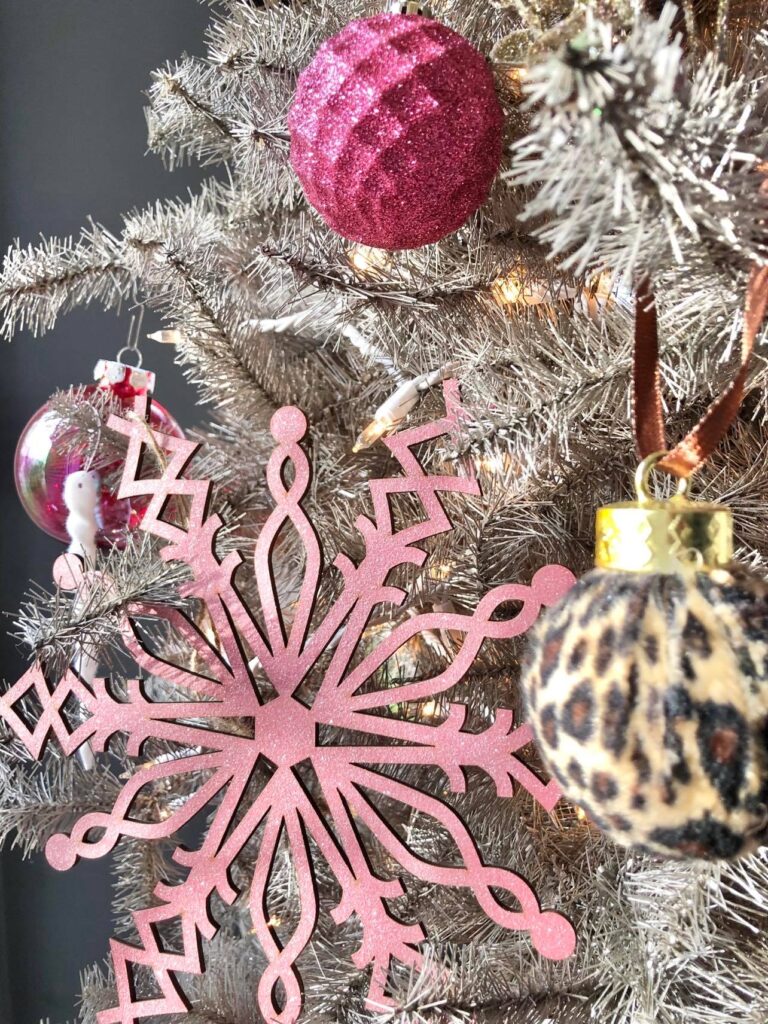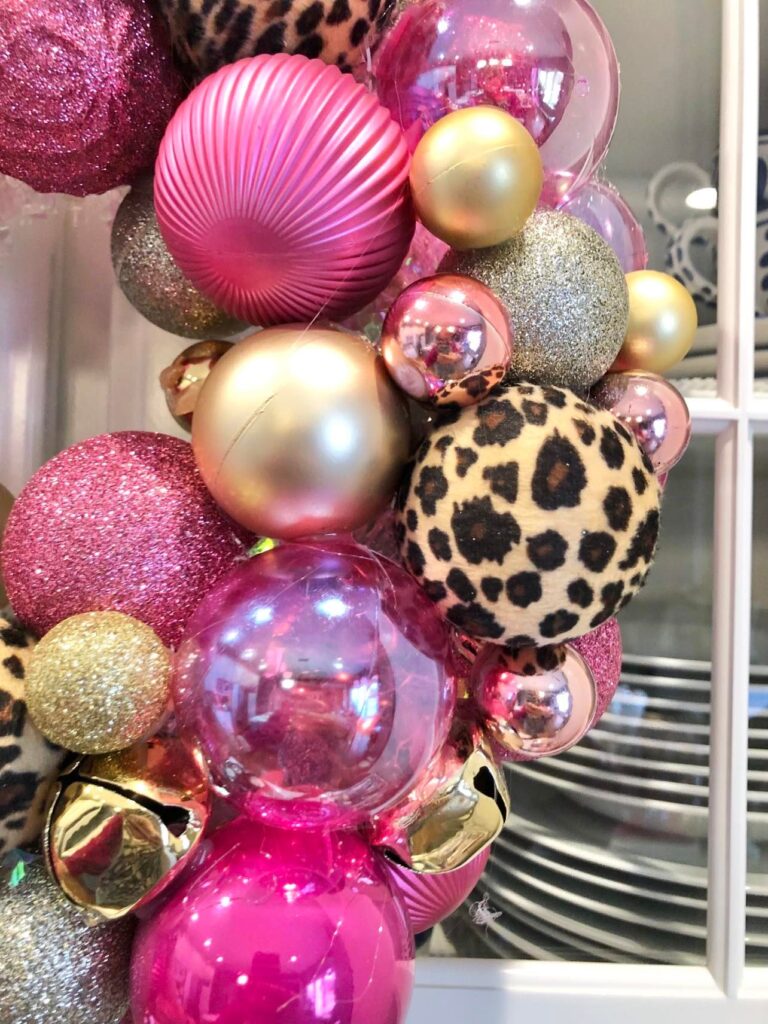 Color Madness!
Why not go crazy with color! Bright reds, purples, pinks, blues, greens…
A Christmas color wheel!
Jewel tones are especially nice at holiday time because of their bold impact.
Multi-colored decorations with Christmas lights are magical!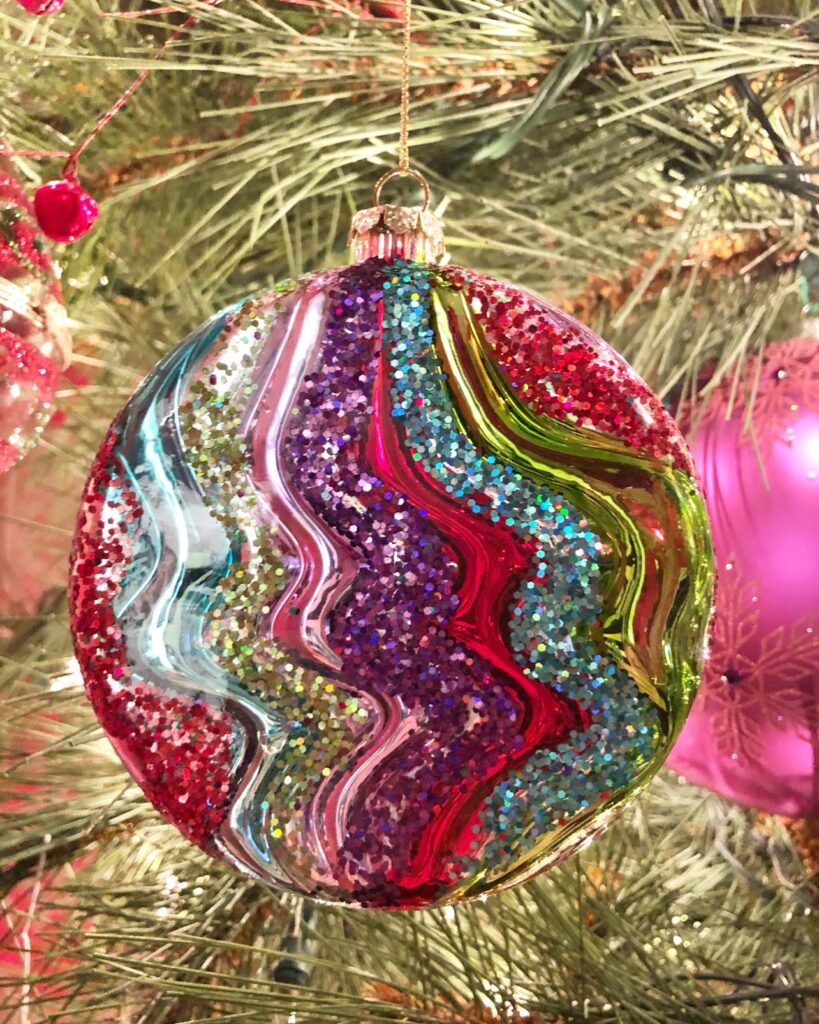 This ornament wreath is chock full of jewel tones that give unlimited license to use color at Christmas!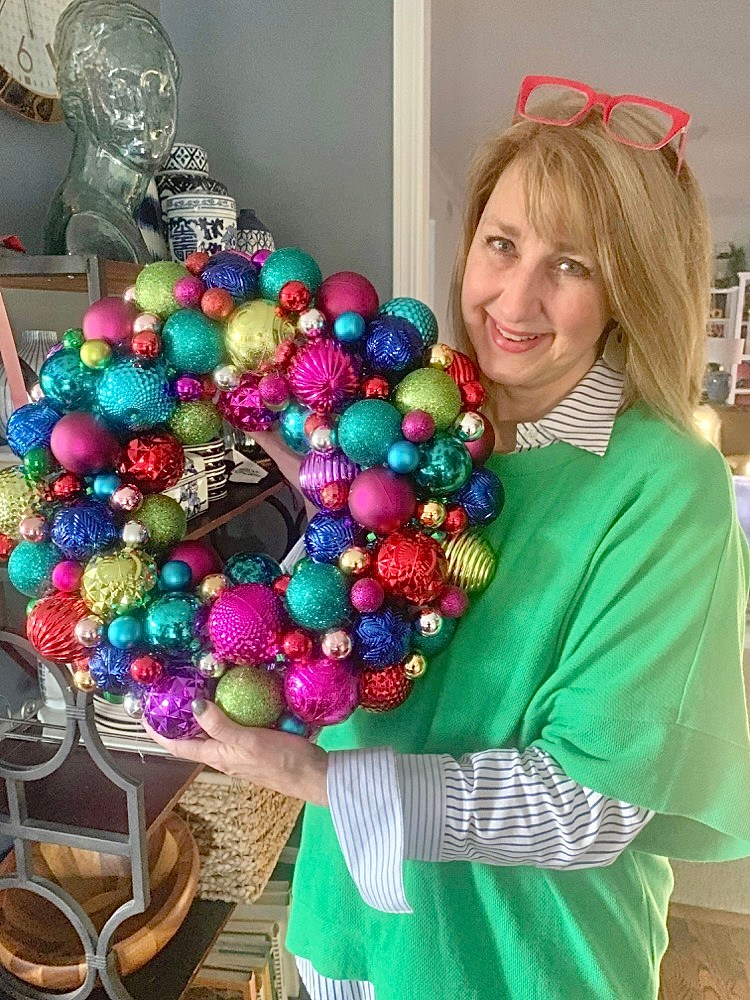 Don't forget the neutrals!
Whites, creams, ivories…this lovely neutral palette is calm, peaceful, welcoming, and fresh.

Remember, texture is your best friend when decorating with neutrals.
Also on the BFF list for neutrals are silver, gold, and sage green.
Oo La La!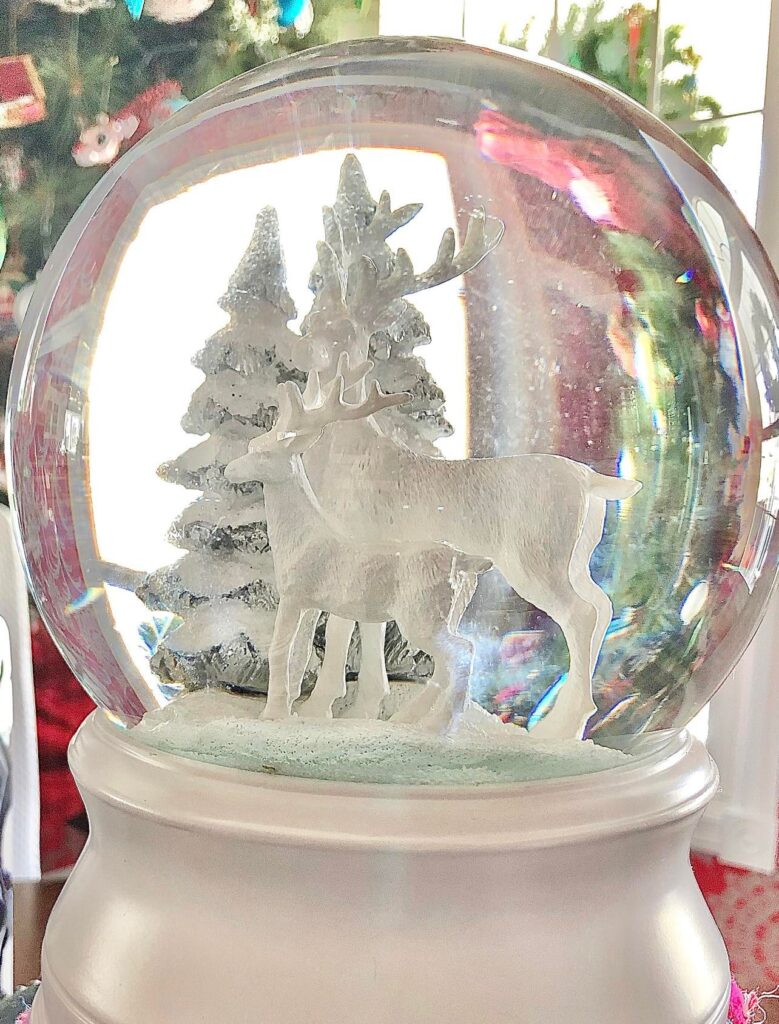 So, start dreaming and planning now for your Christmas Color Scheme.
Because Christmas is really right around the corner!
Thank you for spending some early holiday "cheer" with me!
Next on the hop, please visit Crystal at Sweet Valley Acres. She has some great Christmas decorating inspiration!
Cheers!

Don't miss out on any of the Christmas in July fun! Check out blog posts from all of these amazing creators!
Kristy – At Home with Kristy – Christmas Decorating Ideas
Sheri – Savvy in the Suburbs – Holiday Decor Inspiration
Wendy – WM Design House – Creating an Advent Calendar
Kylie – Truemans Treasures – European Inspired Christmas
Cindy – DIY Beautify – Christmas Ornaments
Crystal – Sweet Valley Acres – Her Most Popular Christmas Decorations