How DIY Pergola Kits Can Transform Your Backyard
Do you ever feel like your backyard is crying out for a stunning feature piece that will transform it from bland to beautiful? As outdoor living becomes more and more popular, the perfect backyard retreat is a must-have for any home.
Outfitting your space with something that's both functional and stylish has never been easier thanks to an array of DIY pergola kits from Toja Grid!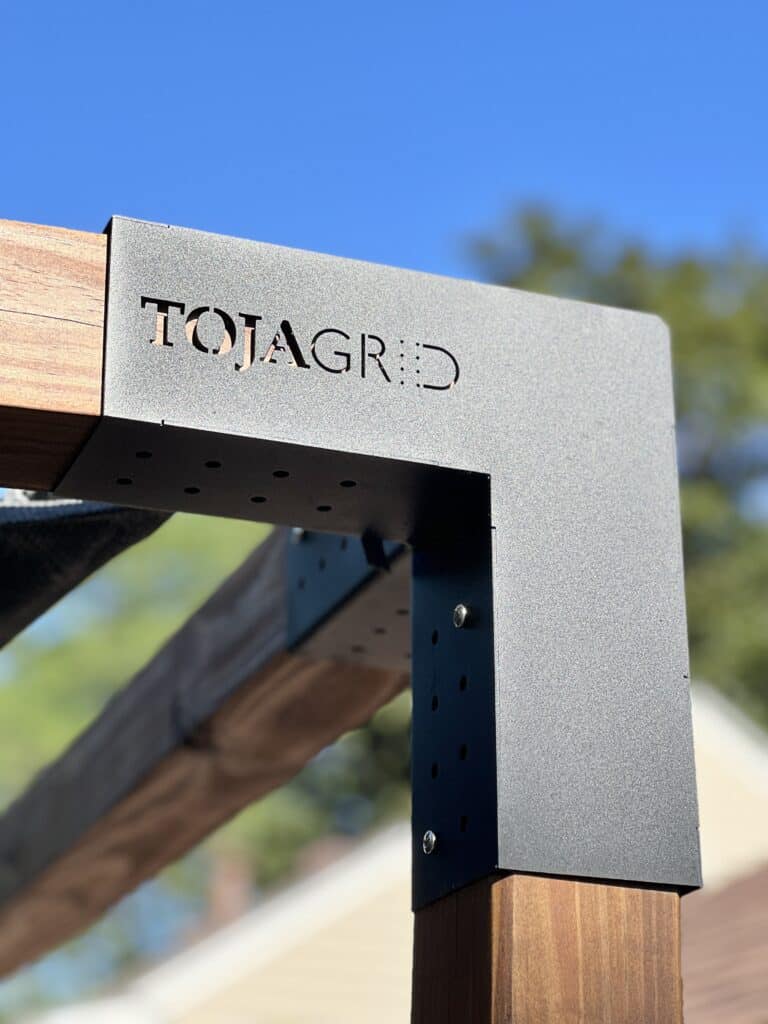 Toja Grid gifted me one of their stunning DIY pergola kits that I am so excited to share with you. This sponsored post highlights the amazing pergola kits that Toja Grid offers and includes a special discount code for Sonata Home Design readers. Thank you, Toja Grid!
In recent years, outdoor living spaces have soared in popularity, captivating homeowners with their enchanting charm and endless possibilities.
I could spend hours looking at magazines, Pinterest, and social media looking at beautiful outdoor spaces. We just completed the installation of a brand new patio so I am all about decorating, entertaining, and hanging out outdoors!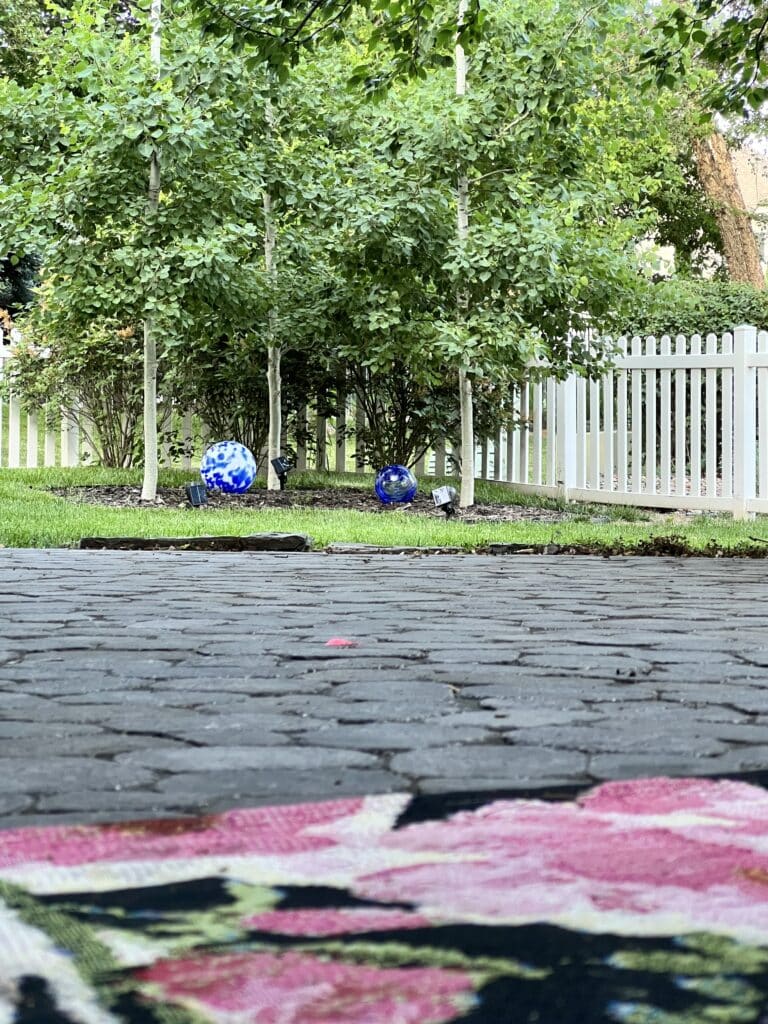 When I see a good-looking outdoor space, I want to immediately buy flats of flowers and beautiful planters. But it is not just colorful blooms and charming birdbaths that create a beautiful outdoor living space.
It is the hardscape and outdoor structures that allow a garden to shine!
One of those structures is a pergola!
What is a Pergola?
A pergola is an open-air structure for your backyard, offering a charming blend of beauty and functionality.
A traditional wood pergola consists of sturdy vertical posts supporting a series of overhead beams, creating a graceful canopy that gently filters sunlight.
A modern pergola can be completely open on top or have a portable shade that can be attached or removed. With its airy design, a pergola becomes the perfect spot to unwind, entertain guests, or simply enjoy a peaceful moment in nature.
Toja Grid is a Canadian company that offers quality modular hardware and bracket system DIY pergola kits. They are uniquely simple and modern in both design and assembly.

Unlocking limitless possibilities for any size, space, or budget, the Toja Grid DIY Modular Pergola and Bracket system embrace a refreshingly simple approach to style and design.
With versatile and customizable features, this system empowers you to create a dream pergola that perfectly suits your unique vision. Whether you dream of a cozy retreat for intimate gatherings or a grand outdoor entertainment area, the Toja Grid system adapts effortlessly to bring your backyard oasis to life.
A Shaded Solution for a Scorching Problem
Toja Grid generously gifted me a DIY pergola kit that I in turn gifted to my daughter and son-in-law. Here is why this was a perfect solution for their outdoor space.
My daughter and son-in-law live in a charming post-war bungalow home with their adorable dog, Arlo. These two continue to amaze me with the stylish design choices they have made for their home's interior.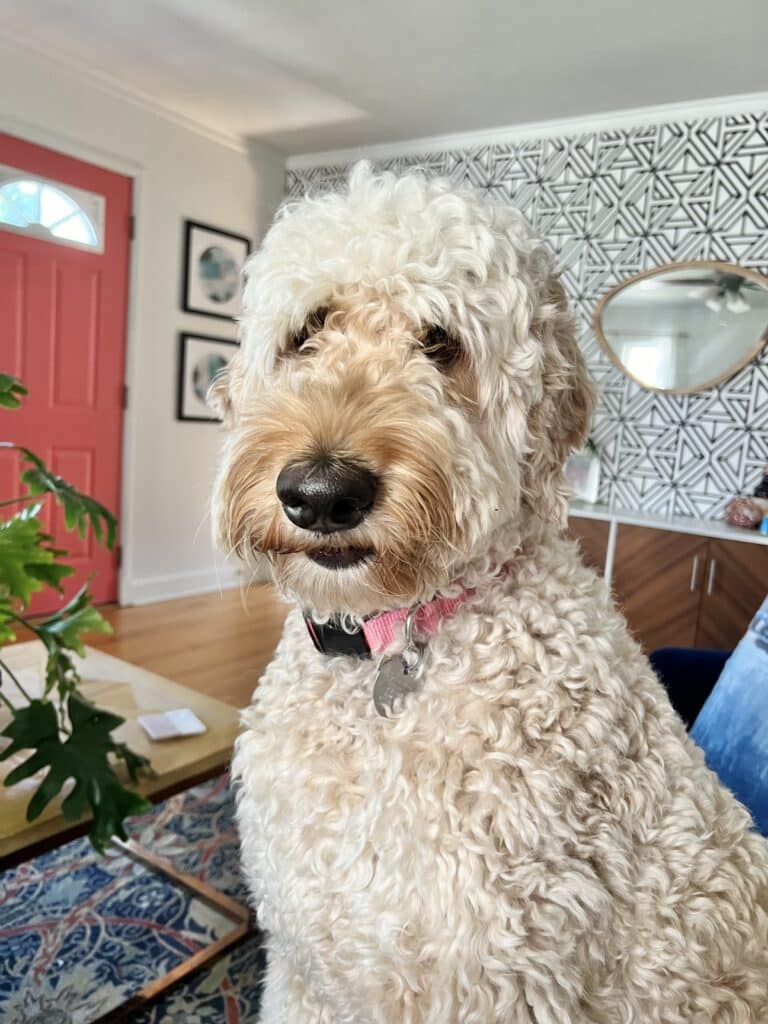 The backyard, however, had some unique challenges. Some of those challenges included:
A funky wood deck that was falling apart and sat on top of endless layers of river rock.
The concrete patio slab did not flow well with the deck.
They wanted to work within a small budget that needed to pack a punch.
Adorable goldendoodle, Arlo, is a lovable and energetic dog who enjoys chewing grass, plant pots, and pillows.
No shade. Let me repeat that…NO SHADE!
This young couple loves to entertain, garden, and spend time outdoors. But the hot Nebraska sun did not make for a relaxing backyard space.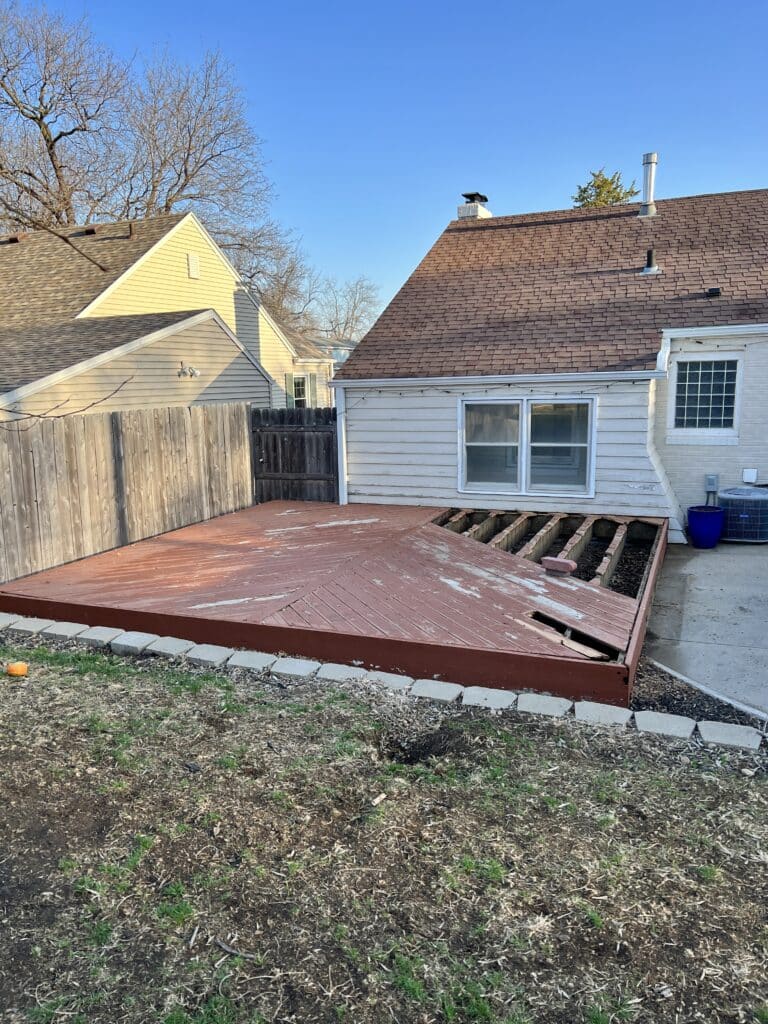 They needed a shade structure and a Toja Grid freestanding pergola was a great choice for them!
But first, the prep! The dilapidated deck was removed and the space was leveled.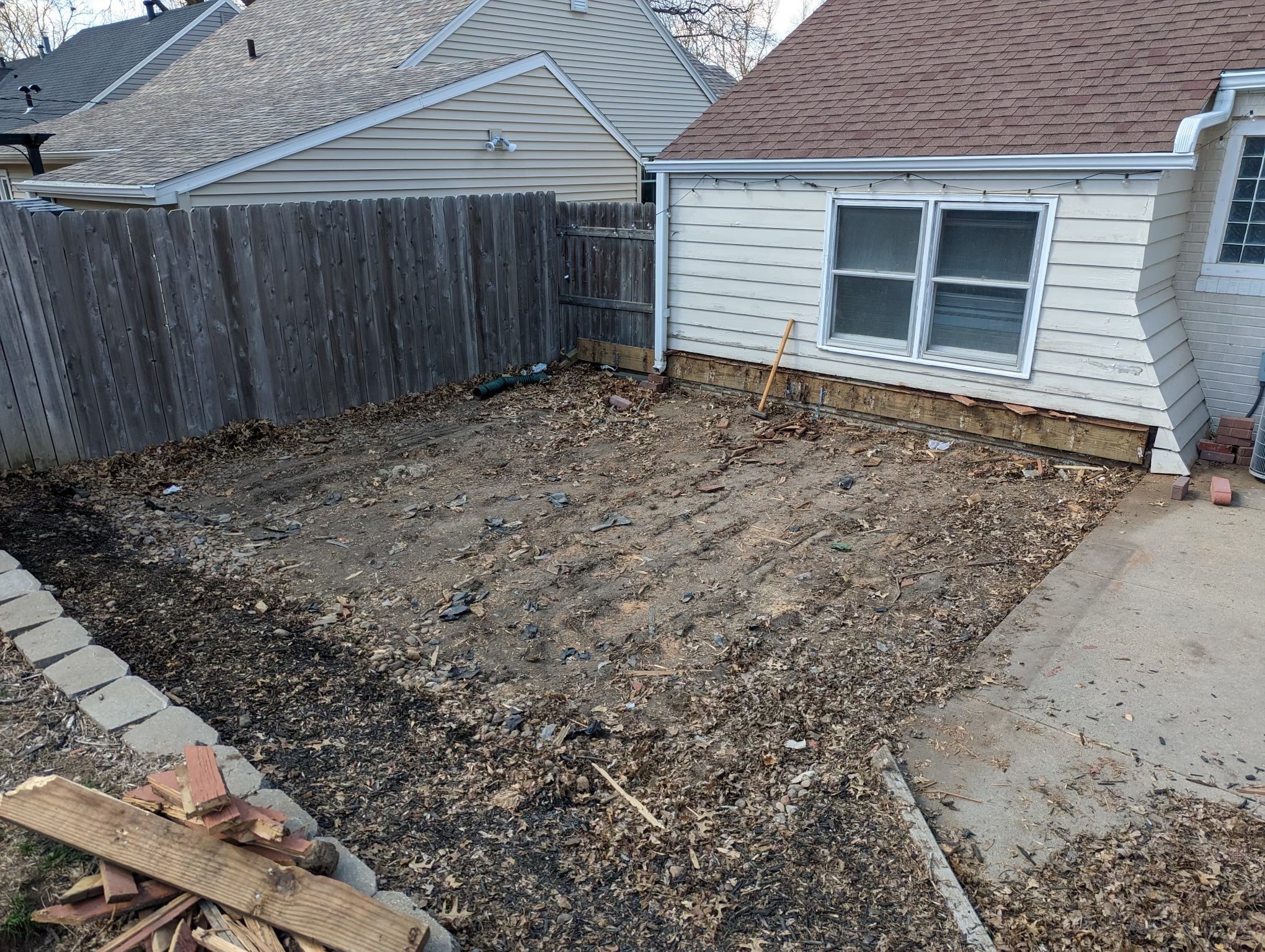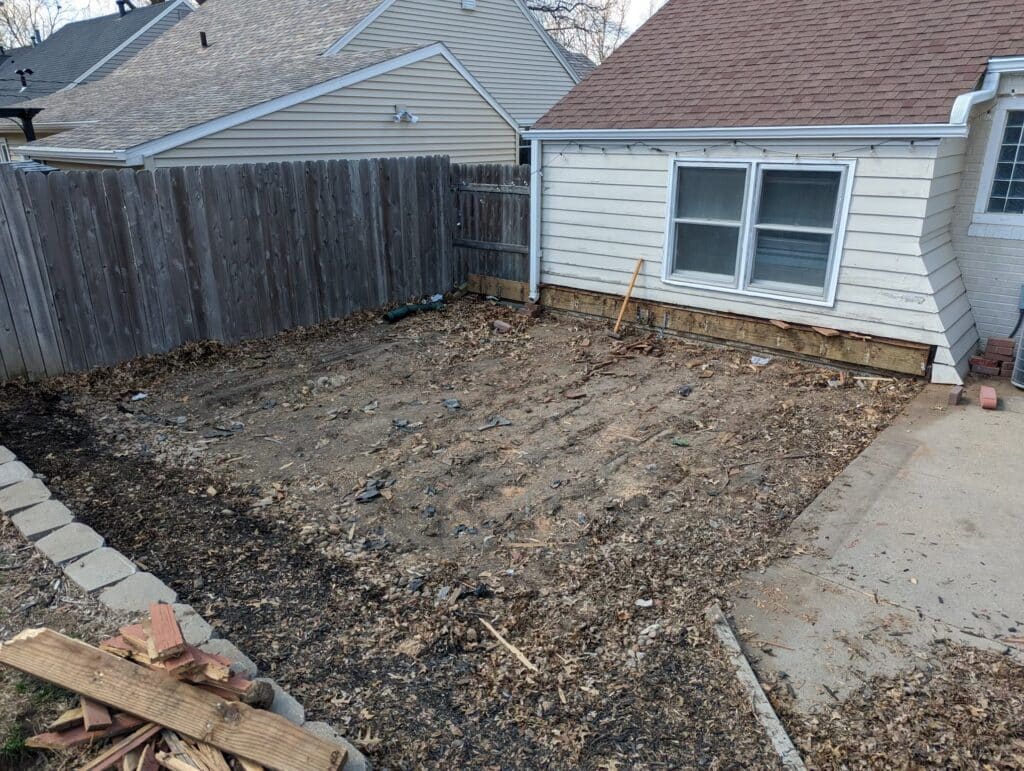 In preparation for assembly, my daughter and son-in-law purchased and stained all of the 4 x 4 wood posts needed for the structure and the post wall.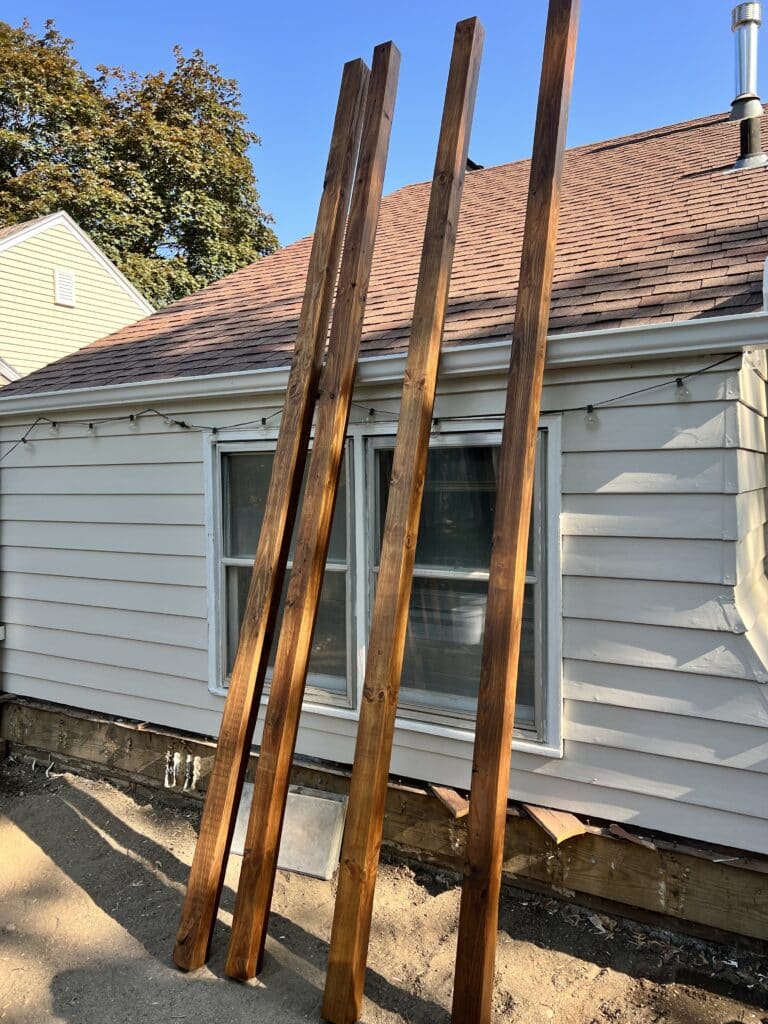 Assembling the Pergola
There are many different styles of pergola kits offered by Toja Grid. Each kit consists of the joint hardware used to construct each pergola. We chose a pergola kit with a post wall and a shade sale in a handsome charcoal grey color. The size of the pergola covers a 12 x 12 area or 144 square feet. (They offer lots of different sizes!) Just the right size for their space.
It was thrilling to open the shipment of hardware from Toja Grid!
I never thought I would consider hardware to be a beautiful thing…but this is truly beautiful hardware! The strength, durability, and quality of this hardware is truly amazing. Each joint piece is SOLID!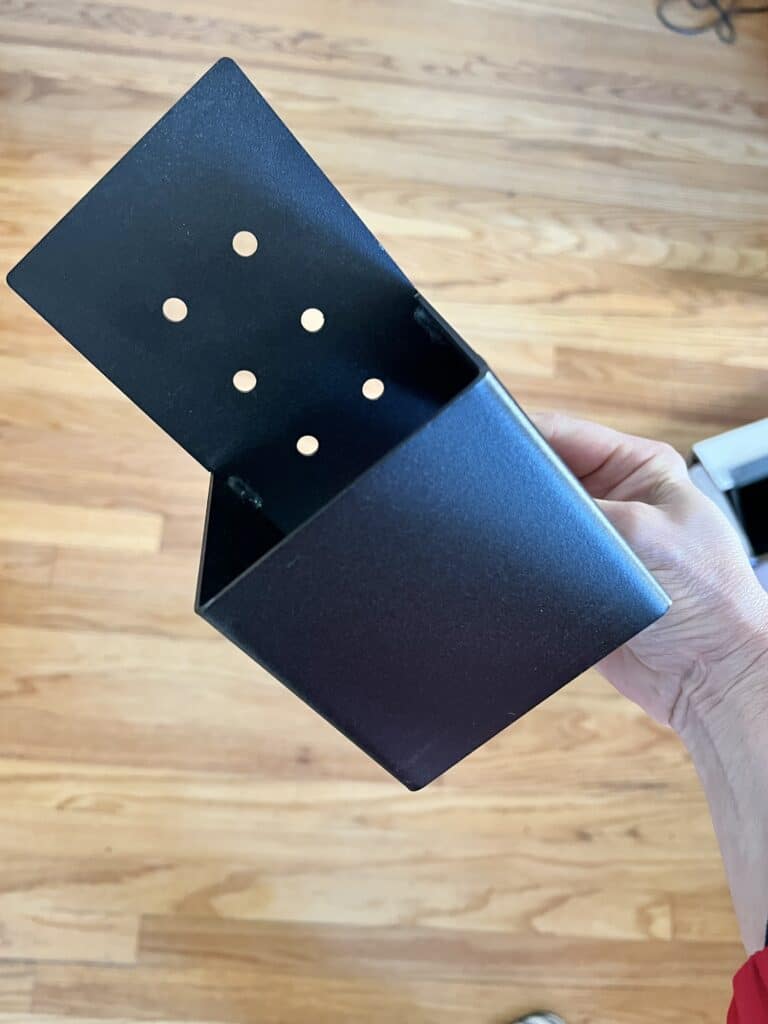 Better yet…this was such an easy assembly! Included in the shipment were helpful easy-to-follow instructions on building your Toja Grid pergola.
We started with the roof line. The wood pieces fit snugly but easily into the hardware joints and were screwed in for added stability.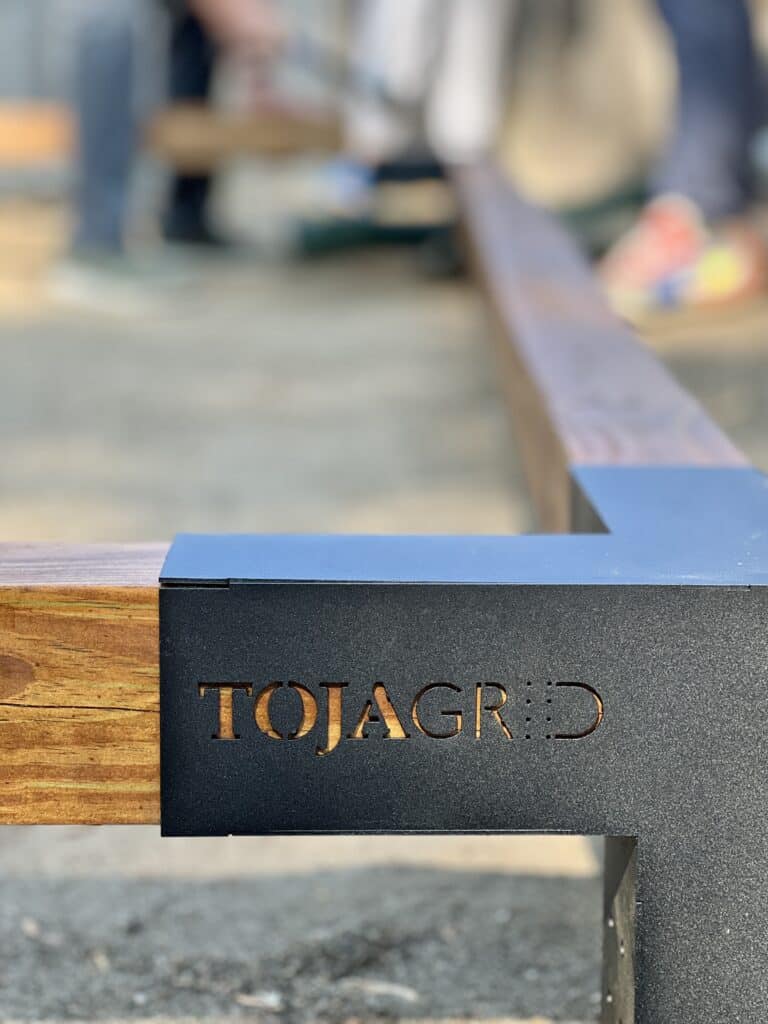 After that, it was just a matter of lifting the pergola top and inserting the corner wood beams and anchors.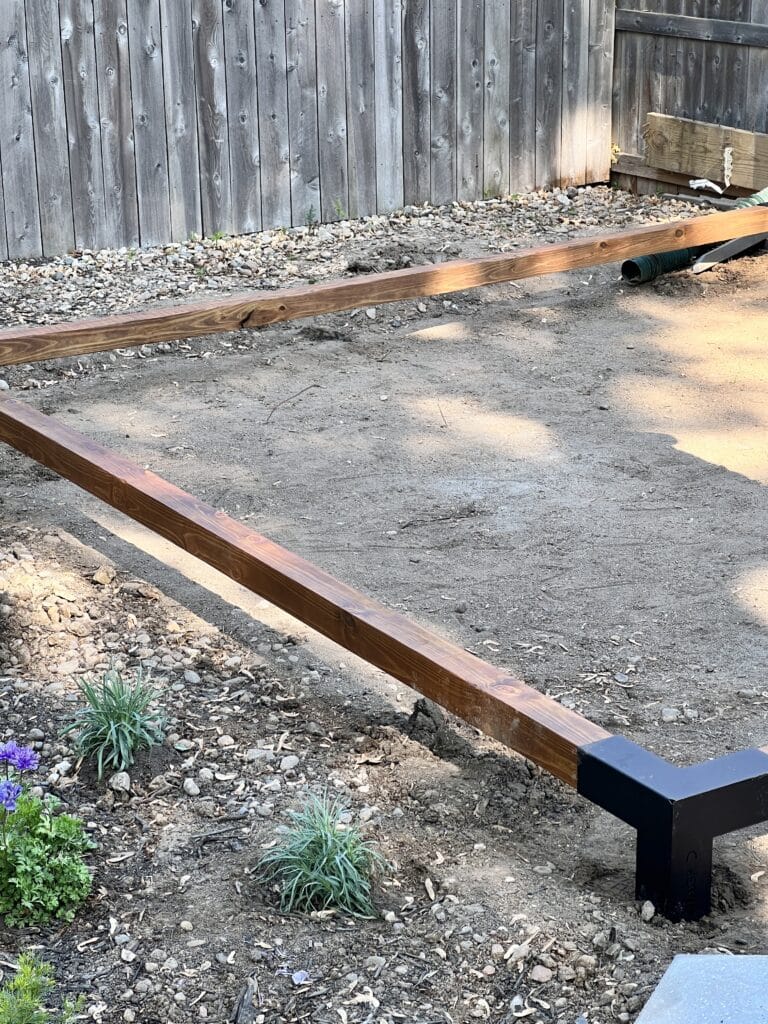 Anchoring the Pergola
Because this pergola covers a pea gravel-covered area, the pergola is anchored directly into the ground. Nebraska can have some harsh weather conditions and a strong anchor is key. No worries in that department! The Toja Grid anchor kit stakes securely hold and anchor each wood beam to the ground. I'm thinking this Canadian company knows how to make a strong, weather resistant product!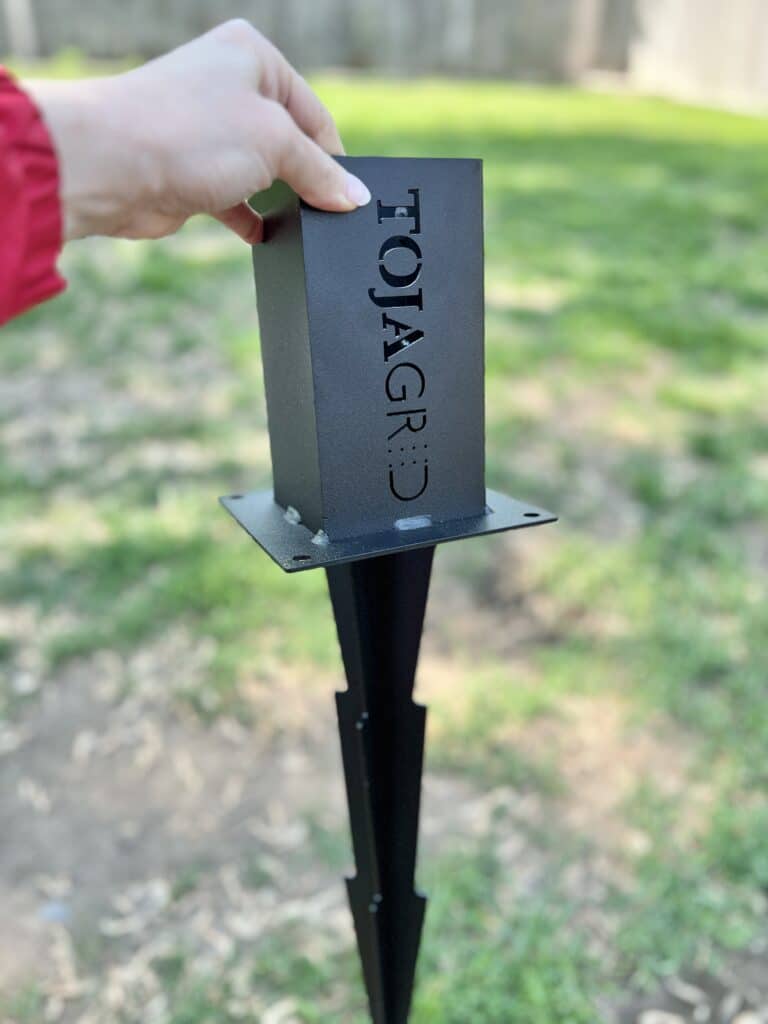 The Wood Beam Wall
Toja Grid offers many different options with their pergola kits. One of them is a kit that includes hardware to construct a wood beam wall on one side of the pergola.
For this situation, the wood beam wall is fantastic because it creates a combination privacy wall and focal point for the space. It creates a unique backdrop for plants, flowers, and an egg shaped chair!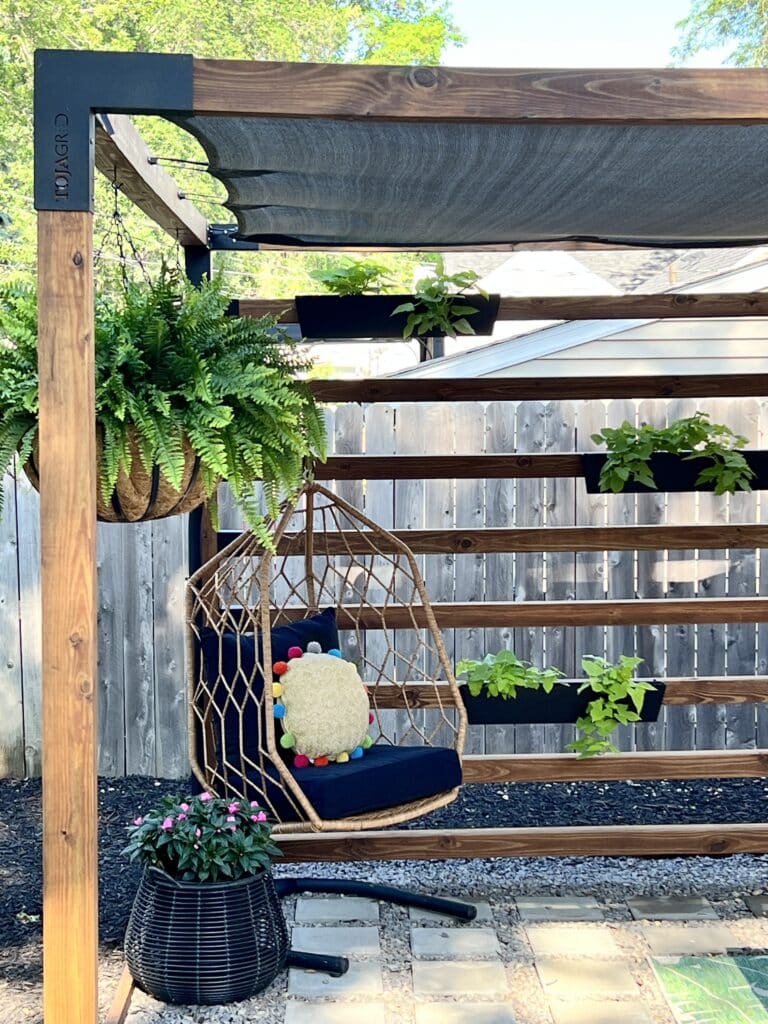 The Shade Sail
The most functional part of this new large pergola is the shade sail that stretches across the top of the pergola and provides fabulous shade below. In an area that used to be relentlessly hot in the summer sun, this pergola topper is a game changer for this space!
Not only does it provides desired shades but it is UV resistant and block 85%+ of UVA/UVB rays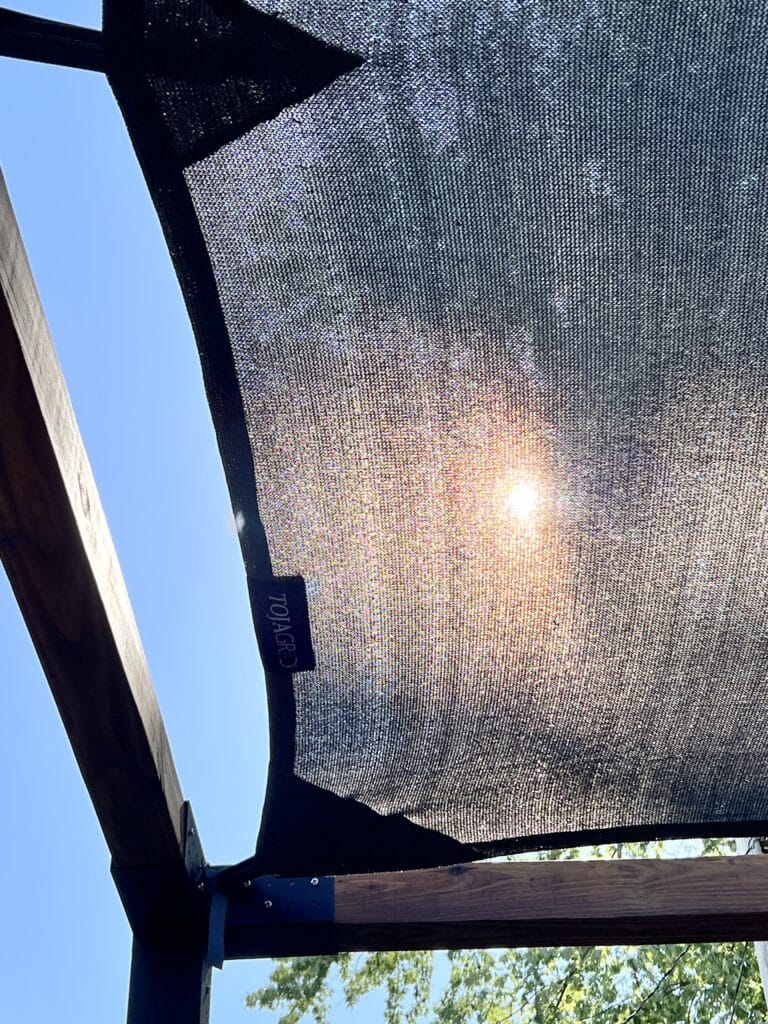 The shade sail connects to the hardware in the corners and has ties that wrap around the wood beams so it sits tightly secured and taut across the top of the pergola. They can keep the shade sail up all summer and enjoy the extra shade in their yard. Or, they can take it down and store it in the shade sail storage bag if they want an open roof design.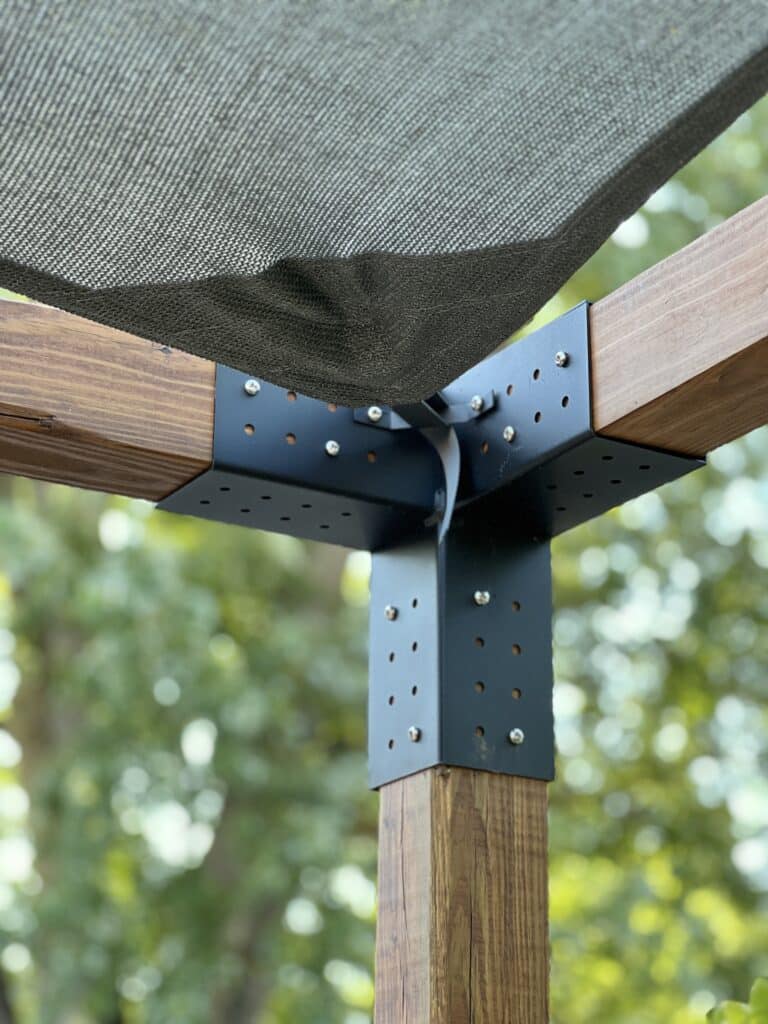 ​
How to Decorate a Pergola
We had so much decorating and styling the new pergola. This young couple loves the boho style with a touch of mid-century modern and we had a blast decorating and styling the pergola. Here are a few ideas we incorporated and even a few more they might add down the road.
Try one or more of these ideas for injecting your personal style into your new custom pergola!
Hang Wall Planters
Toja Grid offers wall planter boxes as well!
They provided these fabulous planter boxes that attach to the wood beam wall. We filled them with sweet potato vines and the lime green of the plants really pops against the stained beams and pergola hardware. Planting cascading flowers would be another fantastic option for the super cool planter boxes!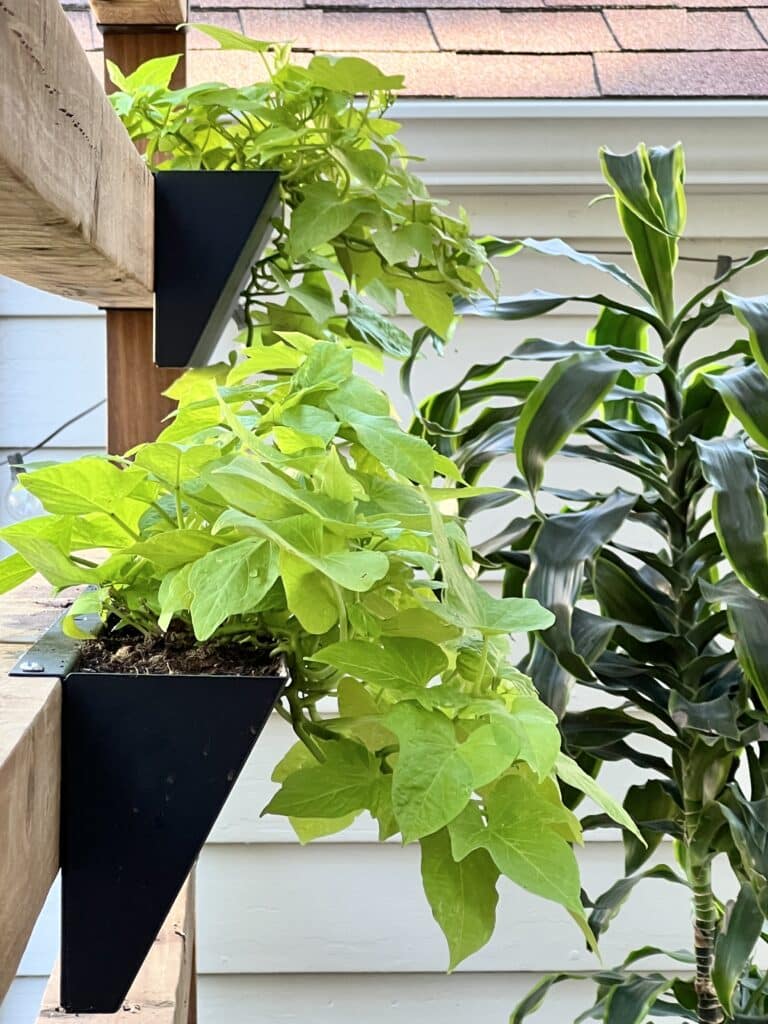 Outdoor Furniture
Furnish your pergola area with comfortable outdoor seating, such as lounge chairs and a cozy sofa. Or, style it as an outdoor dining area complete with a dining set. Choose weather-resistant materials that can withstand the elements.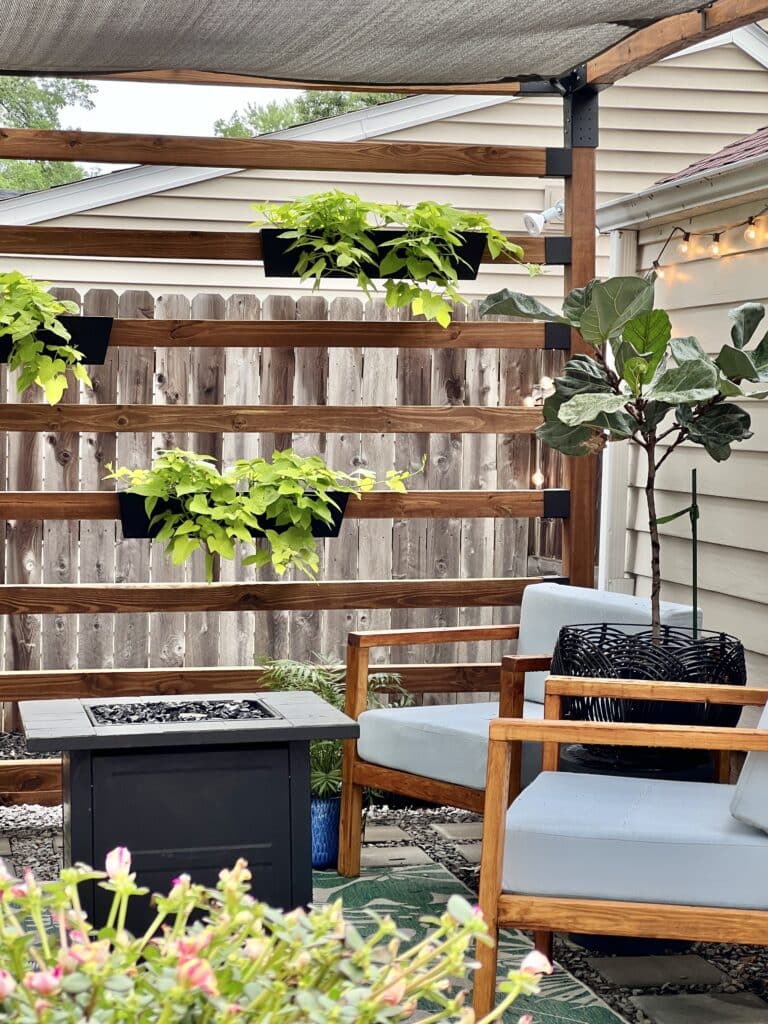 Hanging Planters
Hang beautiful hanging planters filled with colorful flowers or cascading foliage from the beams of the pergola. They will add visual interest and a pop of natural beauty. We added a couple of hanging Boston ferns. They are a great way to add lush greenery and even create a little privacy.
Climbing Plants
Plant climbing vines such as wisteria or jasmine near the pergola and train them to grow up the posts and across the beams. This will create a lush and natural canopy overhead.
Flower Power
Tuck pots of colorful flowers in the corners, on a table, or flanking the outside of the pergola. The bright flowers are truly stunning next to the pergola beams.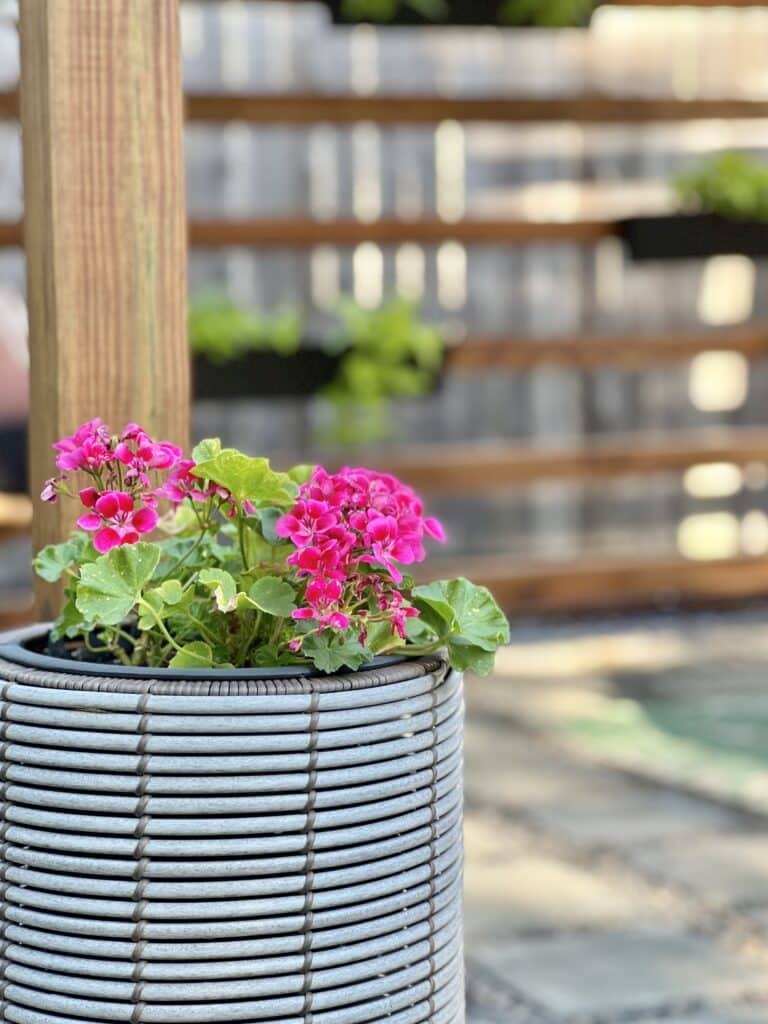 Outdoor Rug
Place an outdoor rug beneath the pergola to define the seating area and add a cozy touch. Choose a weather-resistant rug that complements your overall outdoor décor.
String Lights
Add a touch of magic by hanging string lights along the beams of your pergola. String cafe lights around the perimeter or hang them in a criss-cross pattern across the open top of the pergola. They create a warm and inviting ambiance for evening gatherings.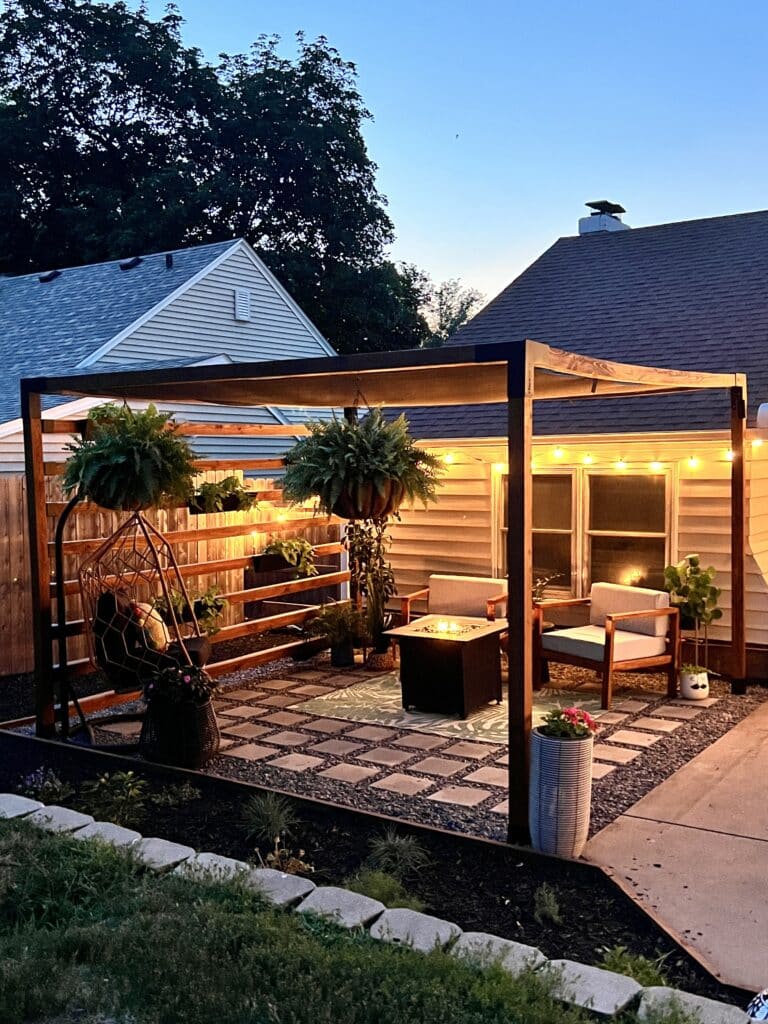 Curtain Panels
Drape flowing curtain panels from the pergola corners. Or, install sheer or colorful outdoor curtains on the sides of the pergola for added privacy and to create a cozy, intimate space
Water Feature
Consider adding a small water feature near the pergola, such as a tabletop fountain or a wall-mounted water feature. The soothing sound of water will create a tranquil and relaxing atmosphere.
Accessorize!
Decorate your pergola with various accessories like decorative pillows, lanterns, wind chimes, or artwork that reflect your personal style and add a personal touch.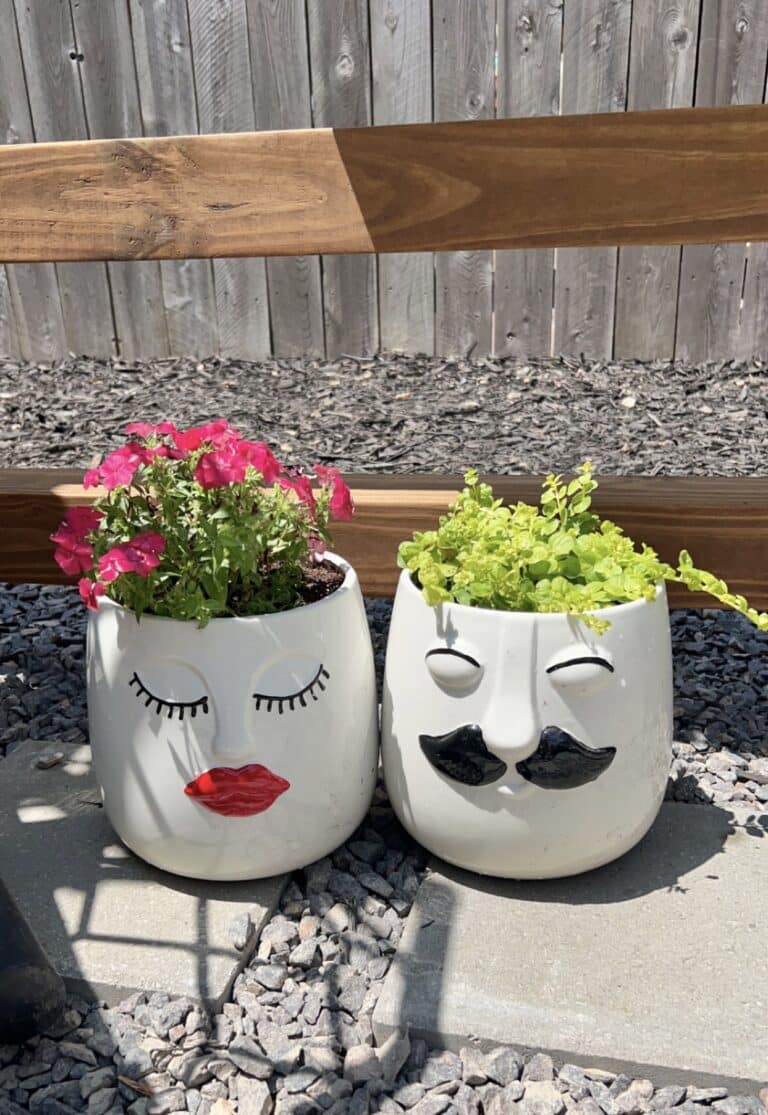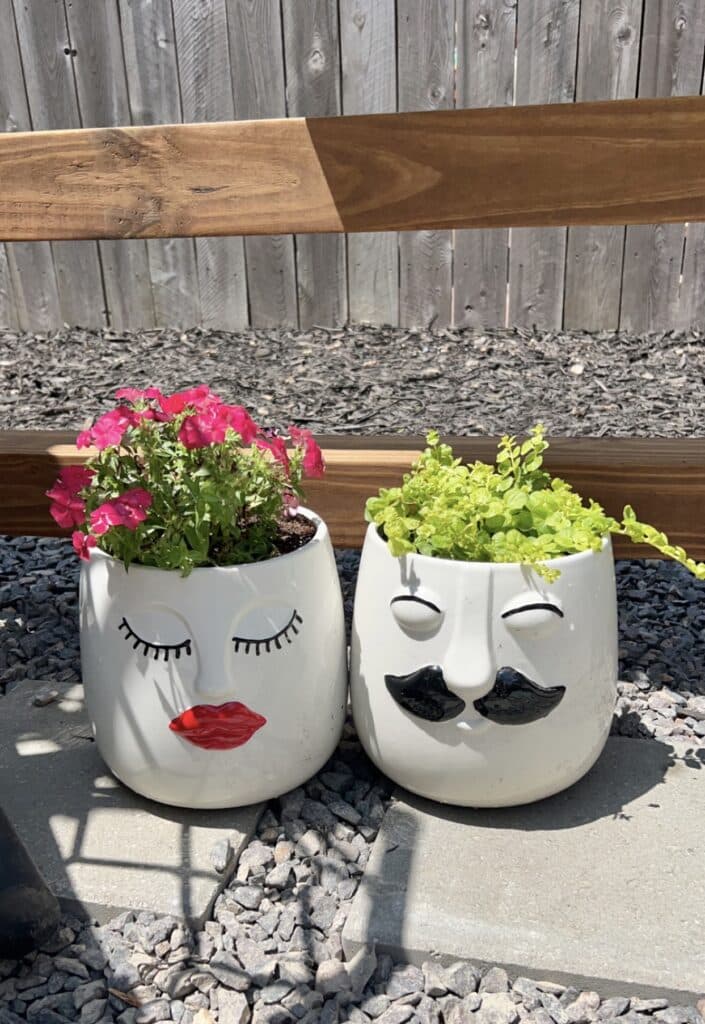 The New Outdoor Living Room
My daughter and son-in-law could not be happier with their new beautiful free standing pergola!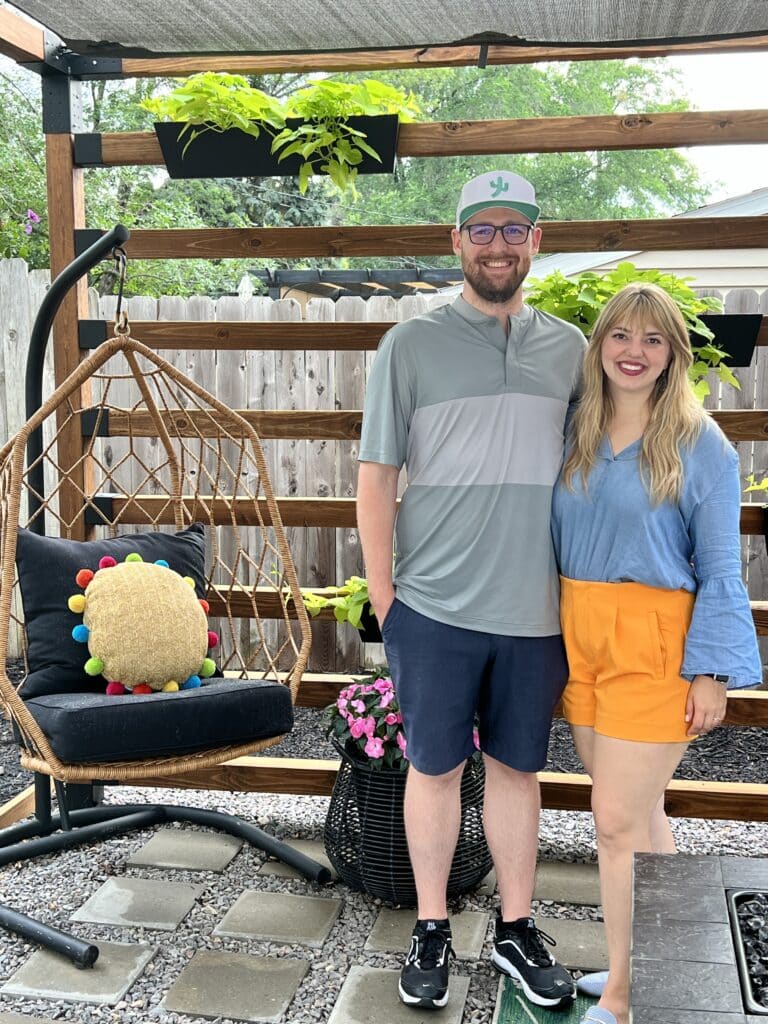 And I am thrilled because now my husband and I can hang out with them all the time in the fresh air and not bake in the sun. We are hoping for lots of invitations in the future!
The size, style, and versatility of this beautiful pergola make it the perfect choice. I know they will enjoy this for a very long time!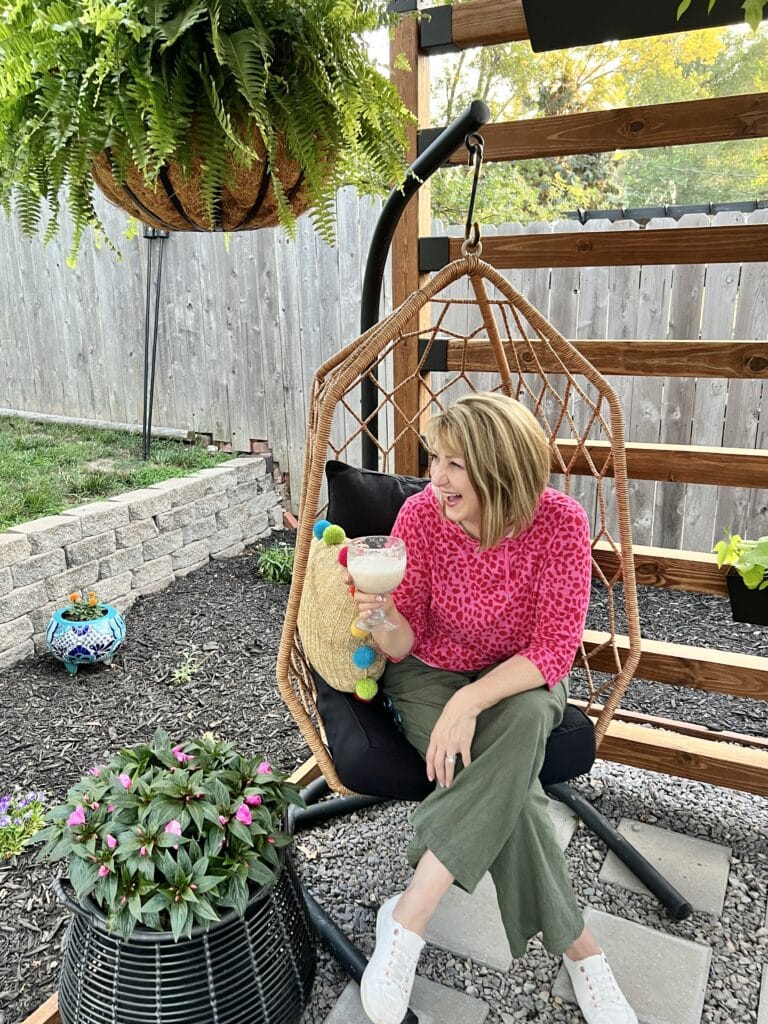 While there are many different types of pergola kits available, I truly believe that this is the best pergola kit, and am so grateful to Toja Grid! And I think you should consider your own pergola DIY kit!
A Special Offer from Toja Grid
In fact, Toja Grid is offering a special 10% discount on Toja Grid products to Sonata Home Design readers. (Some exclusions apply.) Just use the code SONATA for your discount.
And it gets better…Toja Grid offers FREE SHIPPING on all Canadian and US orders. Thank you, Toja Grid!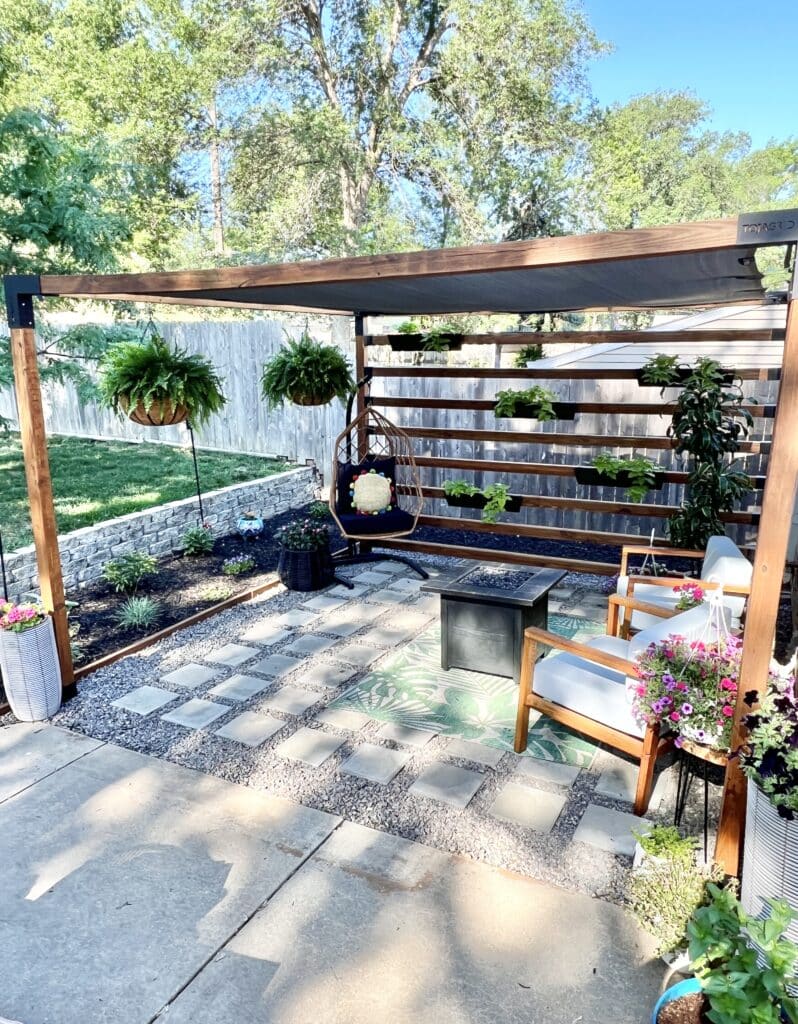 Choosing the right pergola can be a long and difficult process, but with a DIY kit from Toja Grid, you won't have to worry about making the wrong decision.
Not only are these kits of top-notch quality but they're also designed for ease of assembly and are customizable. They can provide an elegant addition to any outdoor space while offering protection from the elements – especially important here in sunny Nebraska!
Best of all, you don't need a professional handyman or carpenter to install it – just some basic tools and determination.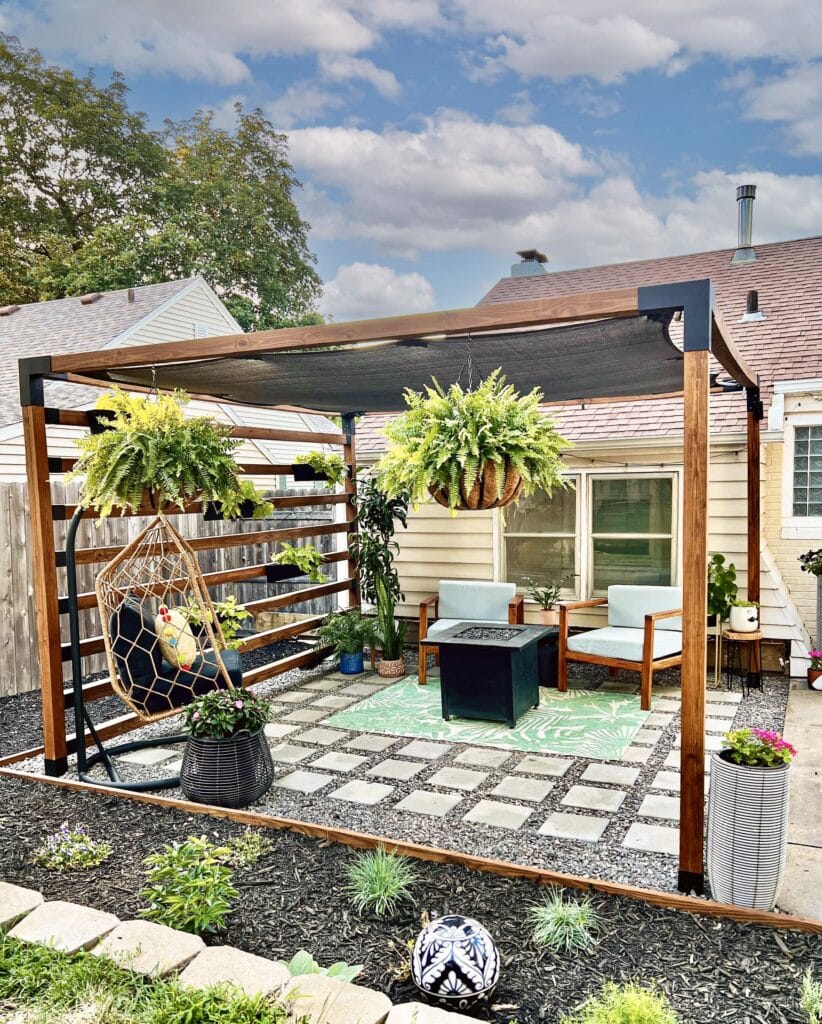 When considering your options for creating a cozy, inviting atmosphere outside your home, consider a DIY pergola kit from Toja Grid as your top choice. With its superior design quality and customizable features like decorative panels or curtains, you'll be sure to create something special with one of Toja Grid's DIY kits that reflects your unique style.
Consider a DIY pergola kit for your own outdoor space today! (Don't forget to use the code SONATA for 10% off your purchase!)
Cheers!

Don't Forget to Pin It!
Pin the image below to your boards on Pinterest (just click the Pin button in the top left corner). You can also follow along with me on Pinterest!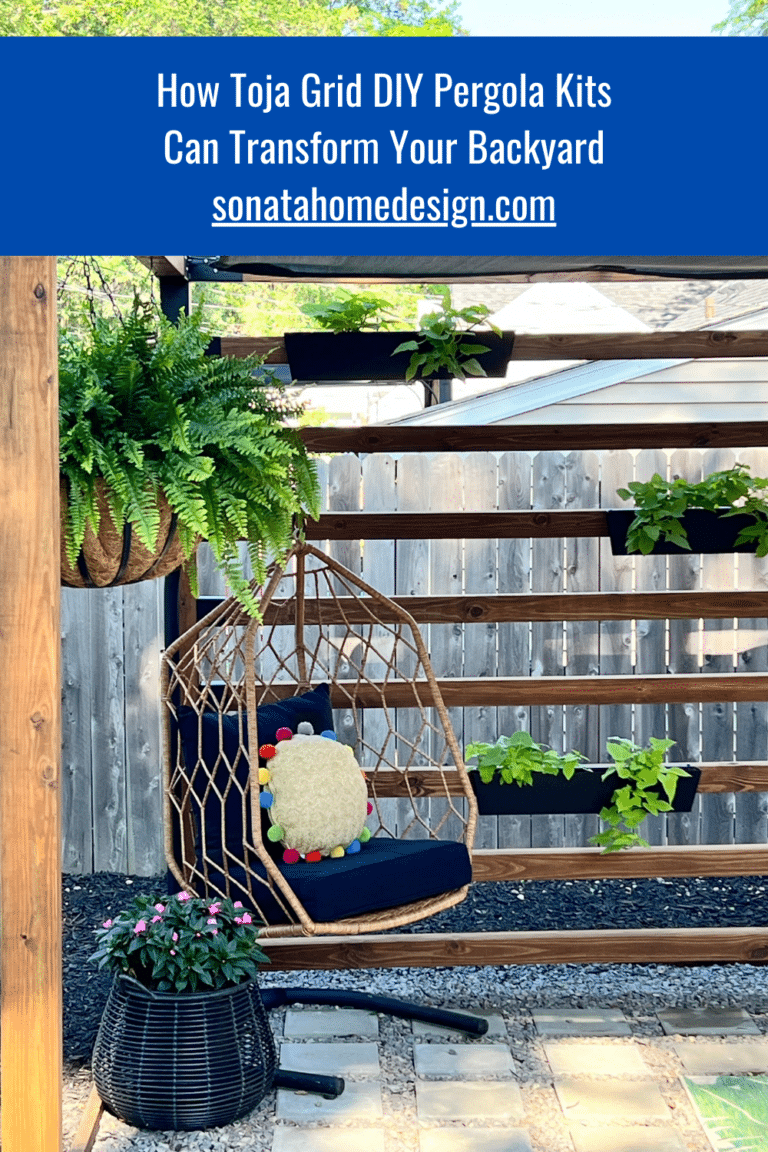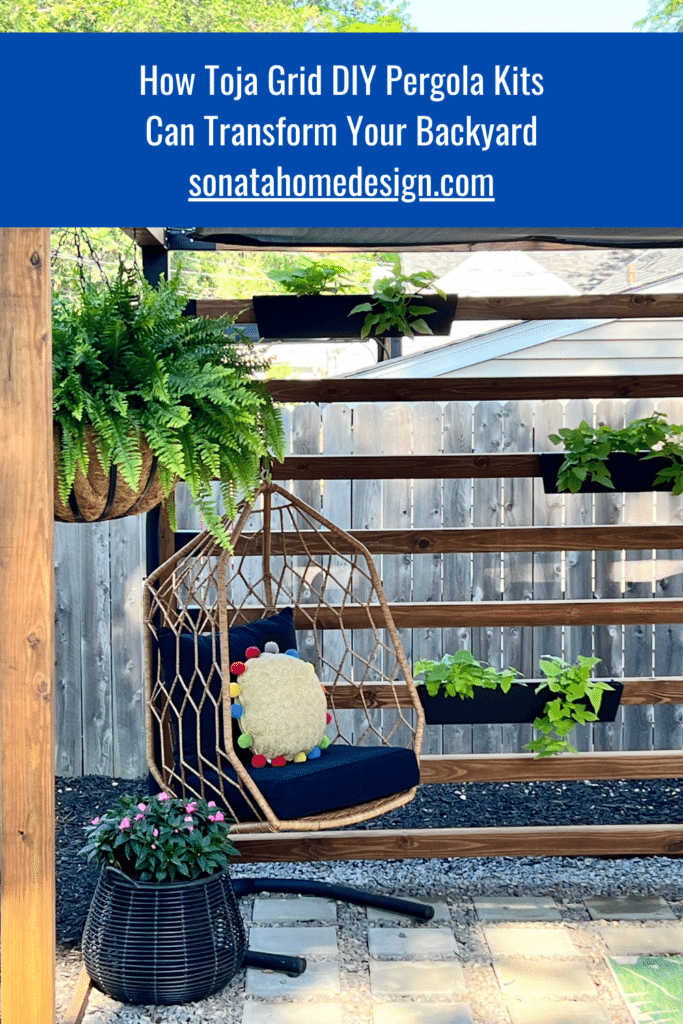 Projects To Go With Your Pergola
How to Arrange Potted Plants on a Patio