How to Create Your Own "Wild at Home" Plant Throne
Self-Care Plant Zone
Are you into self-care?
You should be! This little hyphenated two-word combo has become a bit of a buzzword as we deal with the struggles of the past year.
Perhaps you need a little spa time in the bathtub? A she-shed? Wine of the month club membership?
Or, maybe you need a PLANT THRONE comprised of green exotic leaves and sweeping palms in which to escape with yourself? Ding, ding, ding! This is my self-care path!
A Book You can Grow With
I first read Hilton Carter's book "Wild at Home: How to Style and Care for Beautiful Plants" in May of 2020. We were a couple of months into pandemic living and I was craving nature in our home.
And there it is! Right there on the cover! A magical PLANT THRONE just waiting for someone to escape and curl up with a good book and glass of wine!
One year ago, I was the nervous owner of a single peace plant.
One year later…proud mama of over 25 plants!
I am so empowered by this book that I chose it to be the April book selection for SonataScript, my virtual home design book club. (Click here to join this FREE group!)
With some courage and imagination, it's time to create my own version of a plant throne…right in our kitchen!
Creating the Throne
We have a space in our kitchen that bridges the space between the kitchen and the dining room. I can create my throne by our beautiful windows that will offer excellent indirect light for my plants.
But first, the throne! I have chosen a chair that once belonged to my mother. Originally, it was covered in a rose pink velour fabric that was very hip in 1980. She unsuccessfully tried to sell it at a garage sale but no luck. When I realized how comfortable it was, I took it on as a reupholstery project.
Here is the before and after! I fell in love with the black and white pattern and had fun using black vinyl for the arms. I even upholstered one side of the cushion in the vinyl. I like to think it has a folk art meets motorcycle vibe!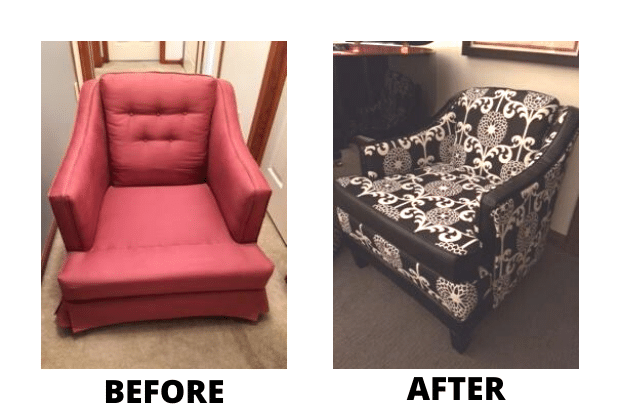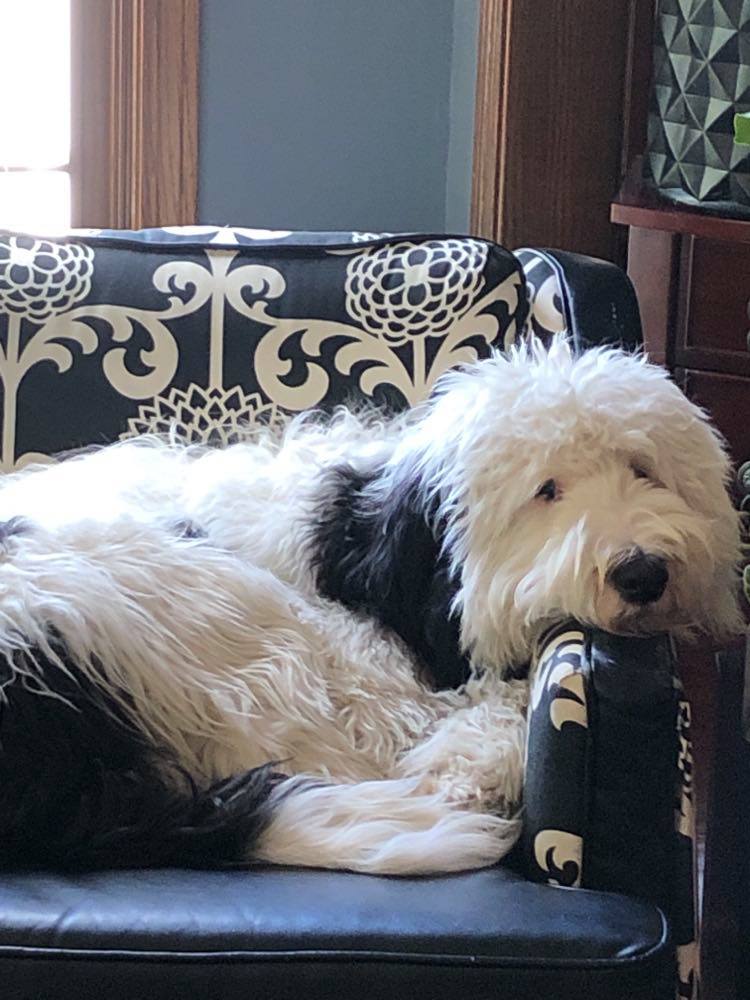 Green It Up
Now for the plants. I'm going to start with the tallest of my plants toward the back of the chair: a tall rubber tree plant with a huge leaf that creates a canopy over the chair. It is not tall enough to create a canopy on its own so I am placing it on a garden stool to create enough height.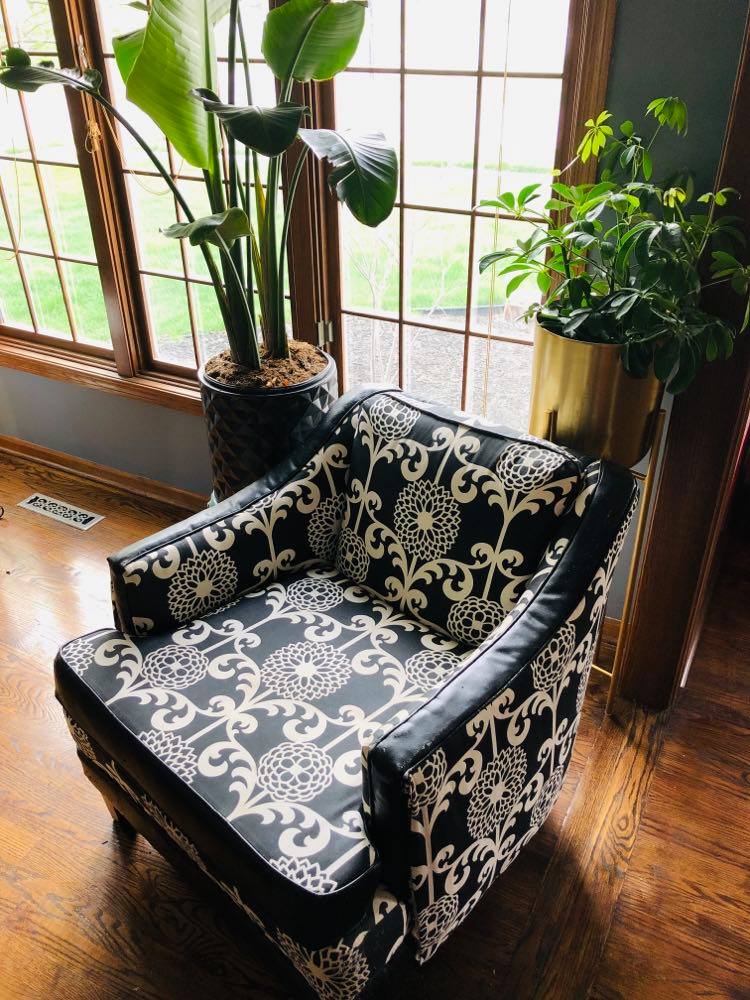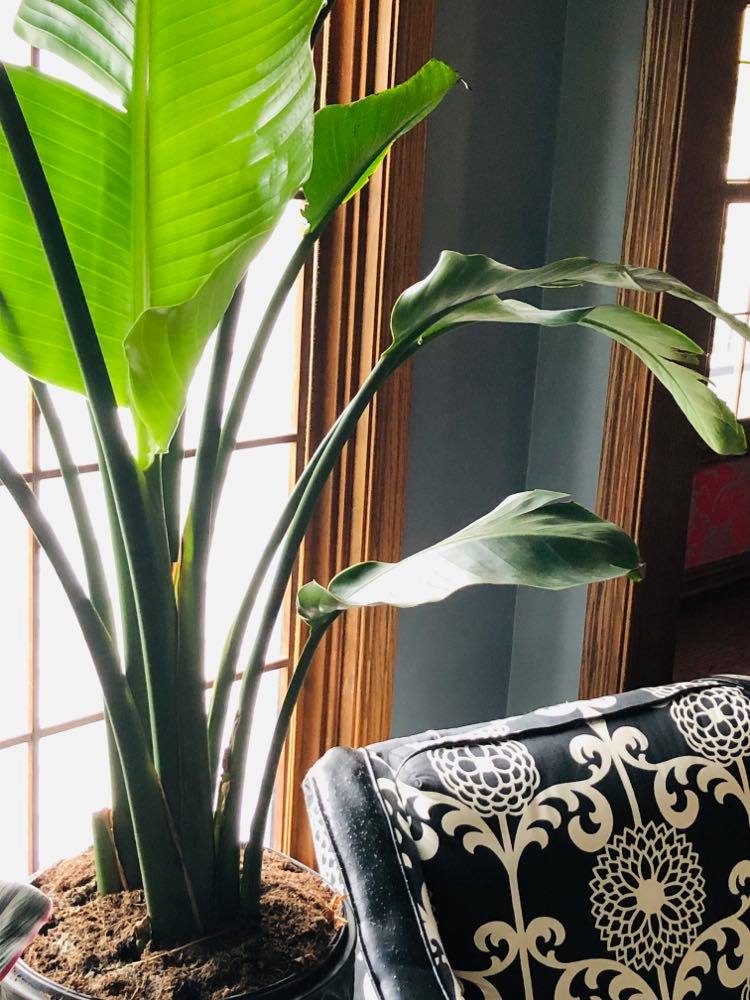 Once the backdrop is created, I add plants of different heights, colors, and textures and layer them. By letting the plants overlap, I am producing a jungle effect that is lush and immersive.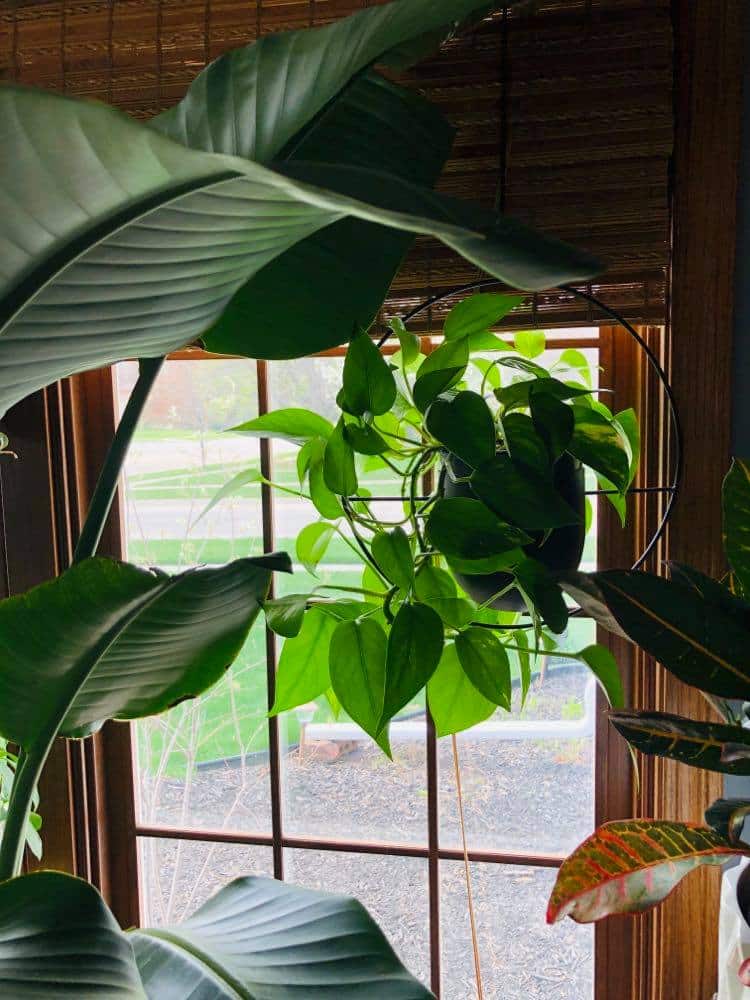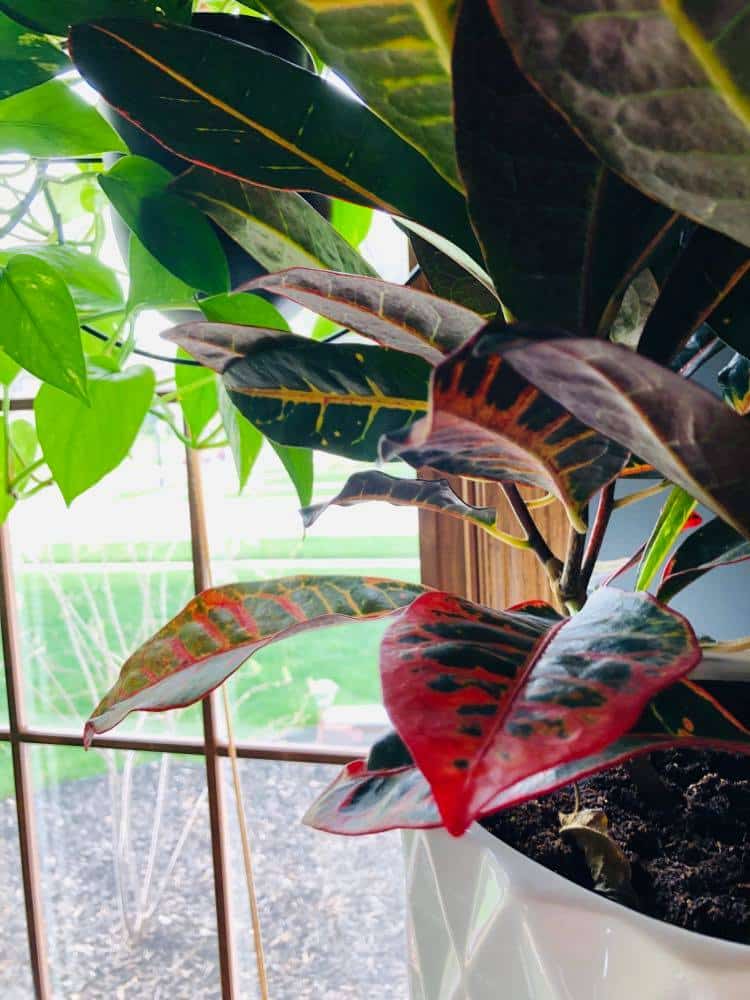 Undoubtedly, I love shopping at my local garden store and farmer's market and have purchased some beautiful plants. Believe it or not, I have also purchased plants through Amazon. No kidding! My favorite plant of all is a beautiful fiddle leaf fig plant, arrived by way of Amazon last summer with amazing packaging and fresh buds ready to pop. Options are a good thing!
To be sure, my beloved fiddle leaf is the "cool kid" on the block!
A Few Other Details
Since the idea of the plant throne is to create a peaceful sanctuary, you might think of other niceties to include.
How about an adorable drink table for your coffee, wine, or favorite beverage? Keep a coaster on top so it is ready for your drink at any moment. If you are needing a quick coaster, try my candle lid coaster project!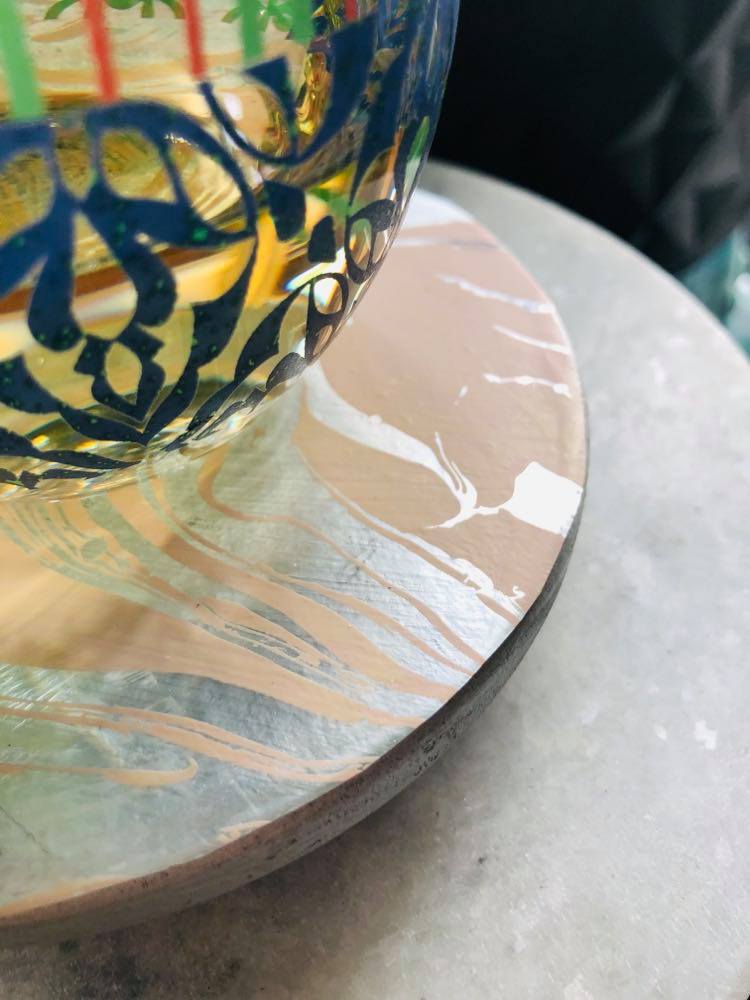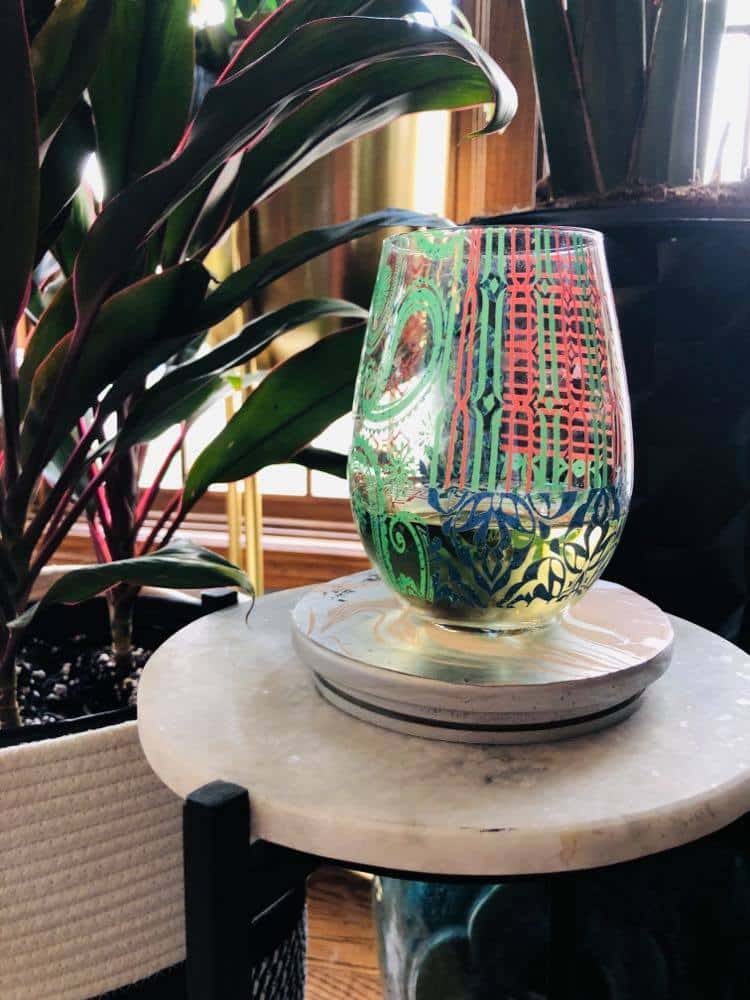 Oh, but let's add more!
At day's end, tired tootsies need a resting place. So, let's add a leather ottoman that plays off the textures of the baskets I used with the plants. This is my favorite ottoman…durable and stylish! Win-win!
Ottoman Tip: This arrived as an unstuffed ottoman. Rather than purchase stuffing, I used old blankets and towels that were in the donation box. I think this works better than stuffing because it really gives the ottoman structure.
Bookworm Moment
Equally important are books to keep by my throne. What favorite books to keep by my new plant throne? I'm going with the obvious…Hilton Carter's three amazing books!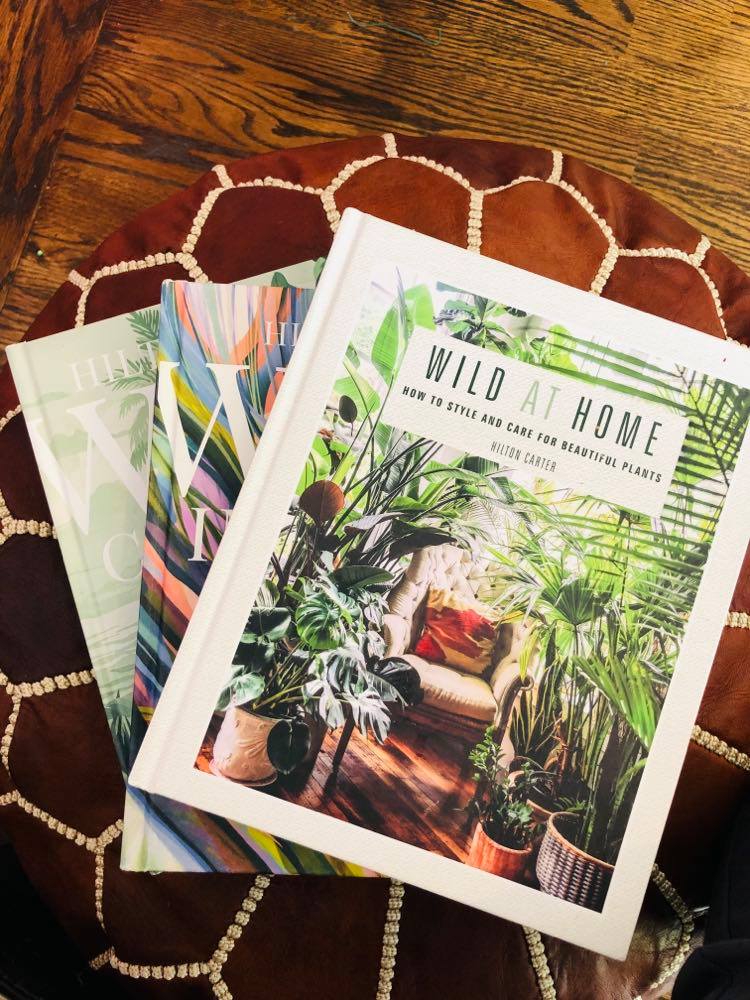 Wild Interiors: Beautiful Plants in Beautiful Spaces
Wild Creations: Inspiring Projects to Create plus Plant Care Tips and Styling Ideas for Your Own Wild Interior
Voila! My plant throne is ready for me to nestle in!
Without a doubt, this sanctuary is ever-changing. If I am entertaining and need more room in the kitchen, I can subtract some plants. If I want to amp up my zen experience, I'll just add more plants!
By all means, add more! Because more is MORE!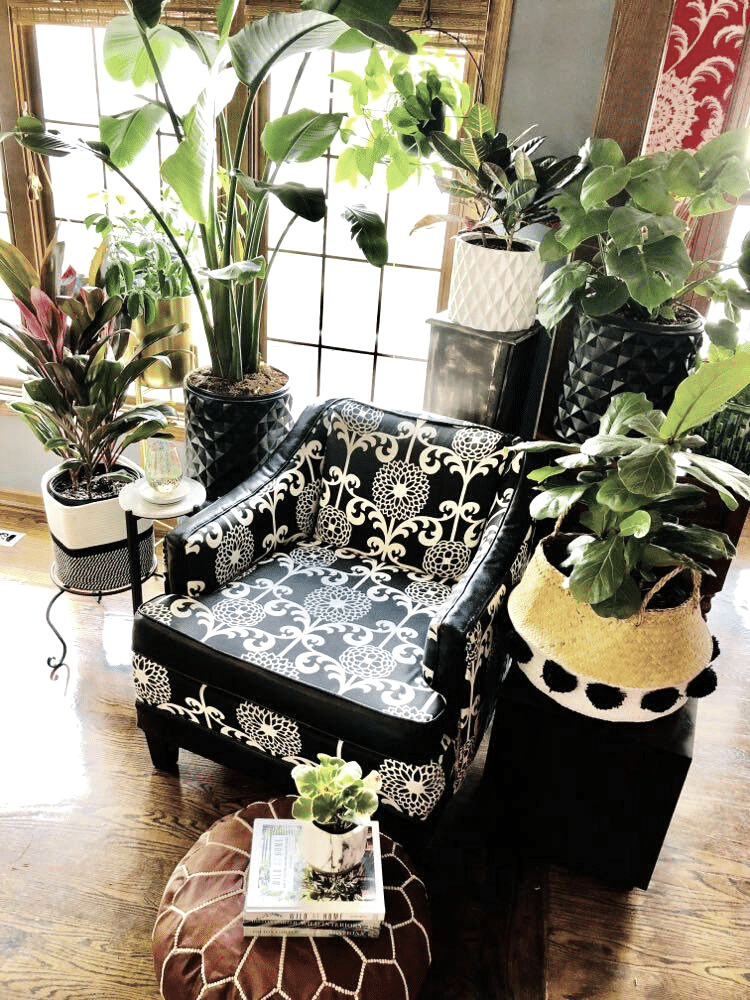 Whether or not you have a green thumb, this is a decorating project that can be created in a short period of time and, I promise, it will be your new favorite place to hang out!
Cheers!

*Disclosure: This post contains affiliate links.