The World's Easiest Earth Day Gift
Earth Day!
As a child, this day was a fun, "let's pick up trash and plant flowers" day.
Now, as an adult, it is still a "let's pick up trash and plant flowers" day. However, the day has much more meaning, gravity, and purpose for me than it once did.
Each year, Earth Day is a reminder to be grateful for this amazing, beautiful planet we live in.
A reminder to care for all that has been given to us.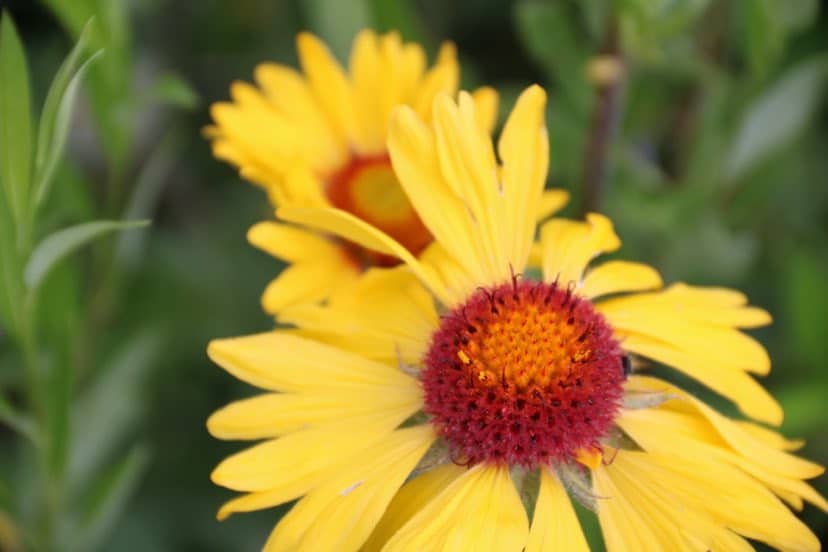 Admittedly, sometimes we forget about the remarkable beauty of earth, sea, sky, animals, mountains, seas, clouds, and on and on!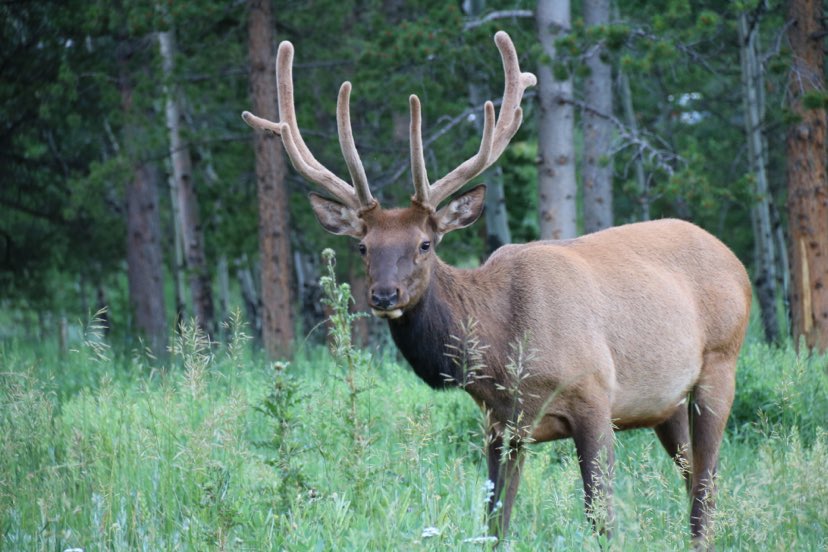 If I close my eyes, I can see the Rocky Mountain range. I can see and smell the Pacific coast. I can see and smell springtime grass and glorious flowering trees!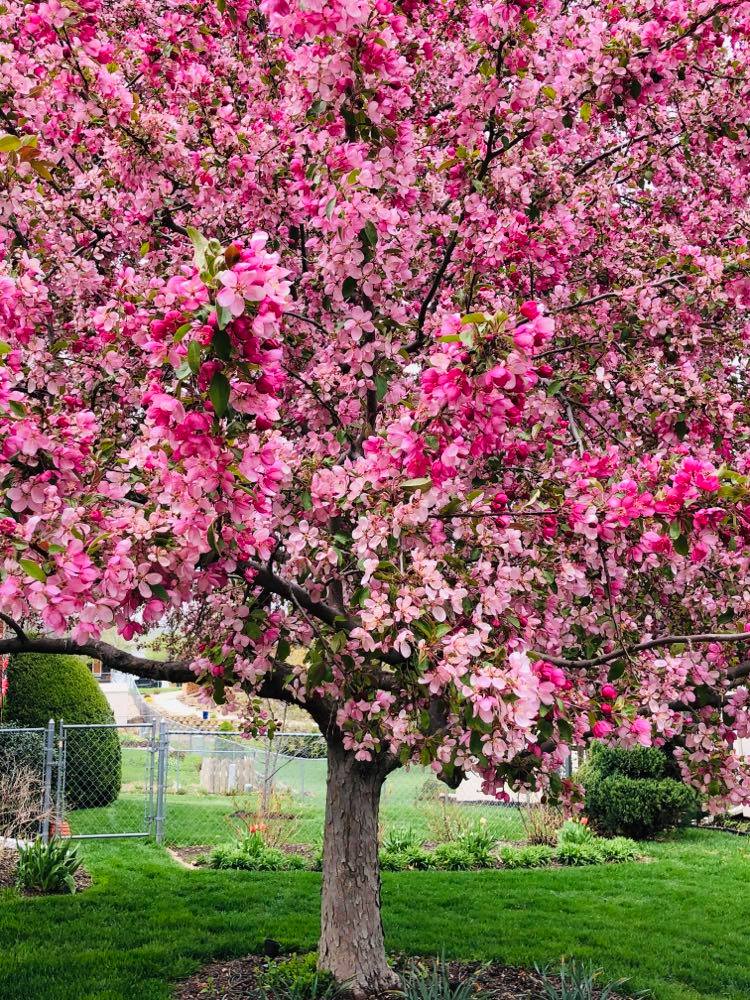 We need to celebrate our earth and take care of it!
So, let's celebrate Earth Day!
A day as important as this is worthy of gift-giving, don't you think?
While helping our planet one tree at a time, this is also the perfect gift idea for a new homeowner, a Mother's Day gift, a thank you gift for a friend, or a "Just Because" gift for, well…anyone!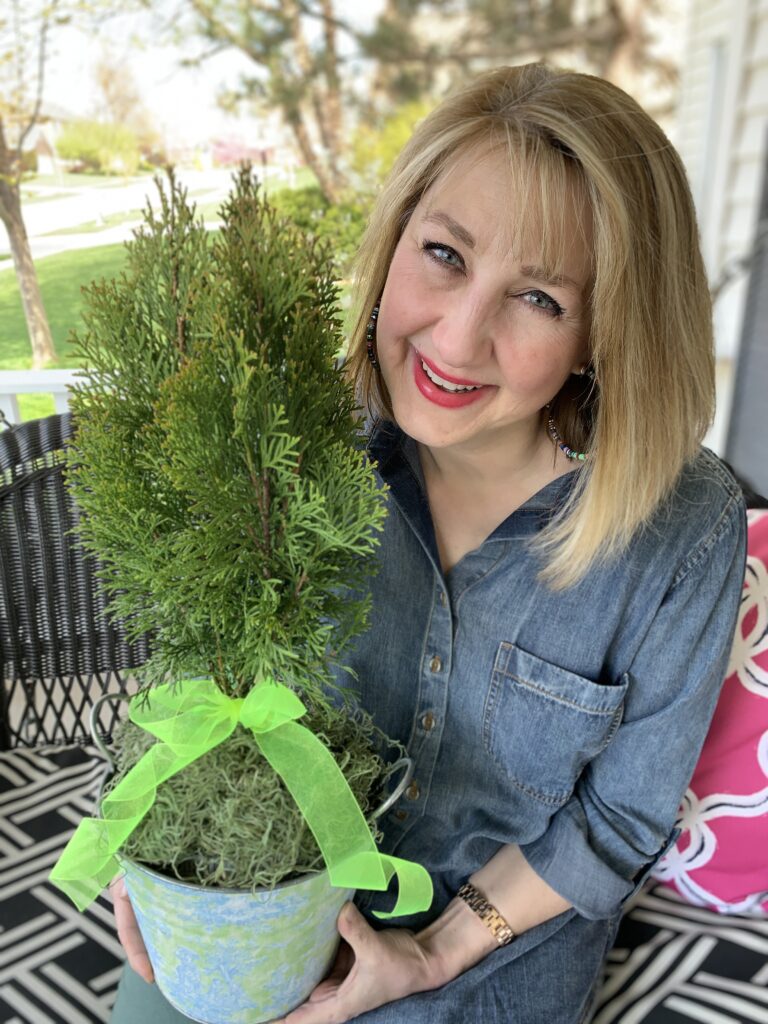 Do you have a minute? Check out this quick and easy way to give love and hope for the planet in one little bucket.
Seriously, this takes about 60 seconds to put together!
For this project, you will need:
-One small tree (or bush, or plant, or bouquet, etc.)
-One metal bucket
-Paper stuffing
-Ribbon
-Gift tag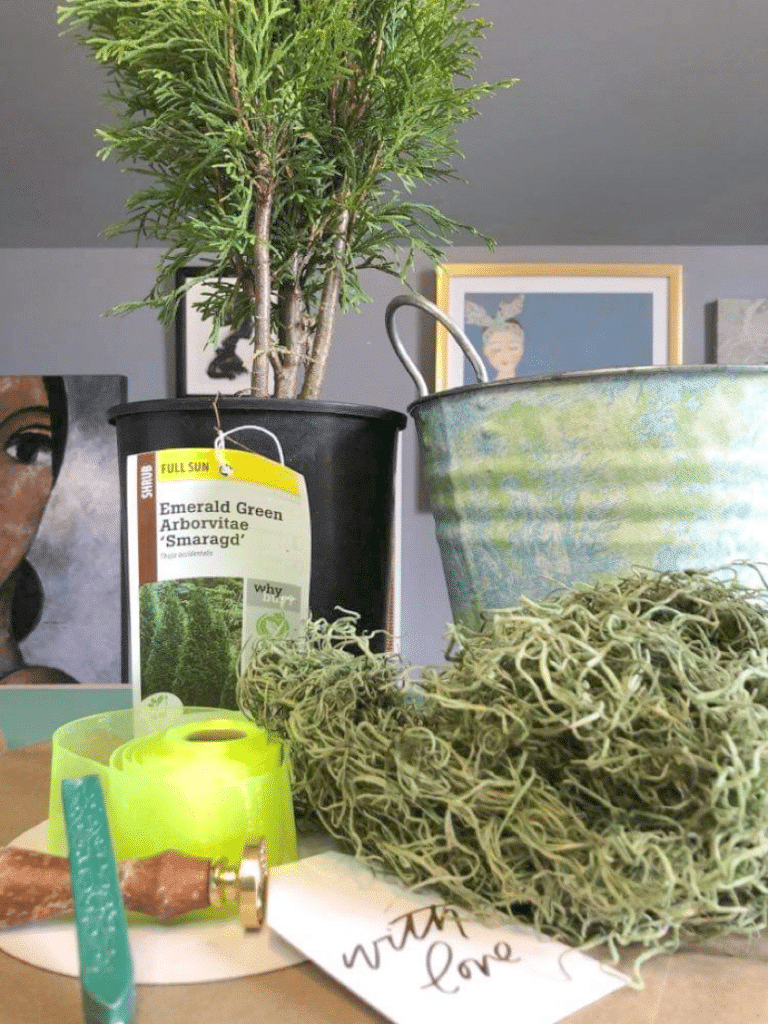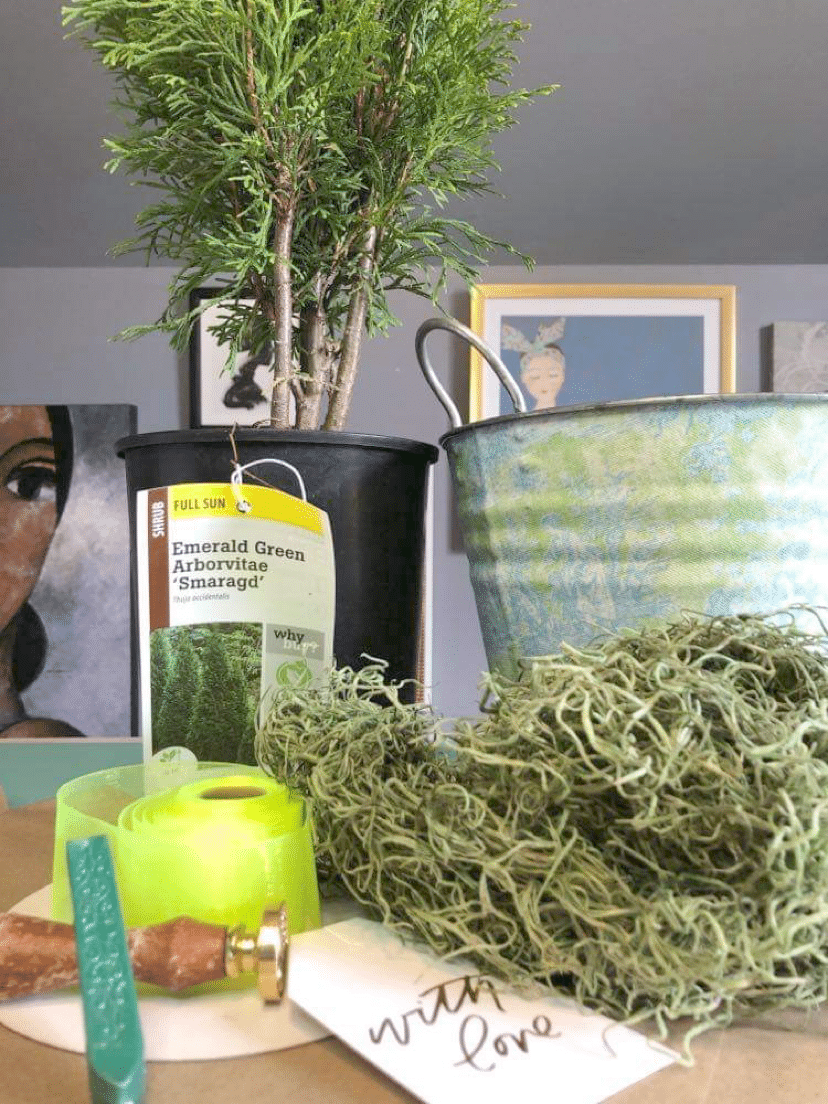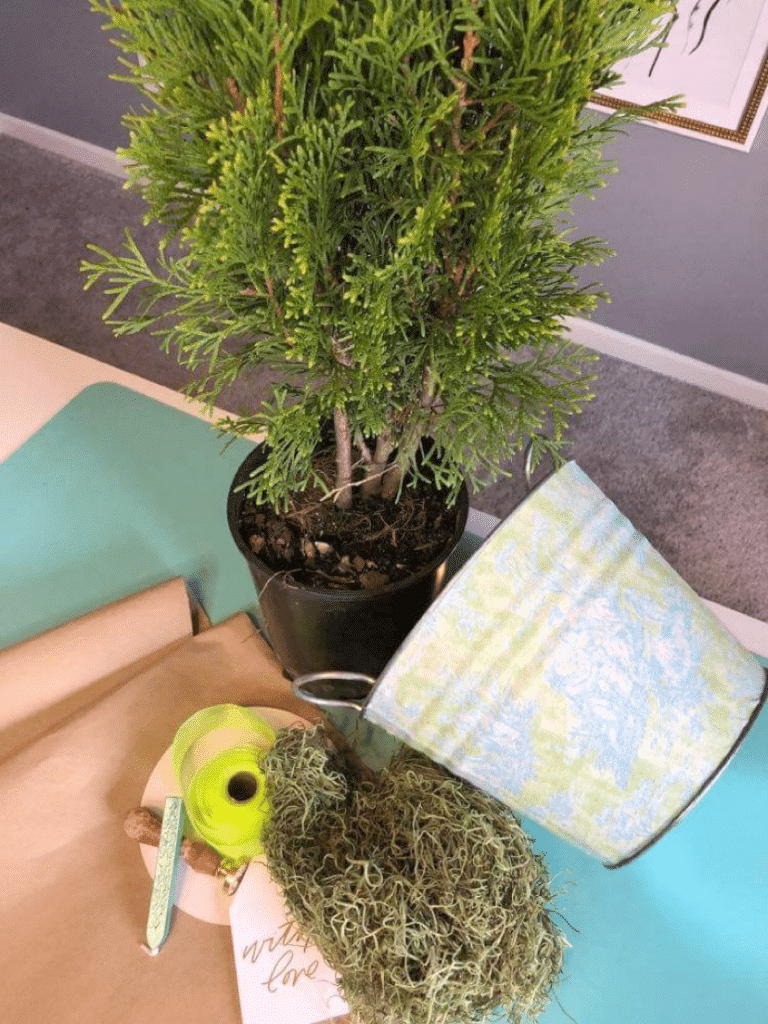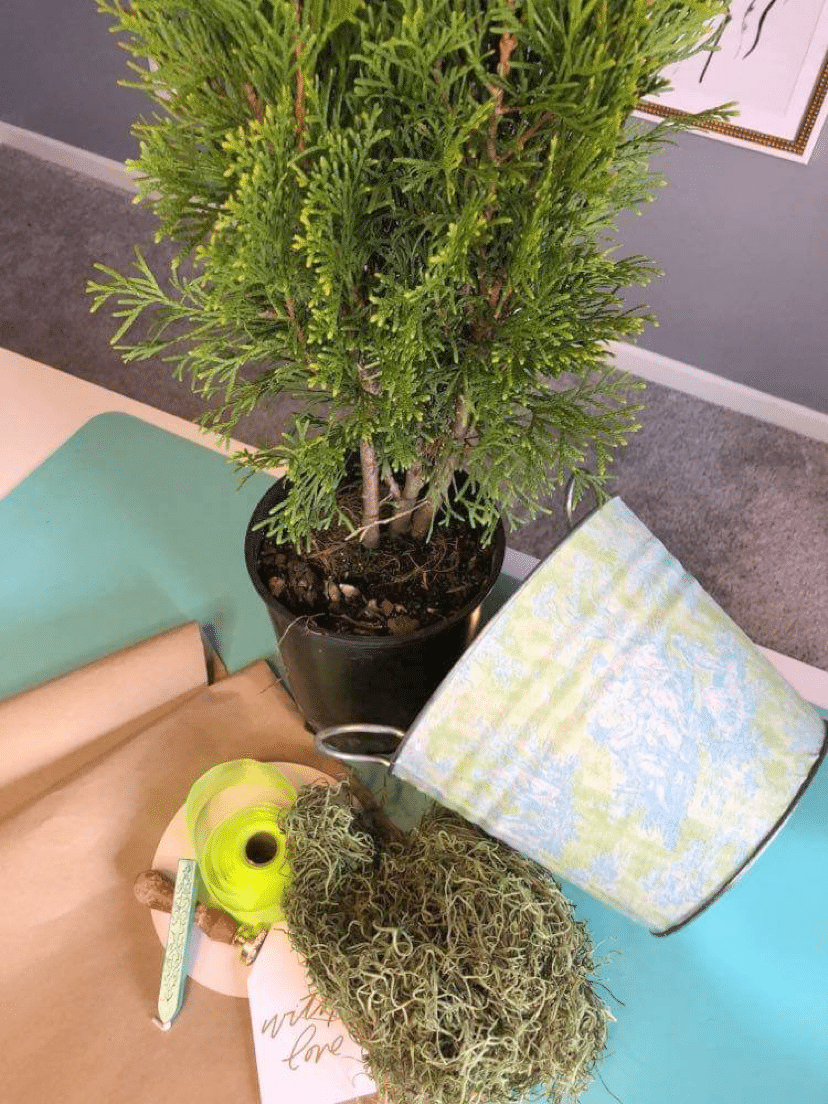 The Tree
Don't you agree that the best things come in small packages? And trees are no exception!
There are many tree varieties that come in small versions that are giftable. For my tree bucket, I chose a Green Emerald Arborvitae. This tree grows quickly with a columnar shape. Perfect for planting in any type of landscape or yard!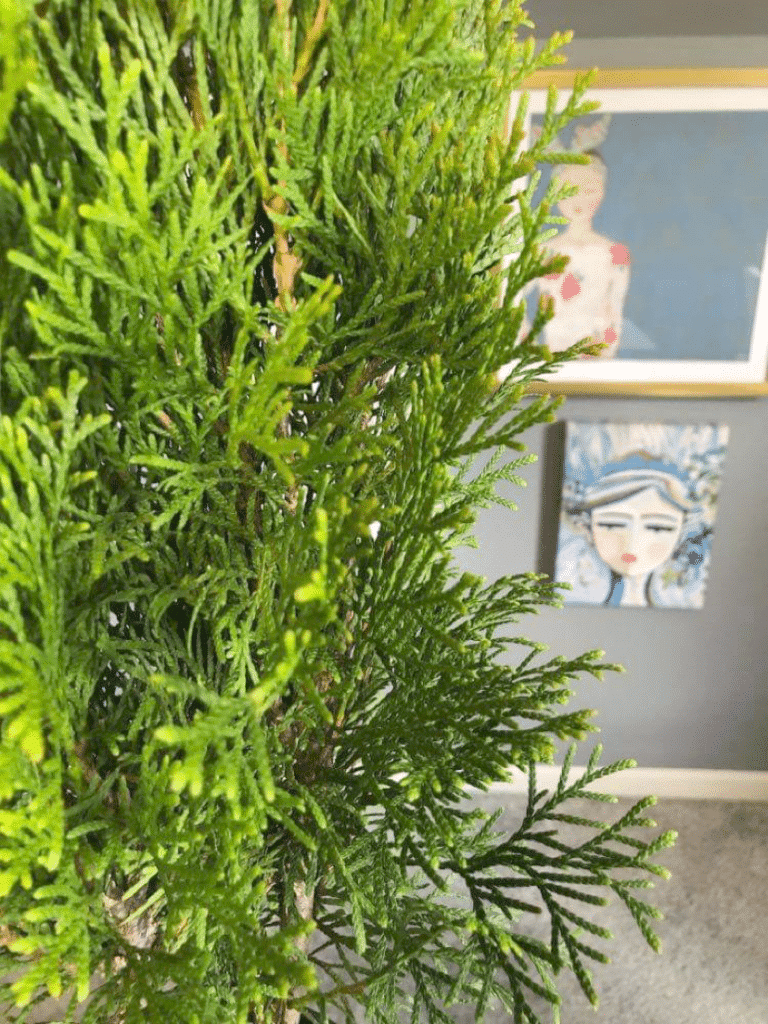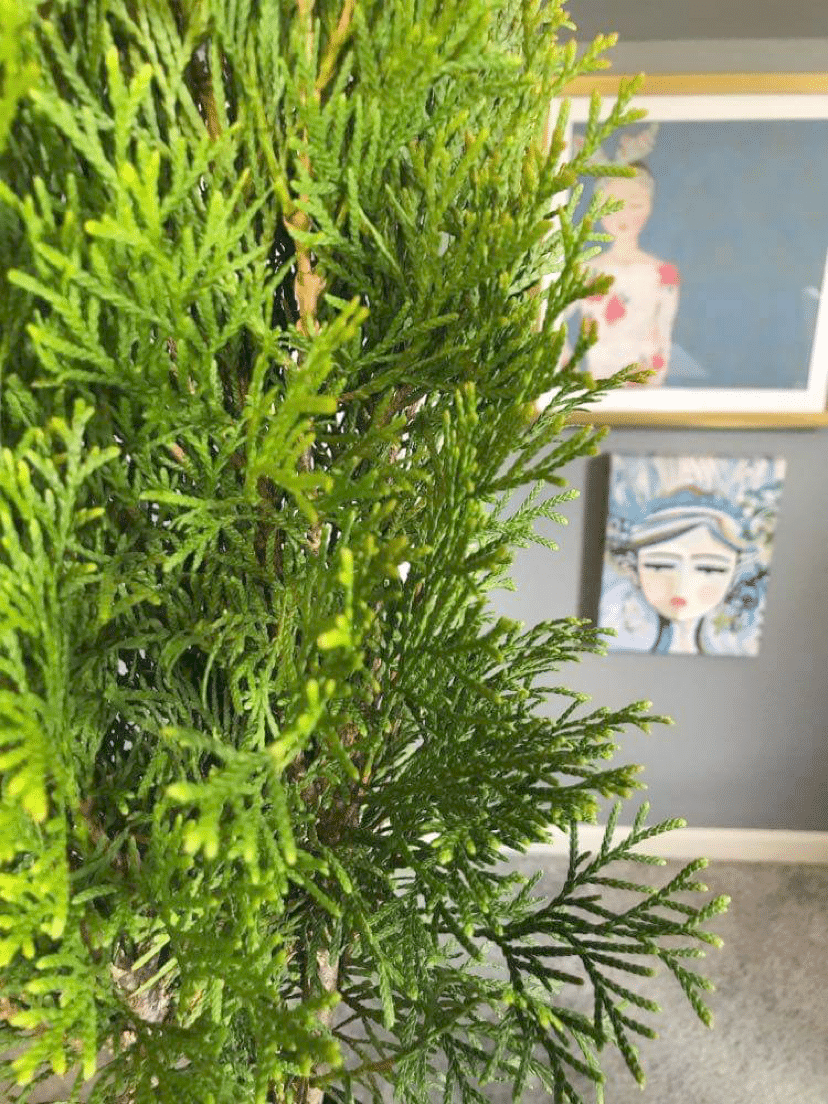 Why not gift a tree in a bucket with the idea of keeping it on an apartment balcony until the tree outgrows the bucket!
Bucket LIst
I use the term "bucket" loosely. You can use a pail, basket, bag, tote….anything that a small tree will fit into!
Now is your chance to get as fancy with your bucket as you want. I am using a bucket with a pretty decoupaged green and blue toile fabric. This puts me in a Jane Austen frame of mind and I want to read "Sense and Sensibility" again!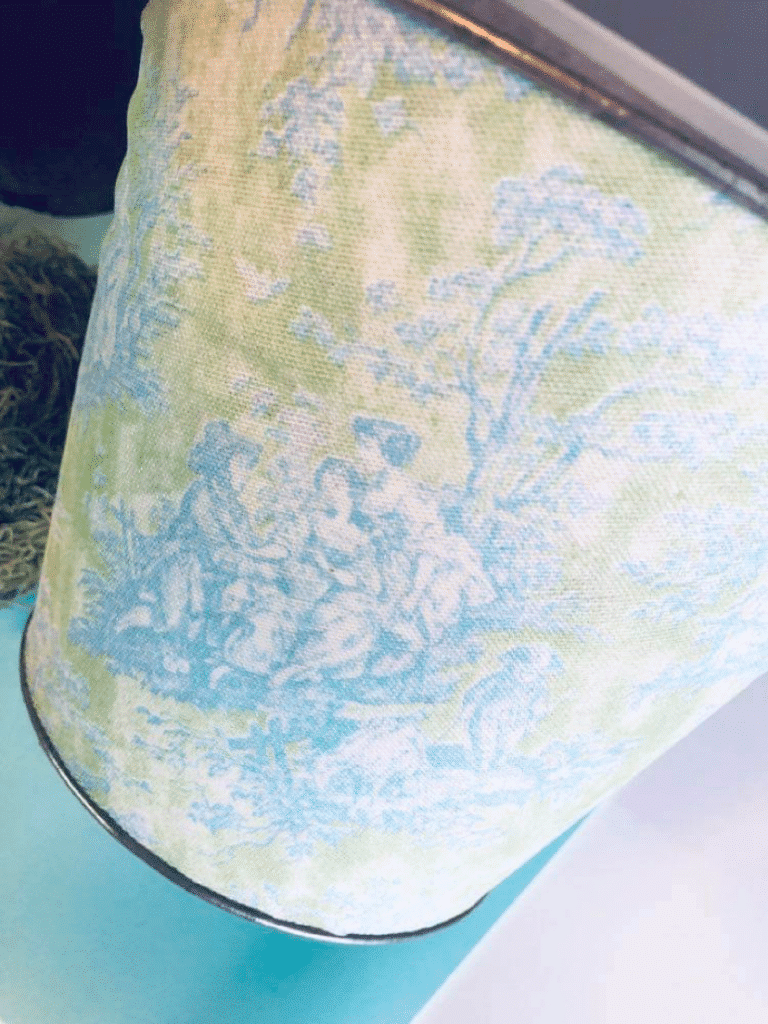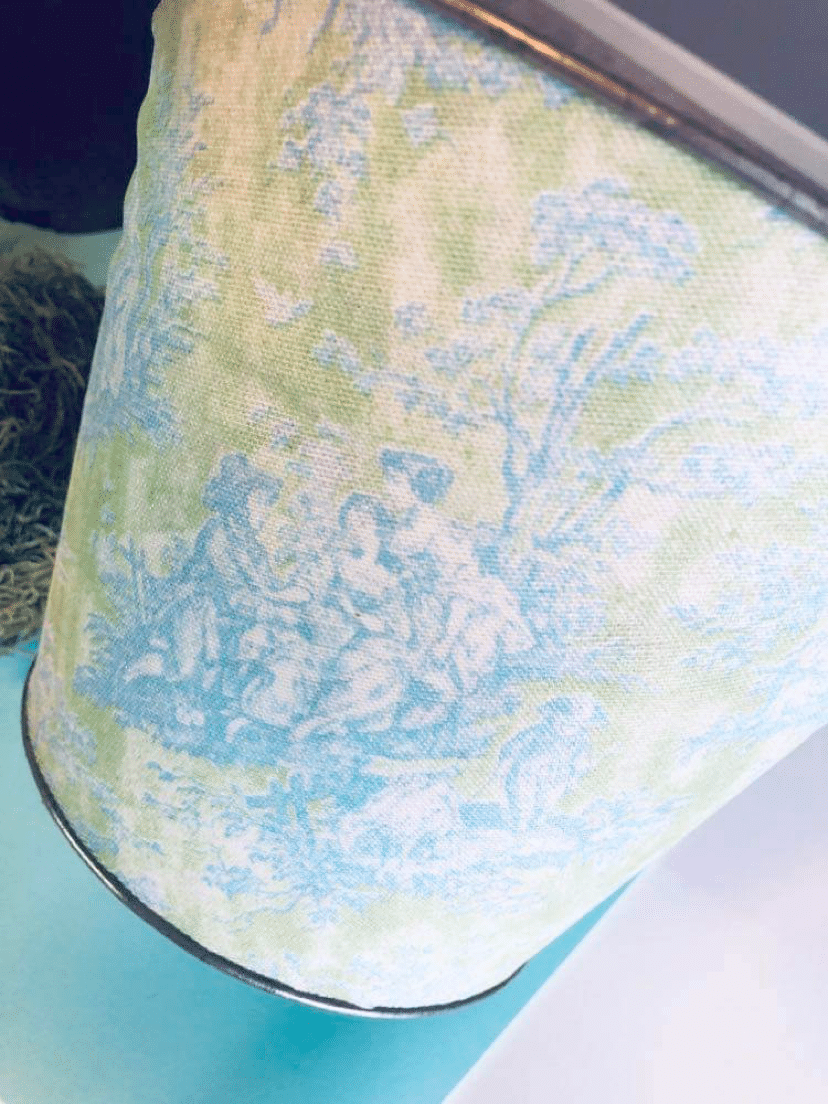 Here are some suggestions for other "bucket" ideas that would be super fun for your tree gift!
Place the tree in the center of the bucket or container and stuff the sides with newspaper or packing paper so the tree doesn't tip and wobble.
The Details
Spanish moss comes in lots of different colors but, in honor of Earth Day, I went with full out GREEN!
Tuck a nice thickness of the moss around the base of the tree. It's like a tree SNUGGLY!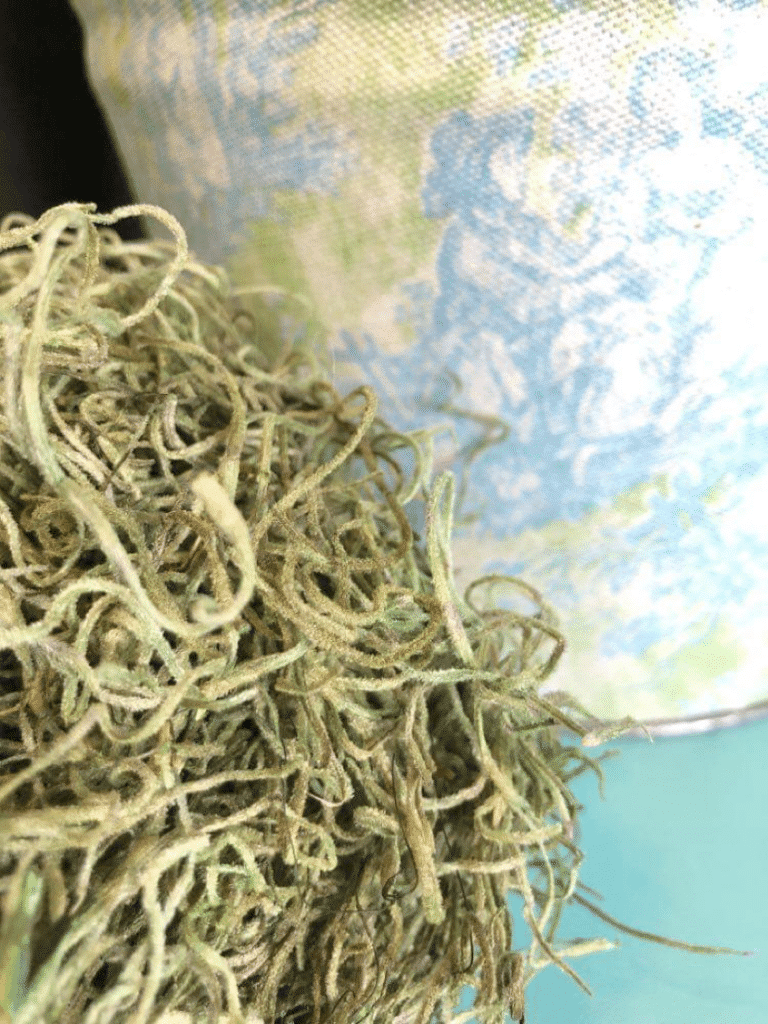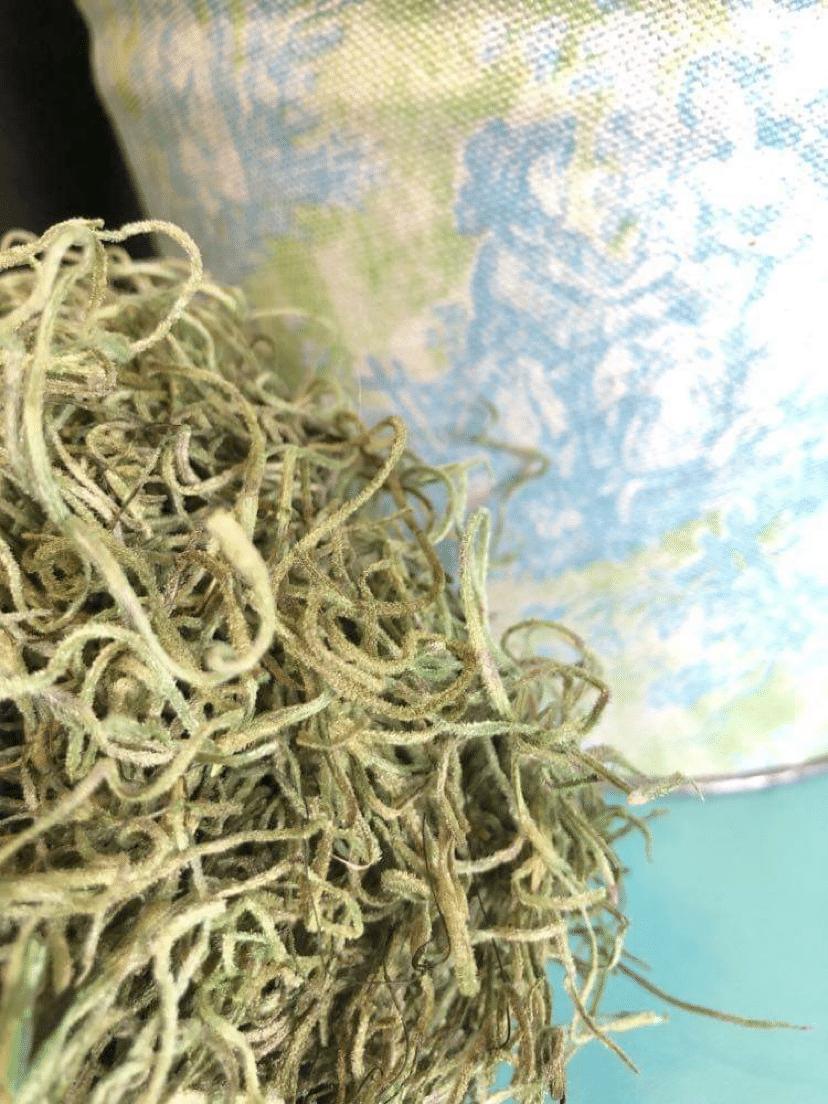 Now, grab a pretty ribbon! Again with the GREEN! Tie a simple bow around the base of the tree for a super sweet frill. Any ribbon will do. I chose a sheer ribbon because I like the combination of fancy ribbon on an earthy tree.
Every gift needs a tag…be sure to tell the receiver who this gift is from! 
And, don't forget to tuck the care instruction tag in the side of the bucket.
Surprises are always nice so wouldn't this be fun to give as part of the May Basket tradition; leave on the front doorstep, ring the doorbell, and run! 🙂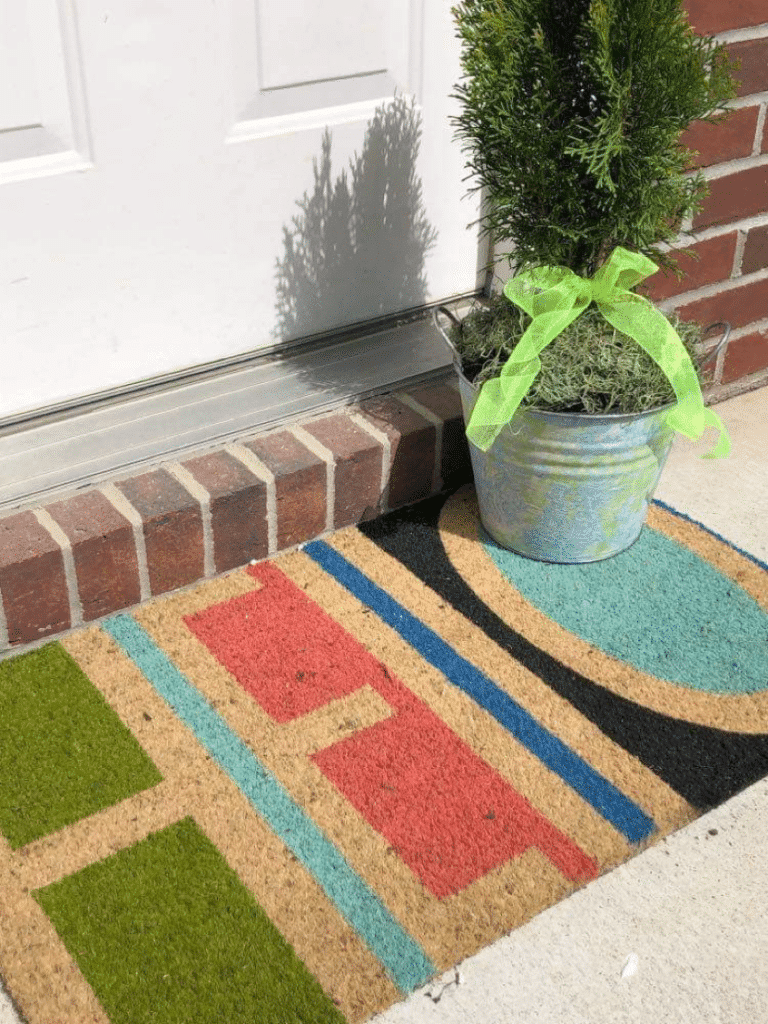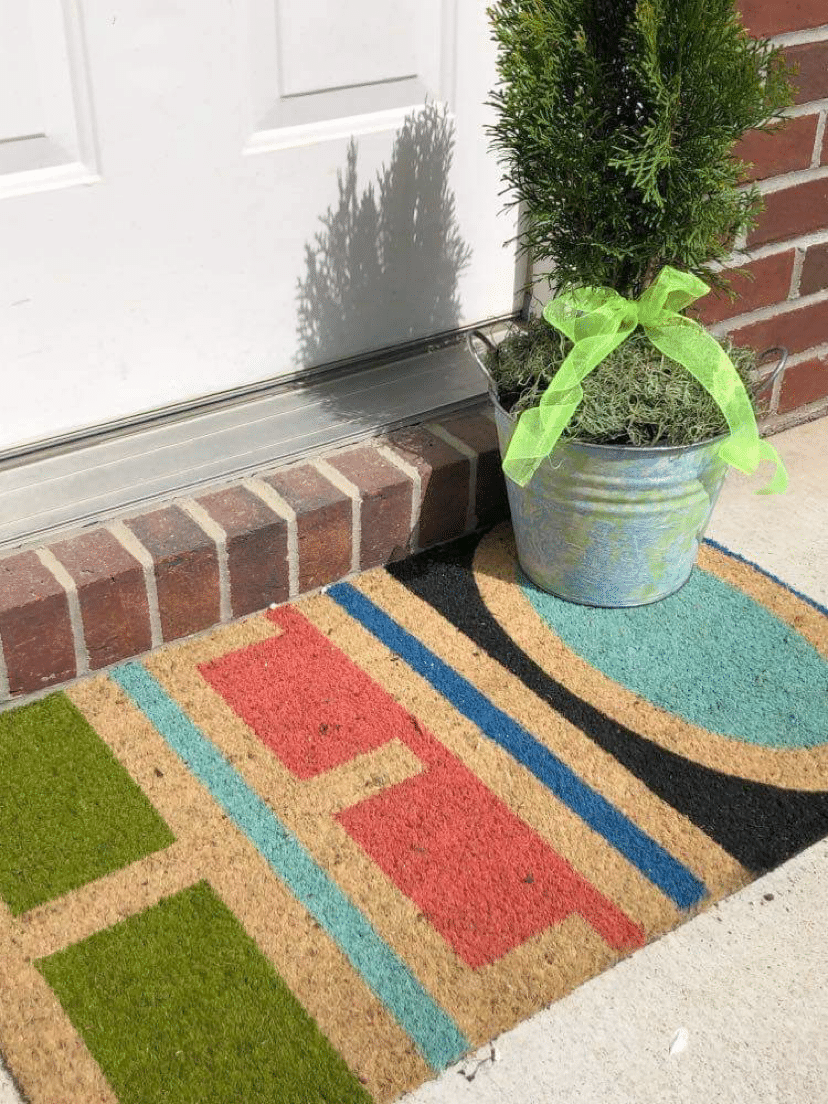 Better yet, hide in a nearby bush and watch the reaction. Love of friend, love of a surprise, and love of the earth!
For you and the rest of this glorious planet…HAPPY EARTH DAY!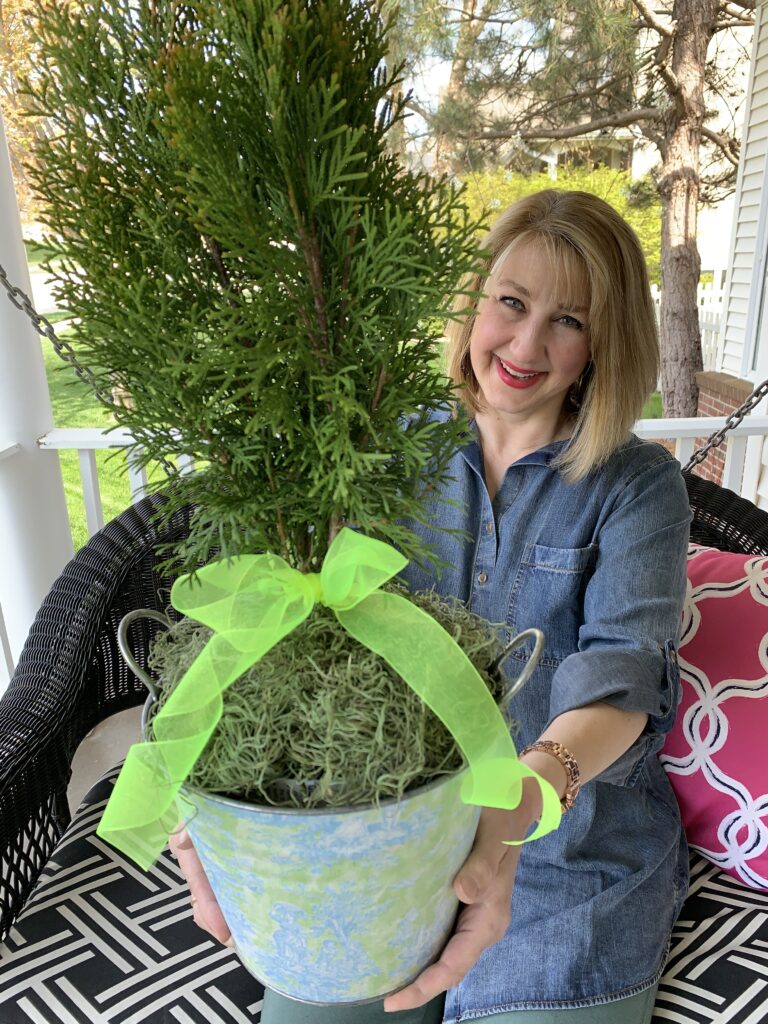 Cheers!

*This post contains affiliate links.