50 Simple and Easy Everyday Table Centerpiece Ideas
Alright, folks, let's talk table centerpieces. You know, those magical little somethings that turn your dining table from "meh" to "Wowza!" But who has the time to whip up elaborate arrangements every day? No worries, because I've come up with 50 everyday table centerpiece ideas that won't make you break a sweat – or your budget!
So, whether you're enjoying a quick weekday breakfast, eating lunch on the patio, or hosting an impromptu dinner with friends, these ideas will help you infuse your table with creativity and warmth.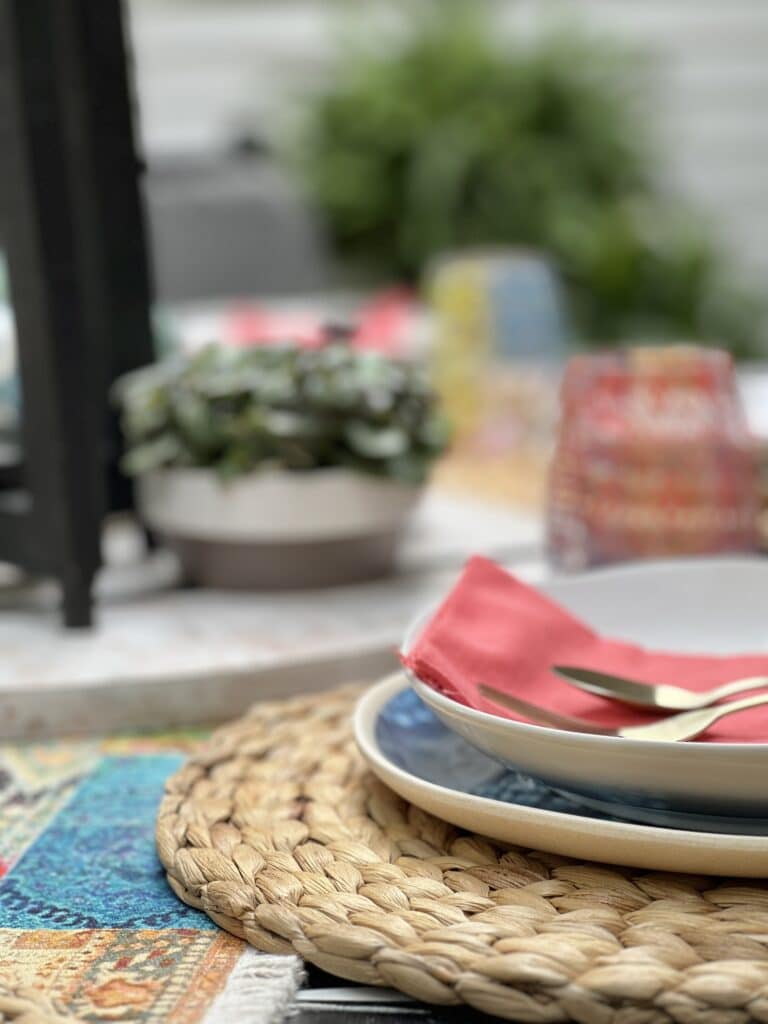 This blog contains affiliate links. This means a small commission is earned if you make a purchase by using this link. The price you pay will be the same whether you use the affiliate link or go directly to the vendor's website using a non-affiliate link.
What's the buzz at your dinner table?
Maybe you're dishing out the play-by-play of your day, tackling a "question of the day," or fiercely debating the best way to make mashed potatoes.
In the rhythm of our busy lives, the dining table often becomes the heart of our homes – a place where we gather, share stories and nourish our bodies and souls. A well-crafted centerpiece has the remarkable ability to set the tone for these everyday moments, turning the ordinary into something special.
And guess what? These corners of our homes deserve a little sprucing up, too.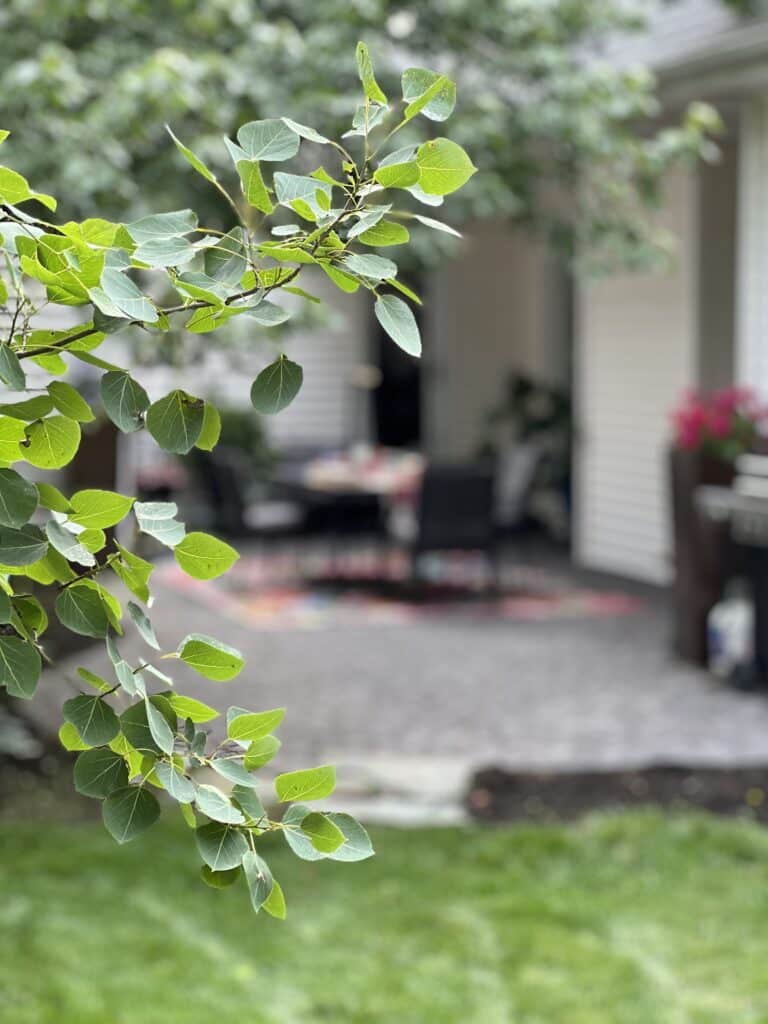 But let's be real here – if the centerpiece requires more than 10 minutes, I'm quick to pass. So, here's the deal…
While the idea of creating a centerpiece might sound daunting, fear not! I've gathered a delightful list of 50 simple and easy everyday table centerpiece ideas that will effortlessly add charm and beauty to your dining space.
The Definition of a Dining Table
Before we get started, let's be clear…a dining table can come in many shapes and forms!
It could be the dinner table in your kitchen, a round table in a dining room, a dining area on your patio, or a kitchen island with bar stools surrounding a cooking area.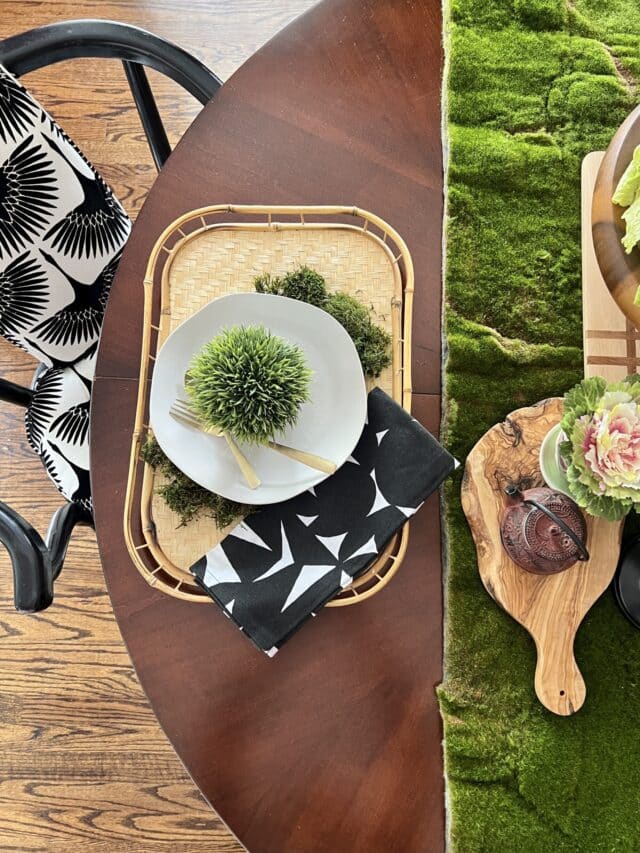 The location does not matter! What matters is that is a special gathering space for you, your family, and your friends. A beautiful centerpiece is a great way to signal that the table is a special but accessible space for daily use.
The best centerpieces are those that create a cohesive look with the rest of your home, reflect your individual personality and taste, and can be a decorative accent even without food on the table!
Table centerpiece ideas for everyday
I'm so excited to share some of my favorite centerpiece ideas! Many of these items are probably already in your home. Shop your house and then make a list of a few other items you want to buy so you have lots of great options.
1. Candlelit Serenity
Illuminate your table with the soft glow of candles. Opt for a cluster of different-sized candles on a decorative tray for an elegant touch.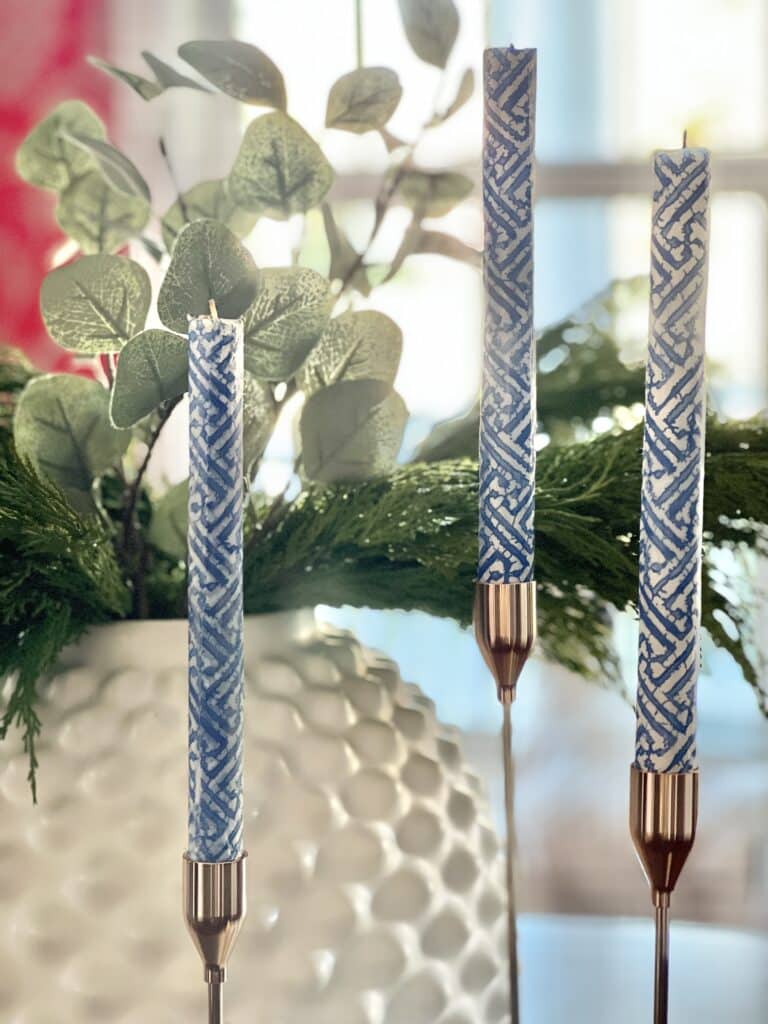 2. Fresh Flower Medley 
Fresh flowers are not just for special occasions. Every day is a special occasion, so use fresh, real flowers! Arrange a bunch of freshly picked flowers from your garden in a vase or mason jar. Or, grab an inexpensive bouquet from the grocery store for your floral arrangement. It's an instant burst of color and fragrance.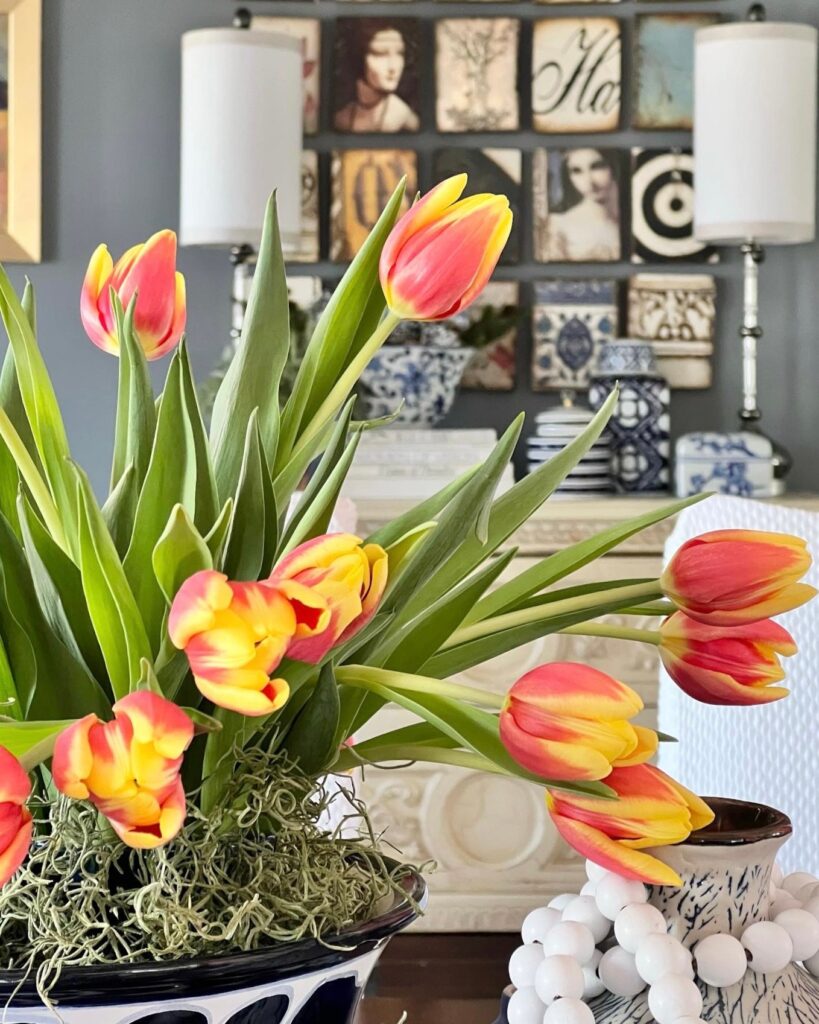 3. Faux Real 
While I love using fresh flowers, I also know the power of faux flowers. There are so many amazing varieties available. So embrace some beautiful faux stems and display them in the center of the table for a gorgeous focal point.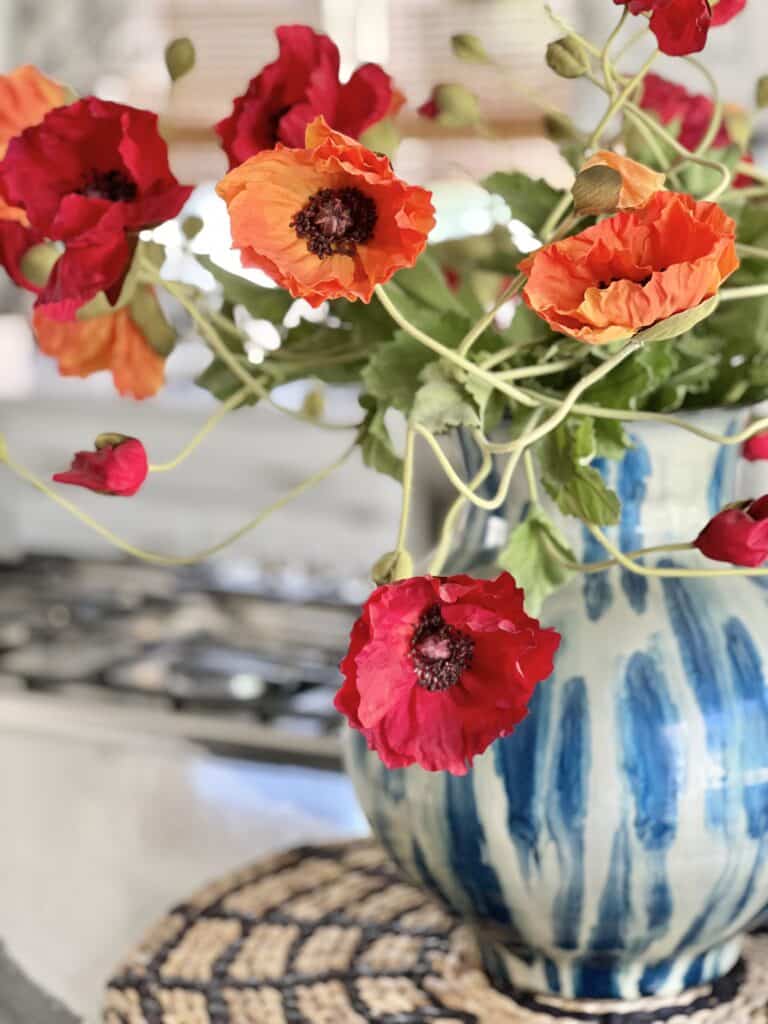 4. Kitchen Utensil Charm
Arrange wooden spoons, ladles, and whisks in a decorative container for a touch of culinary chic. Add a stack of plates and silverware for an interactive table centerpiece.
5. Coffee Break Central
Create your own coffee station that can double as a table centerpiece. Arrange some coffee beans in a clear container and let the aroma perk up your dining experience. This is my idea of centerpiece heaven!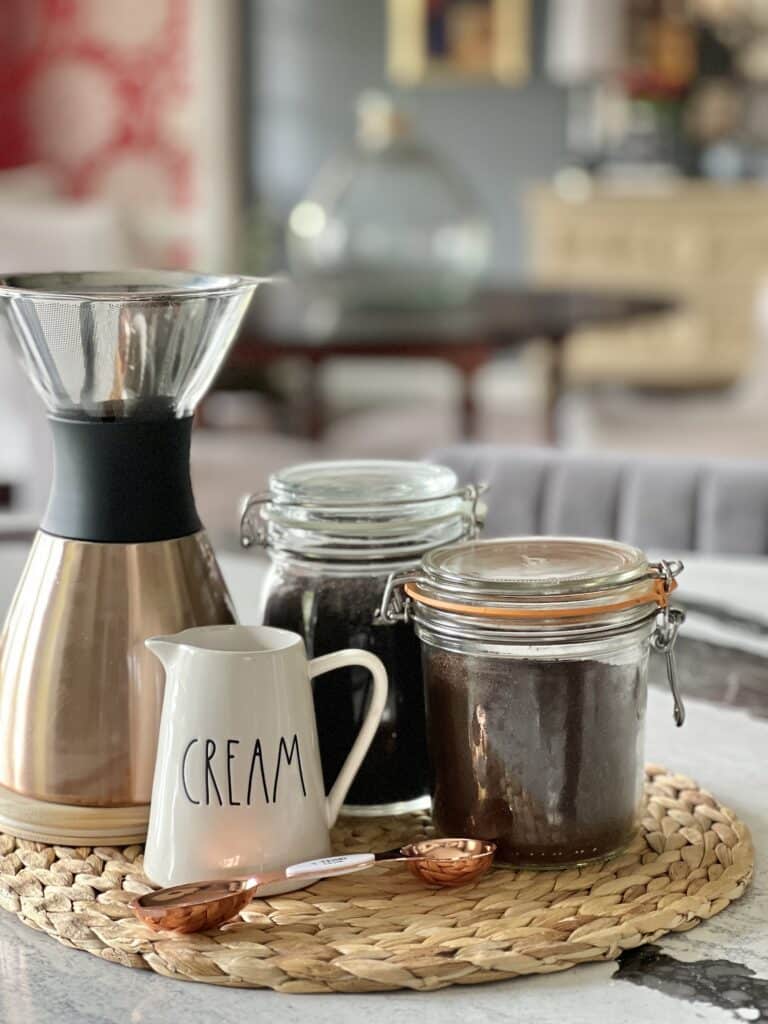 6. Mini Indoor Garden
Create a mini garden on your table by placing several potted plants in a woven basket for an instant green plant garden. Your table will feel like a breath of fresh air.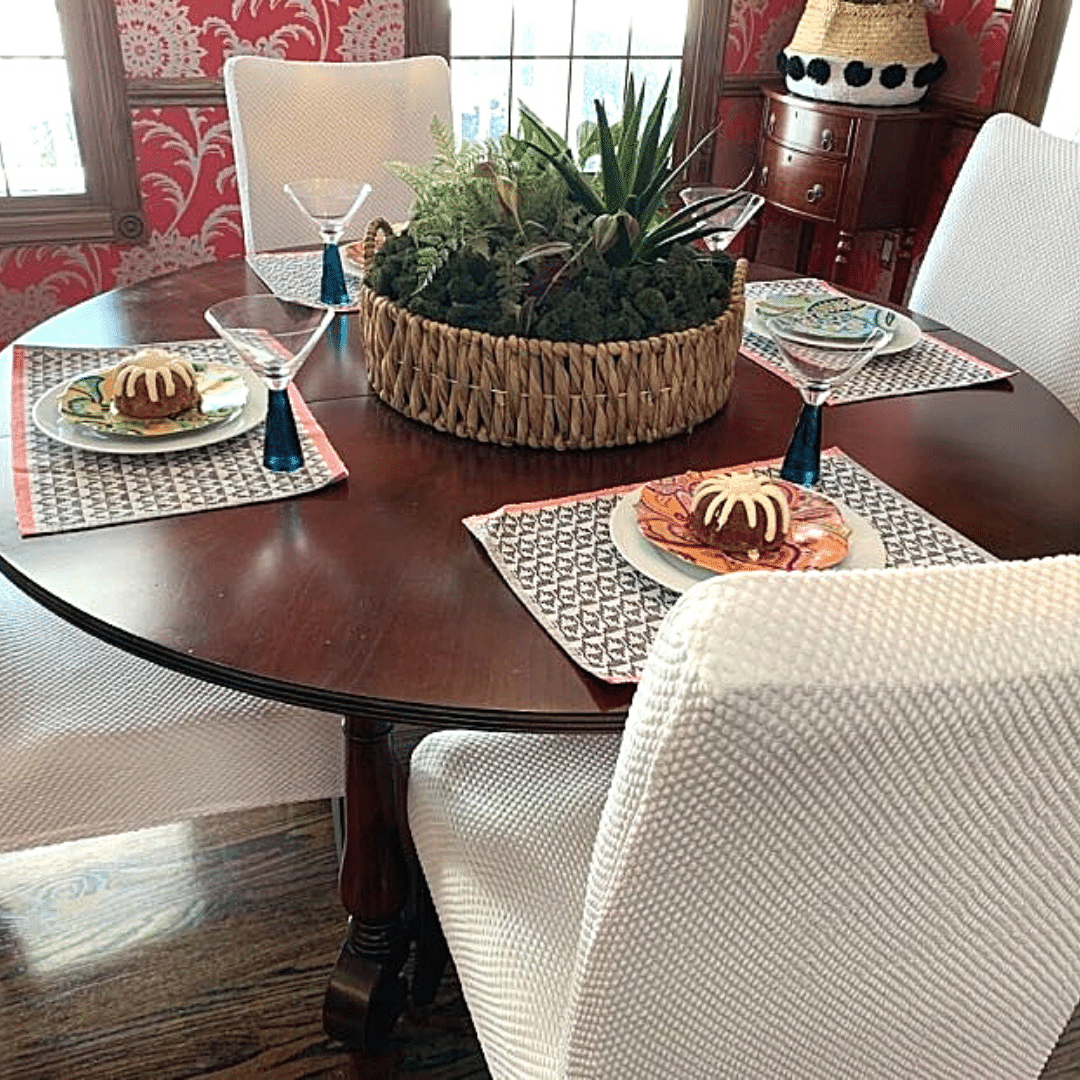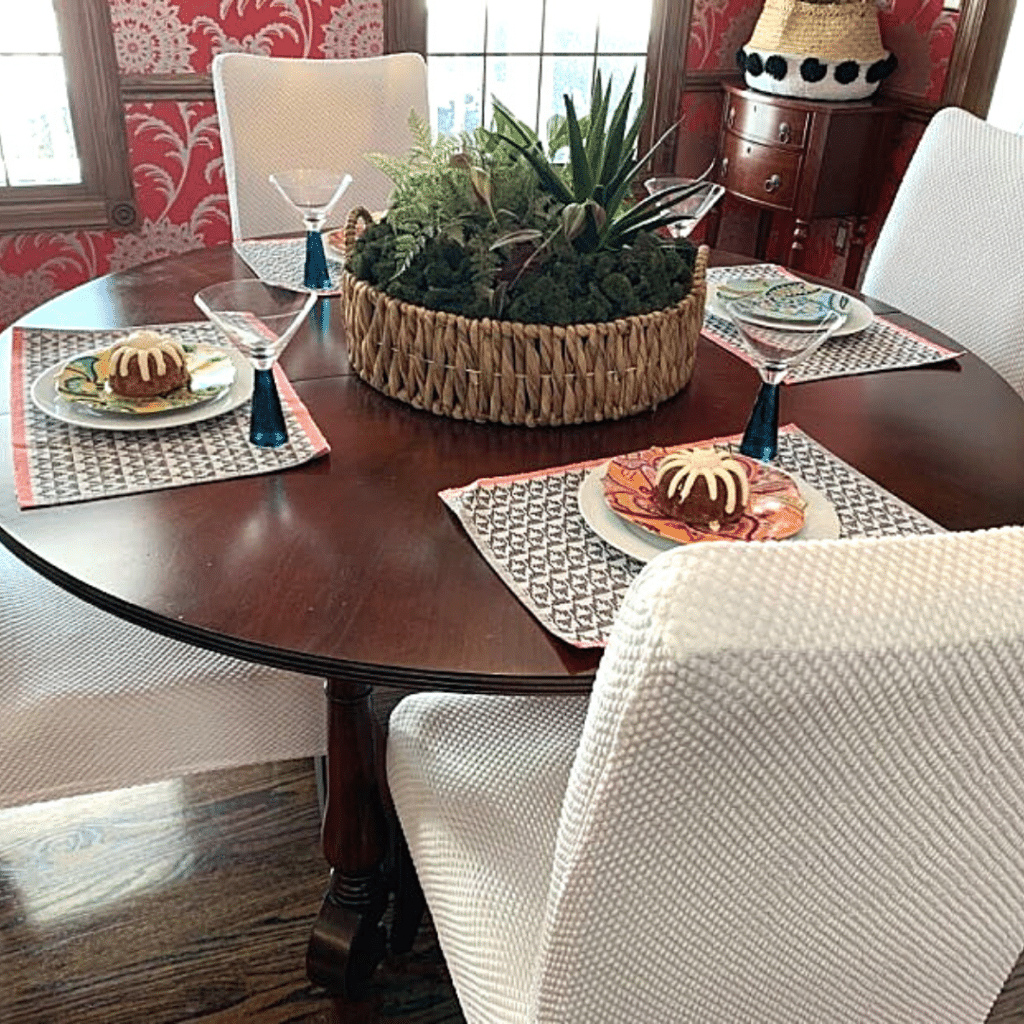 7. Nature's Bounty
Collect branches, pinecones, and leaves from your outdoor adventures and arrange them in a glass vase or wooden bowl for an easy kitchen island centerpiece.
8. Citrus Splash 
We all know the usual fruit bowl. Take it to the next level and fill a unique vase or glass bowl with vibrant citrus fruits like oranges, lemons, and limes. It's a zesty and visually appealing kitchen centerpiece display.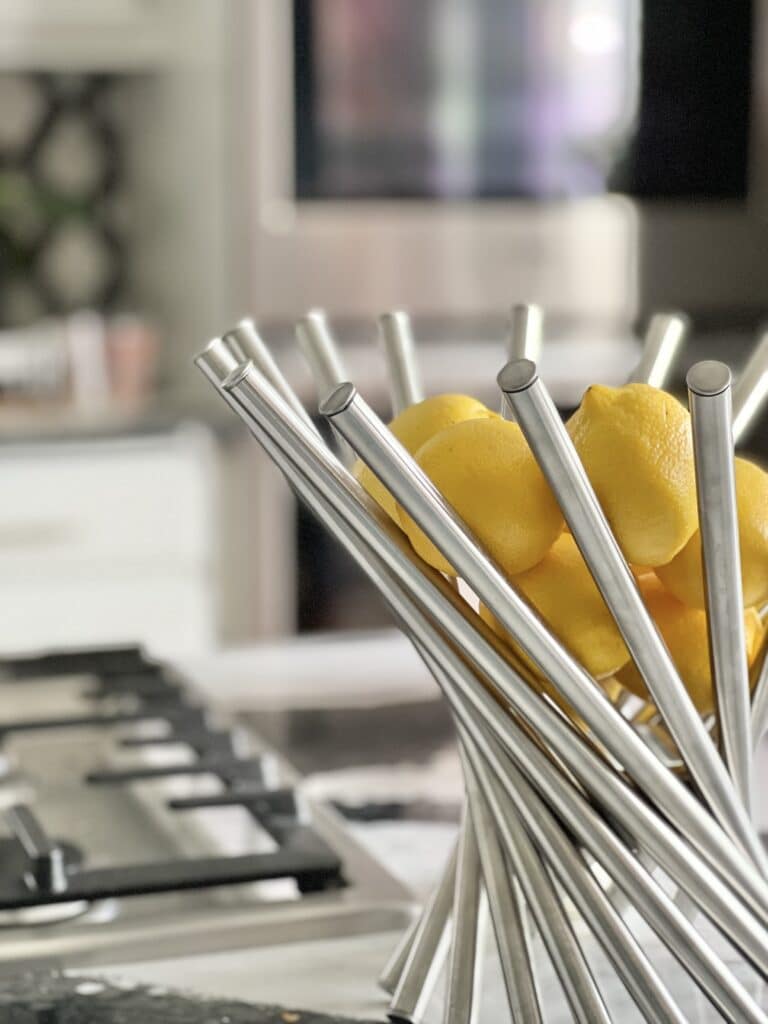 9. Vibrant Vegetables
Fill a wooden bowl with colorful veggies for a simple centerpiece that can change with every day and every season!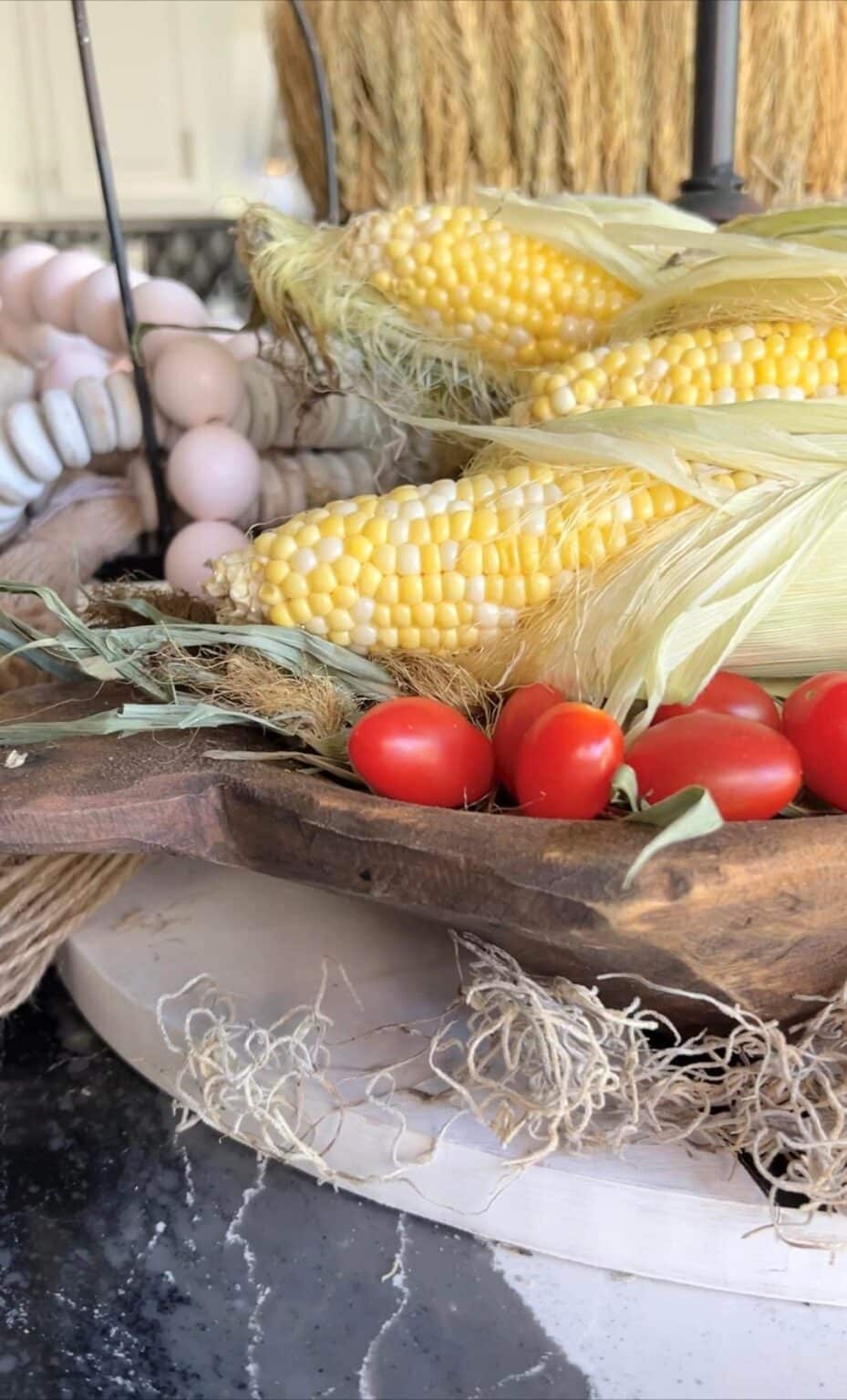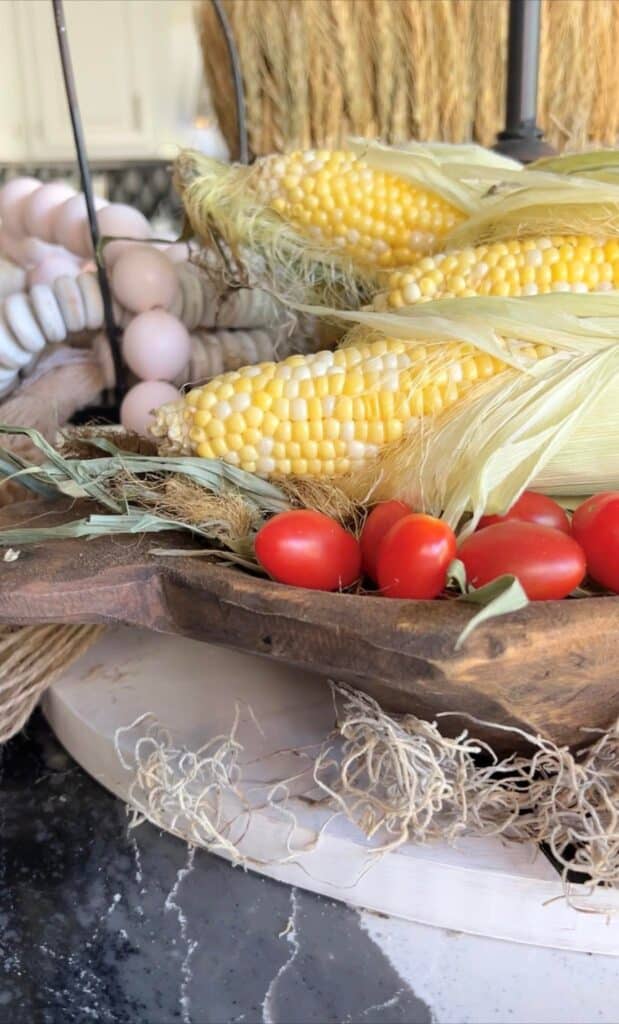 10. Elegant Ginger Jars
Arrange a collection of intricately patterned ginger jars down the center of your table.  Leave the lids on or take them off to display some colorful blooms.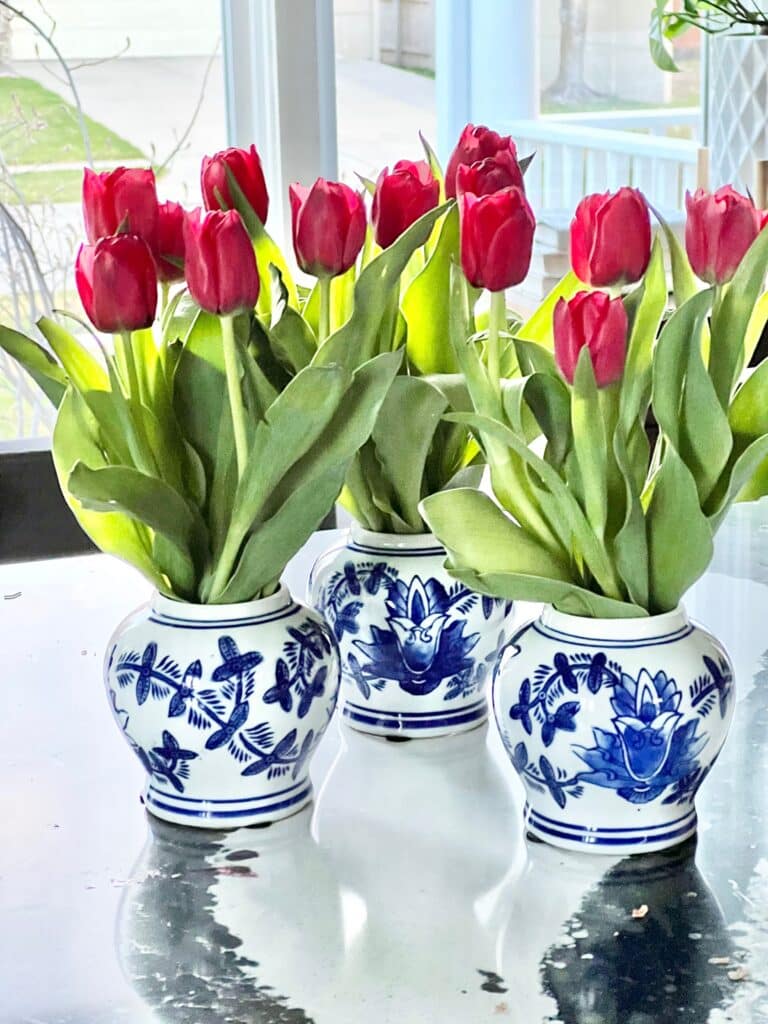 More Easy Table Centerpieces
11. Books and Blooms
Stack a few of your favorite books both vertically and horizontally for a centerpiece with literary flair. Use a favorite wallpaper or wrapping paper and cover the books to coordinate.
12. Family Photo Showcase
Place framed photos of your loved ones along the table, reminding everyone of the cherished memories you share.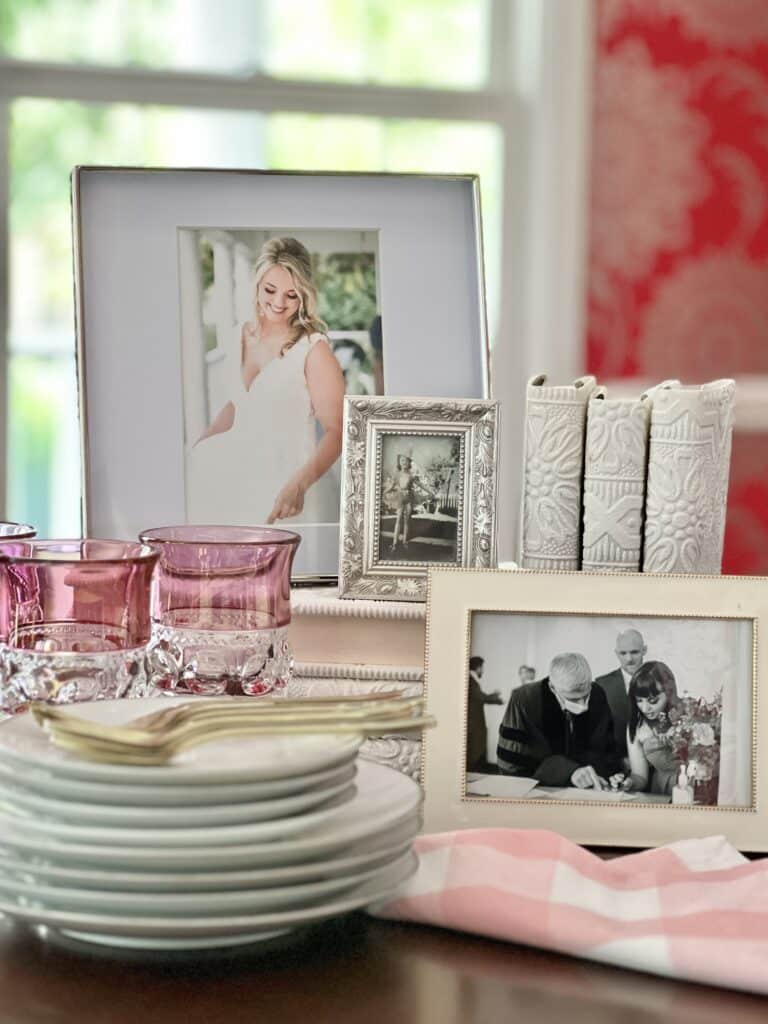 13. Herb Haven
Pot some fresh herbs in cute planters and let their aroma infuse your meals and decorate your dining space. You're basically a gourmet chef now with your herbs close by for everyday use. Wendy at WM Design House created this charming outdoor table centerpiece featuring herbs that are easily grown indoors.
14. Rustic Elegance
Place a burlap runner down the center of your table and adorn it with a row of vintage candlesticks. Simple yet oh-so-charming!
15. Put a Cork In It
Got a stash of wine corks? Pour them into a glass vase or terrarium and let the collection grow as you sip your wine. Even better, mark each cork with the date of special events and memories!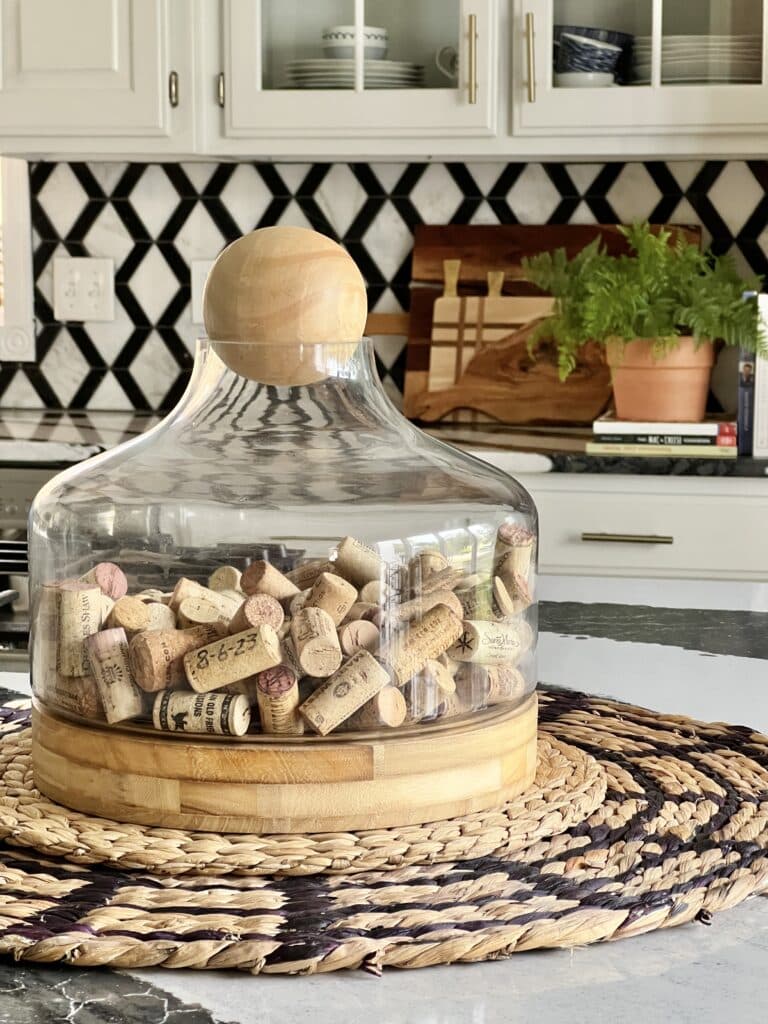 16. Geometric Glam
Stack geometric-shaped vases or candle holders for a modern and artistic centerpiece.
17. A Single Flame
Place one lantern alone on a wood cutting board and surround it with a plant and other decor items in the center of your table. You can use a real candle or tuck a battery-operated pillar candle in the center of the lantern and set the timer for hours of warm glow.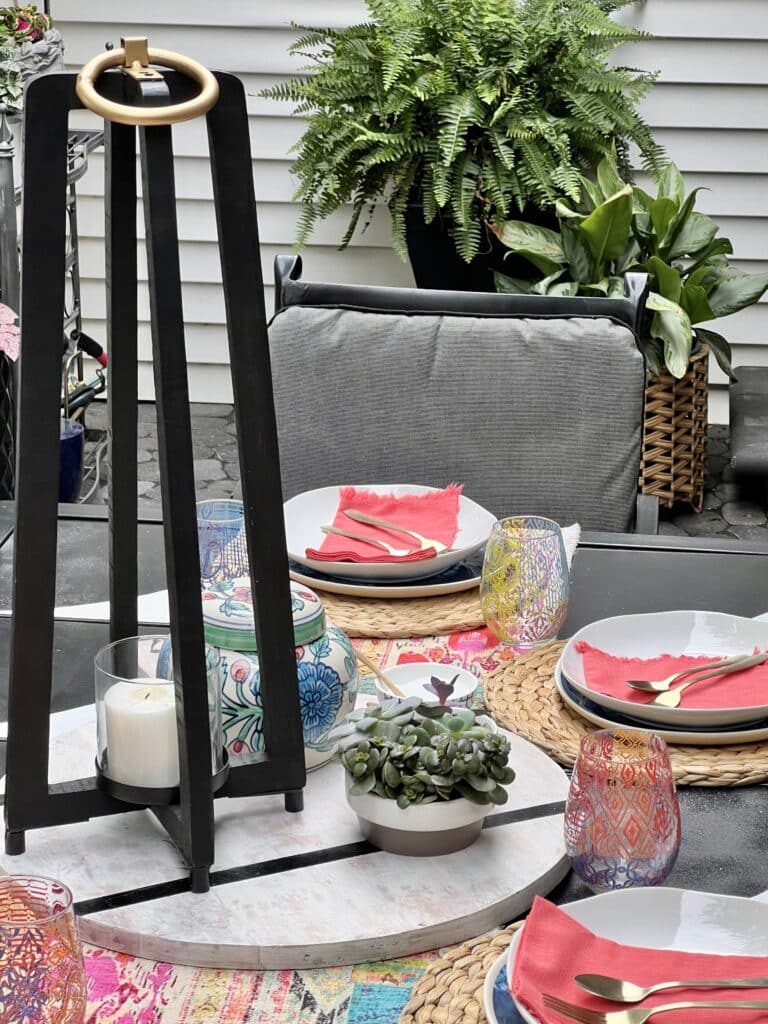 18. Crystal Clear Elegance
Fill a clear glass vase with clear marbles or beads. Modern and sophisticated, this will catch everyone's eye with its tactile appeal.
19. Nautical Notes
Arrange sea glass beads, beach sand, and other decorative pieces on a tray for a touch of coastal charm. Add the green of fresh plants for added texture.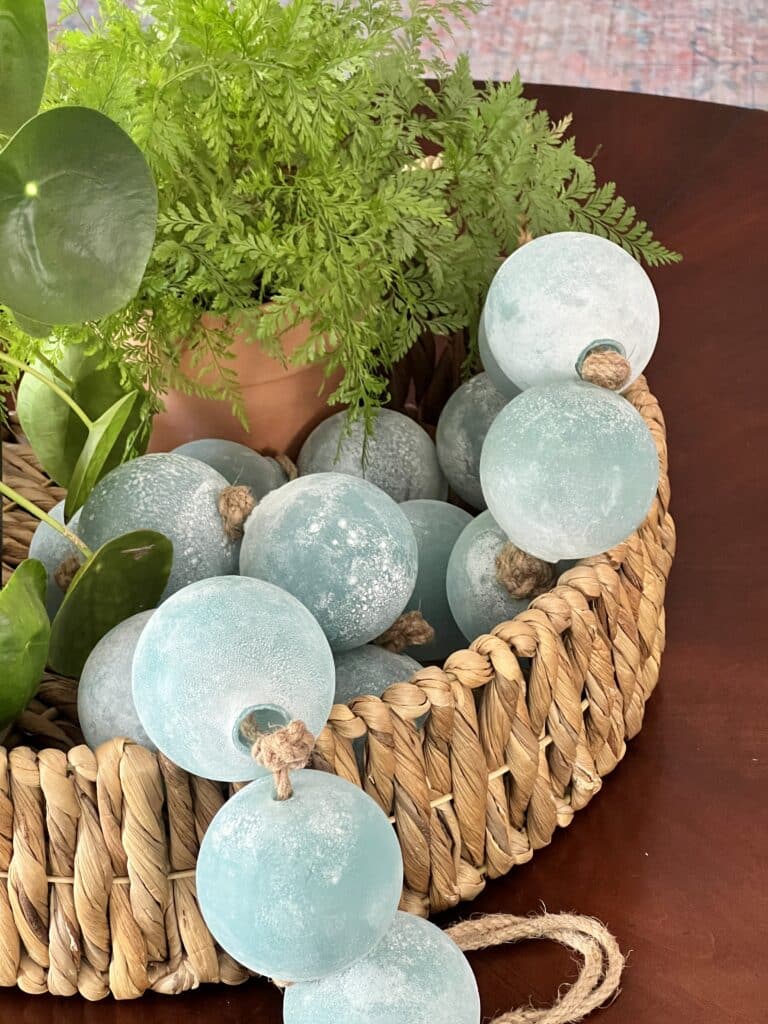 20. Tea Time Treasures
Display vintage teacups or teapots filled with small floral arrangements. It's like a garden tea party right on your table. Susan from Hen and Horse Design is an expert on the joy of drinking tea and has the most beautiful teacups. And she uses them to create the most beautiful table centerpiece displays!
Even More Ideas for Your Table Centerpiece
21. Floating Delights
Place floating candles or flowers in glass bowls filled with water. The gentle movement adds a calming element.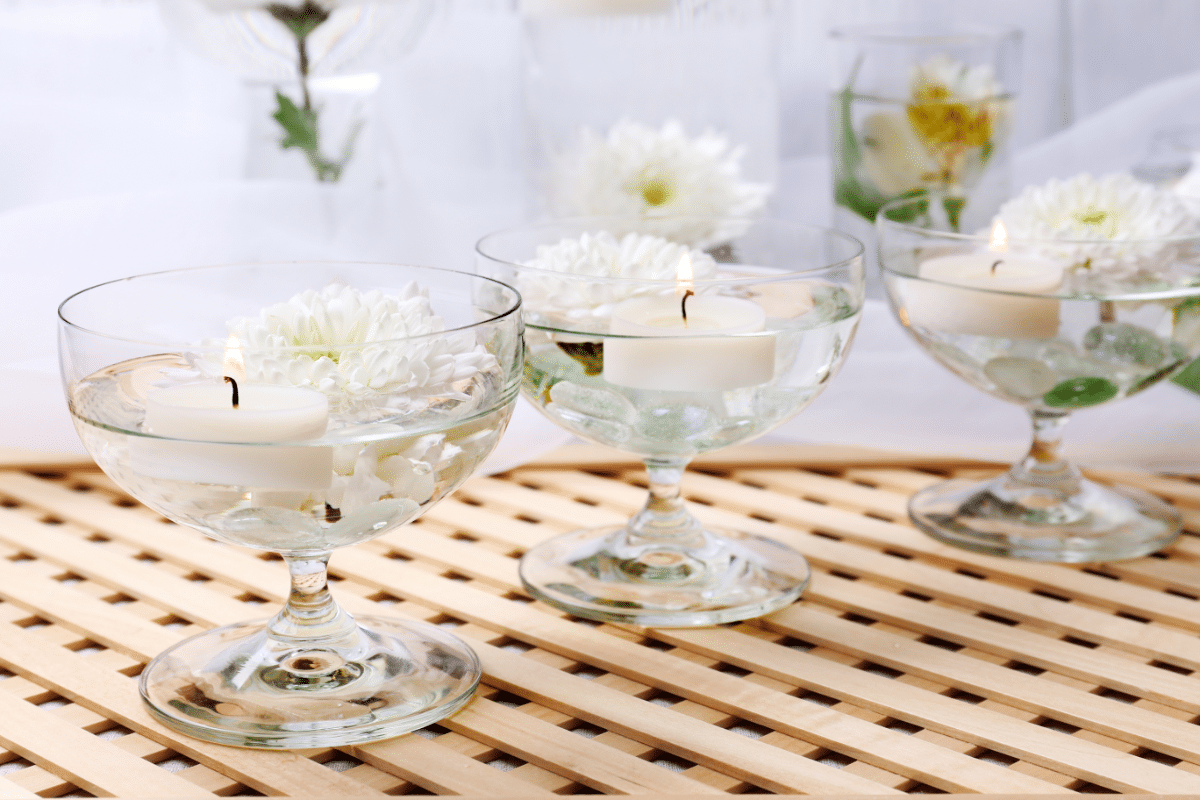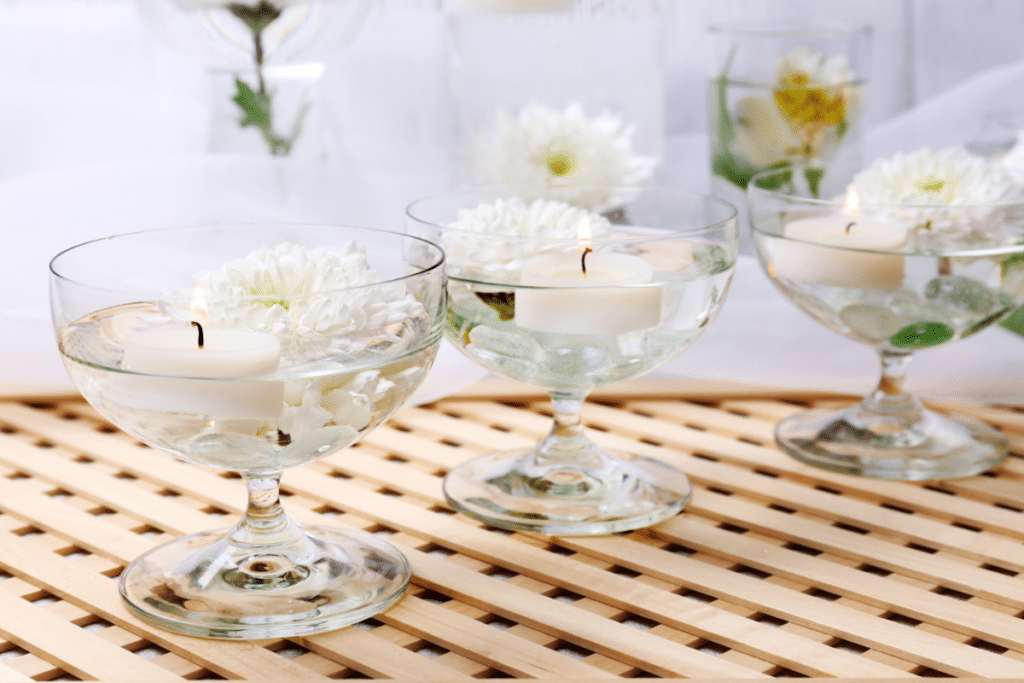 22. Crisp Linens and Blooms
Lay down a crisp white tablecloth and place a vase of colorful flowers at the center. It's a classic combination that never fails.
23. Artful Arrangement
Place a unique sculpture or decorative piece in the center and surround it with small accents like candles or plants.
24. Basket of Treasures
Arrange seasonal fruits, decorative eggs, or other charming items in a woven basket for a touch of countryside allure.
25. Tiered Tray Charm 
Layer the decorative charm by tucking decorative items into the different levels of a tiered tray.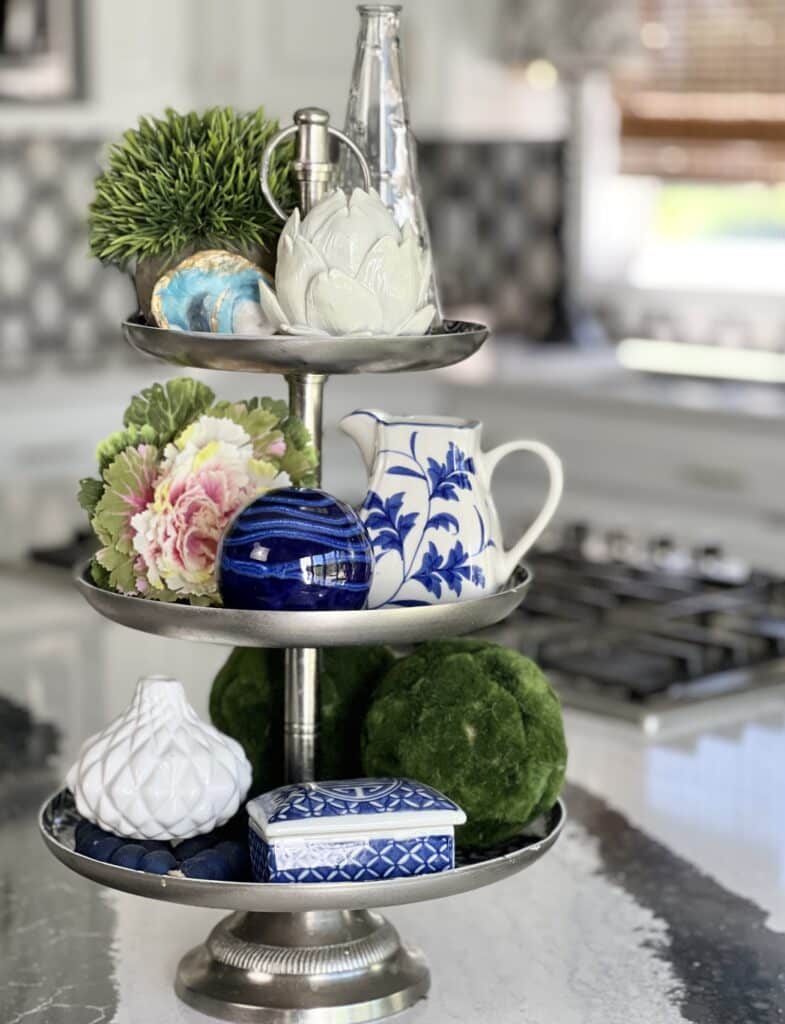 26. Layered Lanterns
Fill coordinating lanterns with small bud vases filled with fresh blooms and layer on the table. We used this idea for the dining tables at my daughter's wedding reception and the result was a beautiful and cozy atmosphere!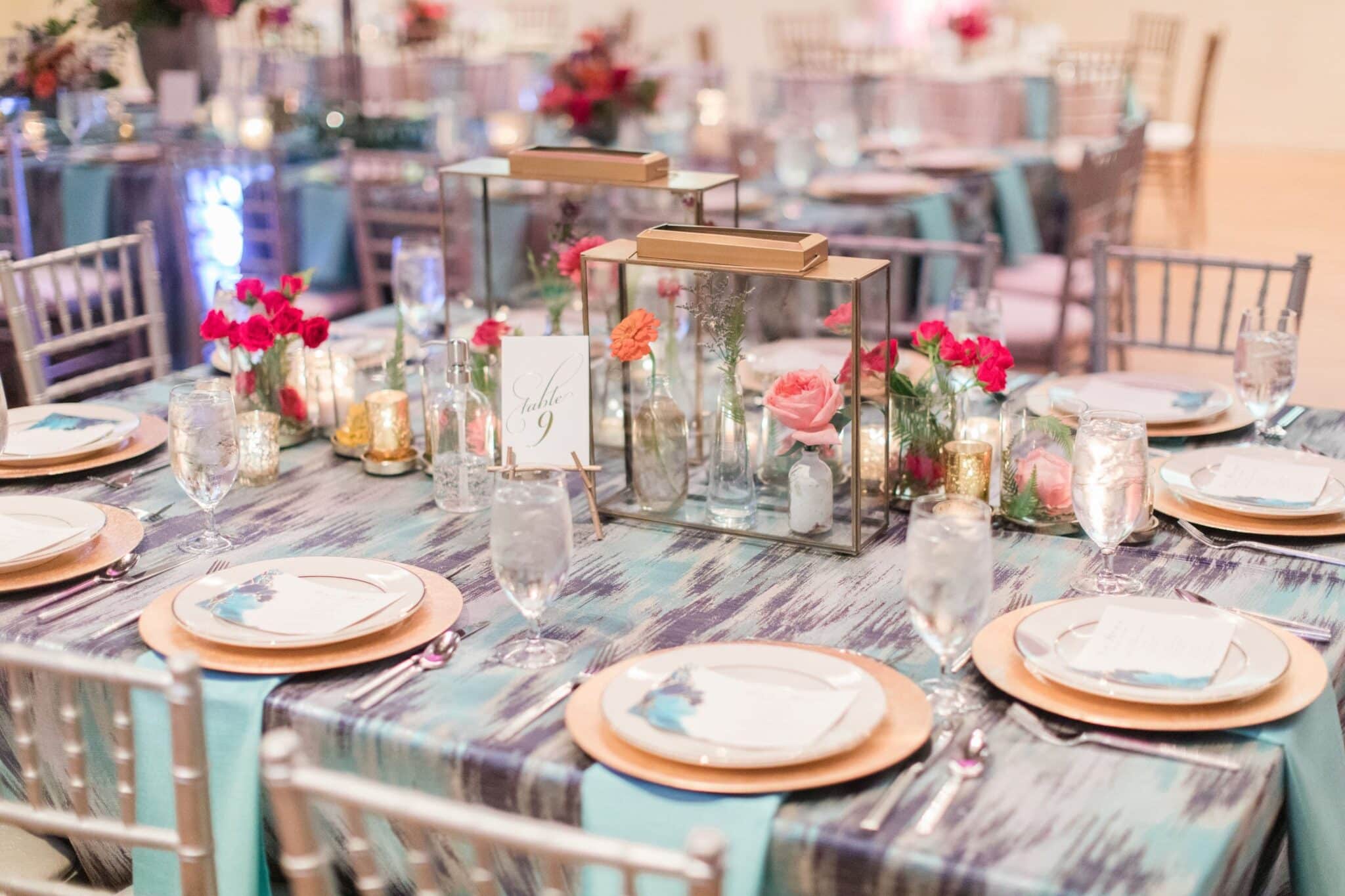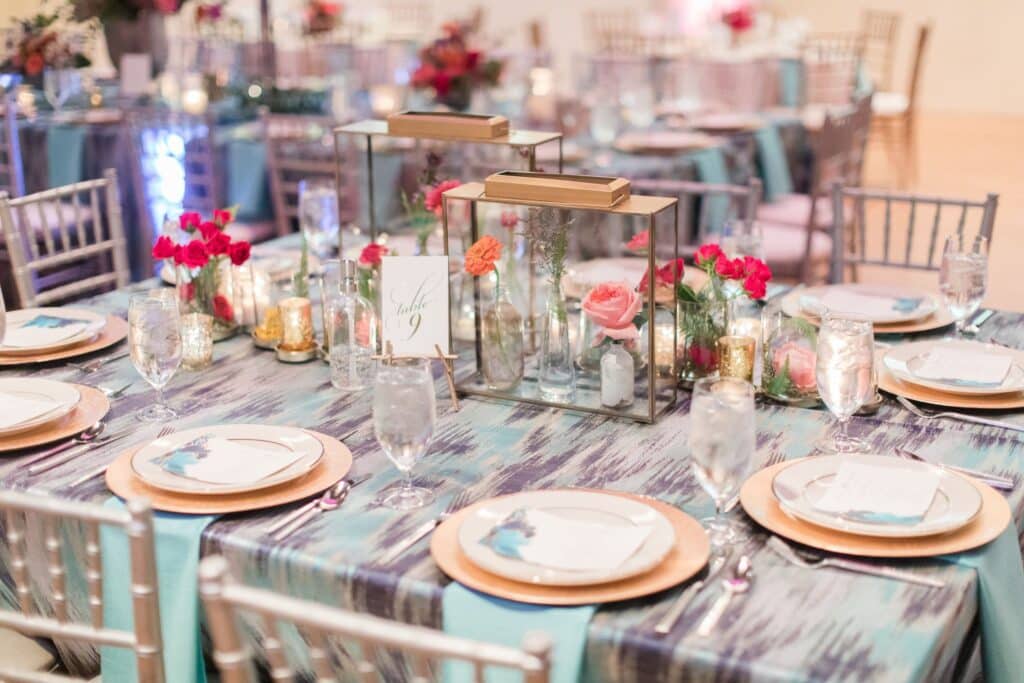 27. Elevated Elegance 
Using a cake stand filled with DIY decoupage bottles is always a good option for a colorful everyday look. Let the sunshine in for a bright, illuminated display!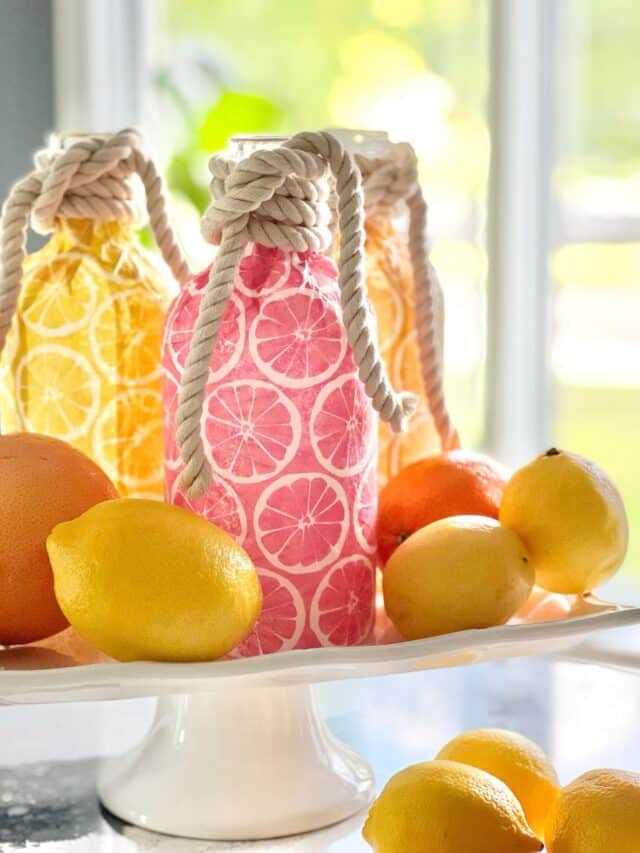 28. Cupcake Stand Showcase
Repurpose a cupcake stand to display small potted plants or decorative items, adding height and visual interest to your centerpiece.
29. Candy Confetti
You gotta love everyday table centerpiece ideas that are edible! Fill glass jars with colorful candies or chocolates. It's a sweet treat for both the eyes and the taste buds.
30. Table Runner Focal Point
Lay a table runner in the middle of a round or long table and create a gorgeous centerpiece using floral blooms in bright colors.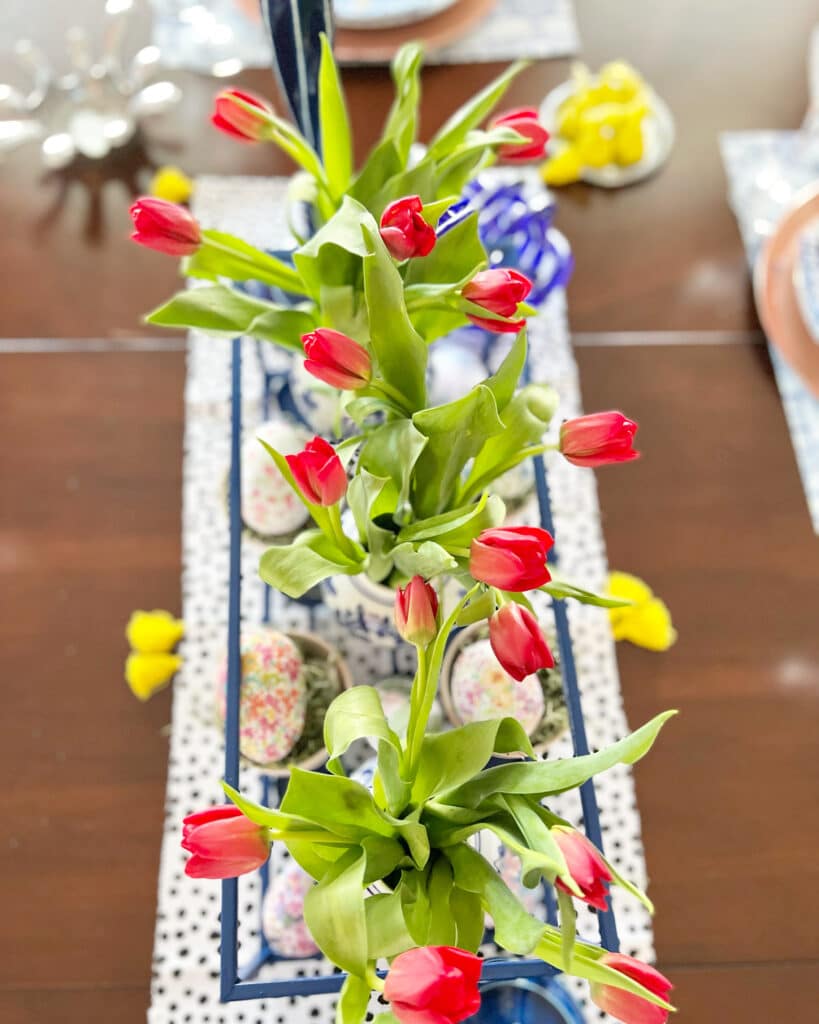 Other Fresh Centerpiece Ideas
31. Mason Jars
Arrange a bouquet of wildflowers in a mason jar and place it on a wooden slice for a touch of rustic elegance. I placed these pretty flowers by my kitchen sink but found that they were so easy to use on our kitchen island as an easy centerpiece for dinner.
32. Greenspiration
Place a faux moss table runner on your dining table and add decorative plants, moss, and candles. It will look stylish all day long and be the perfect setting for your dinner salad!
34. A Simple Vase
Fill a single vase with real or faux flowers in a contrasting color for a minimalist yet captivating centerpiece. Check your color wheel for color combinations that will work well together and be bold in your color choice!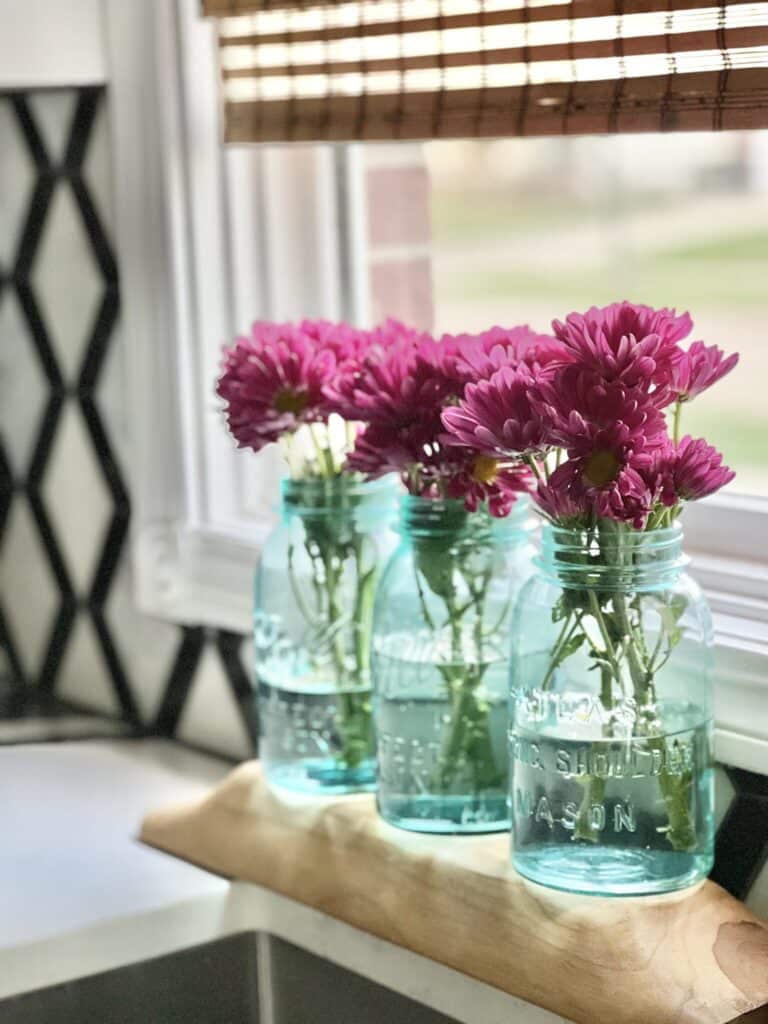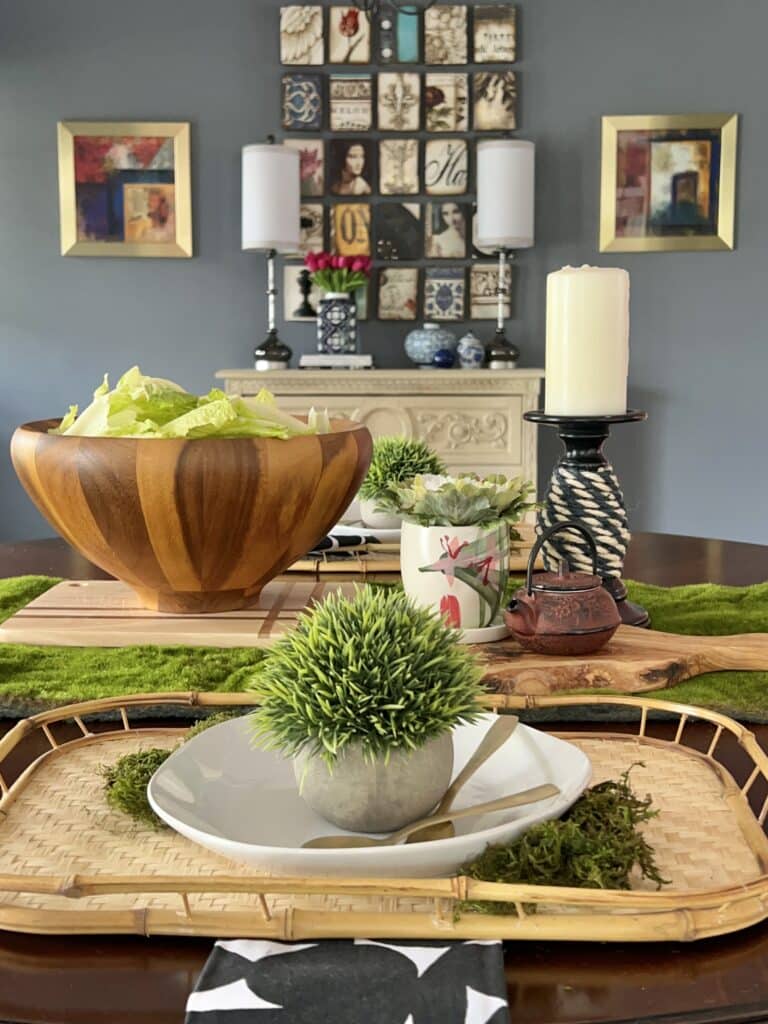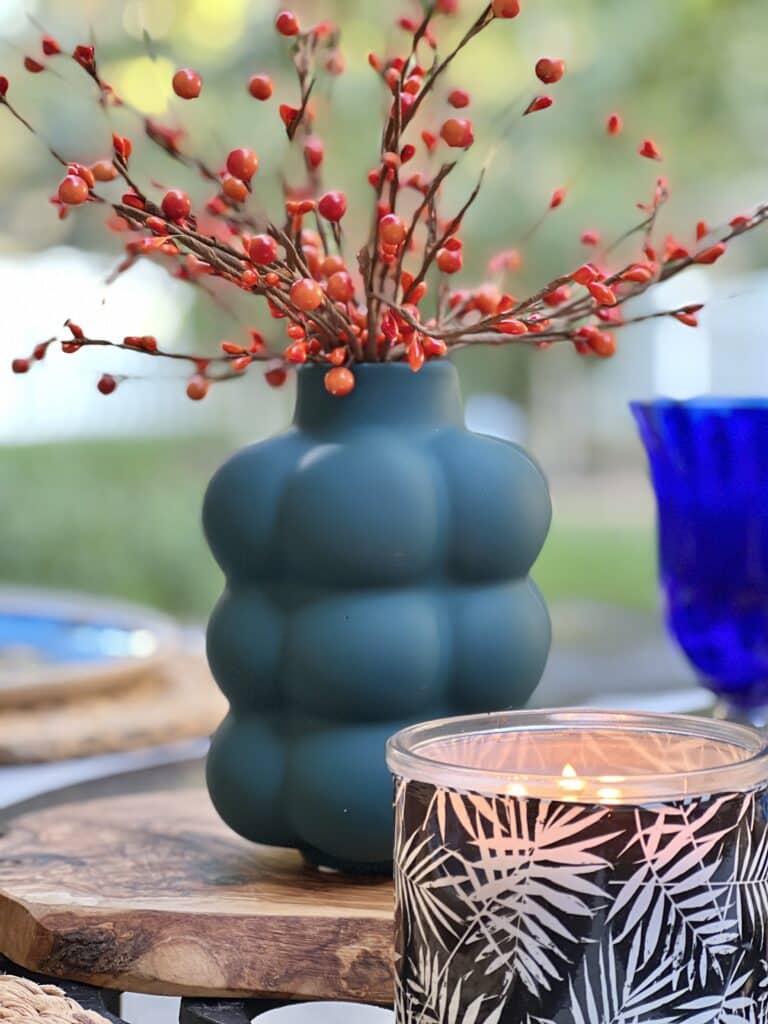 34. Golden Glow
Spray-paint pinecones or acorns with gold paint and place them in a decorative bowl for a touch of glamour.
35. Petite Pumpkins
Use small pumpkins or gourds as charming accents along the center of your table, especially during the fall season. Place them in a basket, on a placemat, or even a small rug!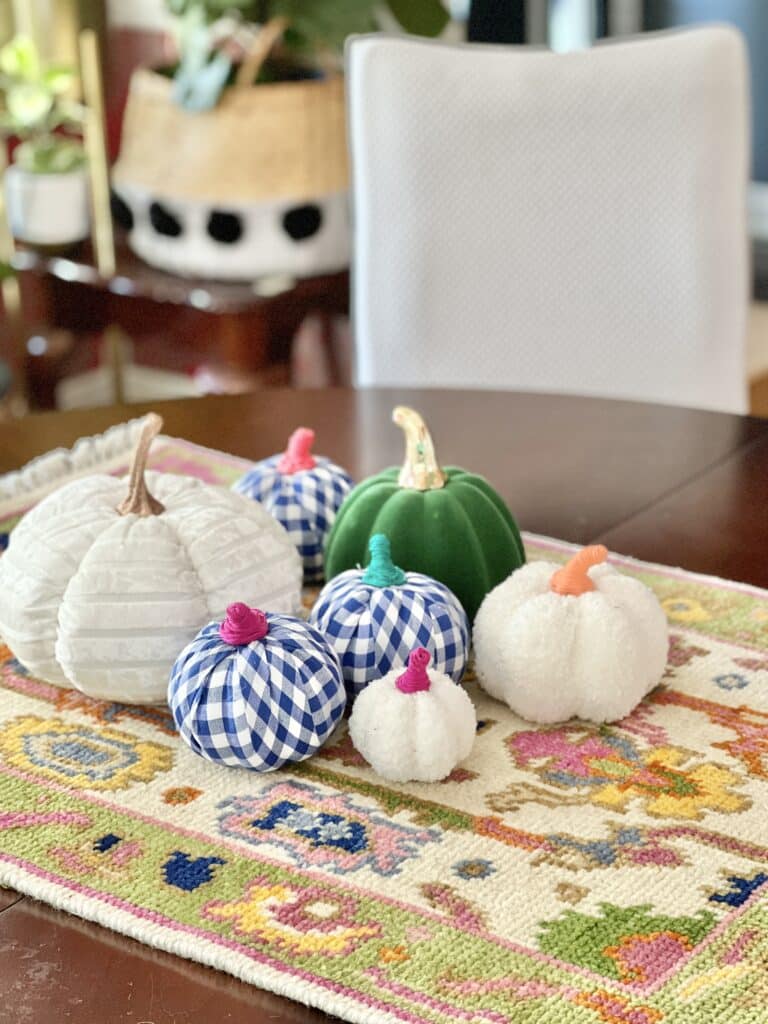 36. Don't Forget Outdoors
Outdoor dining spaces are important too! Whether a simple potted plant or a full-out decorated holiday theme, take a few minutes to create a focal point on your outdoor dining table.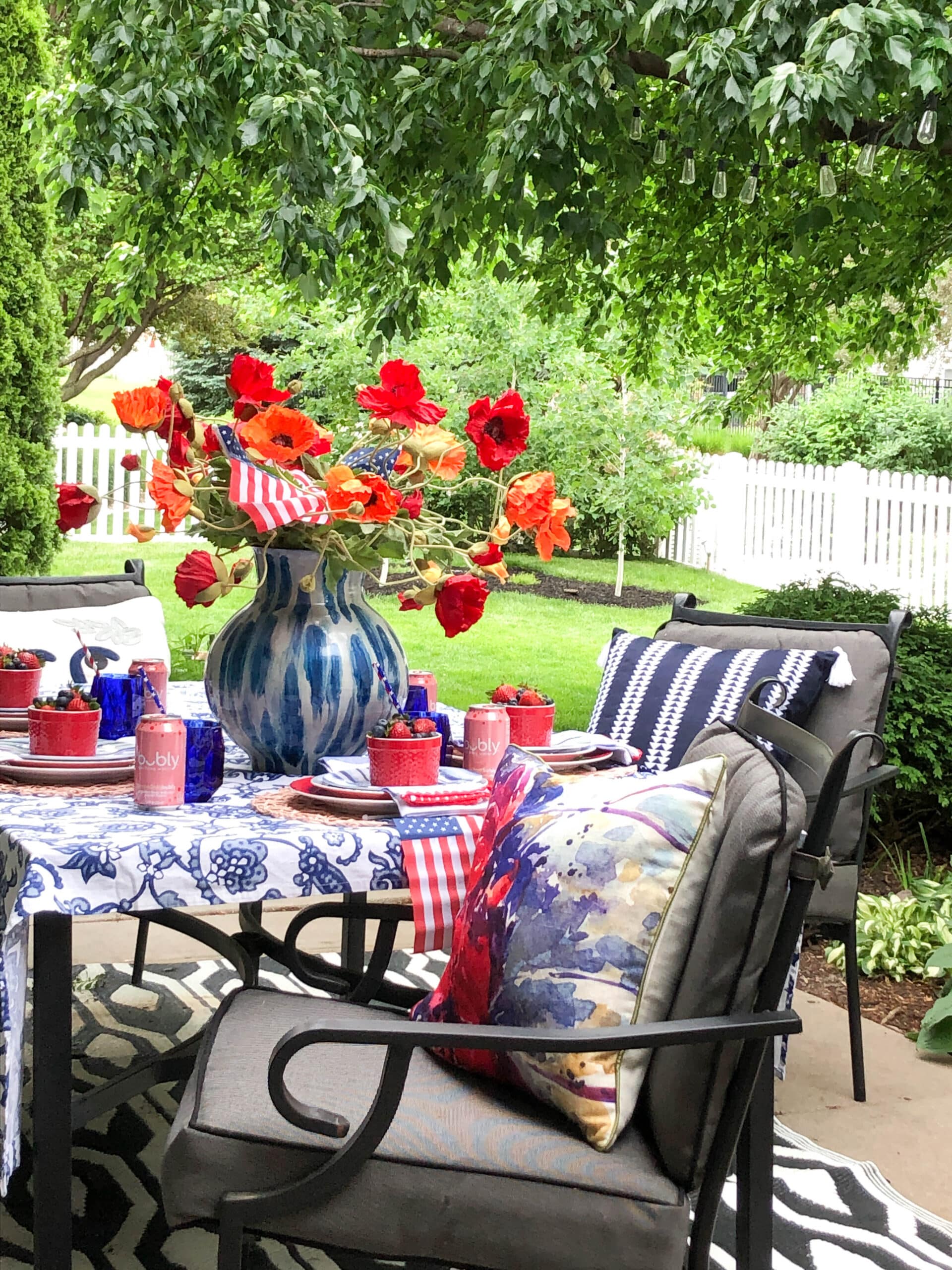 37. Bottle Bouquet
Arrange a collection of glass bottles in varying sizes and heights, each holding a single flower or a few stems.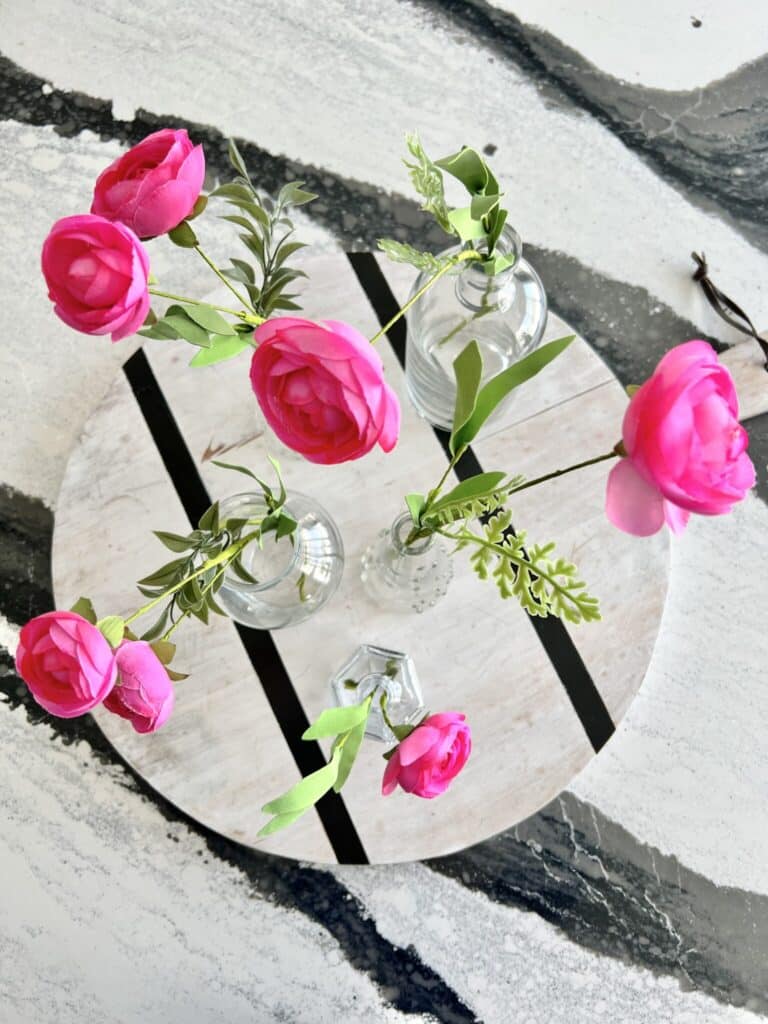 38. Greenhouse Garden Elegance
Set the stage for a charming garden scene by placing a small tabletop greenhouse at the center of your dining table. Fill the greenhouse with an array of miniature potted plants, succulents, and delicate ferns.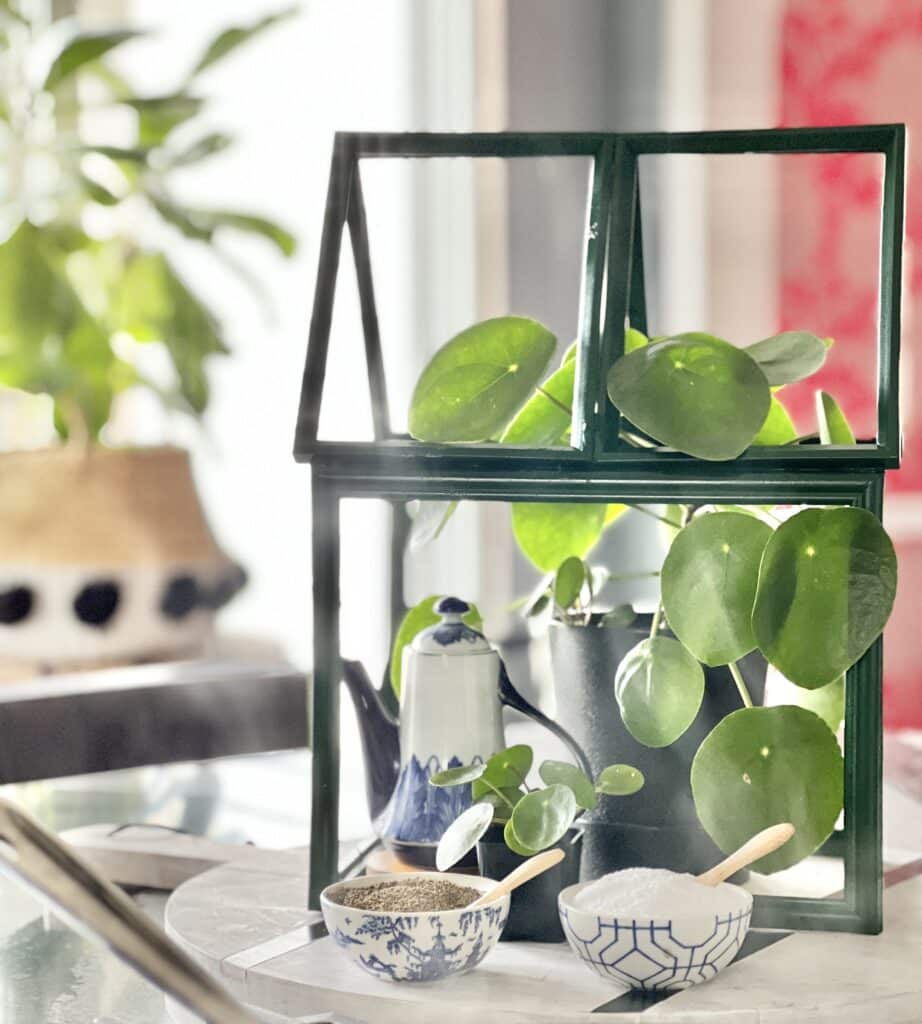 39. Monochromatic Elegance
Choose a single-color theme and arrange flowers, candles, or decorative items in various shades of that color.
40. Simplicity in White
Place white candles, flowers, or decorative items on a white tablecloth for an understated and elegant centerpiece.
Just a Few More Everday Table Centerpiece Ideas
41. Candlelit Reflections
Arrange candles on a mirror or reflective surface to create a stunning play of light and shadow.
42. Mini Art Gallery
Display a collection of small artworks, photographs, or postcards along the center of your table for an artistic touch.
43. Seasonal Scents
Fill small bowls with aromatic spices like cinnamon sticks, cloves, or dried citrus peels. Your table will smell amazing.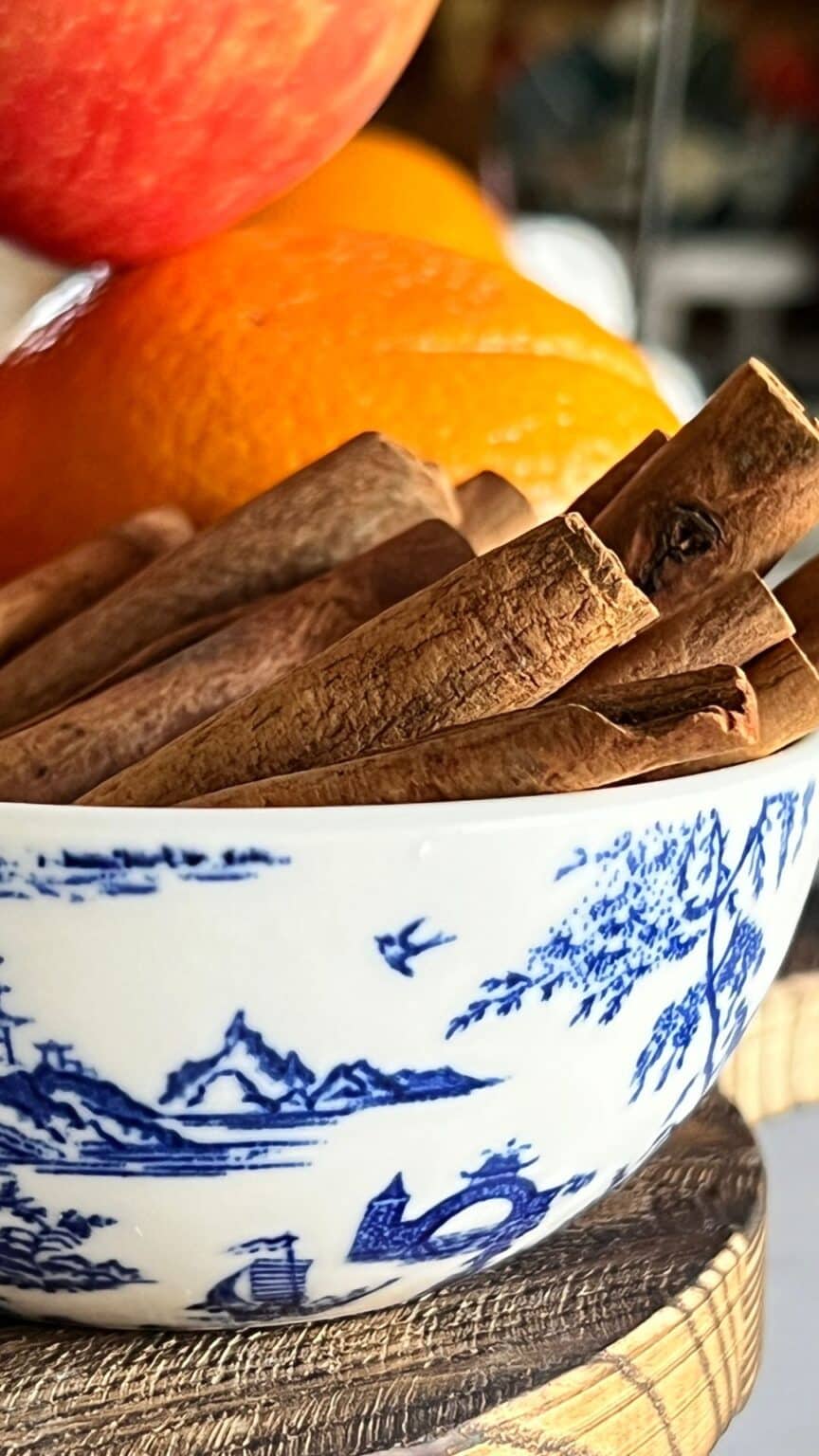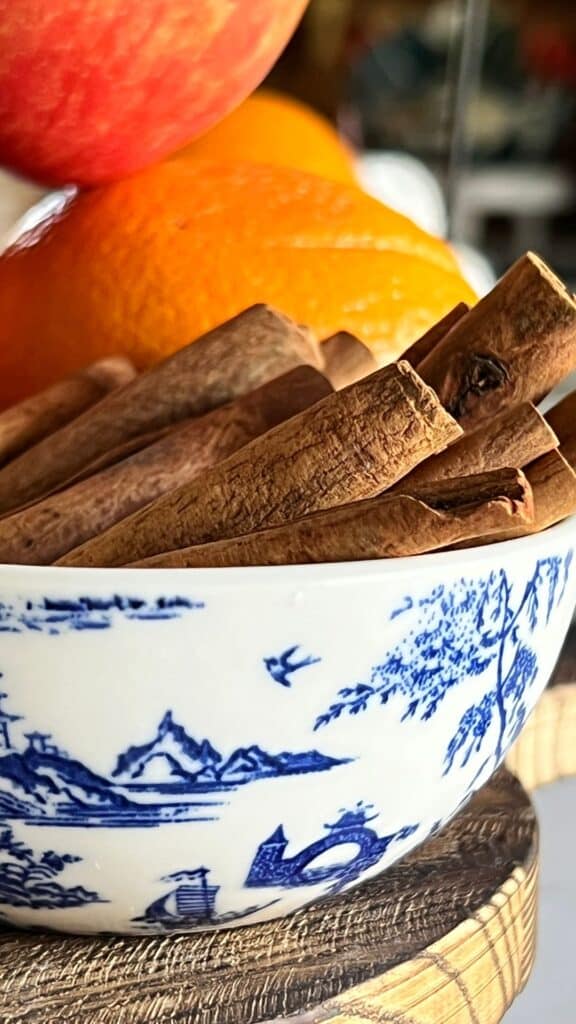 44. Countryside Charm
Place a small watering can, gardening gloves, or other rustic items in the center for a touch of country charm. Add some packets of flower seeds that you can send home with guests!
45. Decorative Dough Bowl
Fill a rustic dough bowl with ornamental balls and green moss to create a stunning centerpiece for the middle of your table.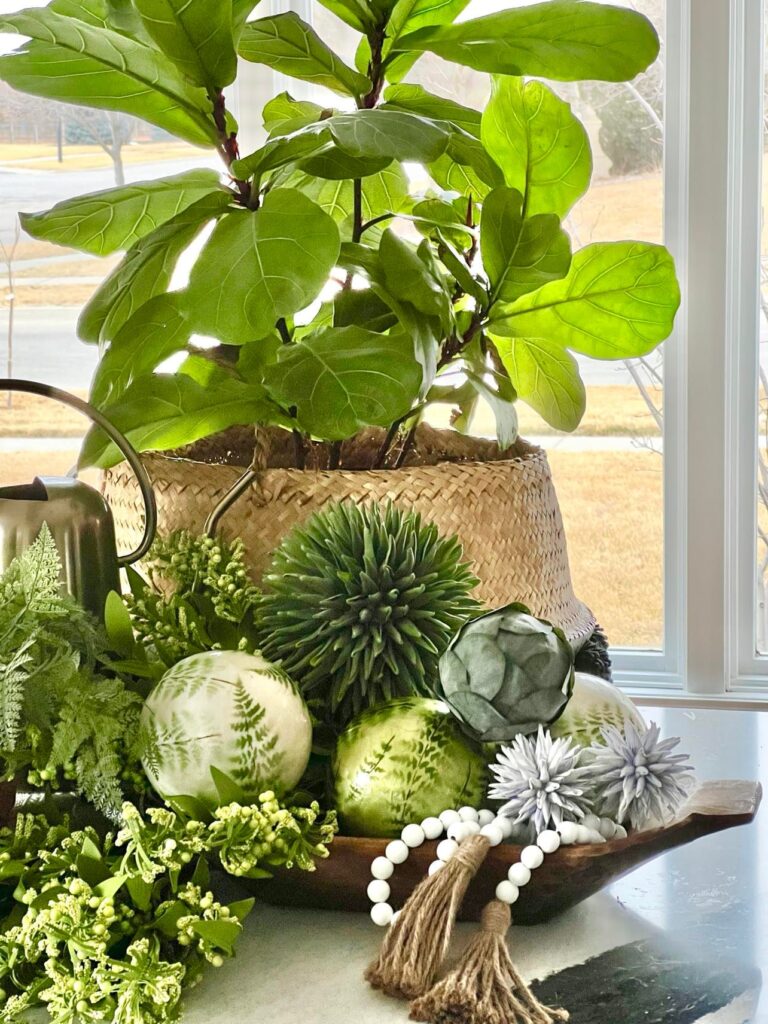 46. Crystal Clear Beauty
Fill glass containers with water and add floating candles, flowers, or colorful stones for a serene and elegant centerpiece.
47. Puzzle Piece Ensemble
Spread out an incomplete jigsaw puzzle as your centerpiece, inviting guests to work on it throughout the meal. This is a favorite of my mother who loves a good puzzle!
48. A Centerpiece Worth Toasting
Keep it simple! And what could be simpler than a bottle of wine, a bowl of fruit, and some lighted candles?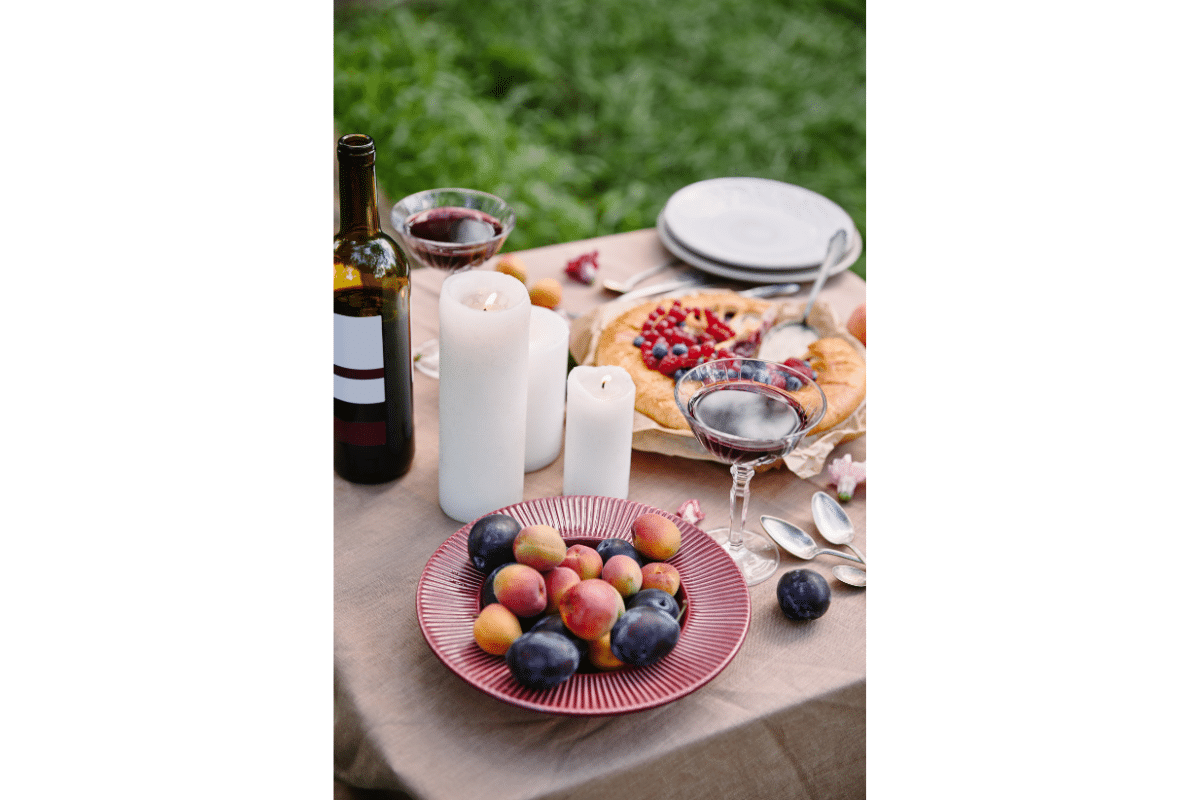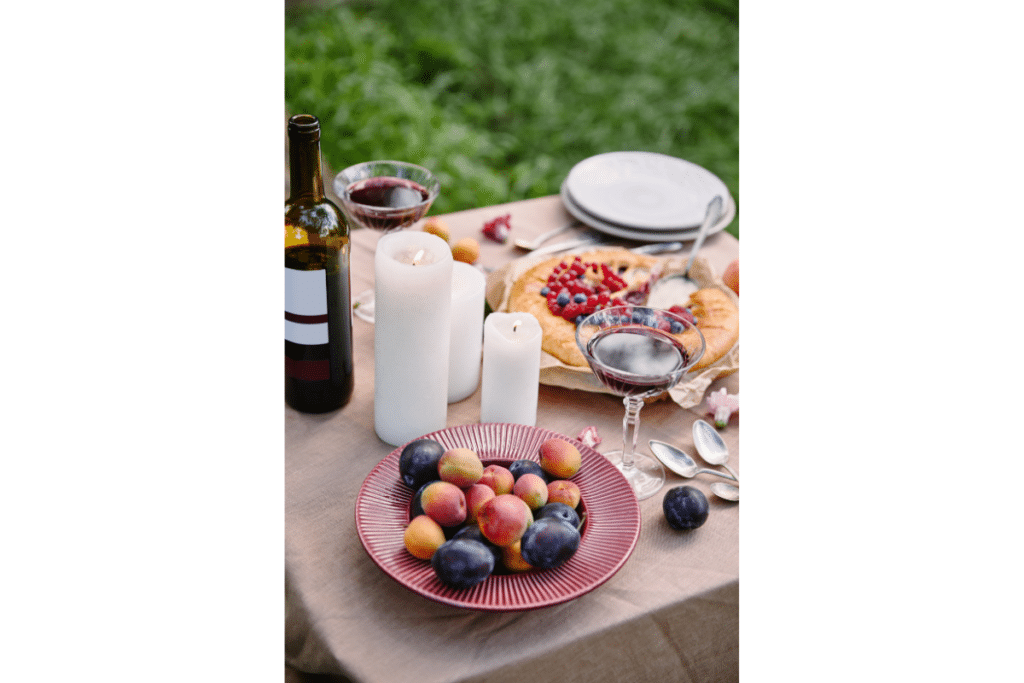 49. Bamboo Bliss
Arrange bamboo stalks in a tall vase for a touch of zen and a natural element of tranquility.
50. Rustic Culinary Stack
Channel the cozy charm of a farmhouse kitchen by stacking a set of wooden cutting boards of varying sizes in the center of your dining table. To complete the look, place a few vintage kitchen utensils, salt and pepper shakers, and a small vase on the cutting boards.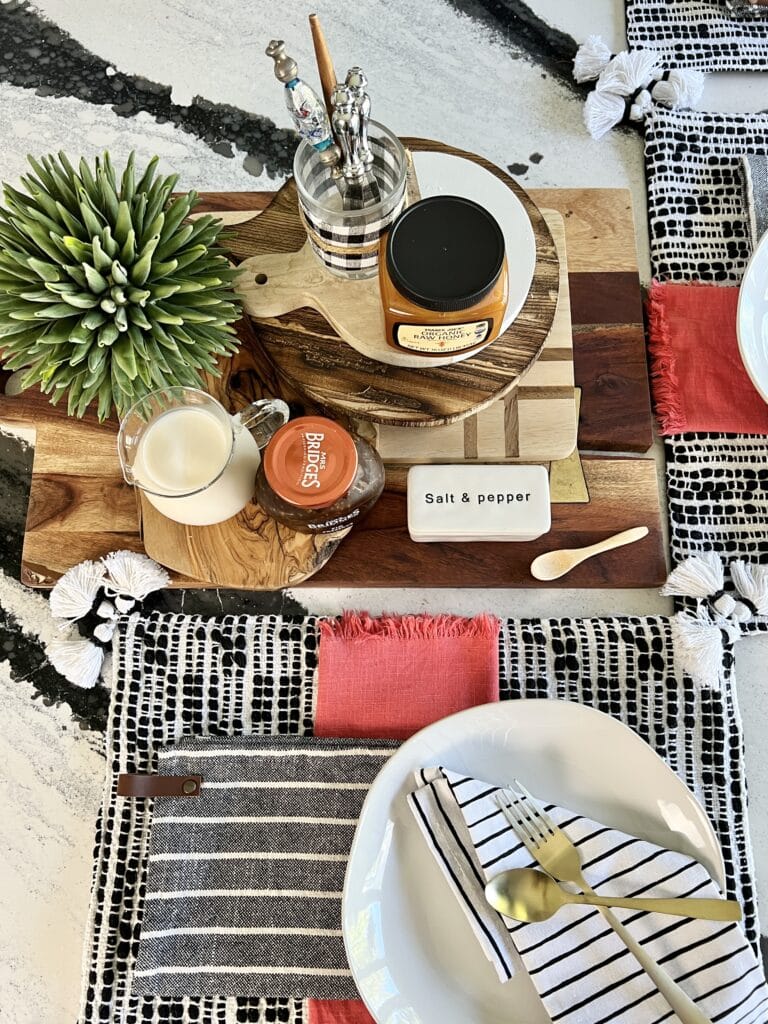 Enhancing your everyday dining experience doesn't have to be a complicated affair. With these 50 simple and easy everyday table centerpiece ideas, you have a wealth of options to choose from.
Remember, it's not about perfection; it's about having fun and adding a sprinkle of your unique personality to your dining space.  So, gather your favorite decorative items, unleash your imagination, and let your table tell a story with every meal or gathering.
One more thing…I want your ideas! Please share any of your favorite easy table centerpiece ideas in the comment section below. Let the brainstorming creativity continue!
Cheers!

Don't Forget to Pin It!
Pin the image below to your boards on Pinterest (just click the Pin button in the top left corner). You can also follow along with me on Pinterest!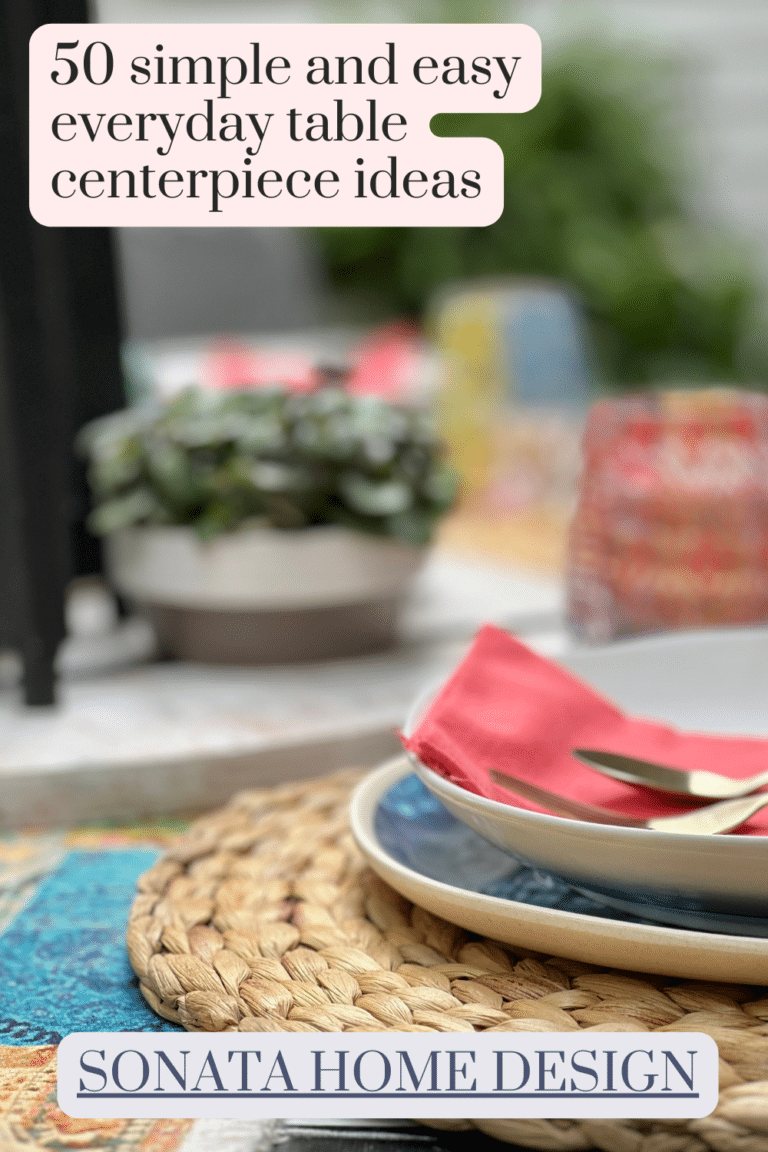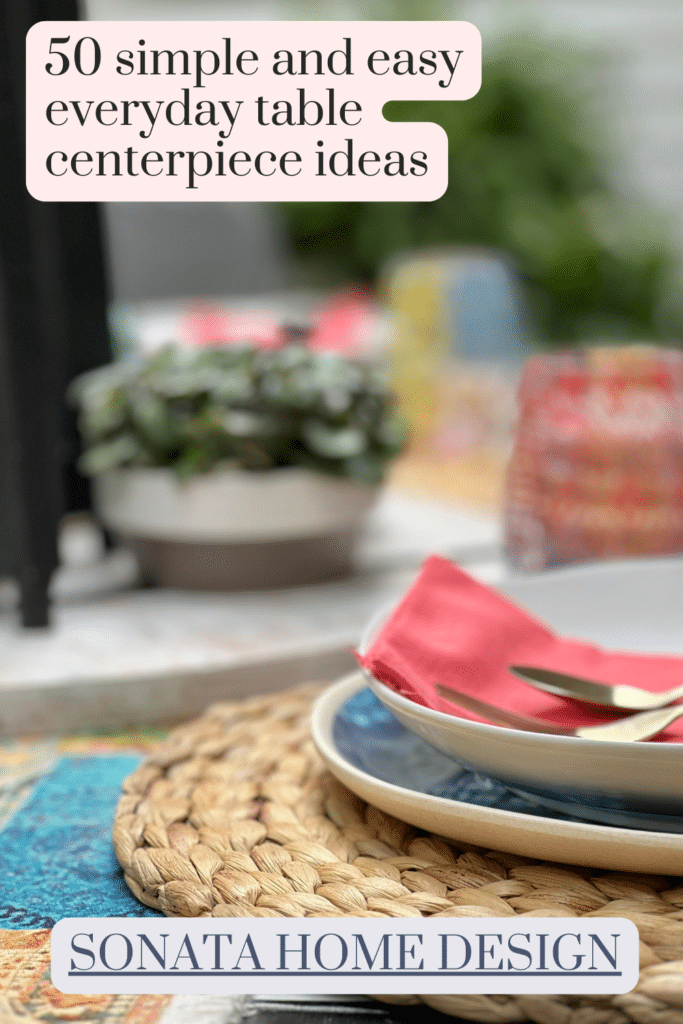 More Decorating Ideas
29 Ways to Add Colorful Home Decor to Your Interior
How to Style Glass Front Kitchen Cabinets
31 Best Ideas for Decorating a Kitchen Bakers Rack