Craft A Decorative Wallpaper Bowl for under $5
Wallpaper is not just for walls anymore! With so many great patterns and colors available, why not create amazing decorative bowl using wallpaper scraps?
In this tutorial, you will learn how to create a beautiful and decorative wallpaper bowl for under $5. This project is a great way to show off your creative skills and add some personality to your home decor. So get ready to roll up your sleeves and get started!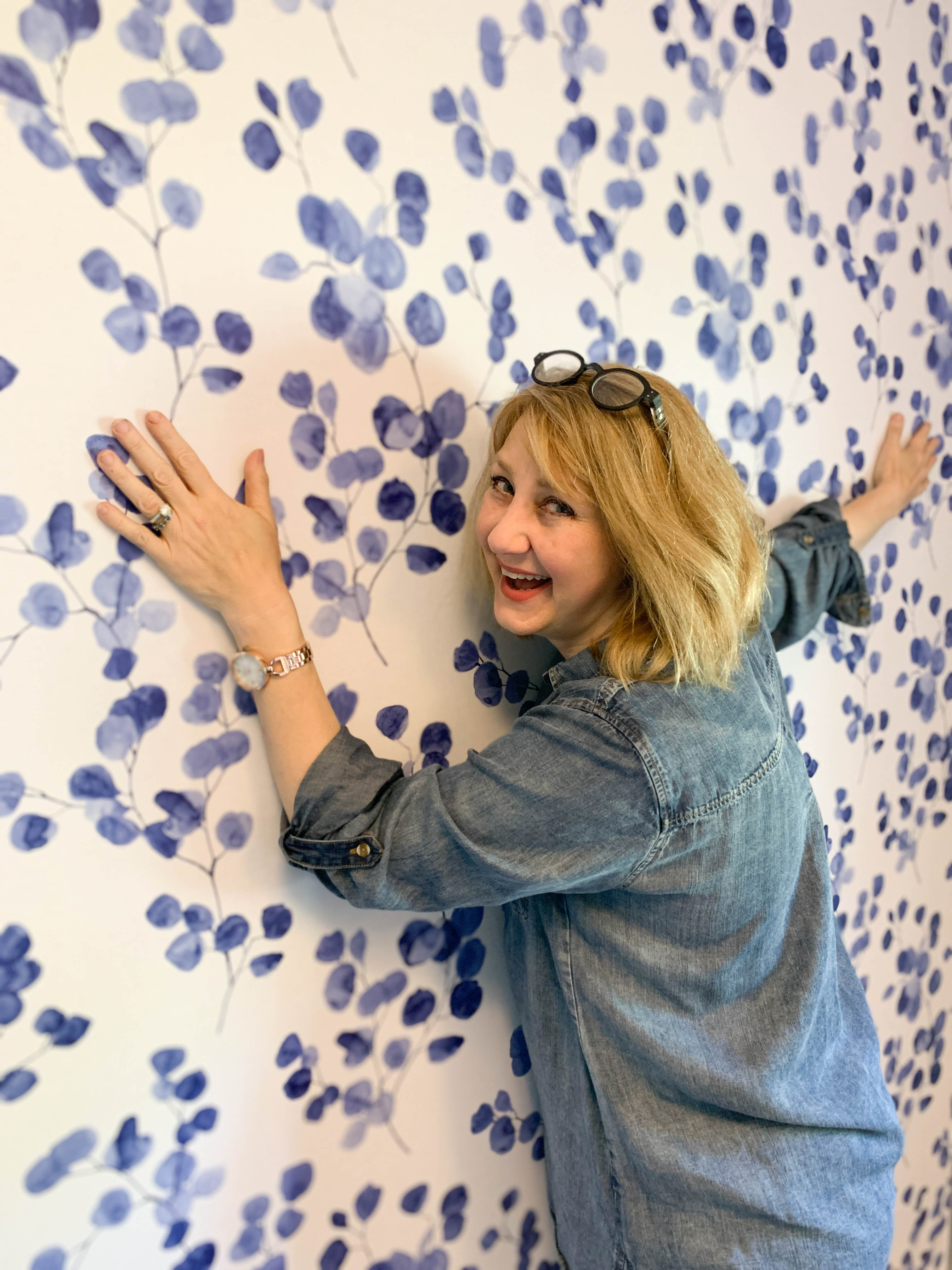 I love wallpaper!
If you have followed me for very long, this is not exactly a newsflash.
Wallpaper…like red lipstick, aspen trees, and dark roast coffee…has my heart!
Not going to lie…I have loved and decorated with wallpaper even when it wasn't cool. In fact, for a while, it was decidedly UNcool!
But wallpaper is now one of the hottest trends in home decor!
If painting a room is the quickest way to change the look of a room, then wallpaper is the easiest way to create a dramatic impact in a room!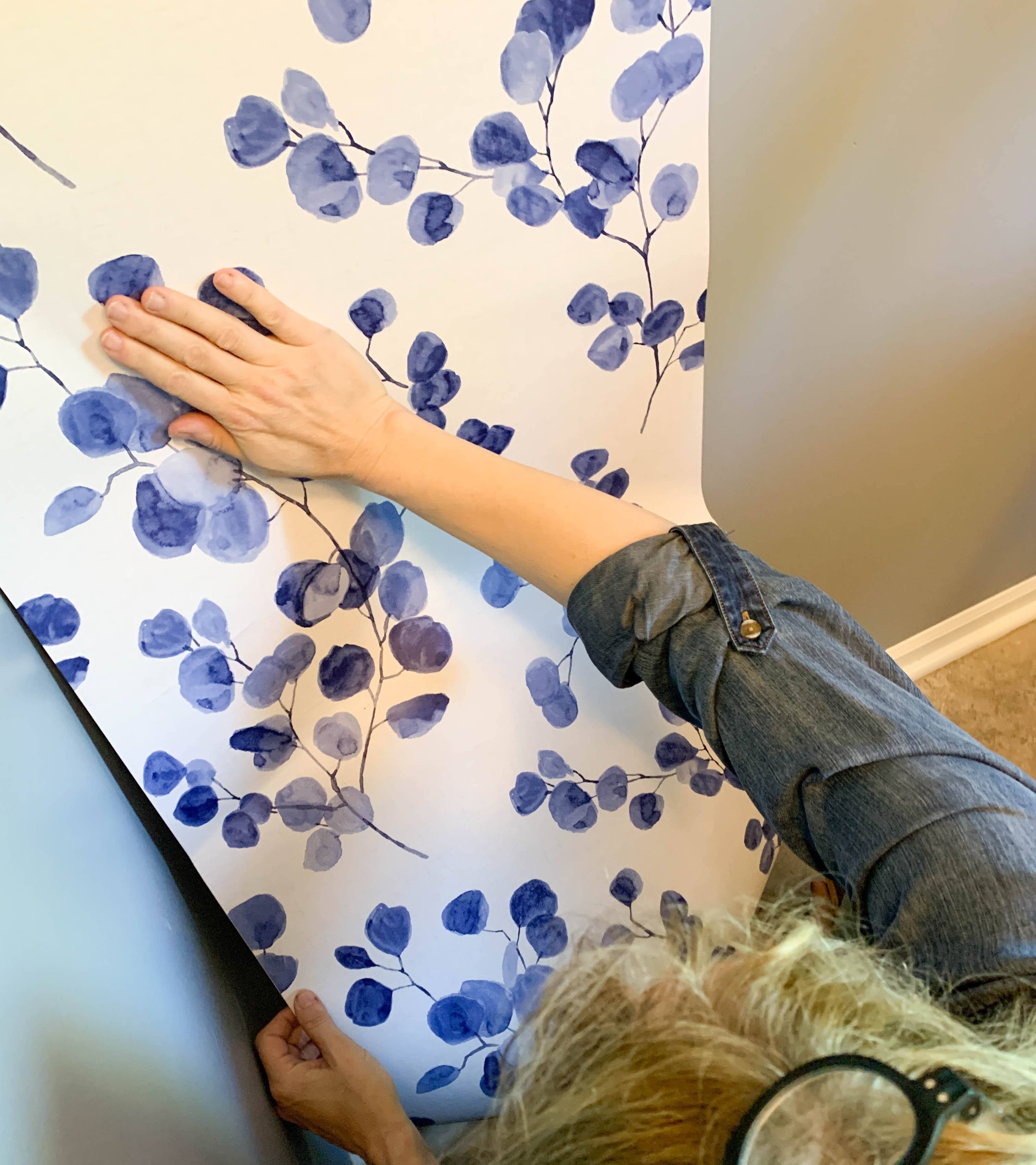 I have wallpapered many a room in our home…
The "Dot Room" (my craft room)
Laundry Room using Peel and Stick Wallpaper
But wallpaper is not just for your walls!
Whether you opt for a bold statement print or a subtle texture, wallpaper can add instant style to any room. And best of all, wallpaper is surprisingly versatile. It can be used for everything from covering up flaws in walls to …
creating a decorative wallpaper bowl!
So, how about a quick, easy, and inexpensive project using wallpaper scraps?
Let's go!
Let's Get Scrappy…Wallpaper Scrappy!
This is my sister's gorgeous bathroom vanity area.
I have to admit to being a little jealous. Great space, great mirrors, and a GREAT wallpaper pattern!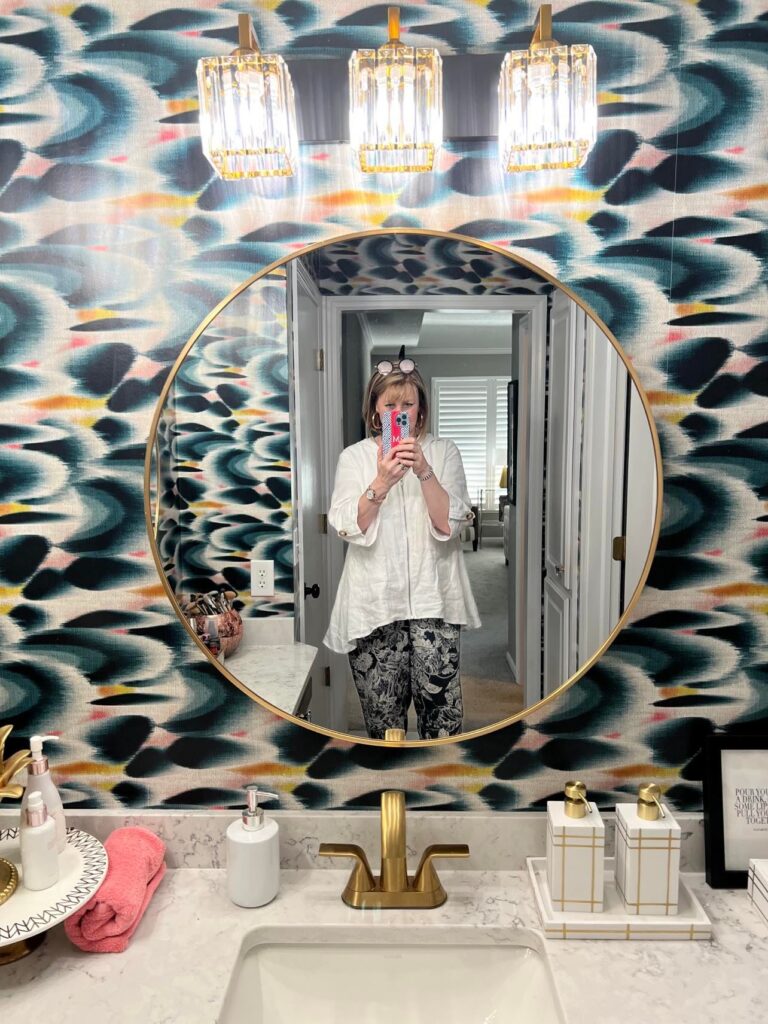 My sister knows I like to create something out of nothing. So, in true sisterly generosity, she gave me the wallpaper scraps.
I was thrilled!
I had no idea what I was going to do with them, but it was a thrilling gift, nonetheless!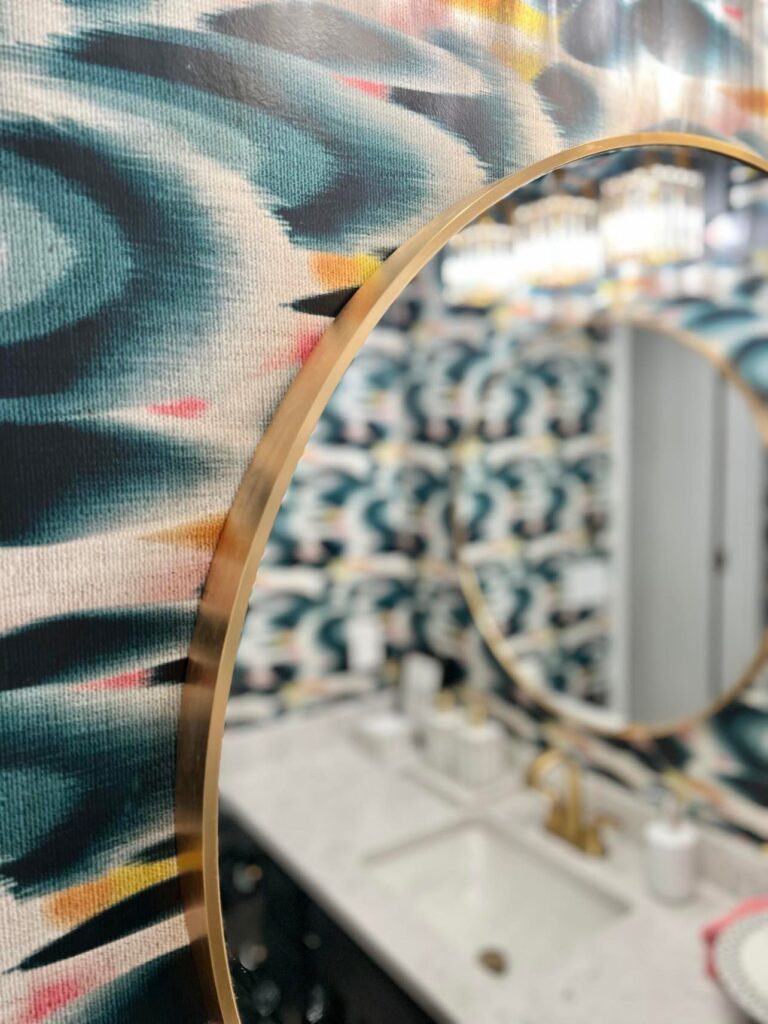 Create Something Out of Nothing…or at Least Out of $5
Got $5?
Then you are good to go with this project!
You will need:
Wallpaper scraps
Plastic bowl from a dollar store
Wallpaper paste (or just water if the paper is pre-pasted)
Scissors
Gosh, I'm not sure that I even spent $5! Let's get going…
How to Craft a Decorative Wallpaper Bowl
Cut 1″ wide strips of wallpaper that are 1″ longer than the height of your bowl.
My bowl is 6″ tall. So, I cut my strips 1″ wide and 7″ long.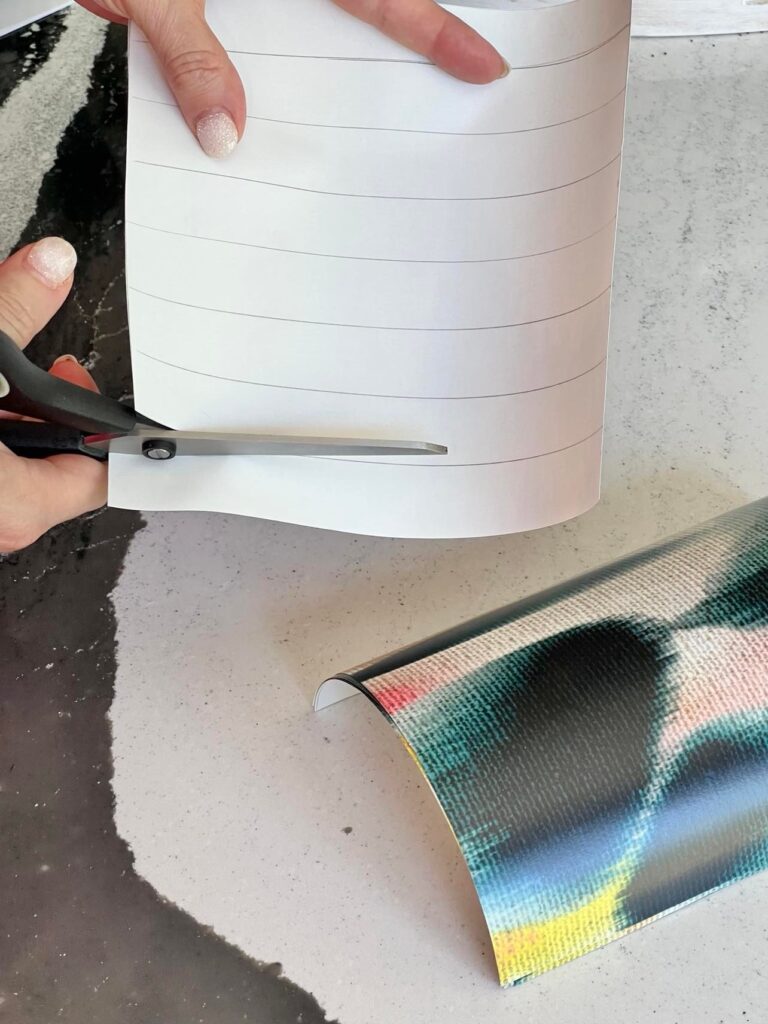 Brush the wallpaper paste onto the back of the strips. "Book" the strips of wallpaper (fold over so the pasted sides are together) so the glue is fully activated. Let sit for 30 seconds to a minute before "unbooking".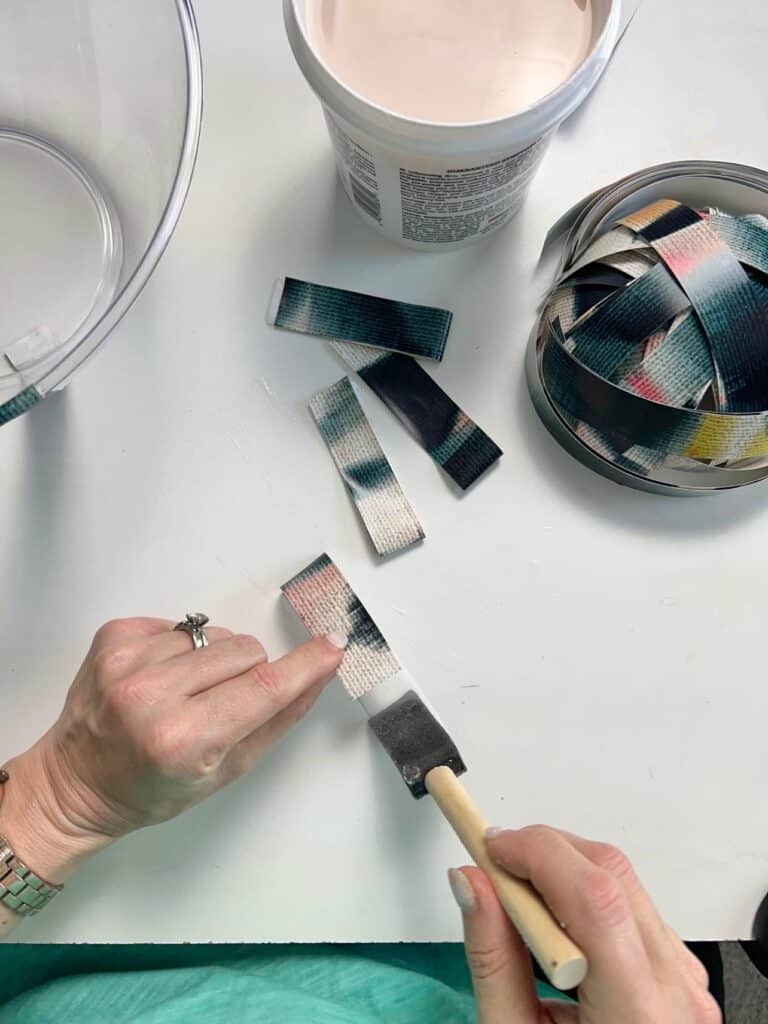 Press each strip to the side of the bowl with about 1/2″ turned over the top and bottom edge of the bowl.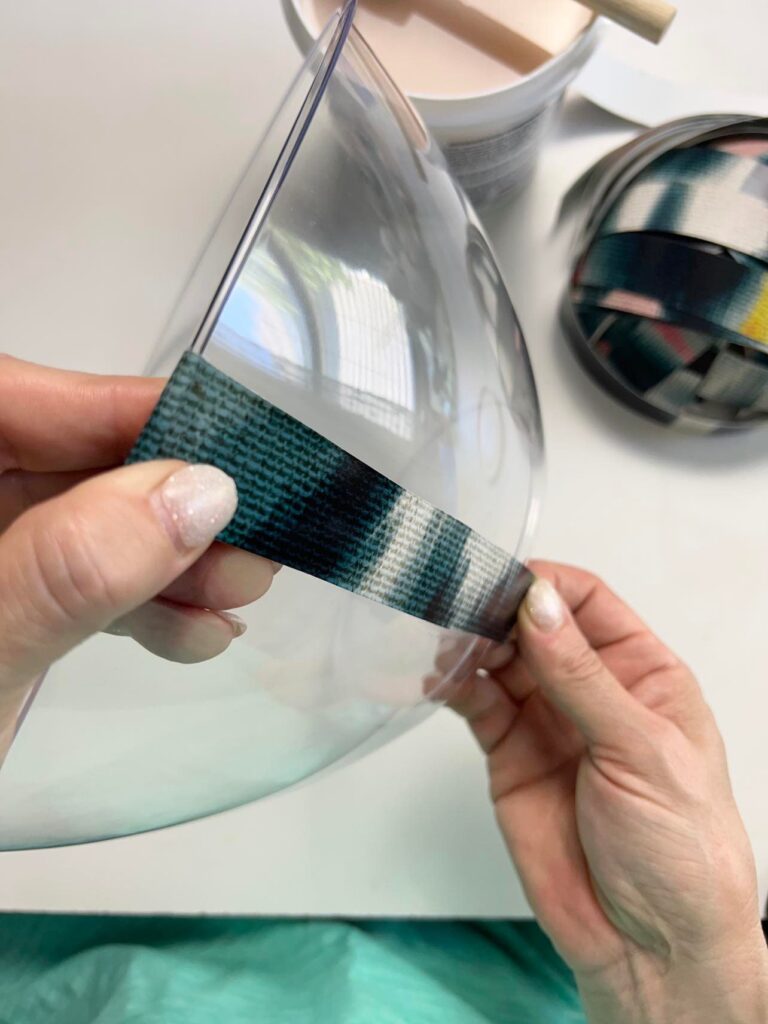 Continue to apply the strips by overlapping the strips over each other. Keep overlapping in the same direction as you apply the strips. Try to vary the pattern and colors for an abstract look.
If you want to attempt a defined pattern with the strips, go for it. Truthfully, I love the abstract vibe and attempting a specific pattern would have driven me crazy!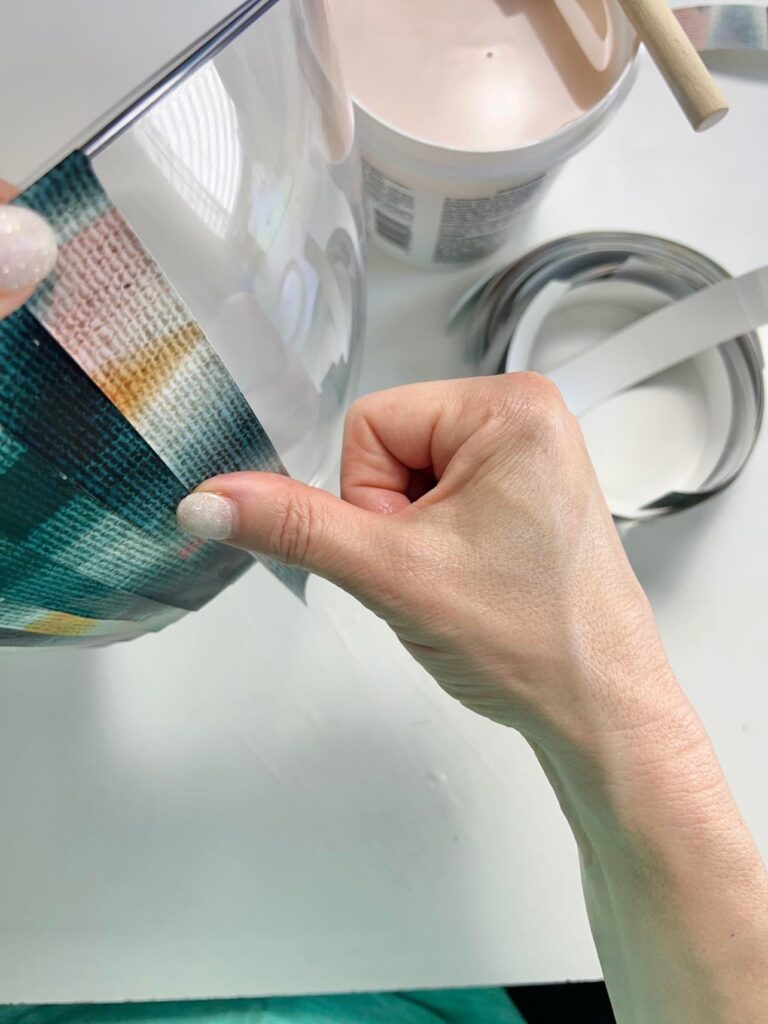 Apply the strips to the inside of the bowl continuing to overlap as you go.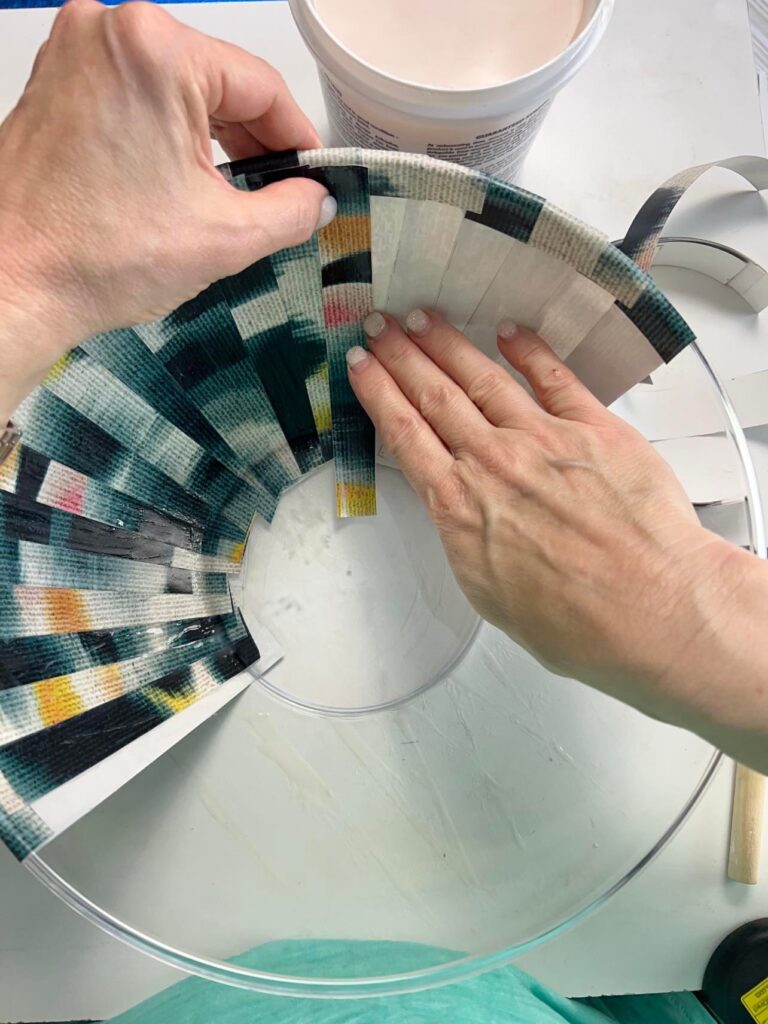 What About the Bottom of the Bowl?
Circles are the key!
Cut circles from the wallpaper scraps (I like to use a biscuit cutter for my template) and apply them to the inside and outside bottom of the bowl. Overlap as you go so the plastic is eventually completely covered.
I used 5 circles for each bottom.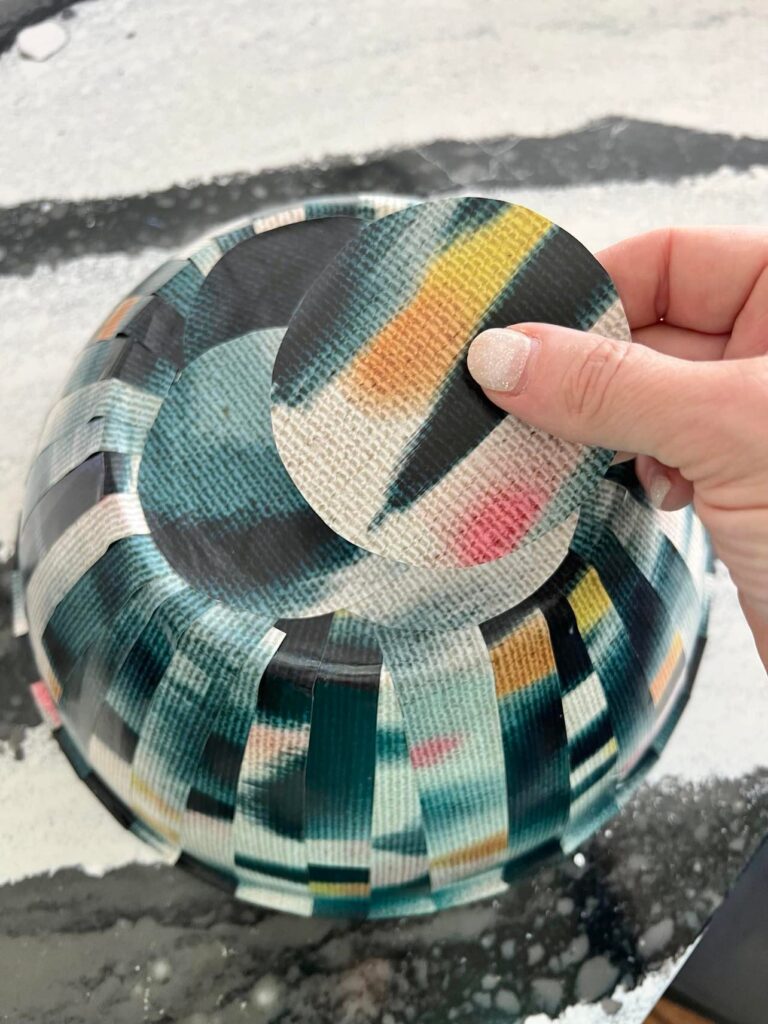 Plastic Bowl No More!
This no longer looks like a plastic bowl from the dollar store!
You can incorporate this into any room of the house. (Keep in mind, this is not a food-safe bowl, so no food allowed!)
I had a few ideas…
Fill the bowl with decorative balls! These are kind of "spiky" and the bowl shows off their great texture.
Yarn balls!
This yarn looks beautiful sitting in the wallpapered bowls that has some of the same colors.
Plus, I can place the bowl in a high spot so our dog, Bentley, can't get to the yarn!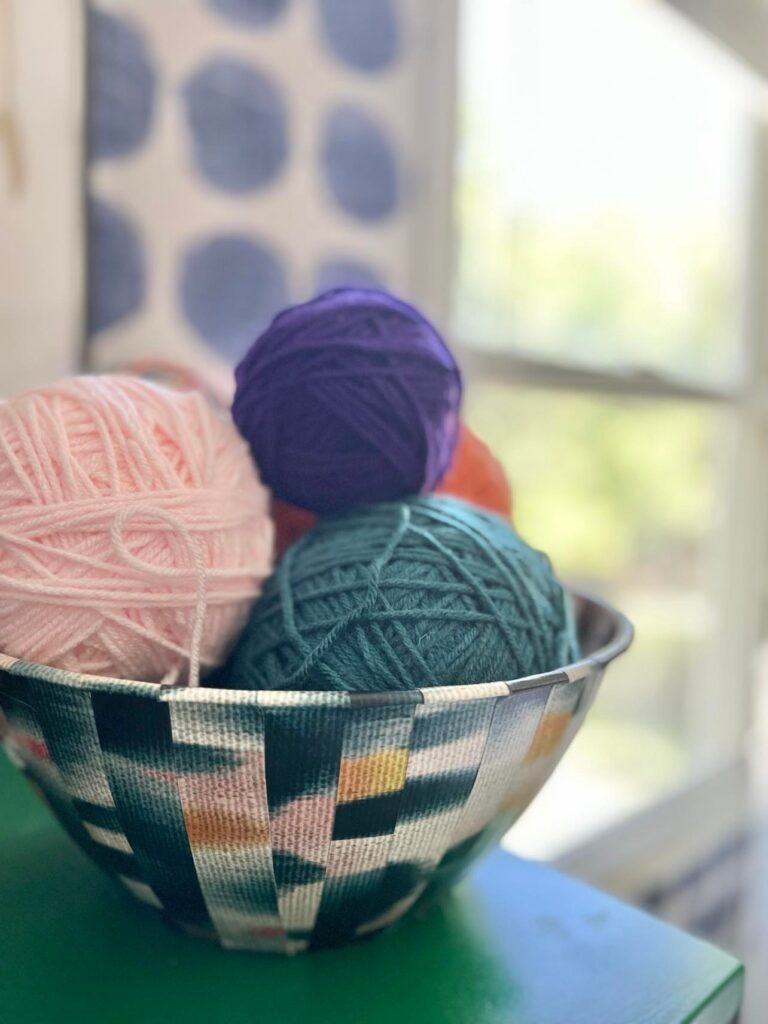 Make it functional. Holding cloth napkins in a handy spot in the kitchen makes this bowl pretty useful.
But in a pretty way!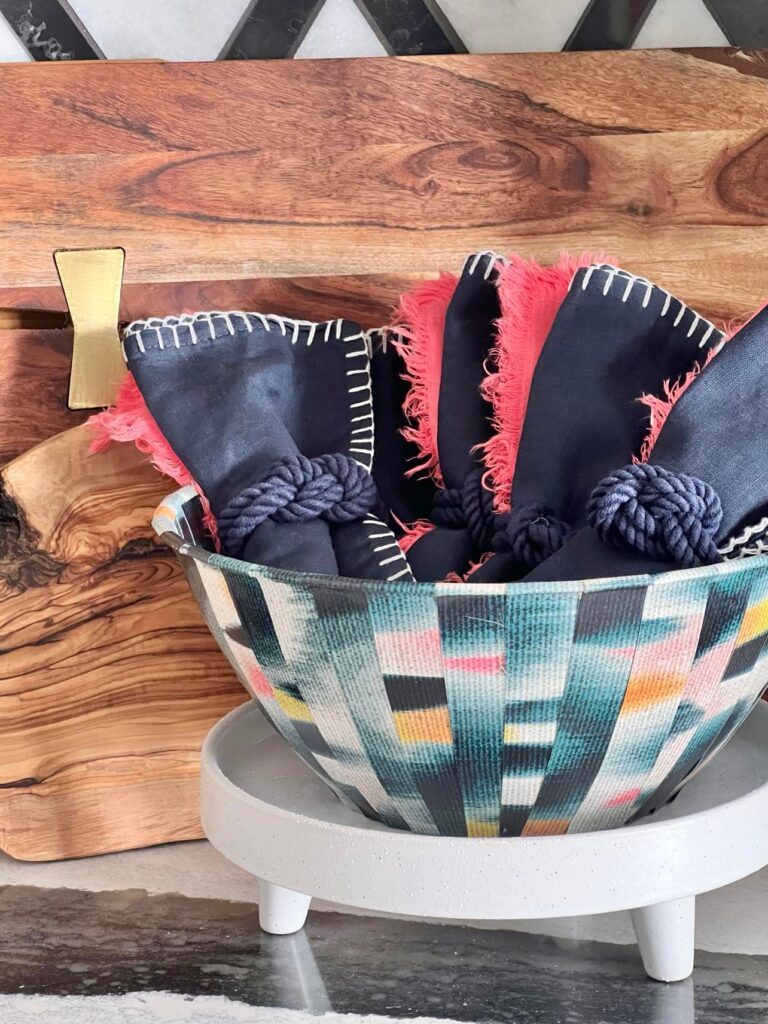 Whether you fill it with other home decor or leave it empty, this bowl is a lovely home decor addition to your home.
So, there you have it…a simple and stylish way to add a little personality to your décor with some wallpaper and a dollar store bowl.
Be creative and make it your own—the options are endless! Have fun with this project and show us how your decorative bowl turns out.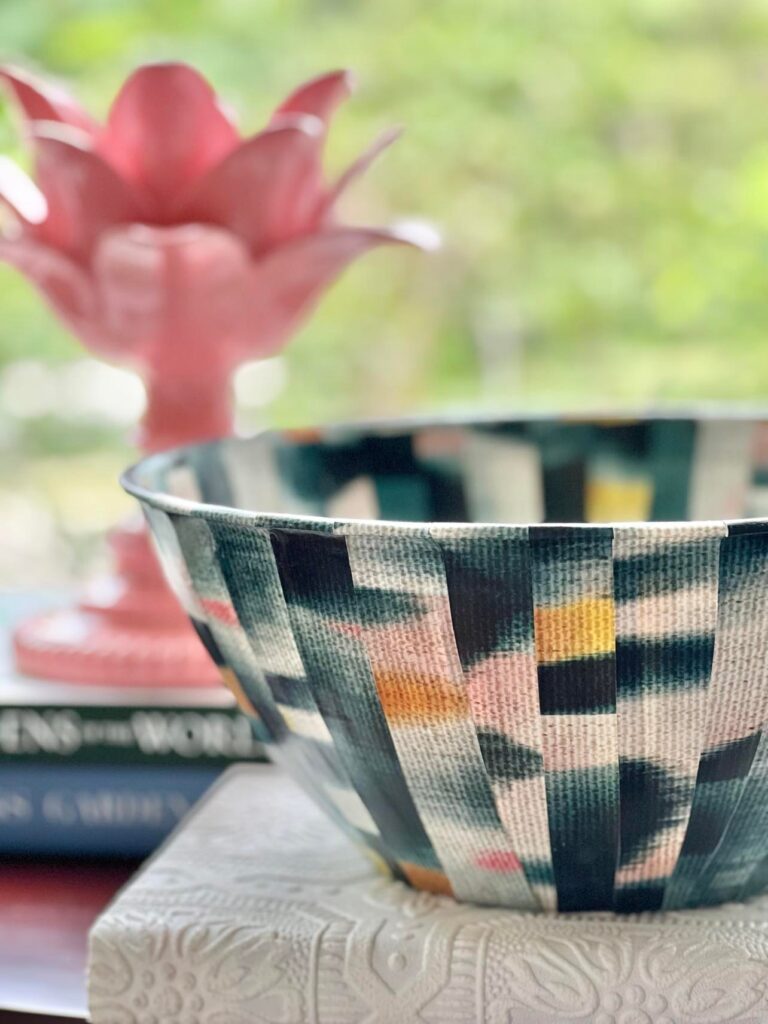 Cheers!

Pin the image below to your boards on Pinterest (just click the Pin button in the top left corner). You can also follow along with me on Pinterest!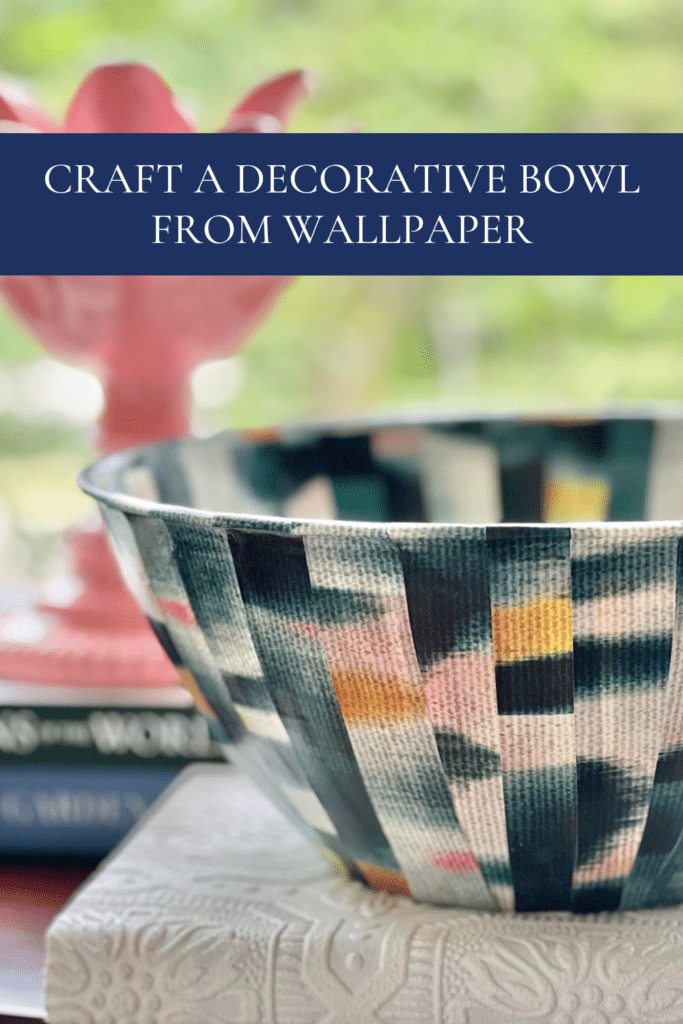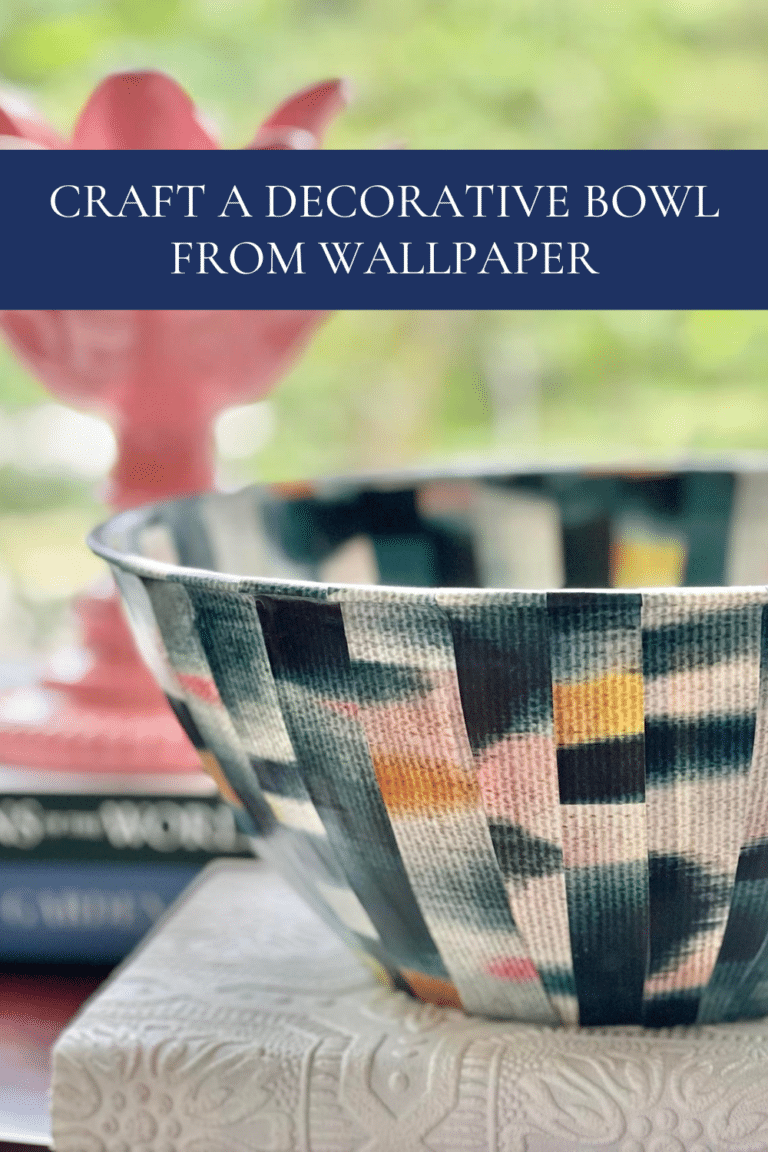 Looking for other projects that use wallpaper? Here are some of my favorites!
I've wallpapered a tray.
I have even wallpapered a closet!
These are some wallpapers I am loving!