Tips on How to Wear a Cuff Bracelet with Style
Are you looking for a way to instantly amp up your wardrobe? A cuff bracelet is the perfect accessory for making a statement with every outfit. Whether you're channeling boho vibes or going full-on glam, these eye-catching and versatile bracelets can make even the simplest of ensembles look sharp and stylish. Read on for some top tips on how to wear a cuff bracelet like a pro!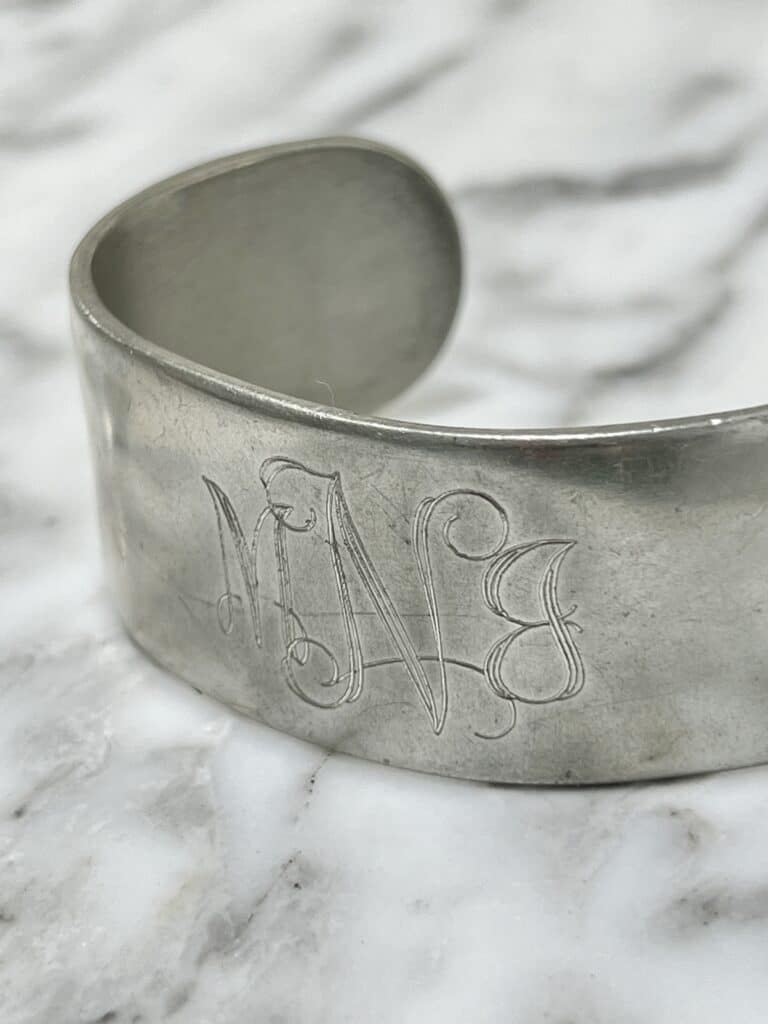 This blog contains affiliate links. This means a small commission is earned if you make a purchase by using this link. The price you pay will be the same whether you use the affiliate link or go directly to the vendor's website using a non-affiliate link.
I used to love to go through my mother's jewelry box.
it was usually when she was sitting in front of her vanity mirror getting ready for a special occasion. She would patiently let me layer on her jewelry. I was definitely in a "more is more" personal style stage!
I can remember discovering a beautiful cuff bracelet in her box and not knowing what to do with it. It was such a unique piece but I didn't have a clue as to how to wear it!
After some trial and error, I am happy to share how I like to wear a cuff bracelet.
Who Can Wear a Cuff Bracelet?
Anyone!
In recent years, cuff bracelets have become a staple of everyday wear. They are such versatile pieces that can be styled in so many different ways.
There are beautiful cuff bracelets available in every type of style: Silver, gold, chunky, delicate, bold, or minimalist…there are various styles for everyone.
And, there has been a wonderful inclusion of men's cuff bracelets in various jewelry lines worldwide!
With so many different designs available, a cuff bracelet is a good fit for everyone!
How are You Supposed to Wear Cuff Bracelets?
A good rule of thumb is to slip your cuff bracelet onto your wrist by placing the open area of the cuff against the side of your wrist. Then, slide the cuff onto the narrowest part of your wrist. This is the best way to make it fit like a charm.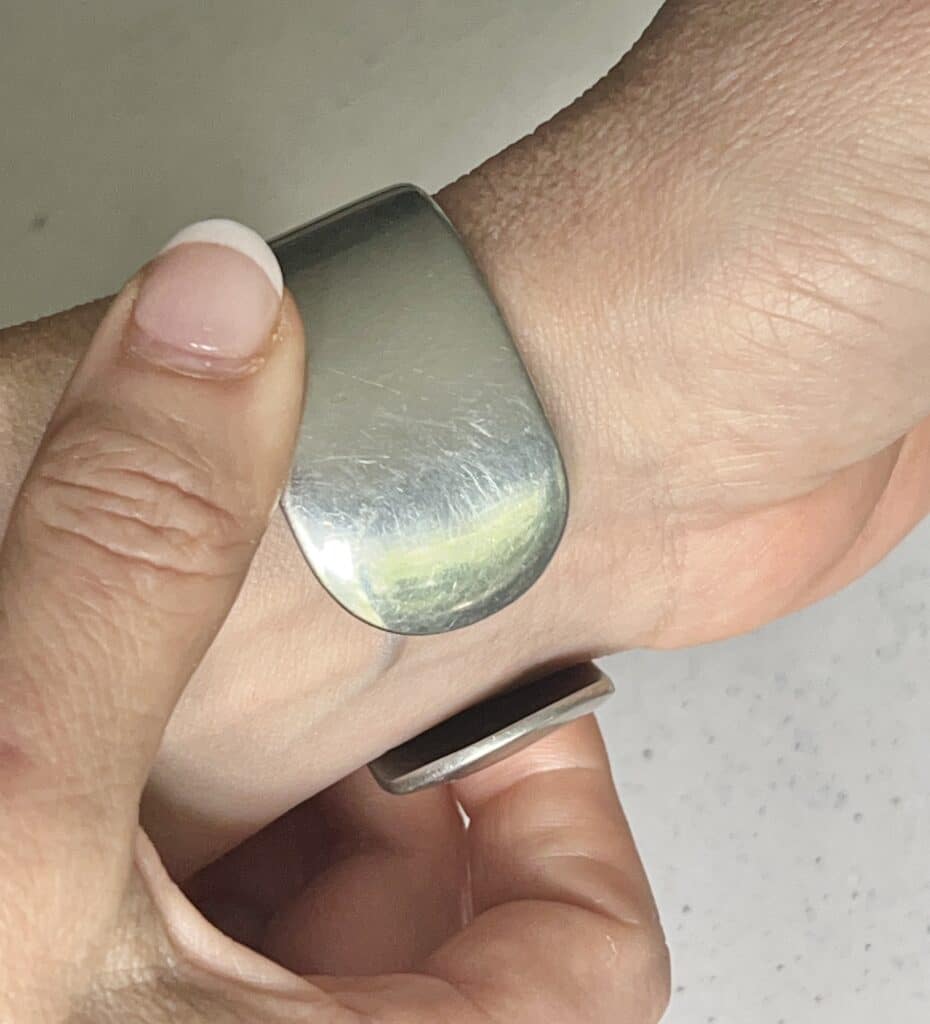 If it's too loose, you can gently squeeze the ends of the cuff closer together to tighten it up a bit. Be careful not to apply too much pressure, though—you don't want to bend or damage the bracelet. On the other hand, if it's too tight, you can carefully stretch the cuff outwards to create a bit more room. Just take it slow and steady, making small adjustments until it feels just right.
Remember, the goal is to find that sweet spot where the cuff sits comfortably and securely on your wrist. Once you have found the most comfortable position, you won't have to re-form the bracelet each time you wear it.
Where Should a Cuff Bracelet Sit?
When it comes to rocking a cuff bracelet, you've gotta think about where it sits on your wrist for maximum style points.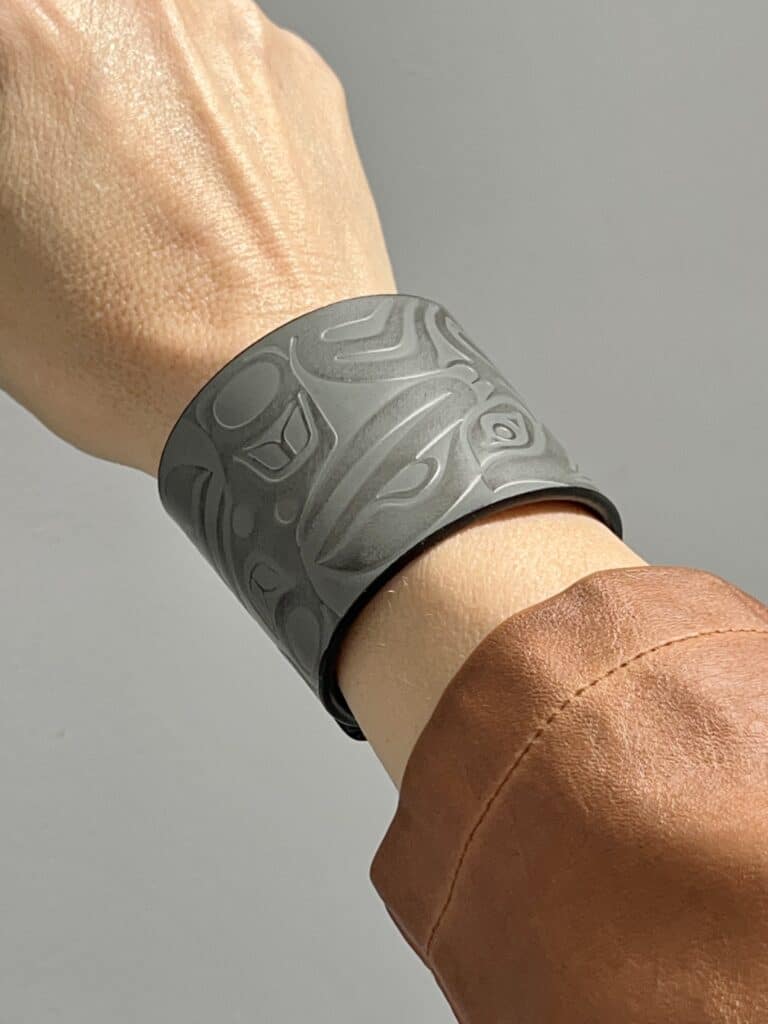 The trick is to have it snugly hugging the thinnest part of your forearm, right above that wrist bone. That way, it stays put and shows off all the cool details. Avoid wearing it too high up where it feels awkward and looks off-balance.
Finding that sweet spot for your cuff bracelet will make it a perfect addition to your overall look, giving your wrist some serious style vibes.
How Tight Should a Cuff Bracelet Fit?
When it comes to the fit of a cuff bracelet, you want it to be just right for both comfort and style.
The ideal fit is snug but not overly tight. You don't want it to be so loose that it slides around your wrist or feels like it might fall off. At the same time, you don't want it to be too tight that it feels constricting or uncomfortable.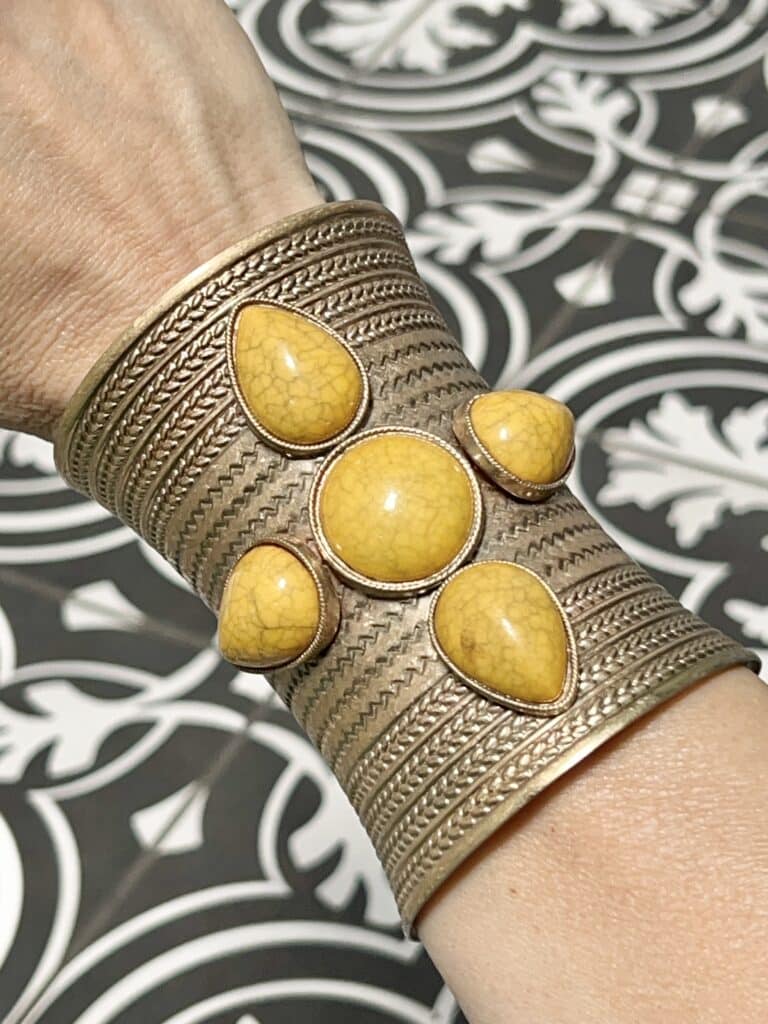 A properly fitted cuff bracelet should stay in place without leaving indentations on your skin or causing any discomfort. For the best fit, it should feel secure and allow for ease of movement while adding that extra touch of flair to your wrist.
How to Style Your Cuff Bracelet
If you own this amazing piece of jewelry, you will want different ways to wear it. Let me suggest a stylish way…or two…or 13!… waysto wear your cuff bracelet!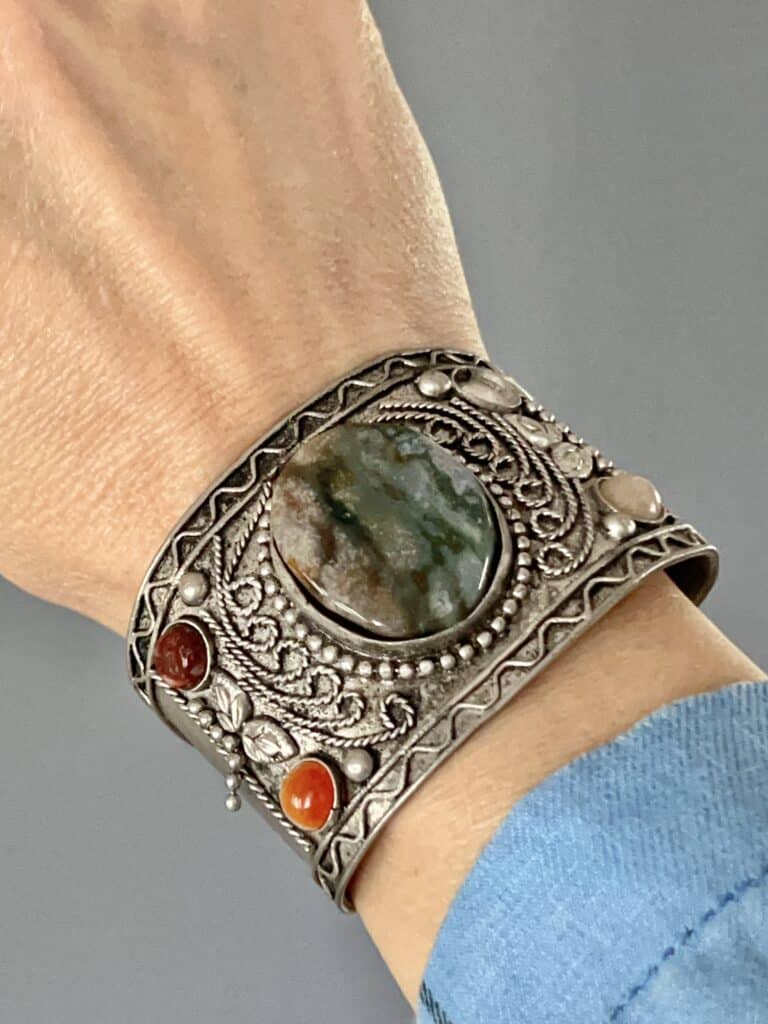 Solo Statement: The easiest way to show off your jewelry is to wear a single cuff bracelet on one wrist as a bold statement. 
Stacked Delight: Layer multiple cuff bracelets or other bangle bracelets on the same wrist for a trendy and unique look.
Mixed Metals: Experiment with different muted or shiny metals like gold, silver, or rose gold. Combine a silver cuff bracelet with a gold cuff bracelet for a chic and modern twist. 
Arm Party: Create an arm party by pairing your cuff bracelet with assorted kinds of bracelets and bangles.
Boho Vibes: Combine a cuff bracelet with beaded or woven bracelets for a bohemian-inspired casual look.
Contrasting Styles: Pair a sleek and minimalistic cuff bracelet with more ornate and intricate bracelets for a captivating contrast.
Leather Love: Opt for leather bracelets for a touch of edginess and a rocker-chic vibe.
Statement Cuff: Choose a bold and eye-catching cuff bracelet with intricate designs, gemstones, or unique shapes to make a statement.
Minimalistic Elegance: Embrace simplicity with a minimalist design bracelet that adds a subtle touch of elegance to a modern look.
Business Casual: The workplace is the perfect opportunity for a cuff bracelet. Pair a sleek and polished cuff bracelet with your professional attire for a sophisticated and stylish office look.
Color Pop: Opt for a cuff bracelet with precious stones or colorful enamel accents. This is a great way to add a pop of color to your ensemble.
Personalized Touch: Choose a cuff bracelet that can be customized with initials, birthstones, or meaningful symbols to create a personalized and sentimental accessory. This type of bracelet is a perfect choice for a gift for someone special.
Cuff Bracelet Recommendations
Here are some cuff bracelets that I am loving!



These styling ideas are just the beginning! Feel free to mix and match, experiment to find the perfect combination, and make a real fashion statement. Remember, your cuff bracelet is a versatile piece that can elevate any outfit, so have fun and rock it with confidence!
Cheers!

Don't Forget to Pin It!
Pin the image below to your boards on Pinterest (just click the Pin button in the top left corner). You can also follow along with me on Pinterest!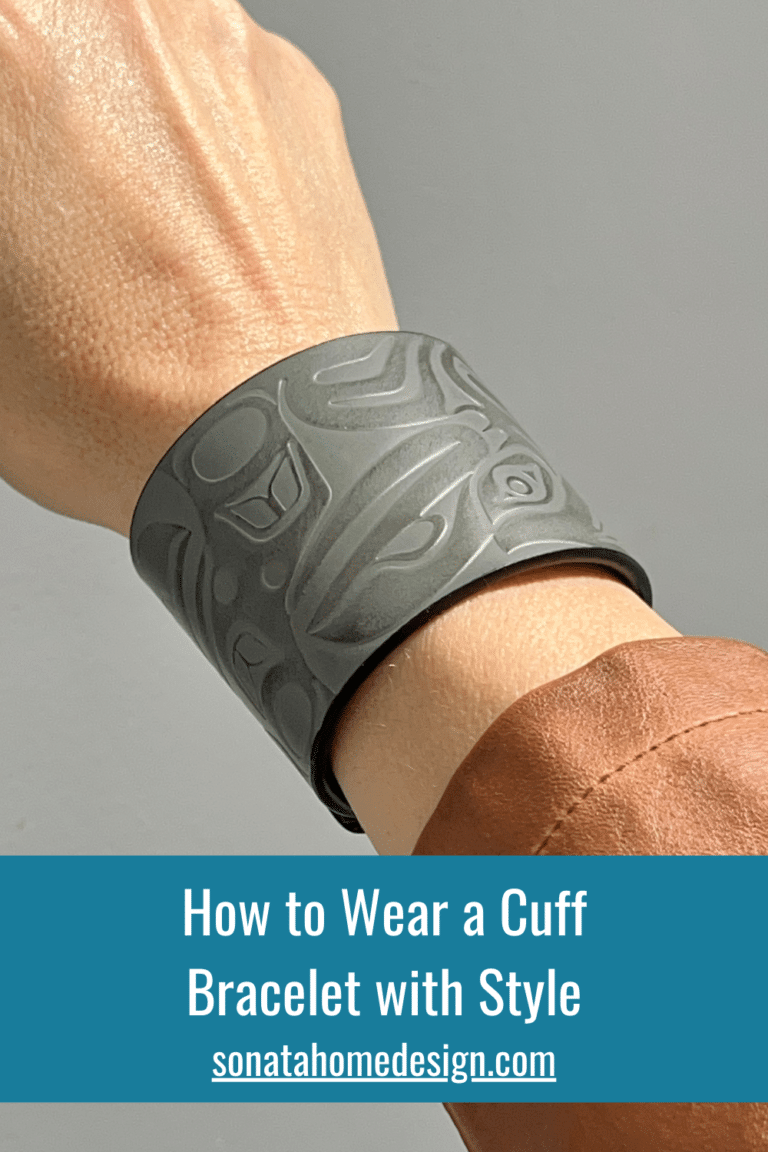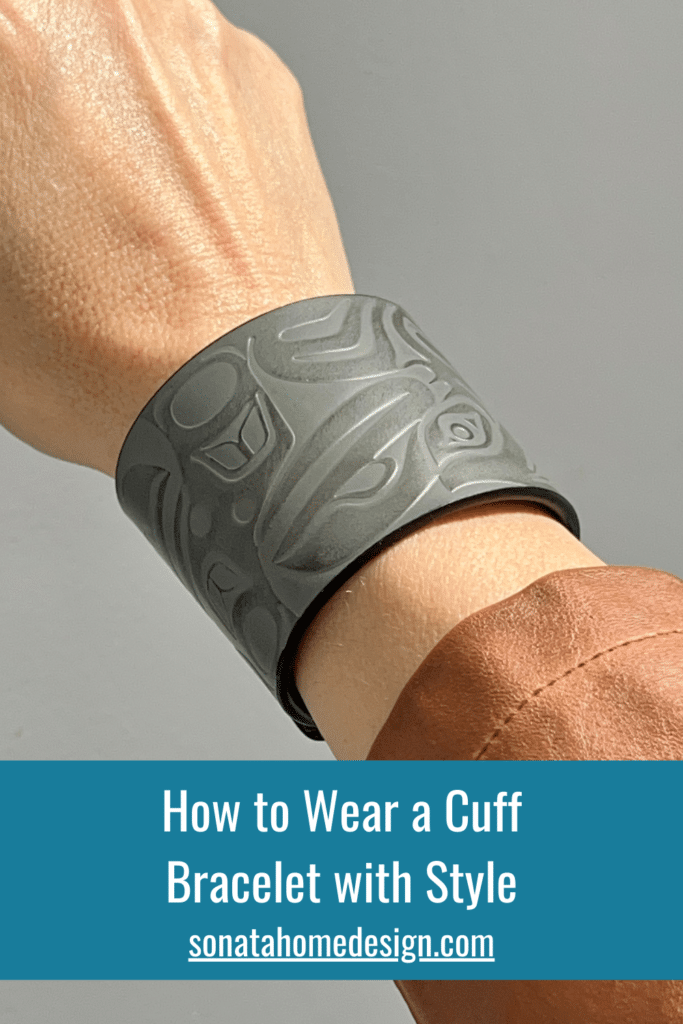 Say It with Style
How to Wear One White Shirt Five Different Ways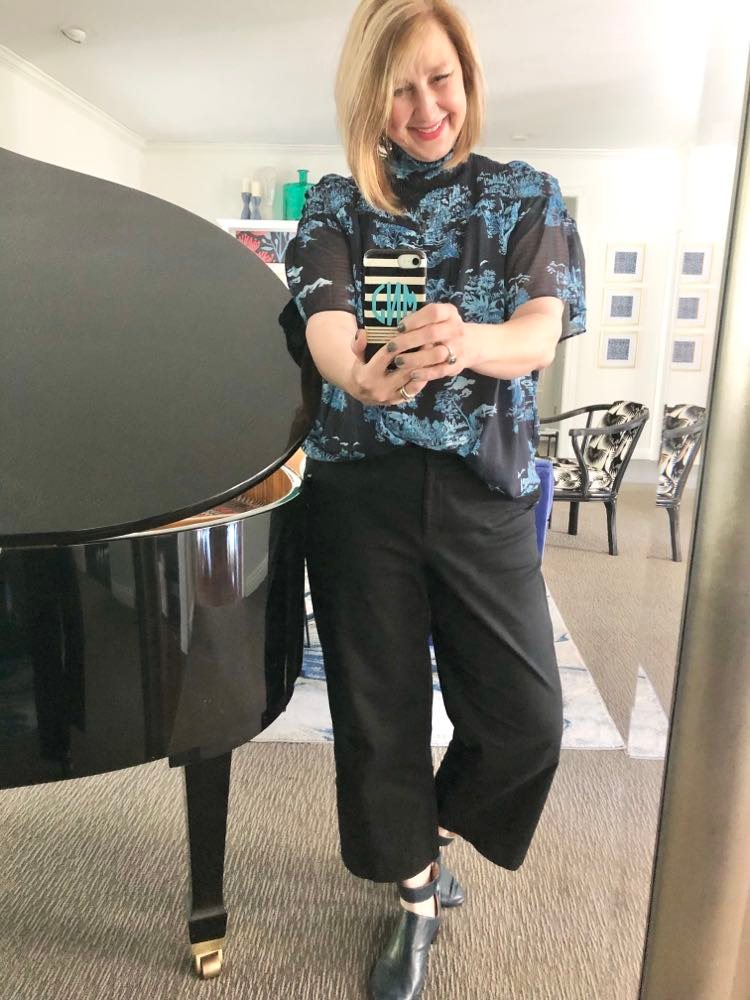 How to Wear Pajamas in Public…and Look Like You're Not!