When Your Dog Tramples Your Garden…
A Story of Recovery when the Dog Tramples the Garden with Tips for Keeping Him Out!
The dog is in the garden…and he trampled it.
But let's not start with the negative…
Let's start with CUTE PUPPY PICS!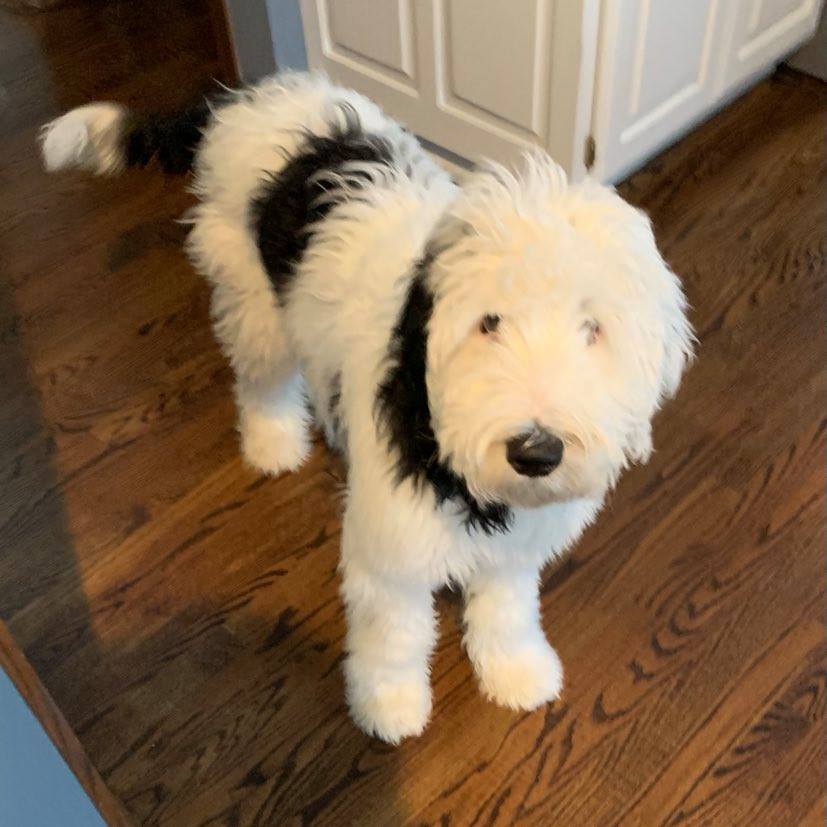 Bentley joined our family in February…oh, how fun it was to bring him home! We LOVE Bentley!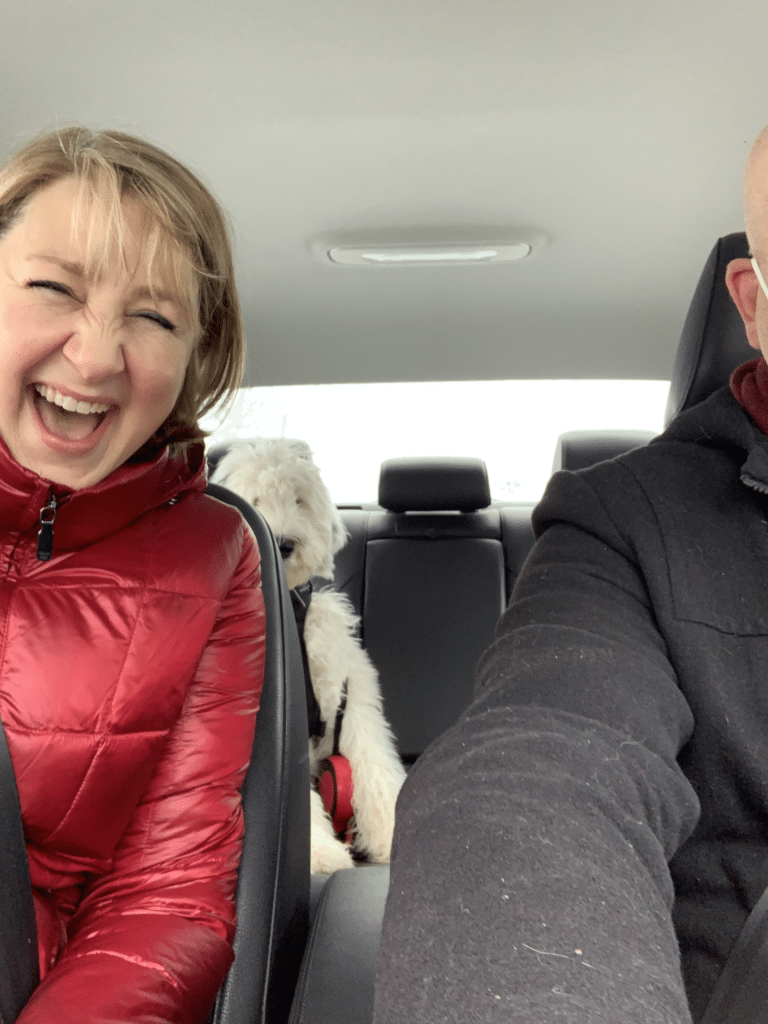 What JOY there is this fluffy, energetic, bounding, Sheep-a-doodle!
Let the cuteness just wash over you…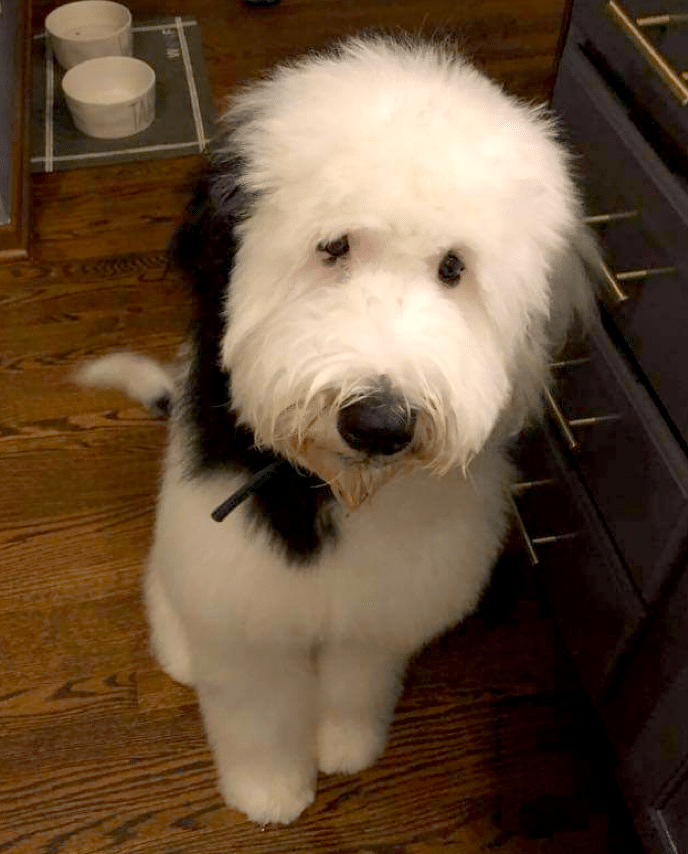 Playful and winsome at the same time…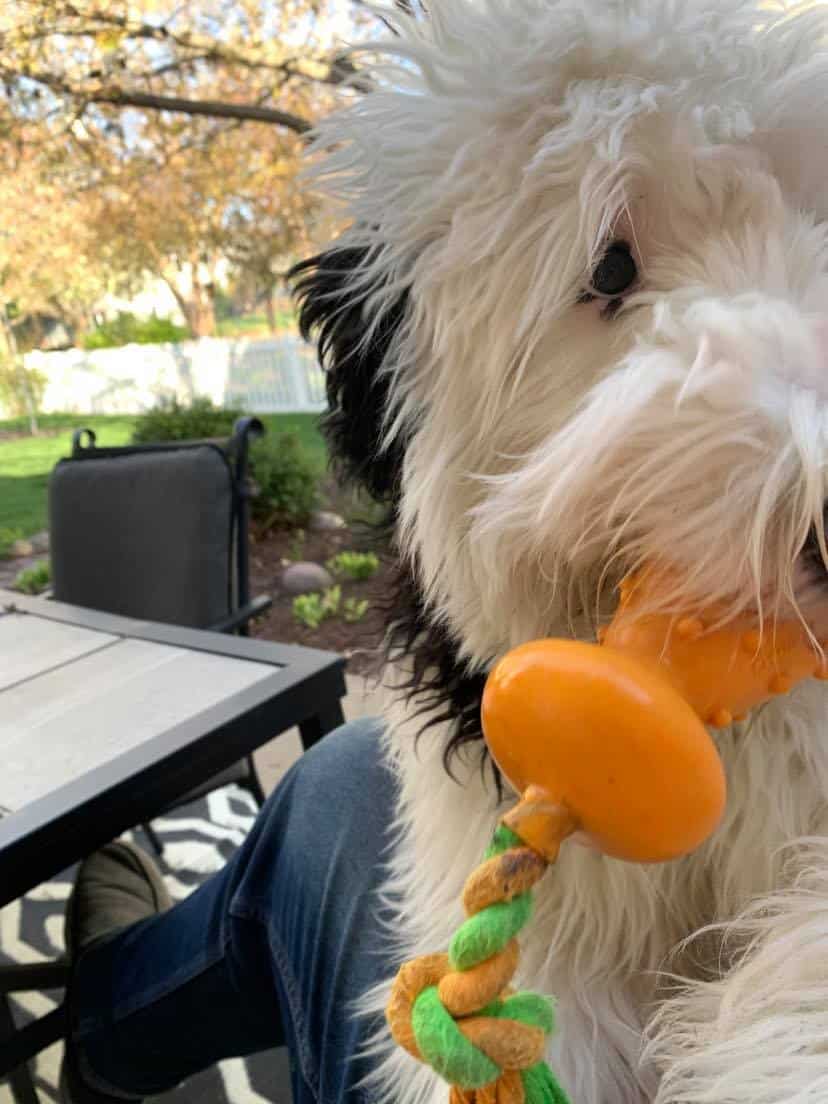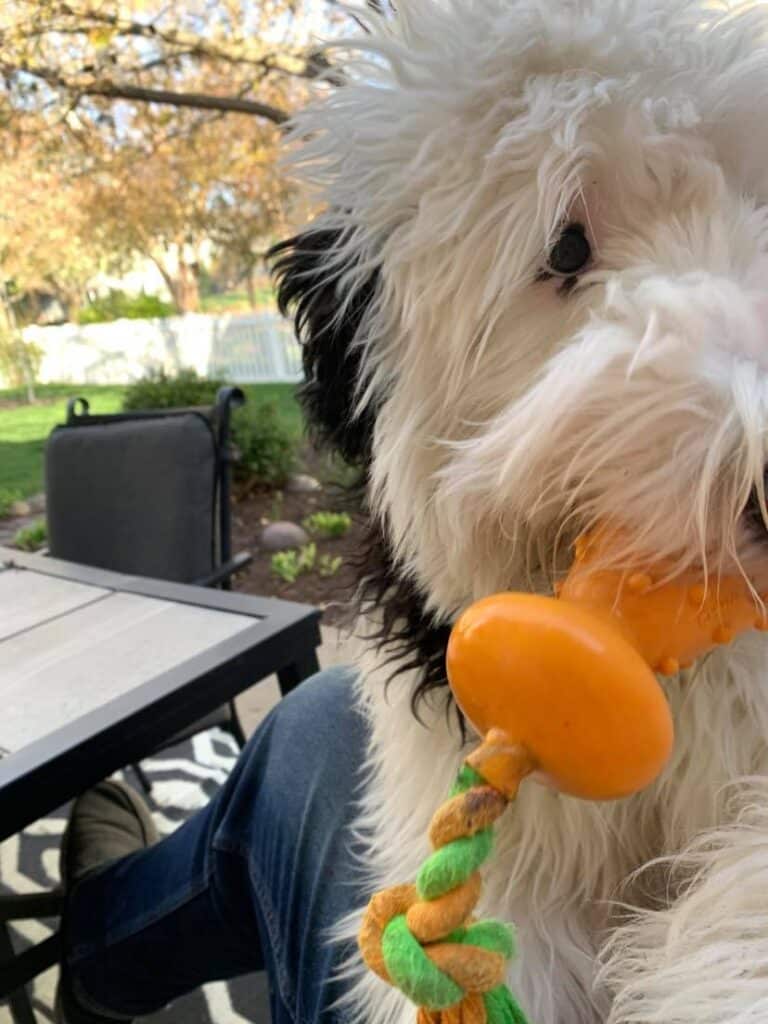 Charming us into loving doggie parent oblivion…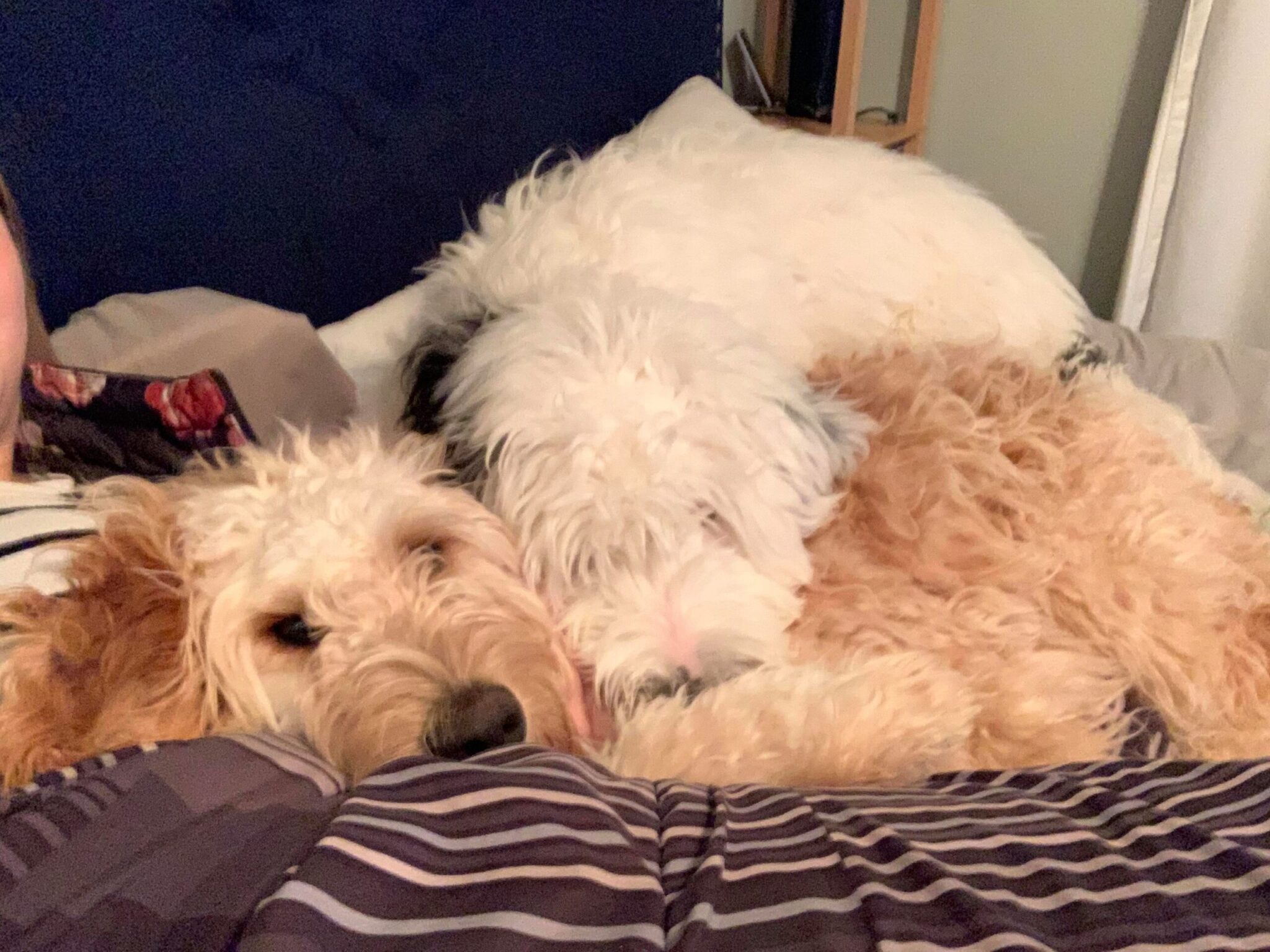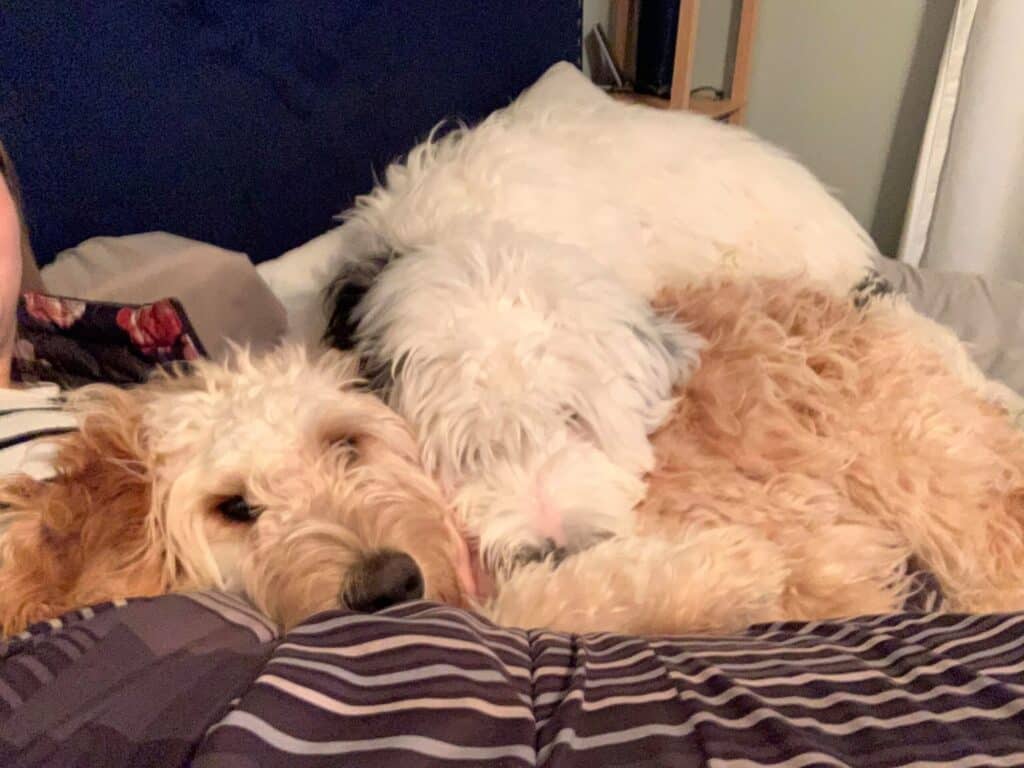 Until…
GASP!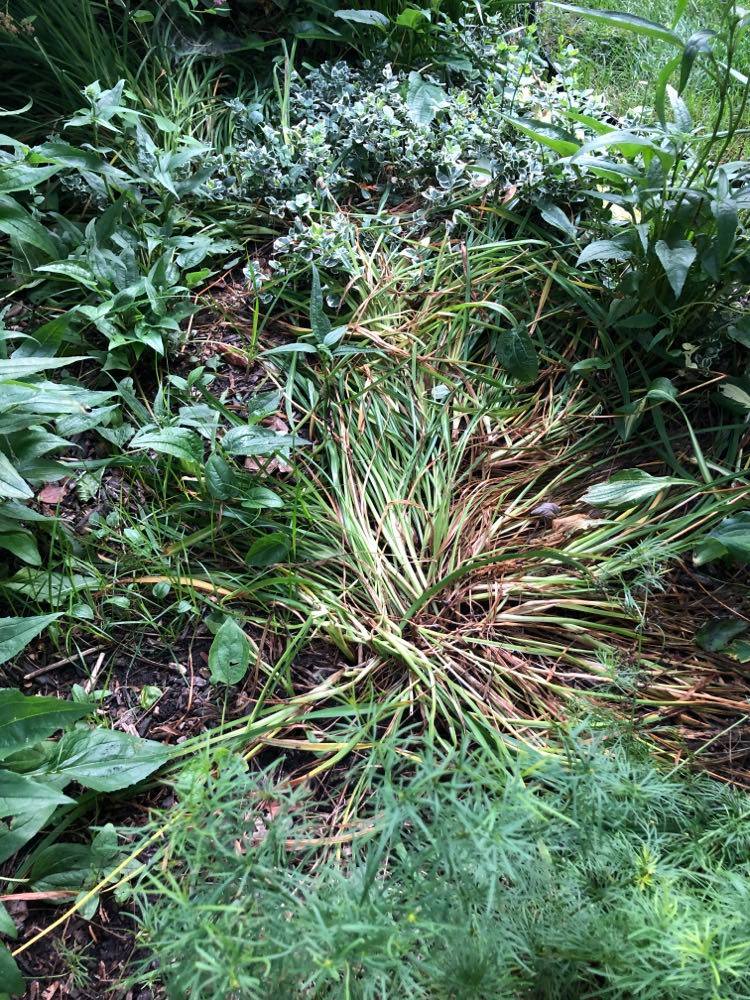 Our adorable bundle of energy decided to "plow the field" by creating a trail through our backyard perennial bed.
Daylilies flattened. Coneflowers snapped. Coreopsis bedraggled. Even remaining flowers have blooms stripped away.
I'm a pretty laid back gardener and don't need garden perfection. But this?
I need a recovery plan.
Counting to 10 helps. Developing a strategy is necessary.
But some general "dog versus garden" information would be helpful.
Tips for Keeping Your Dog Out of the Flower Beds
Fence the flower bed. There is lots of decorative fencing available which may provide the needed deterrent.
Use certain flowers as your deterrent. Plant prickly roses or barberries to keep dogs out or plant scented flowers that dogs don't like. Lavender and marigolds are good examples. If the flower bed is uncomfortable or has an unappealing scent, your canine will avoid it.
Repellants of a different nature can also be helpful. Vinegar, bitter apple spray, and even spices such as red pepper and powdered mustard are distasteful to dogs. Additionally, dogs don't like the scent of coffee grounds which, when added to a flower bed, actually act as a fertilizer for plants.
Give your dog a dedicated "play space." Find an area in your yard where your dog is allowed to dig, lounge, trample, and generally make a mess.
Train your dog to not go in the flower bed. (Ok. Obvious answer that has OBVIOUSLY not worked for us. Maybe it will for you!)
So, Here is MY Plan!
First, I am clearing the area of trampled plants. I cut back the daylilies to the ground knowing that they will re-emerge next spring.
Full confession: I really don't like daylilies. It is not that I don't think they aren't attractive. It is the fact that whoever built our house, planted a BAJILLION of them and I am a bit "daylilied" out!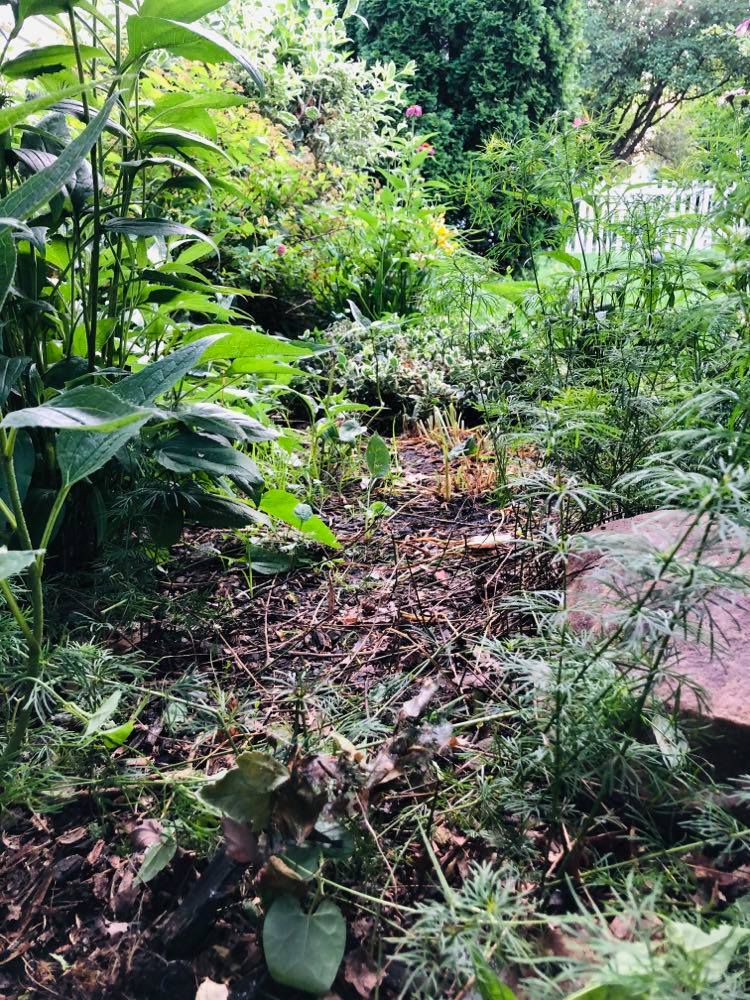 What to do when the space needs filling in but I don't want to plant a lot of flowers that could get trampled again?
One of my recent yard sale finds is going to be part of my strategic plan.
These two metal obelisk towers are a little worn and rusty, but they will definitely help fill the space with sculptural interest.
A quick sanding and fresh coat of black spray paint is all that is needed to freshen these babies.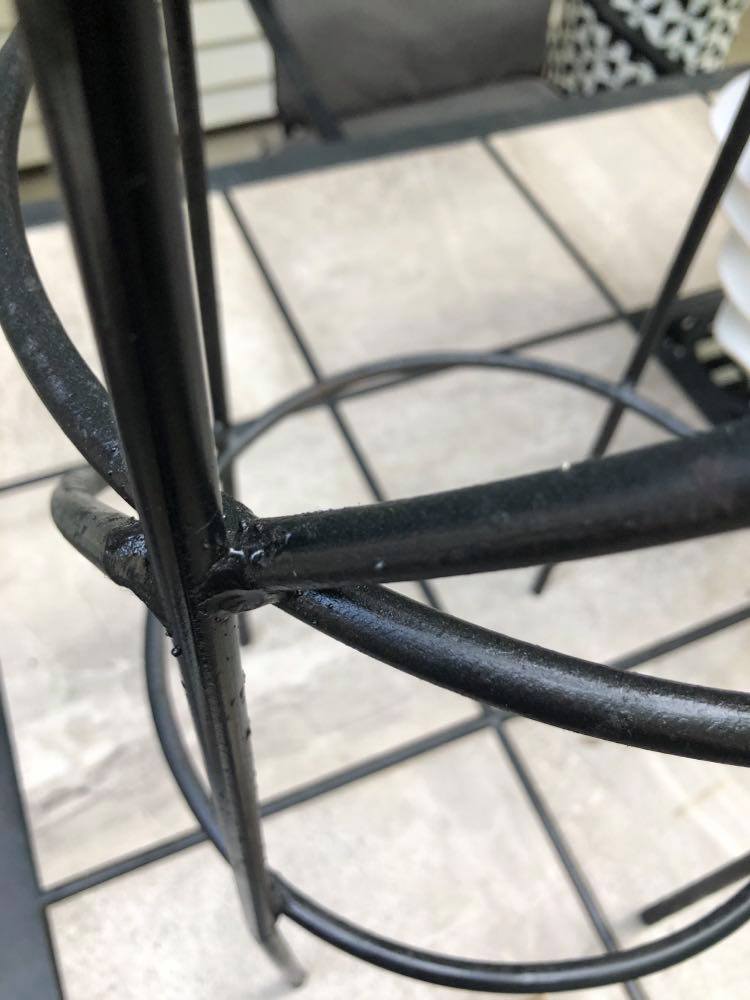 Here are some more spray paint projects that you might like! 12 Spray Paint Projects that are Fun and Easy!https://www.sonatahomedesign.com/spray-paint-projects-that-are-fun-and-easy/
Oh, and why not add a little nighttime glow with some fairy lights!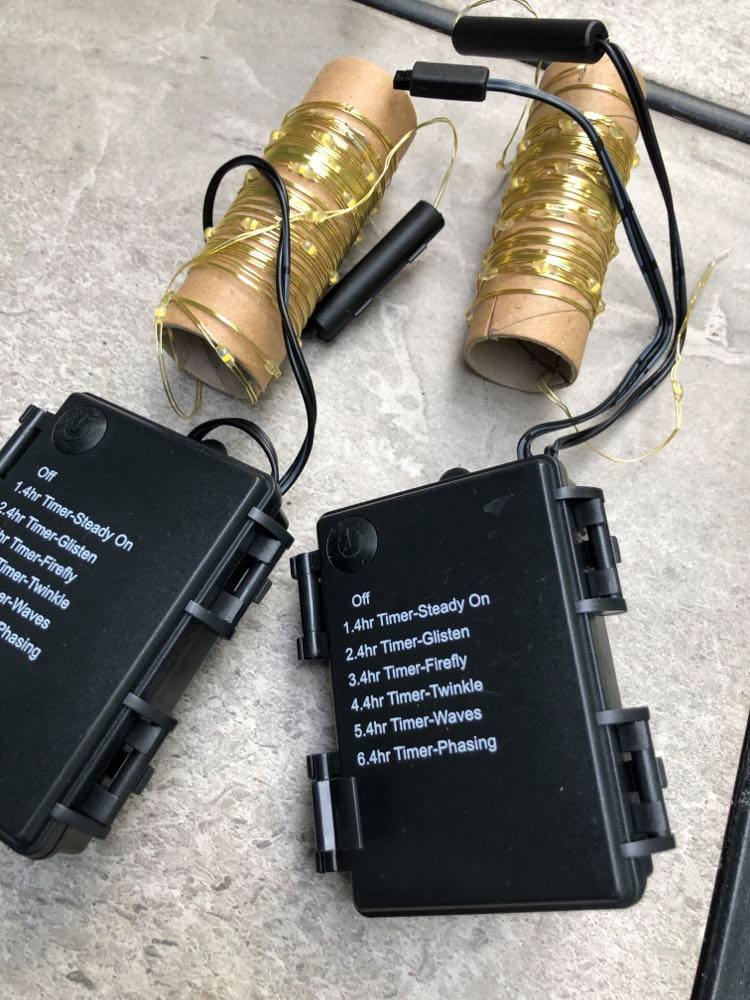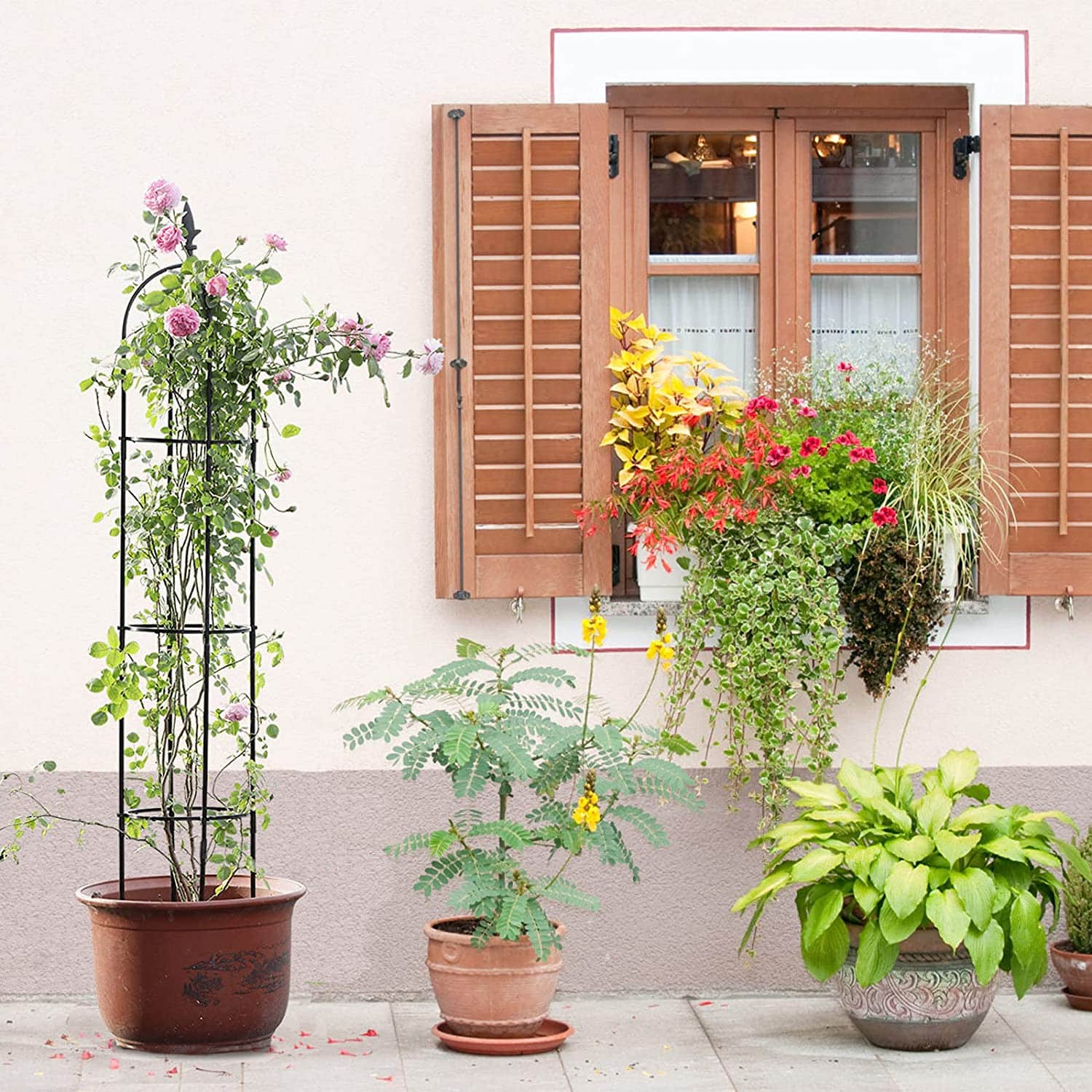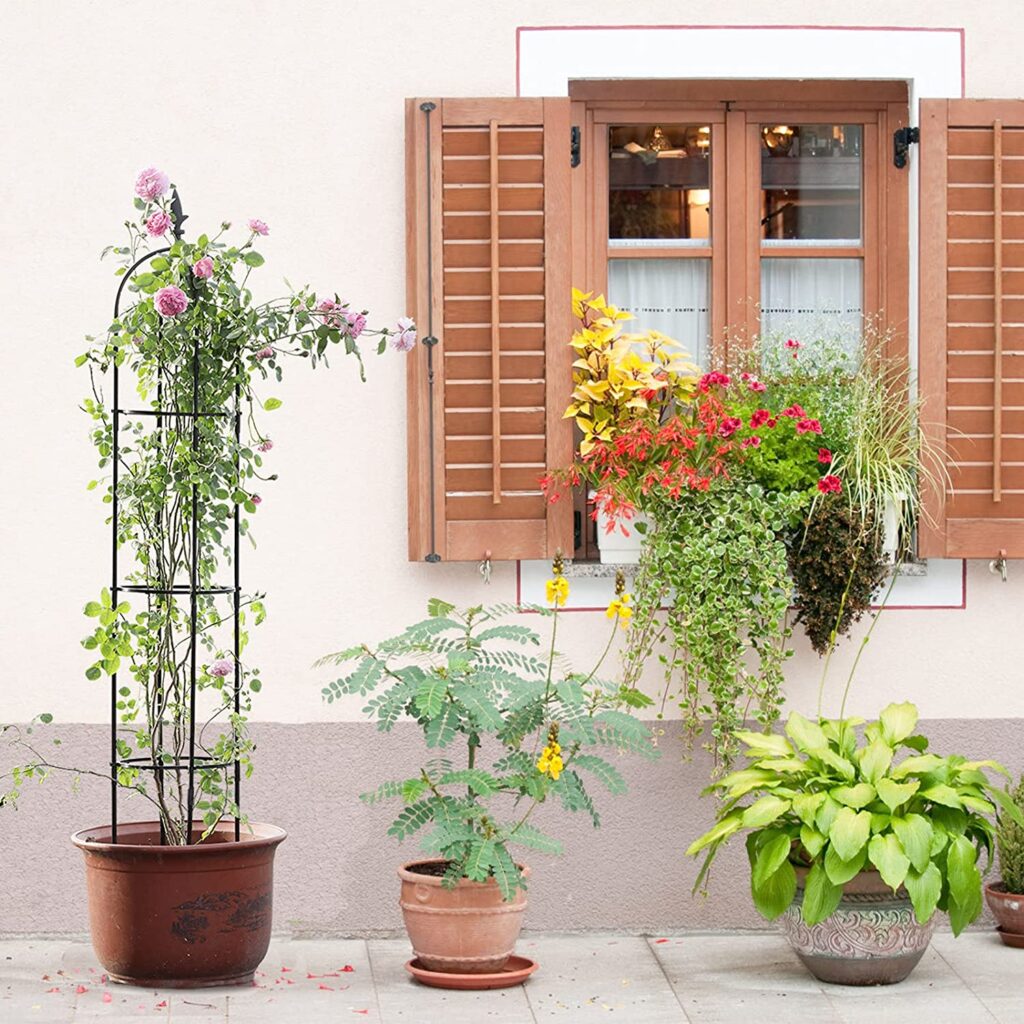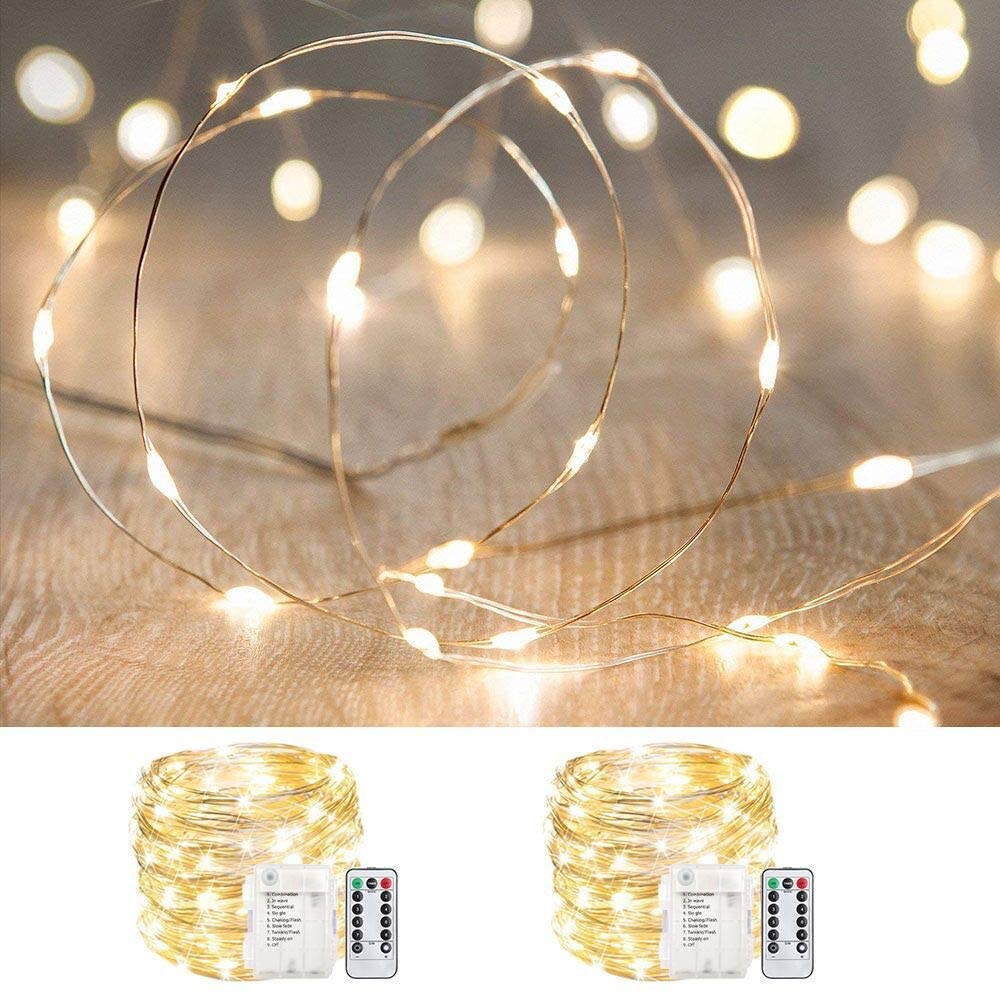 I'm Using a Tip!
Dogs don't like the smell of lavender.
You mean something as beautiful and sweet smelling as this little plant can deter my 65 pound bouncing pup?
Worth a try!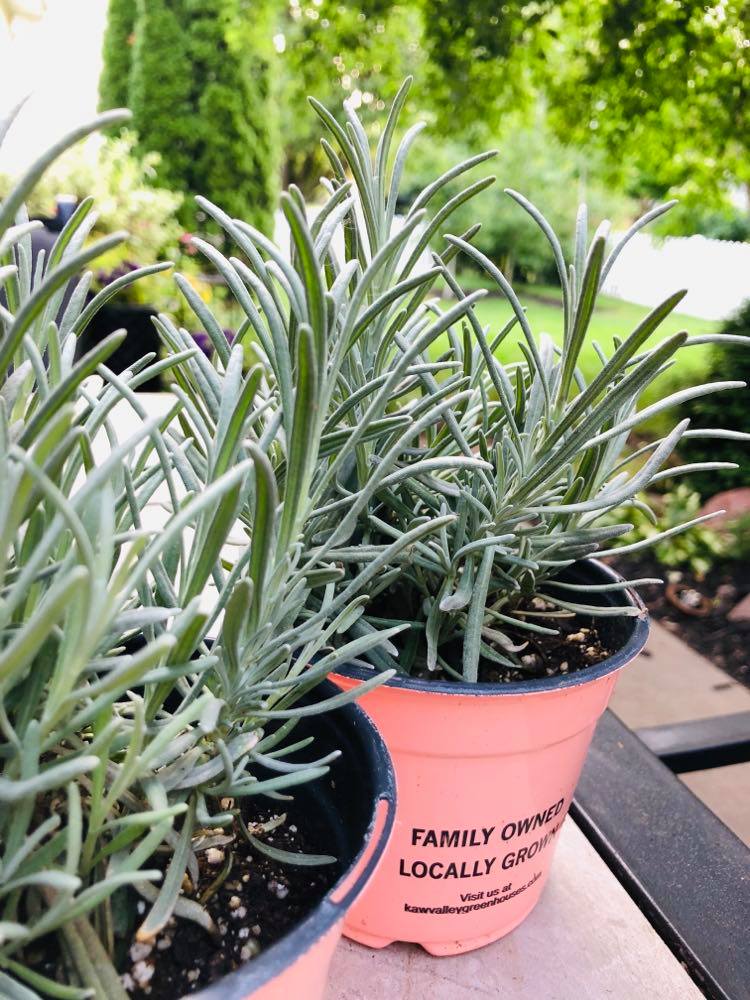 Again, to avoid trampling, I am planting directly beneath the trellis cage. The plant is protected and the trellis is LITERALLY protecting the plant!
Adding the colorful verbena is a bit of a risk (Who am I kidding? It is a HUGE risk!) but I can't resist adding some pops of color in the space! (I'm not a marigold fan so the lavender will have to have superpowers!)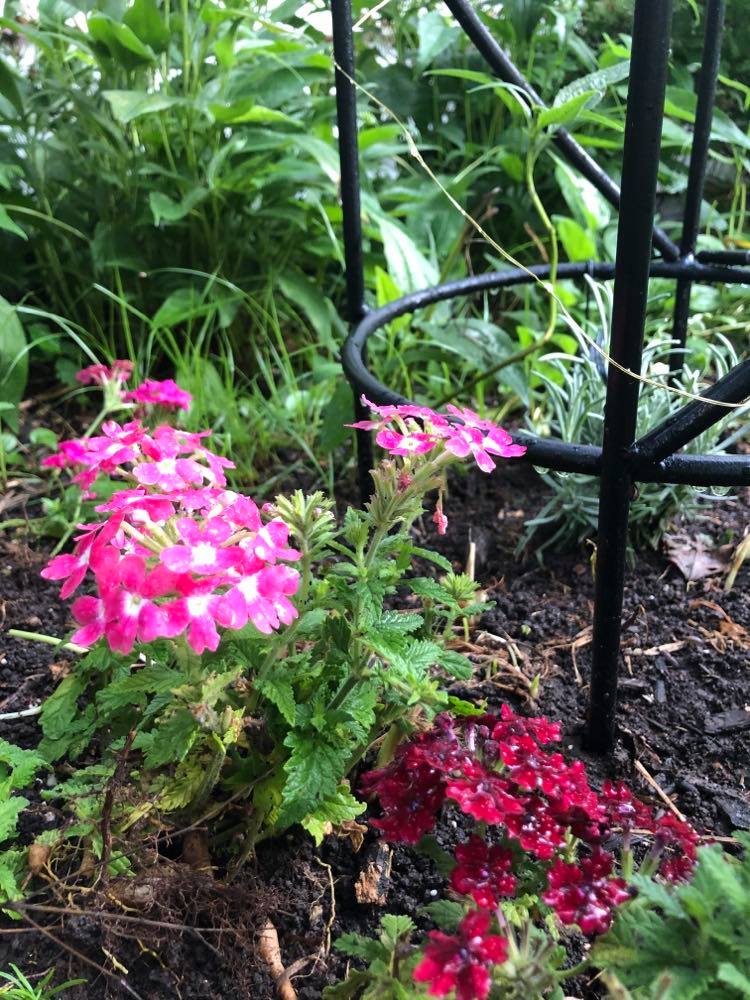 So, now there a barrier within the bed, but how do I keep lovable Bentley from hurling himself into the bed from his preferred entrance.
Did I mention that Bentley could beat any human in a long jump competition!
More barriers are needed!
Since fencing is not an option for me(I still want to SEE the bed and Bentley could jump it anyway), a couple of petunia-filled pots might do the trick!
At this mid-summer point, annuals are on sale and I scored these petunias and the verbena for half price!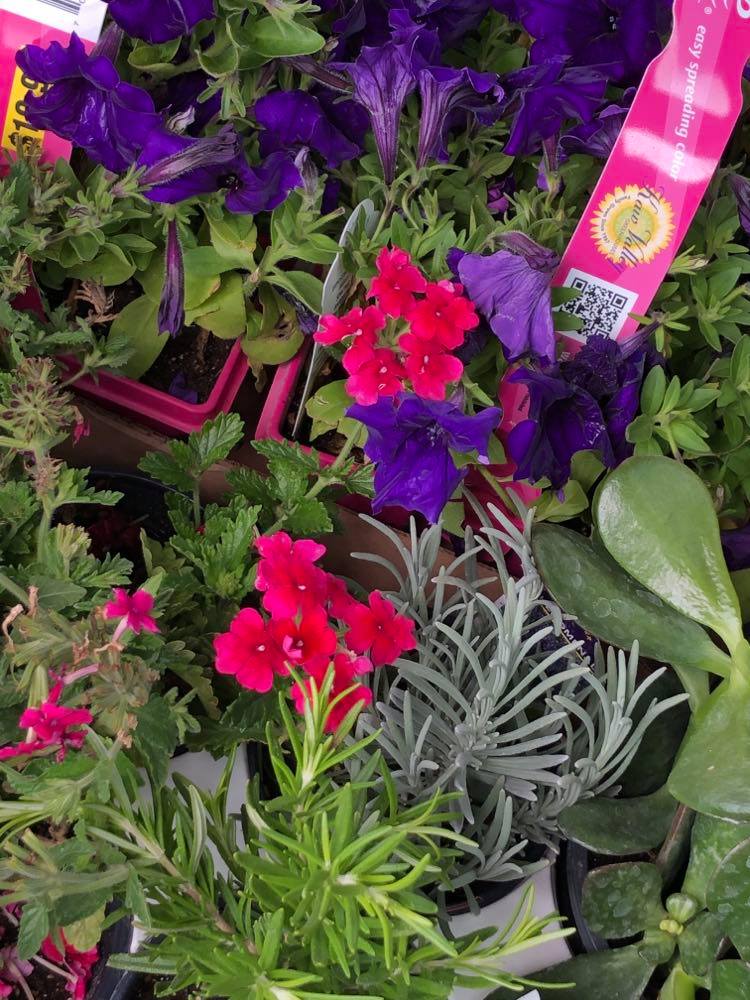 Placing the petunia filled pots right at the point of entry seems to be working. Bentley sniffed around them a bit and then walked a way.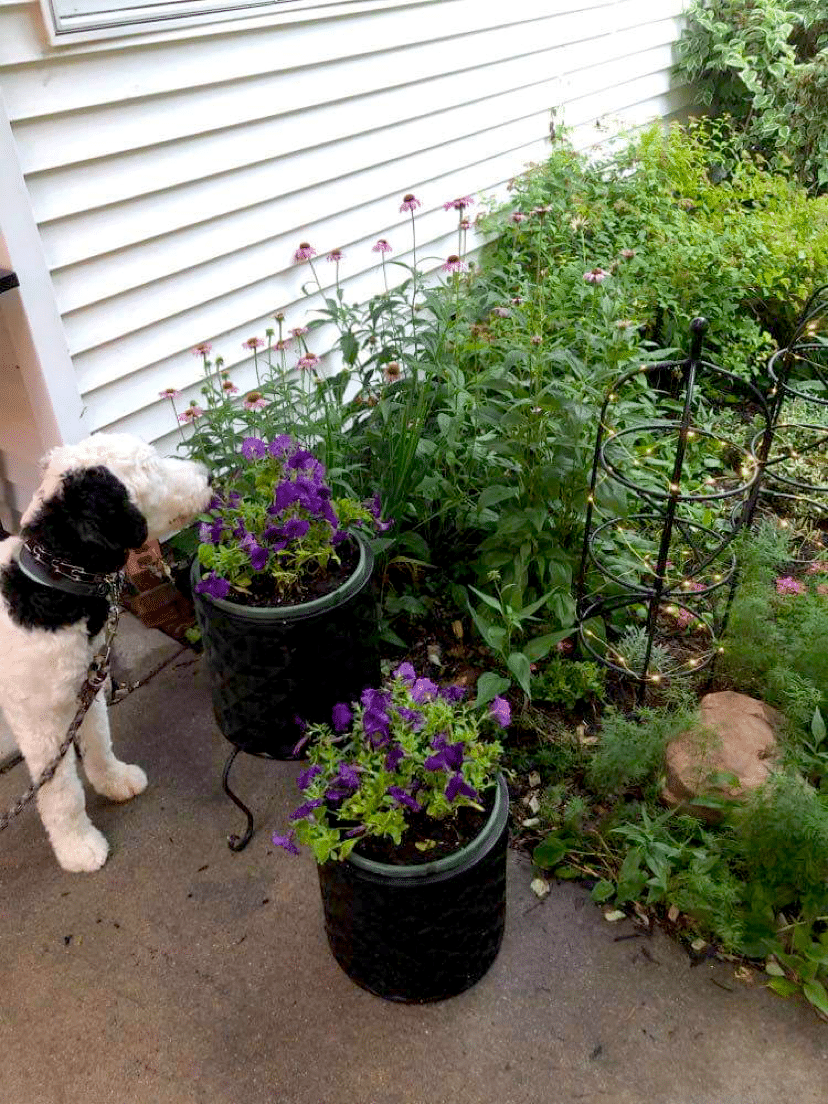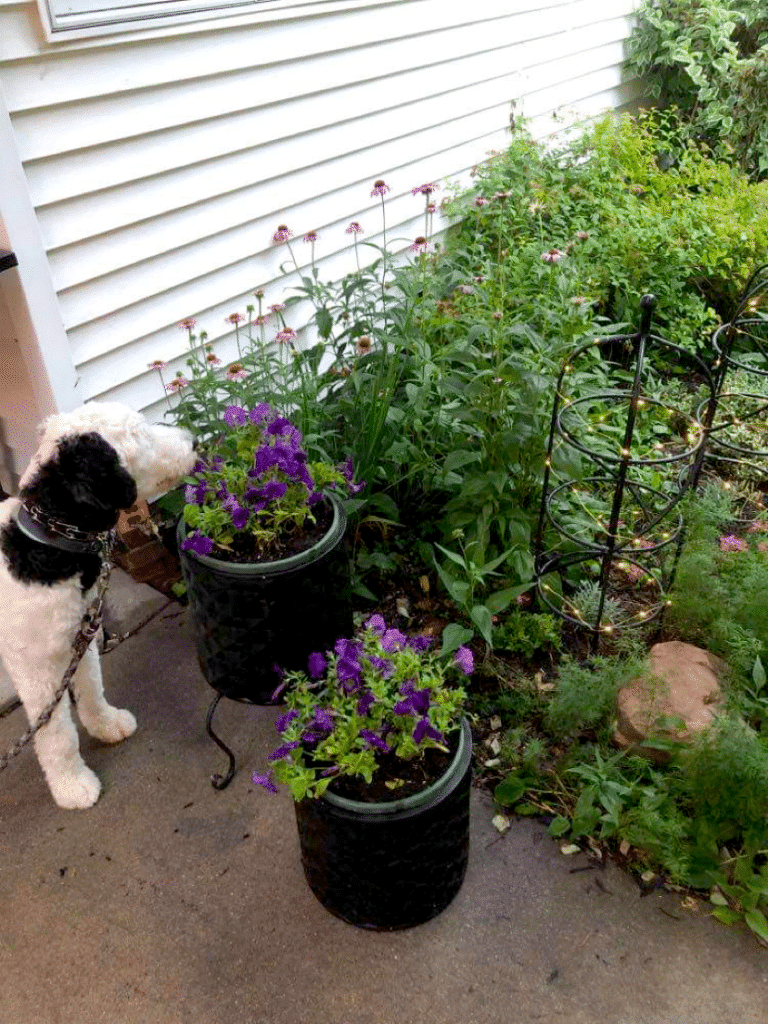 Success so far!
I plan to sprinkle some coffee grounds periodically throughout the bed. I am a MAJOR coffee drinker so I am my own coffee grounds dealer!
The perennial bed does have a different look now. I LOVE the sculptural effect of the obelisk towers and enjoy their glistening effect at night.
It is not Versailles but at least now my little cottage garden has a fighting chance.
It is a pleasure to sit on the patio in the evening, drink a glass of wine, and watch Bentley chase and play in the yard.
Although, I have to admit to tensing up every time he gets close to the perennial bed!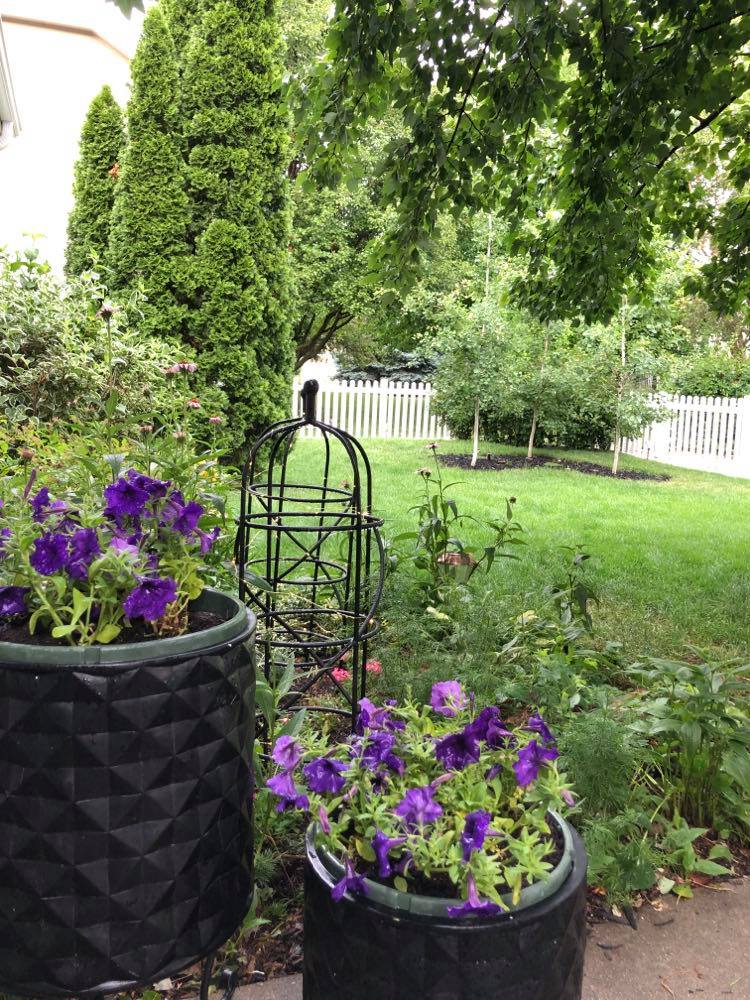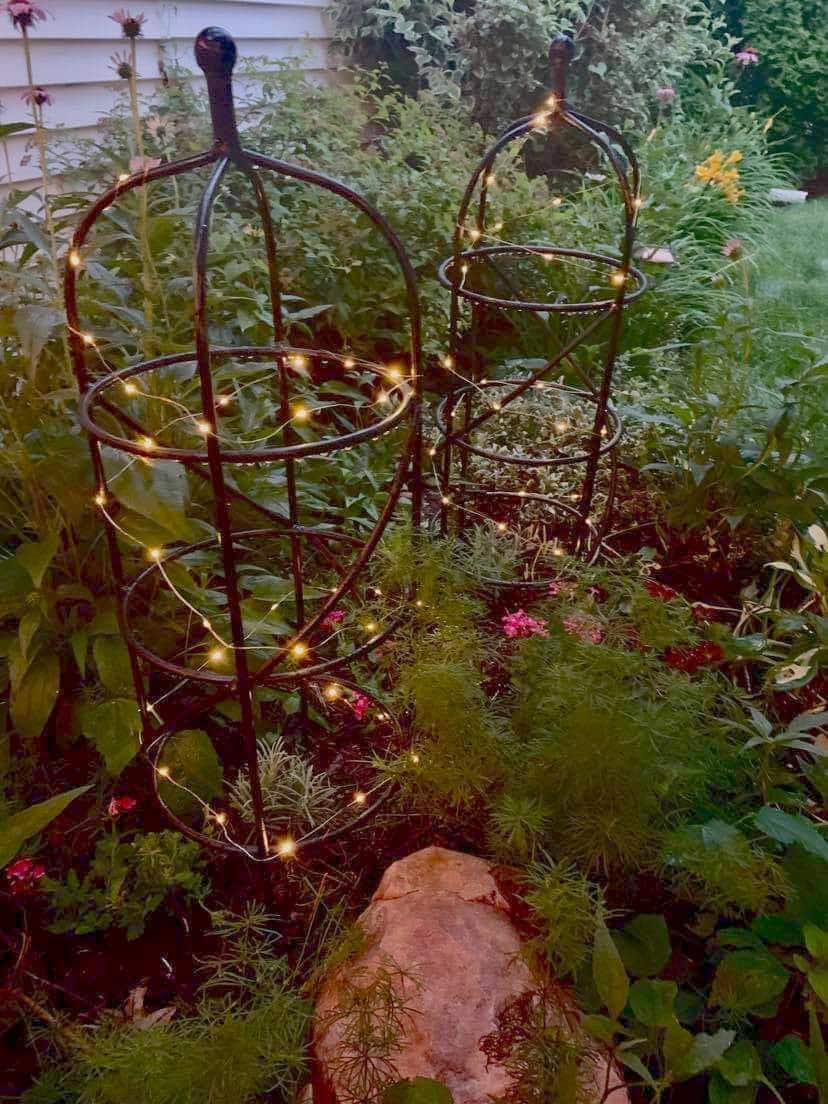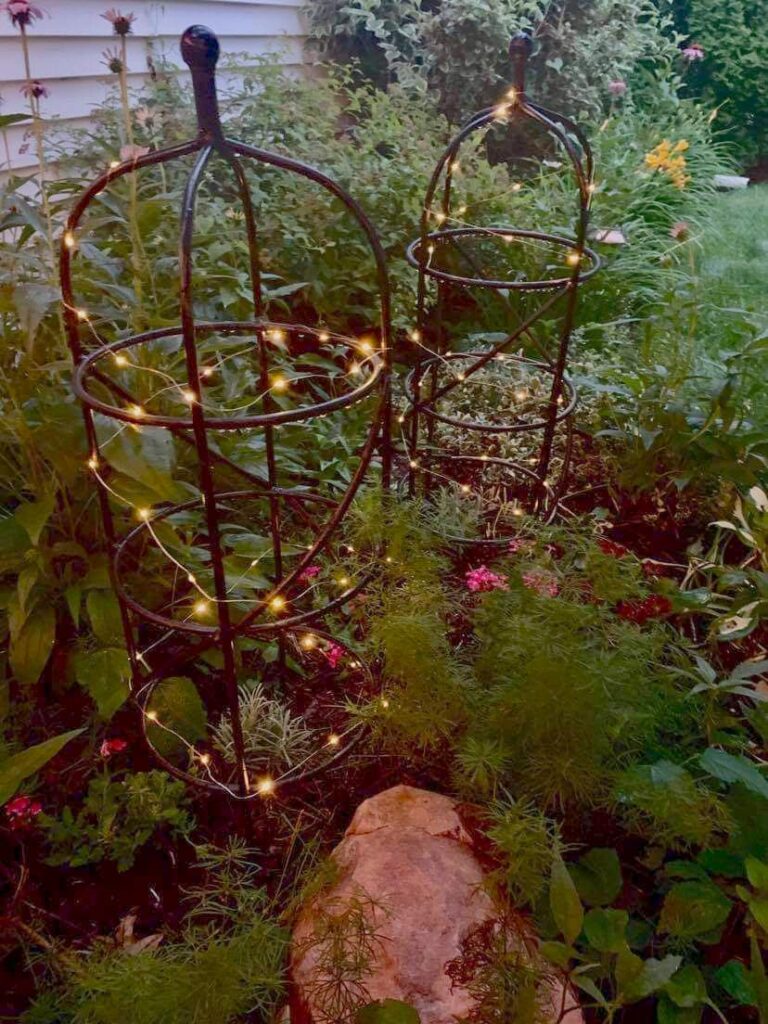 Bentley has stayed out of the bed so far and now the plants have some time to settle in and flourish.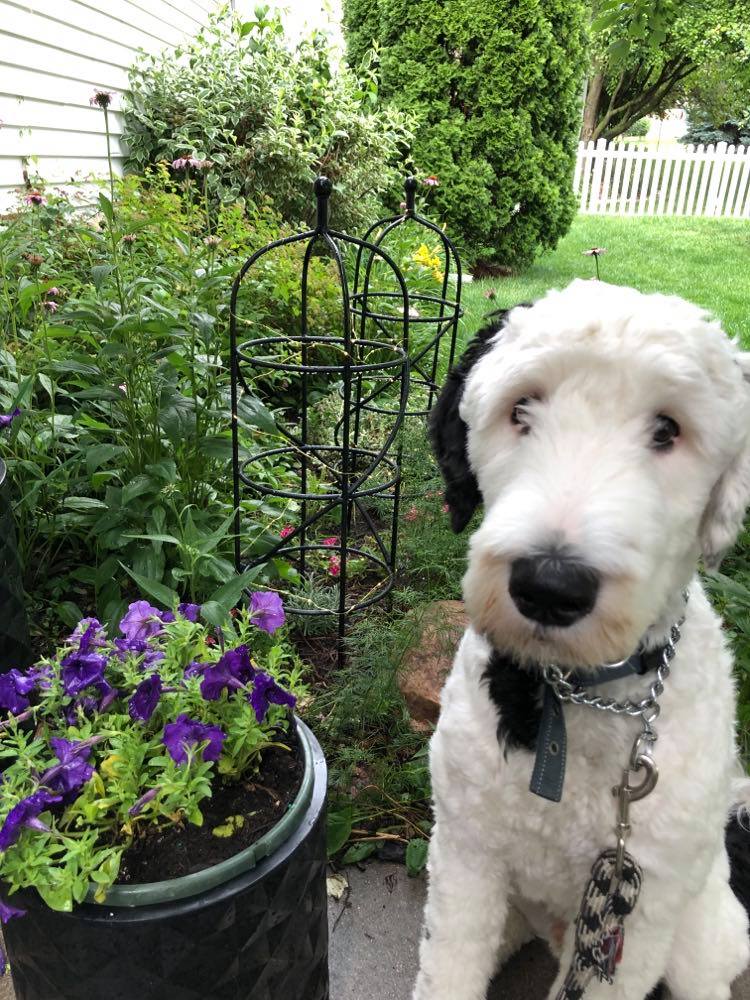 In a competition between Bentley and a flower bed, Bentley will win every time. But with a little strategic planning, perhaps Bentley can be "persuaded" to lounge elsewhere!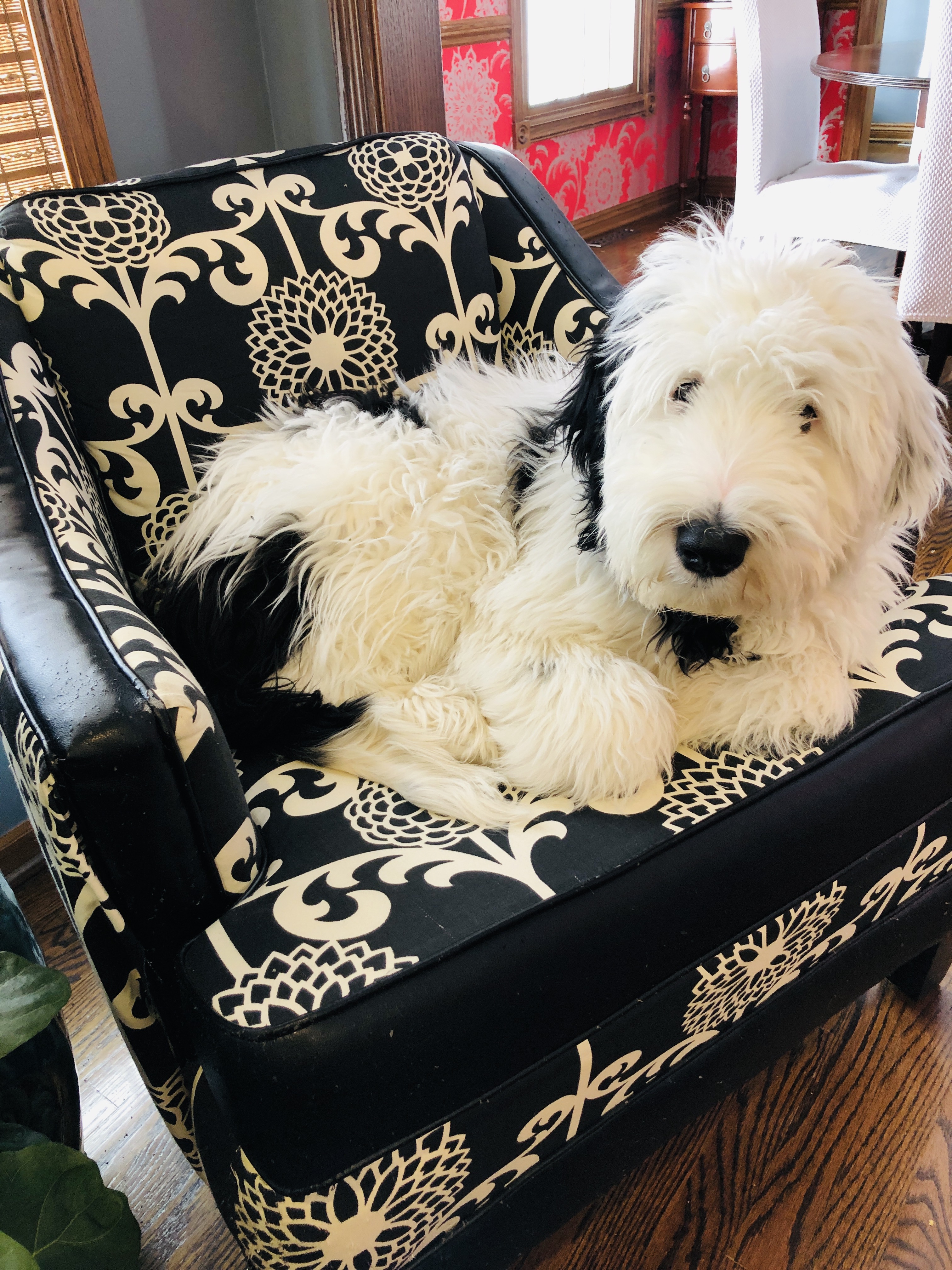 If you are in love with Bentley, please join me each Friday for "Friday Finds with Bentley." I share some of my favorite finds of the week and Bentley joins me for a cameo appearance! You can see past episodes of Friday Finds with Bentley here.
Cheers!

p.s. Bentley says "Thanks for stopping by!"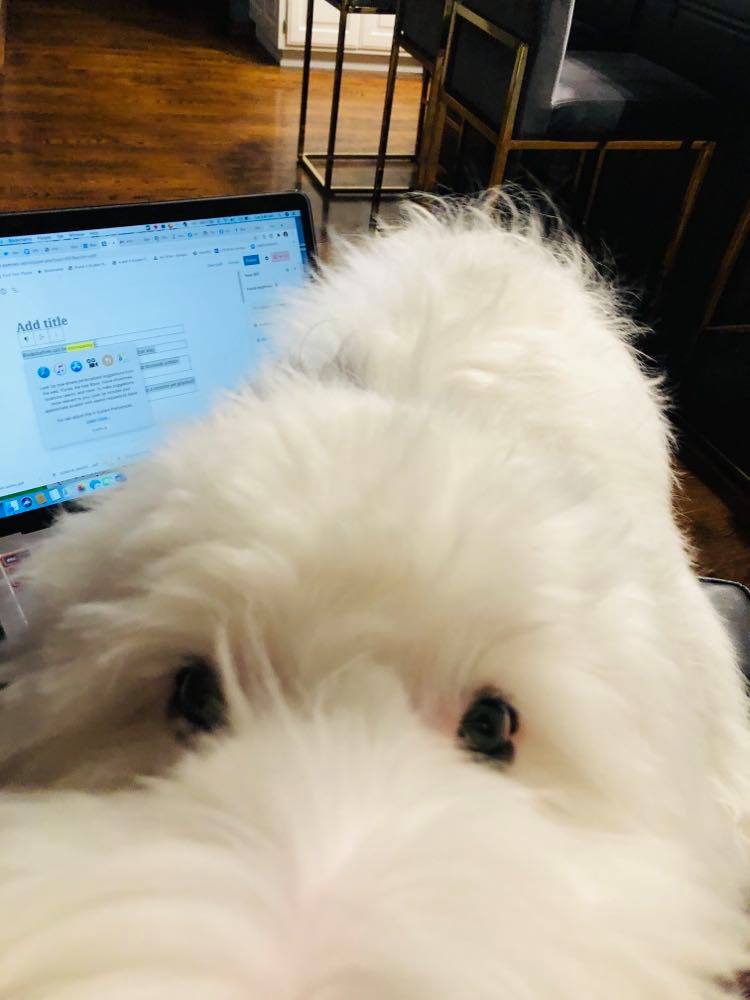 Disclaimer: This post contains affiliate links.