When your Sister holds a Garage Sale…(Wait Till You See My Favorite Find!)
When your sister holds a garage sale, pay attention!
My sister is downsizing and holding a massive garage sale.
This is bittersweet for her.
She loves her things but is excited about creating a new haven with less maintenance (and less to pack) for herself.
But 38 years of STUFF!
Not only is there a lot, but my sister, like me, loves her home decor.
Needless to say, 38 years of home decor items for sale gets my blooding pumping.
"Why, yes, I would be MORE than happy to help you get ready!"
Fortunately, my sister is an educator. What does this mean?
She is ORGANIZED! When I arrive to help, all items are ready to be priced in the garage. Boxes and BOXES of items neatly lined up on tables, under tables, and alongside tables.
We dig in and I start to discover!
Ready for the ugly "Before" shot?
Never have really beautiful things looked so dismal! But on, the potential!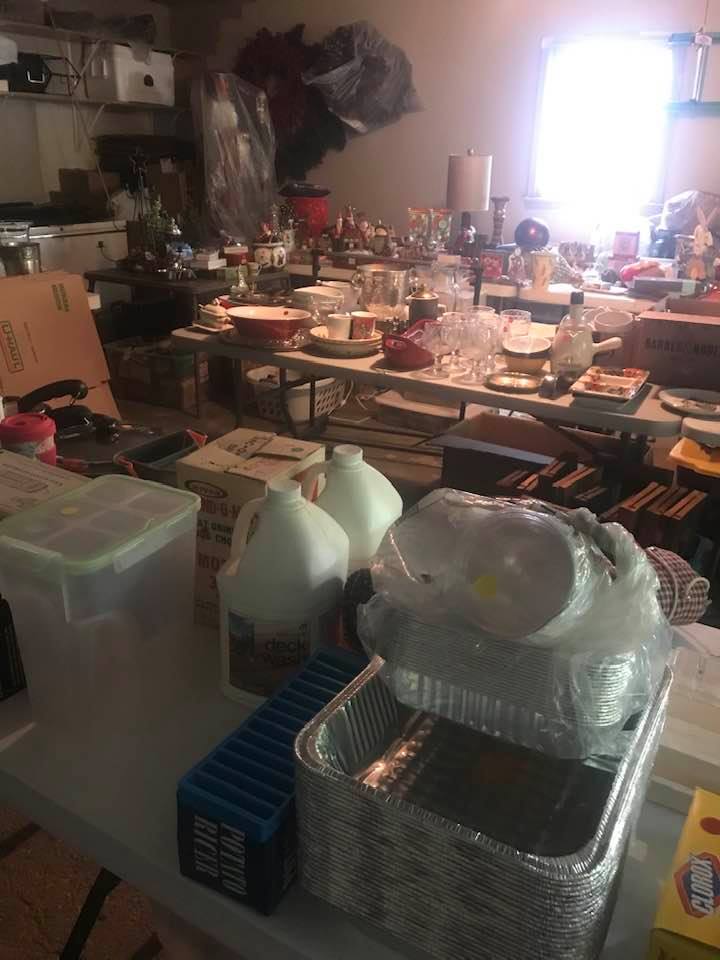 Her garage sale is a little unique.
Yes, she is selling older kitchen appliances, pots and pans, and half-full bottles of deck wash.
However, this garage sale is HEAVY on home decor.
We are talking NICE home decor.
Pause to let that sink in.
I tell myself I am here to help. Not to shop.
No worries…I can do both!
Because I am helping over a series of days, my discovery journey emerges as separate "hauls" of varying sizes.
Haul #1
Architectural Topiaries – I already know where these are going! Backyard perennial garden!
Woven silverware caddy
Glass Pumpkins – "Project!"
Red ornament Christmas wreath – I sense a plaid ribbon moment!
The most gorgeous copper textured Christmas stag complete with a fur collar!
Reading eyeglass GOLDMINE! (I thought I had a lot.)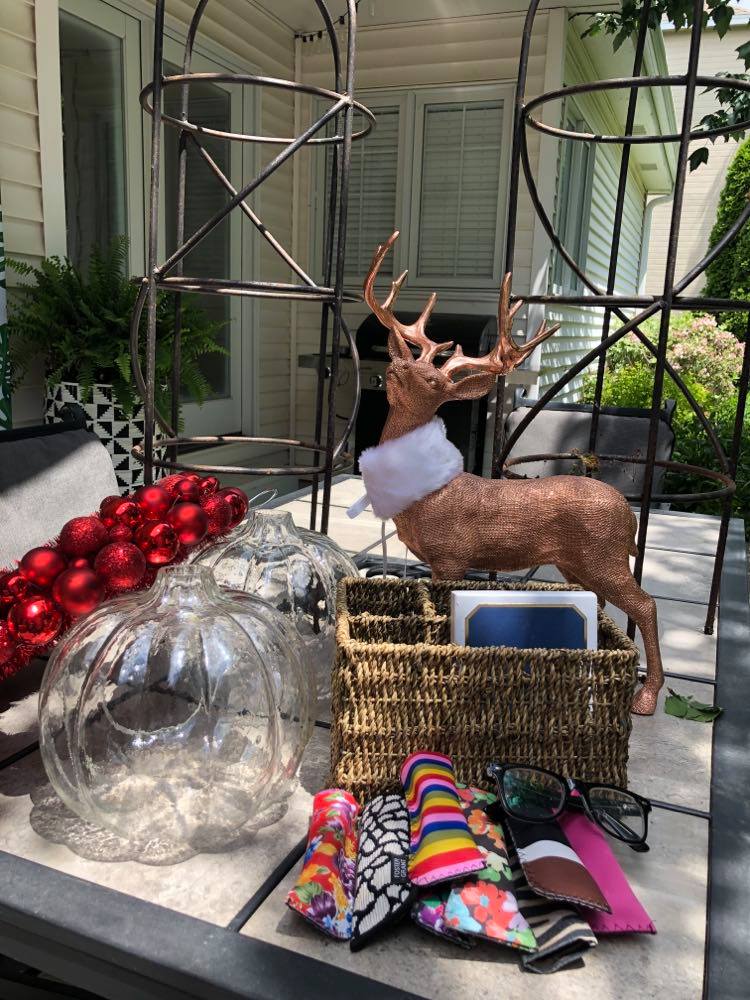 There is a of opportunity for spray paint projects here. Check out this post for some ideas and inspiration! SprayPaint Projects that are Fun and Easy!
As a reading eyeglass collector and, at a buck a piece, these were automatic adds to my first haul.
I had to try them all on to figure out which were my magnification. It took a little time, but I found some!
After some digging, I even found a unisex pair for my husband. If you haven't seen my video on displaying reading glasses, check it out here.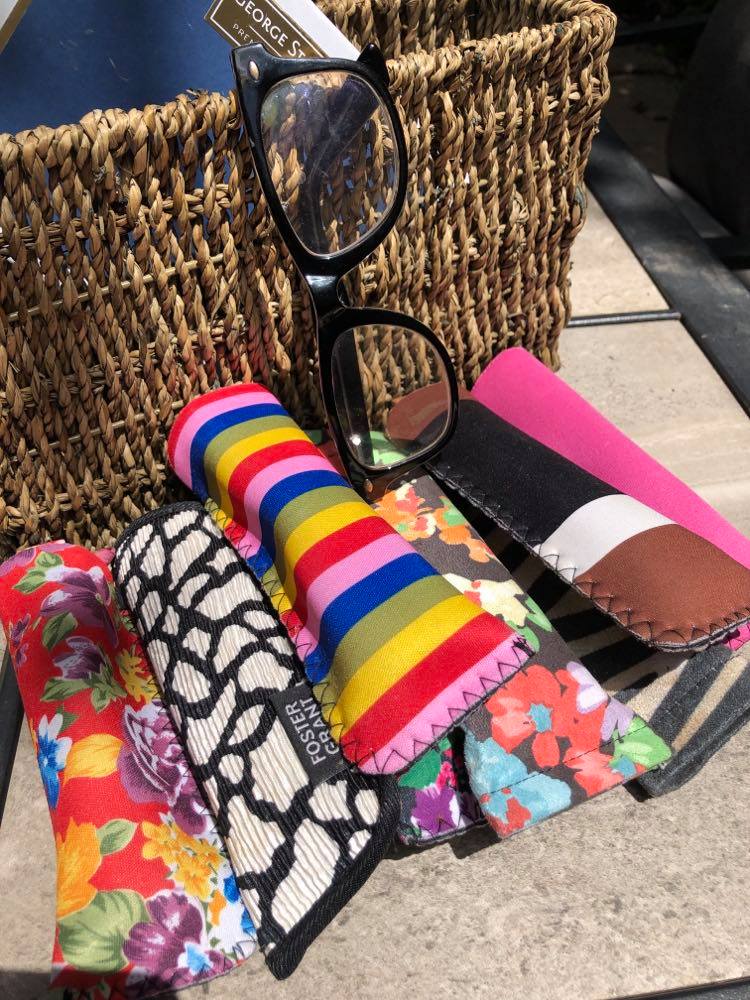 Haul #2 (mini-haul)
This haul consisted of one item.
A pear.
Yes, a pear.
This is heading immediately to our kitchen island for placement. I do have a future project in mind for this but, in the meantime, this little "lovely" looks fabulous in the kitchen.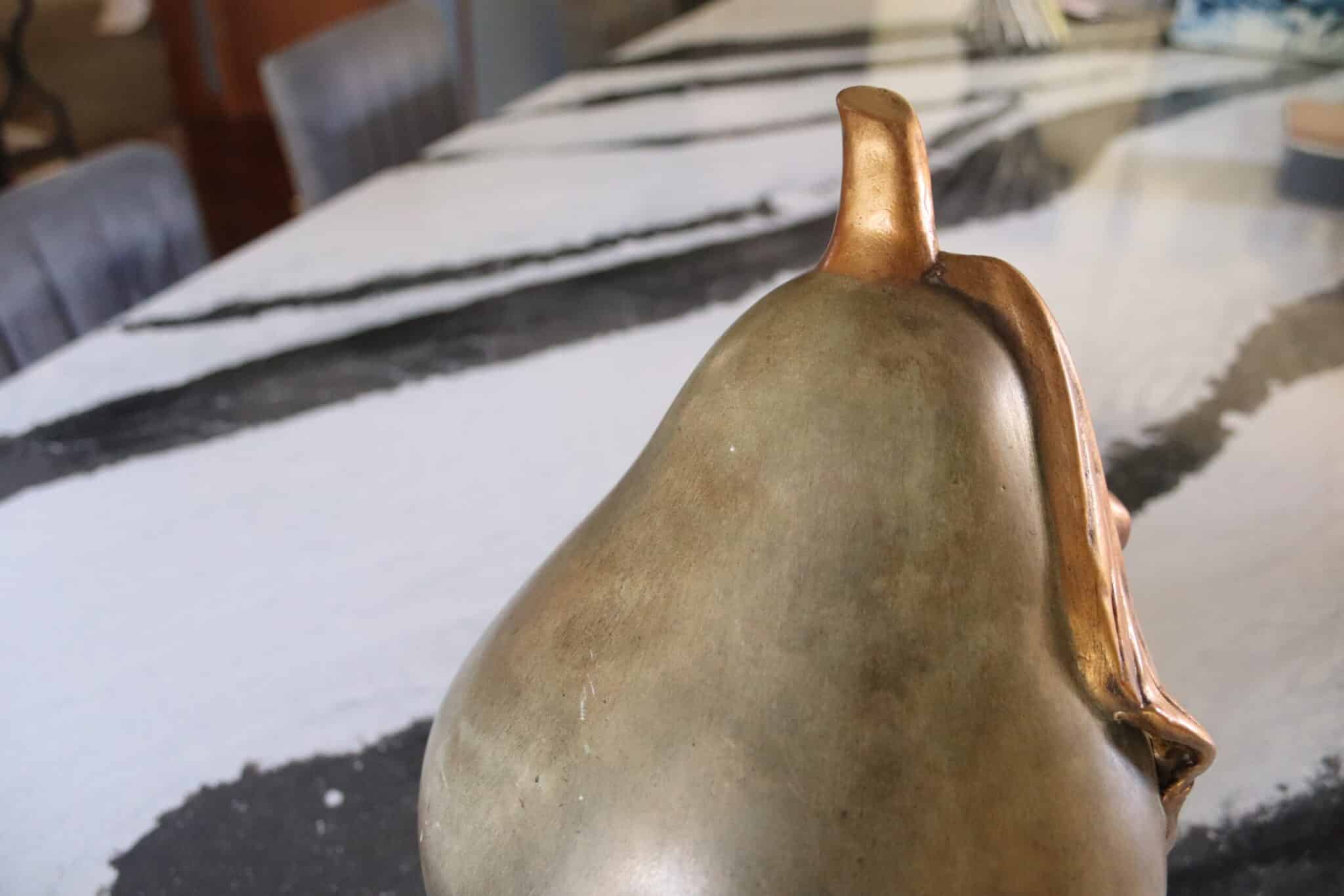 Haul #3 – Future Project
Furniture finds are always a score at a garage sale.
Hello Wicker Chest!
Love. Just love.
I had a white wicker chair in my bedroom as a teenager.
And a white wicker side table…and a white wicker swag lamp.
I thought I was SO cool.
Hey! I WAS cool. Just in a white wicker sort of way!
Maybe I'm having a retro, early 80s flashback, but I love this chest and am excited to give it a mini-makeover!
Haul #4 (talk about random)
The wheels of my brain are turning!
Where could I put this? What can I do with this? What if I tried this?
The Red Christmas Hat will go on top of a Christmas tree. (It lights up inside!) The white Ikea table lamp is singing "Project!" to my ears. And, the unopened metal favor boxes…well, I have no idea. But, for one dollar, I think I can come up with something.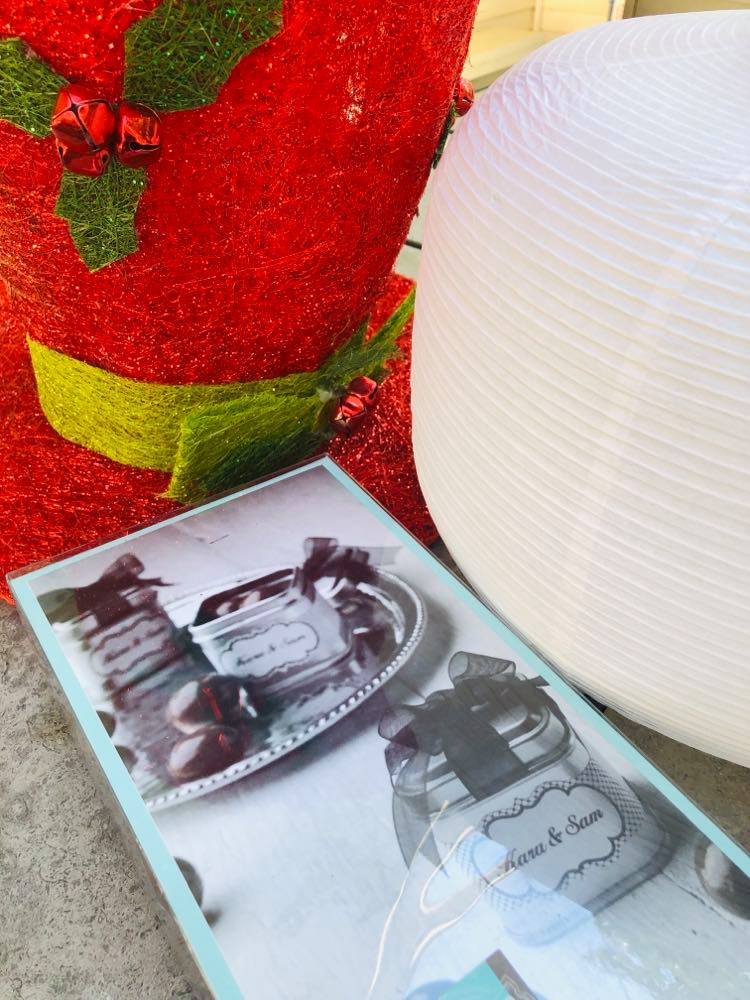 My Favorite Haul
This is my favorite.
Oh, how I love this.
Truth be told, I have loved this in my sister's house for years.
Question: "Are you SURE you want to sell this?"
Answer: Got to go!
SOLD!
I don't need to change it in any way.
The only thing to think about is where to place in our house. Lots of possibilities!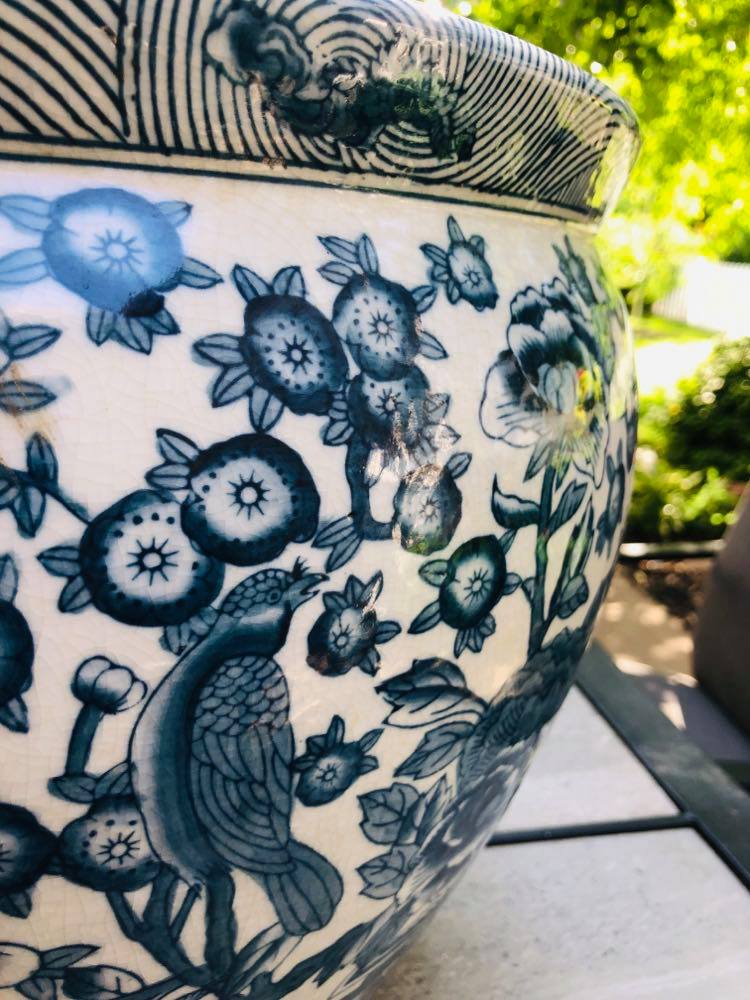 For now, this LARGE cachepot will sit on our dining room table. I plopped a plant and knew it was a winner.
Here are some other possible uses that you could consider for a large pot:
Container for a large plant like a fiddle-leaf fig or a banana palm.
Place a round piece of glass over the top and create a side table.
Hold blankets and throws.
Christmas tree pot!
Perhaps, this calls for breakfast at the dining room table tomorrow.
Actually, maybe just me with my coffee and bagel so I can gaze at the beautiful shades of blue and the dramatic size of the pot.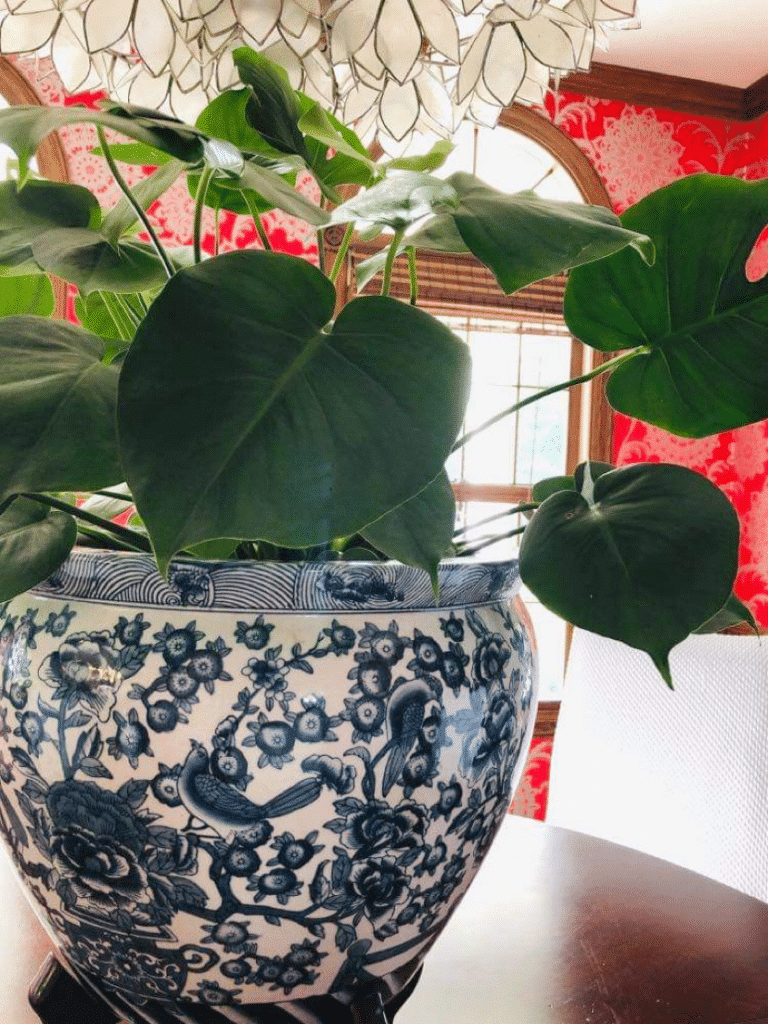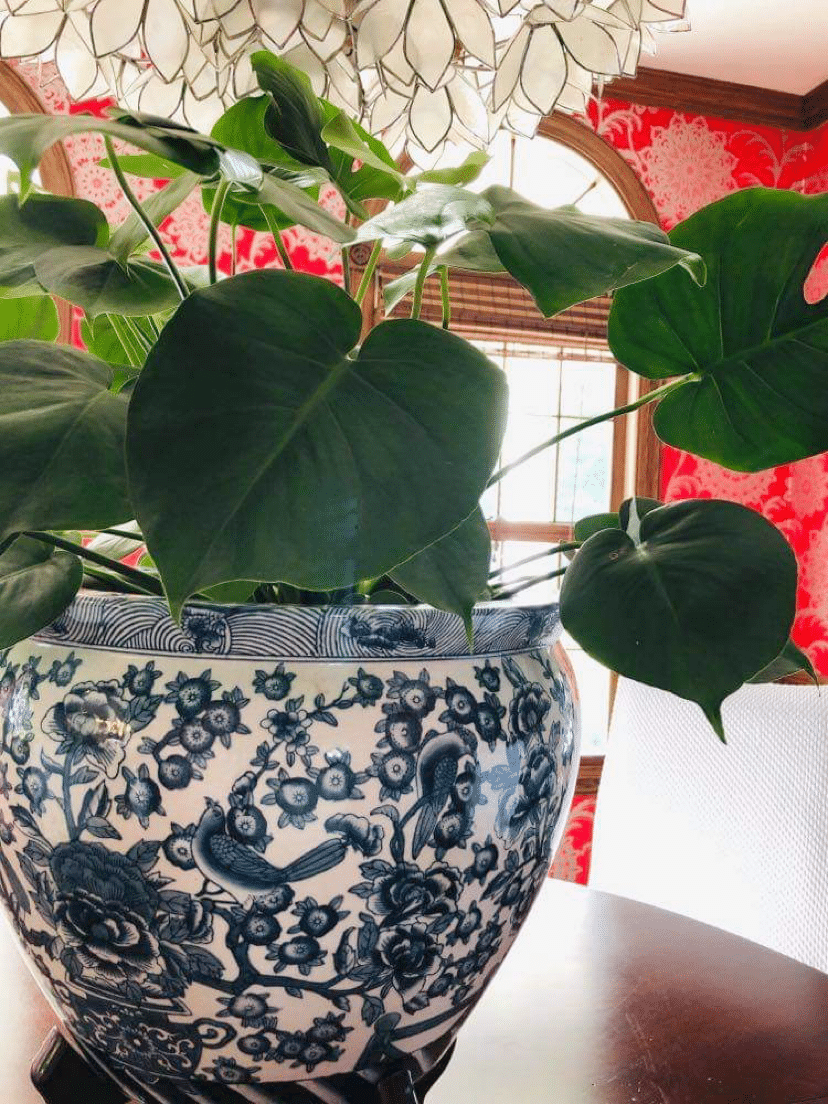 I will always think of this as my sister's. Maybe that is one of the reasons I love it so much. I will always think of her when I look at this.
If she misses it, she can always visit it when she comes over.
She can have a coffee and bagel too!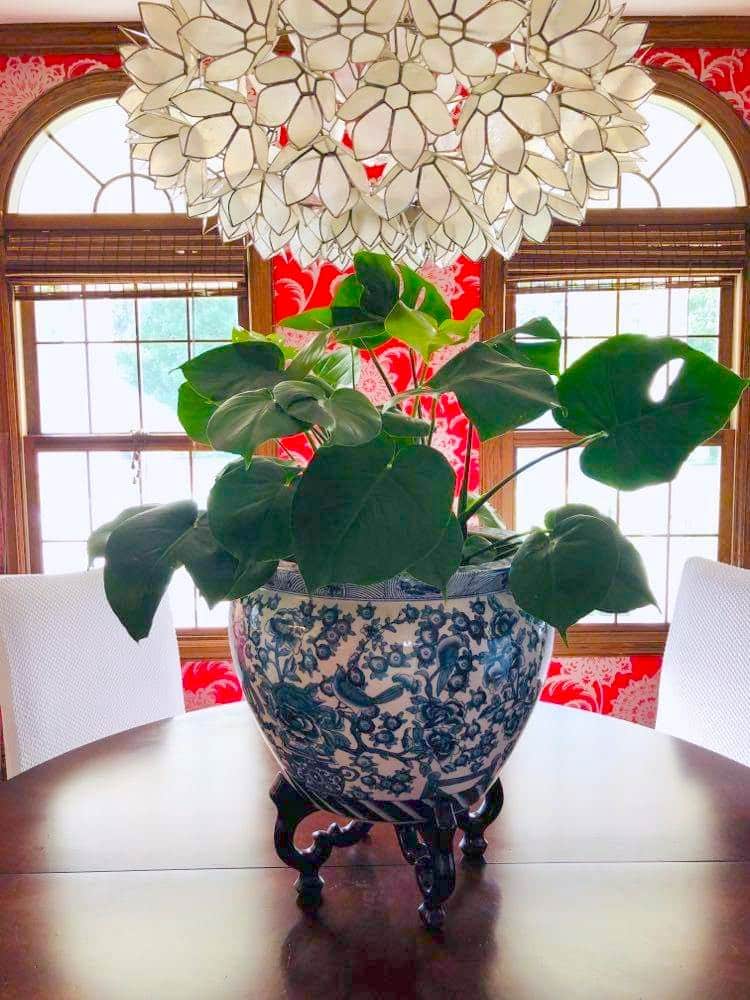 Cheers!