Quick and Easy Healthy Mexican Salad Recipes
Jump to Recipe
Are you looking for a tasty, healthy, and easy way to satisfy your Mexican food cravings? Look no further than these quick and easy healthy Mexican salad recipes!
With their combination of fresh vegetables, hearty beans and lean meats, flavorful spices, and tangy dressings, they are sure to tantalize your taste buds. Whether you're needing a fresh main dish idea or need an exciting new side salad option, these salads will hit the spot without having to stick to eating only unhealthy fast food options.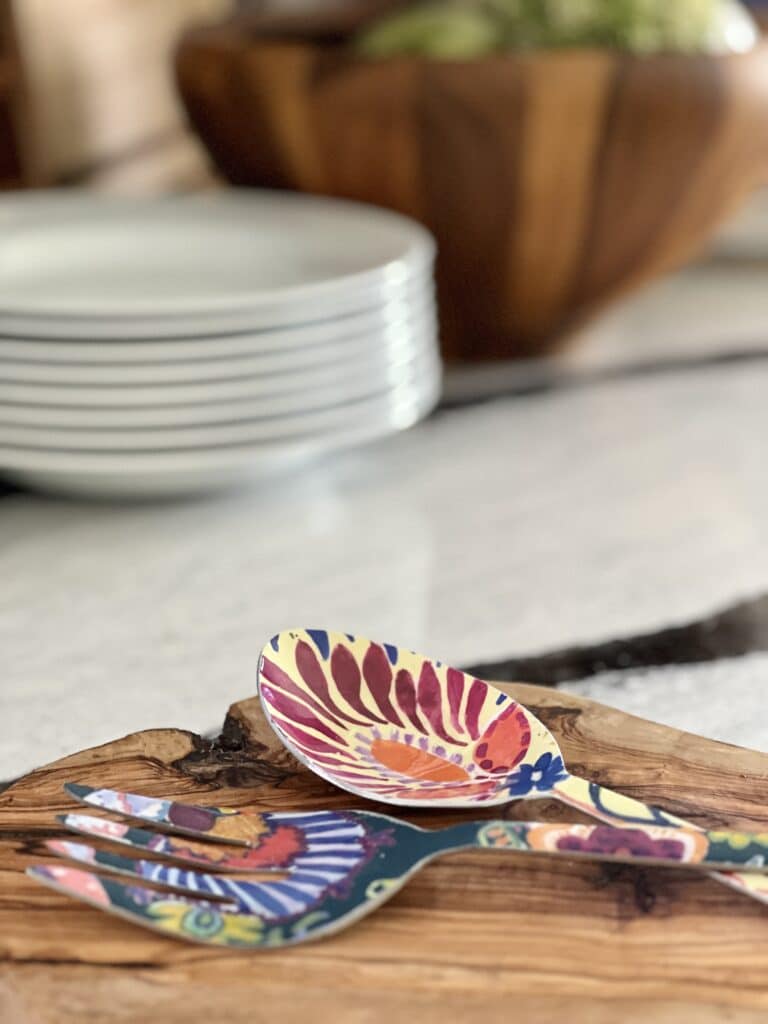 This blog contains affiliate links. This means a small commission is earned if you make a purchase by using this link. The price you pay will be the same whether you use the affiliate link or go directly to the vendor's website using a non-affiliate link.
Welcome to Sonata Home Design!
If you are joining from Foodtalk, welcome to Sonata Home Design! I hope you enjoy this family-favorite recipe and well as exploring some of the other recipes, DIYs, and home decorating projects. Everyone is welcome! Everyone has a seat at the table!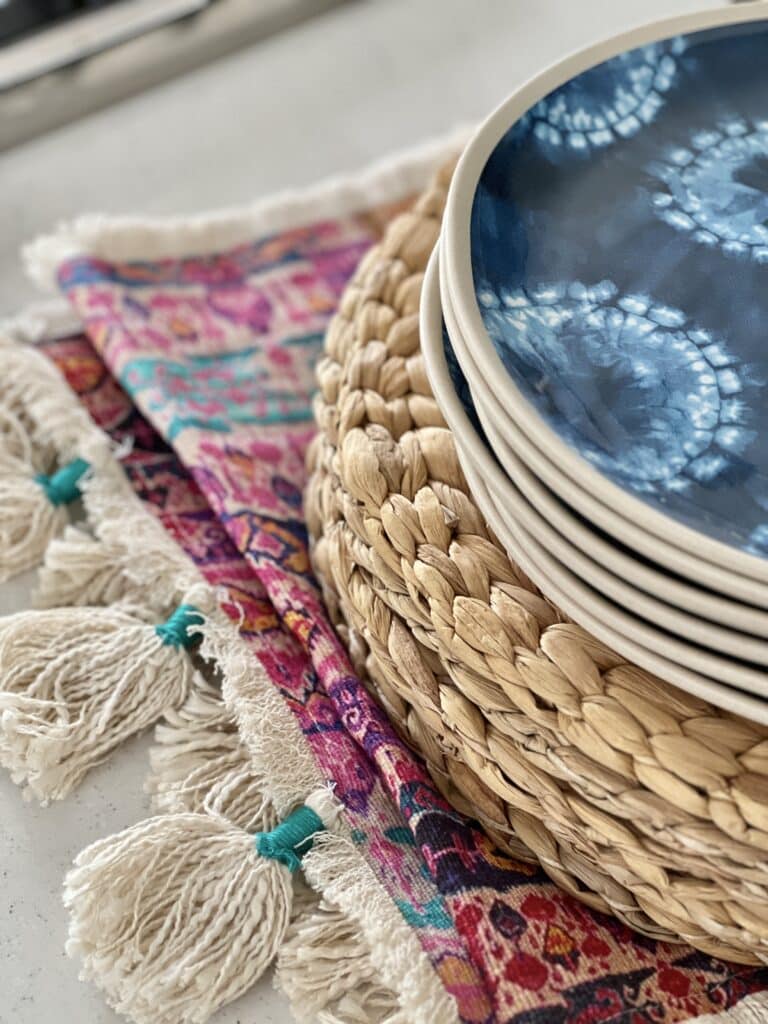 I was fortunate to grow up in a community with plenty of restaurant options for authentic Mexican food. Still to this day, when I visit my hometown, there must be multiple stops at "Taco Town" for their tacos and cheese enchiladas. (Their fried taco shells are magic!) I was there a few weeks ago and enjoyed all of my favorites!
The primary recipe I'm sharing today is delicious, healthy, and serves a lot of people. I served this at my twin daughters' high school graduation party and set the tables with easy table runners and dinnerware in lots of fun patterns. There was not a tomato, olive, or tostada chip left over!
Are Taco Salads Healthy?
They can be! By opting for lean meat, adding plenty of veggies, avoiding fried taco shells, and limiting high-fat toppings, taco salad can be transformed into a nutritious and wholesome meal. Even if you do add a few fried chips and watch portion control, a Mexican salad is still a very healthy option!
​Often, I am looking for dinner options that have healthy ingredients and contain wonderful Mexican flavors. Our family favorite is this Tostada Salad recipe. It has very simple ingredients that can be purchased in one quick trip to the grocery store.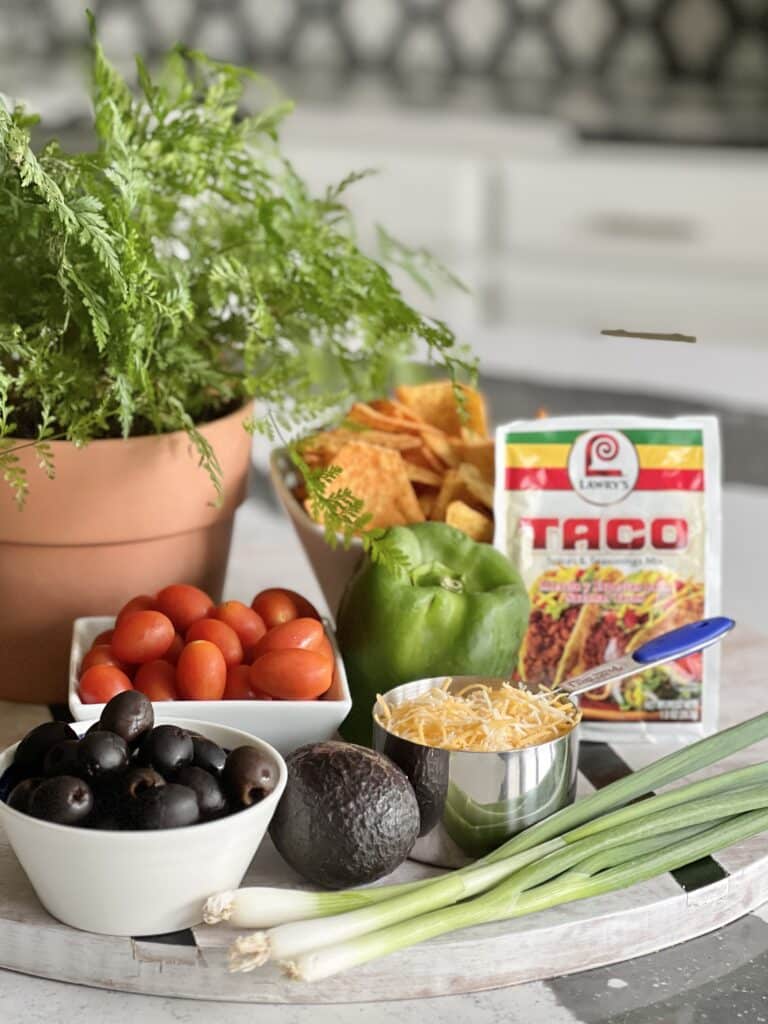 It has lots of veggies that make for easy meal prep for the main course of a family "Taco Tuesday" ..or any day of the week!
As this easy Mexican salad recipe is a frequent meal at our house, here are a few tips for the next time you make it.
Tips for Healthy Mexican Salad Recipes
This recipe calls for lean ground beef for the healthiest beef option. You could also use ground turkey but you might want to amp up the spices with this choice.
Dry onion soup mix is a key ingredient in this recipe. Make sure to brown the ground beef over medium heat and drain the fat before you add the dry onion soup mix and water. Once, I was in a hurry (and not really thinking) and added the soup mix and water before browning the meat and I had a colorless, oily mess on my hands.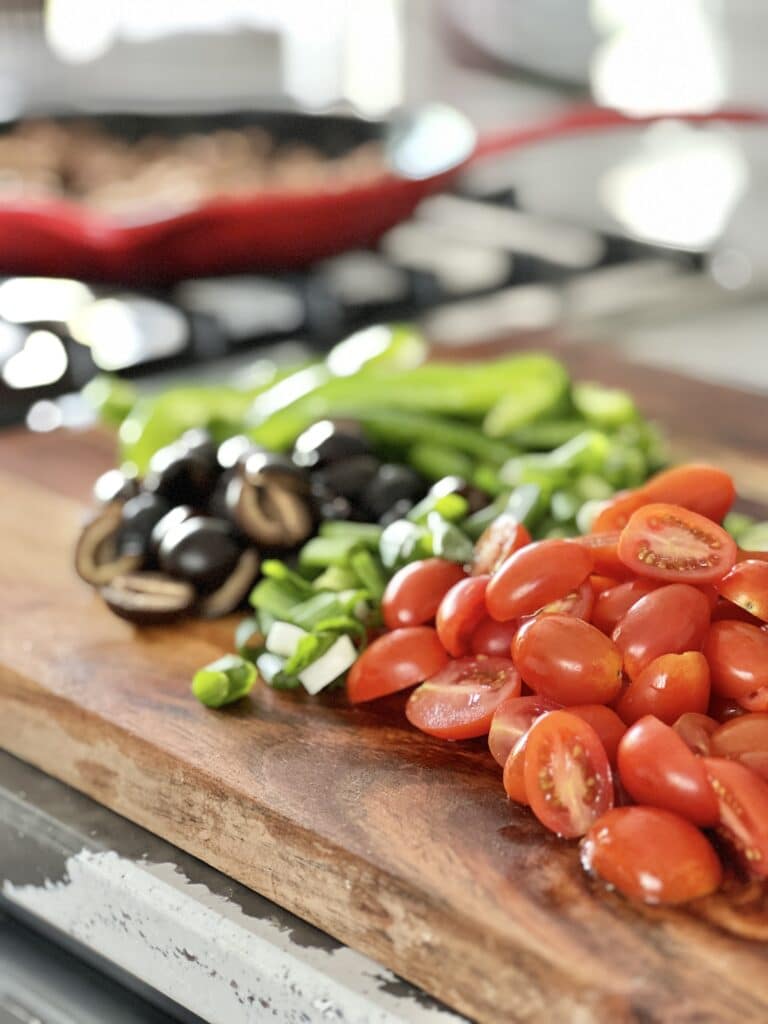 I use kidney beans for this recipe but you can substitute any type of beans that you like. Just make sure to drain the beans thoroughly.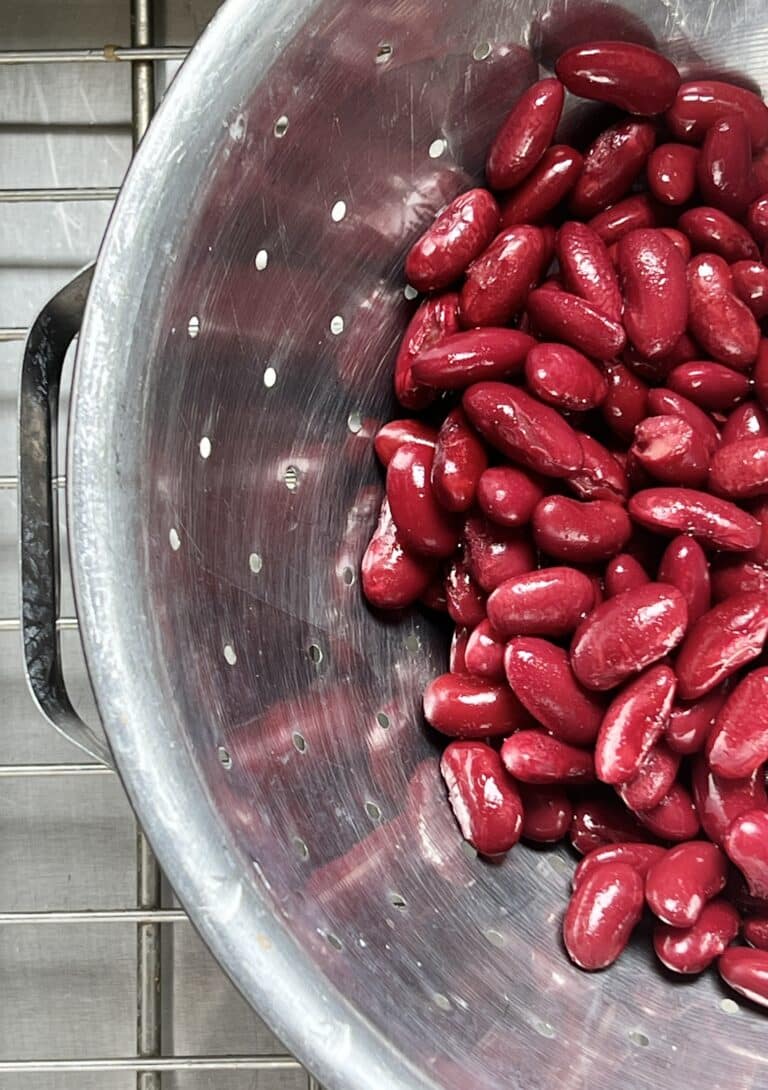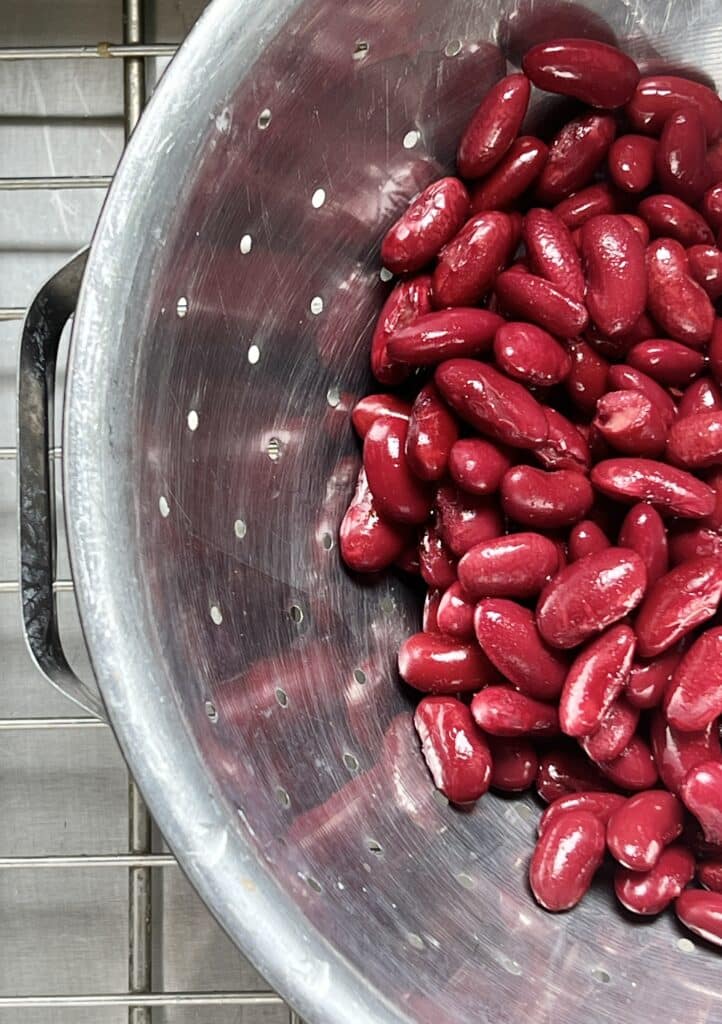 The beauty of this salad lies in all of the fresh vegetables. And there are lots of them! Be sure to use a very large bowl when you combine all of the ingredients together.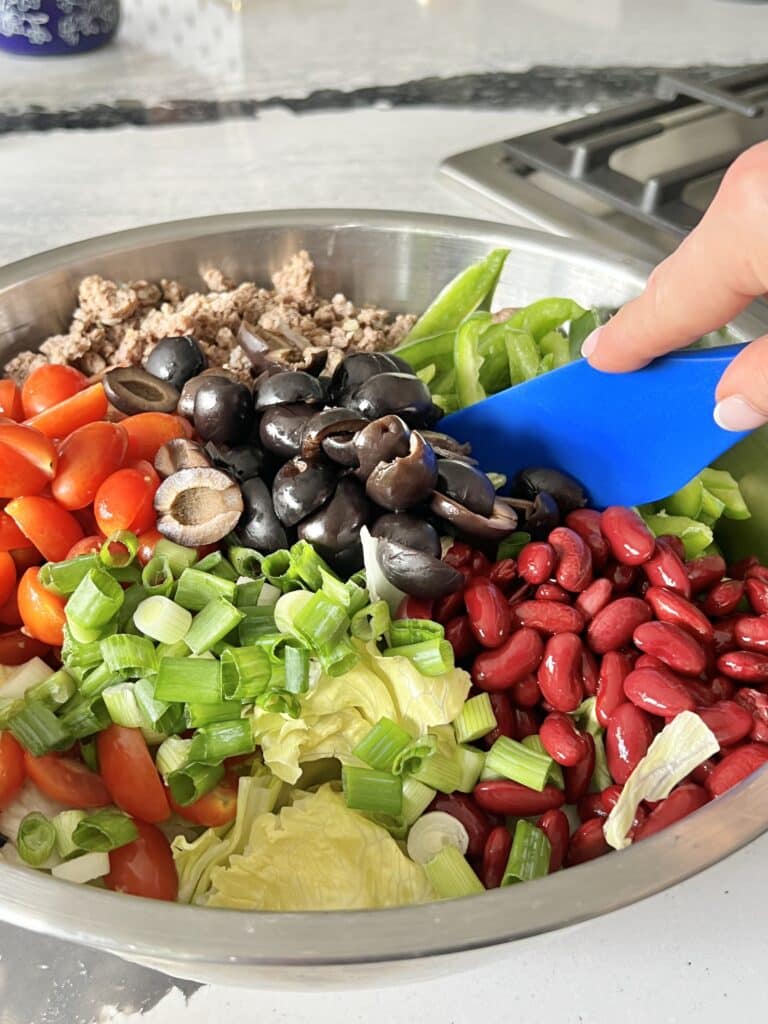 Most important, serve the tortilla chips either on the side or add them to the salad at the very last minute. If added all at once, over time, the dressing will make the tortilla chips less crispy.
The first time I made this salad, I added all of the chips directly to the salad all at once. It was fabulous for dinner but the leftovers were a soggy mess the next day. From that point on, I serve the chips on the side and store the leftovers in a separate container.
Now, I let everyone choose how they want their chips added so they get all the crunchiness of the chips with the creamy, savory dressing.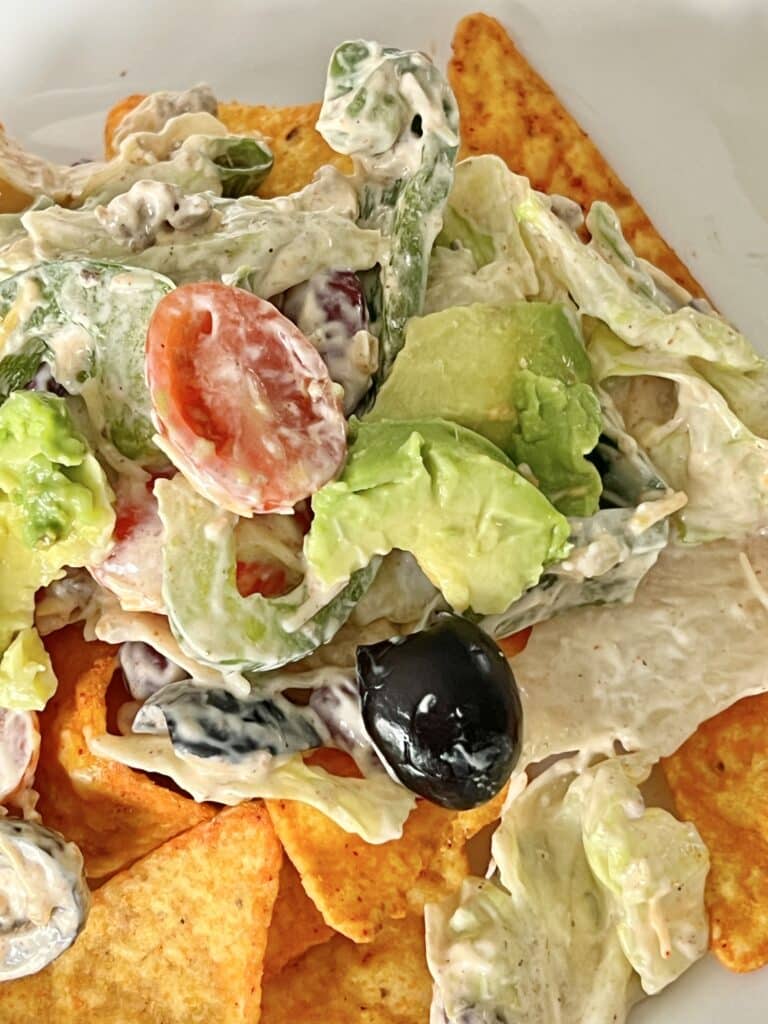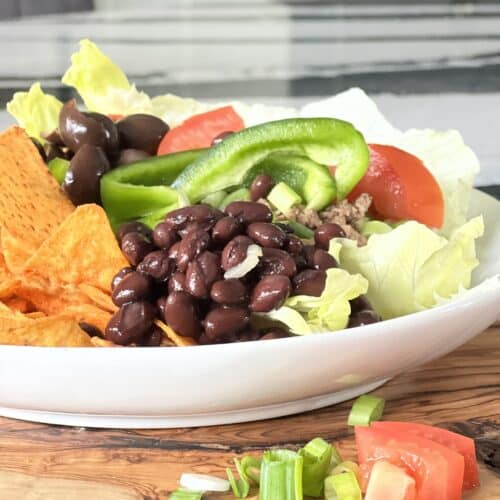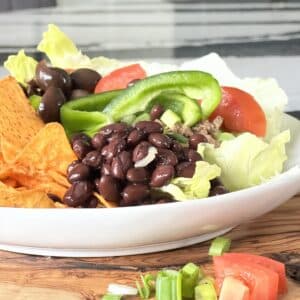 Tostada Salad
Packed with nutrients and bursting with flavor, this healthy Mexican salad with tostada chips is a delicious way to enjoy a fiesta of flavors while nourishing your body.
Equipment
1 large bowl

1 small bowl

1 tongs

1 skillet
Ingredients
1

lb.

lean ground beef

1/2

packet

dry onion soup mix

3/4

cup

water

16

oz.

can of kidney beans

drained

1

cartoon

cherry or grape tomatoes

3

green onions

chopped

1

green bell pepper

cut in strips

1

can

medium black olives

1

cup

low-fat shredded chedddar cheese

1

head

iceberg or romaine lettuce

torn into bite size pieces

1

bag

tortilla chips

1

avocado
Dressing
1

cup

low-fat sour cream

1

cup

low-fat mayonnaise

1

packet

taco seasoning mix
Instructions
Brown the ground beef and drain off the fat.

Add the dry onion soup mix and water and cook for 5 minutes. Drain the excess liquid.

Add the beef mixture to the rest of the ingredients and mix.

Serve with tostada chips and sliced avocados.
Healthy Shredded Chicken Taco Salad
Break out the large salad bowl for this delicious and healthy salad!
Stacey from Garlic Lime and Salt shared this amazing Shredded Chicken Taco Salad. Full of some of my favorite ingredients, you will feel like you just ate at your favorite Mexican restaurant!
Everything is Better with Salsa!
A flavorful salsa is a great idea for keeping a meal or appetizer on a healthy track. This healthy restaurant-style salsa recipe is from Lynn at Living Large in a Small House. Served with crispy tortilla strips and a skinny (or not so skinny!) margarita, it is the perfect complement to any Mexican meal.
Mexican Salads are a great way to get creative with your healthy eating. You can be as simple or adventurous as you would like! The sky is the limit when it comes to adding additional ingredients or tweaking ingredients from these recipes. With quality, fresh produce and flavors that will make your mouth water, you can create a meal full of Mexican flavor while still keeping it healthy.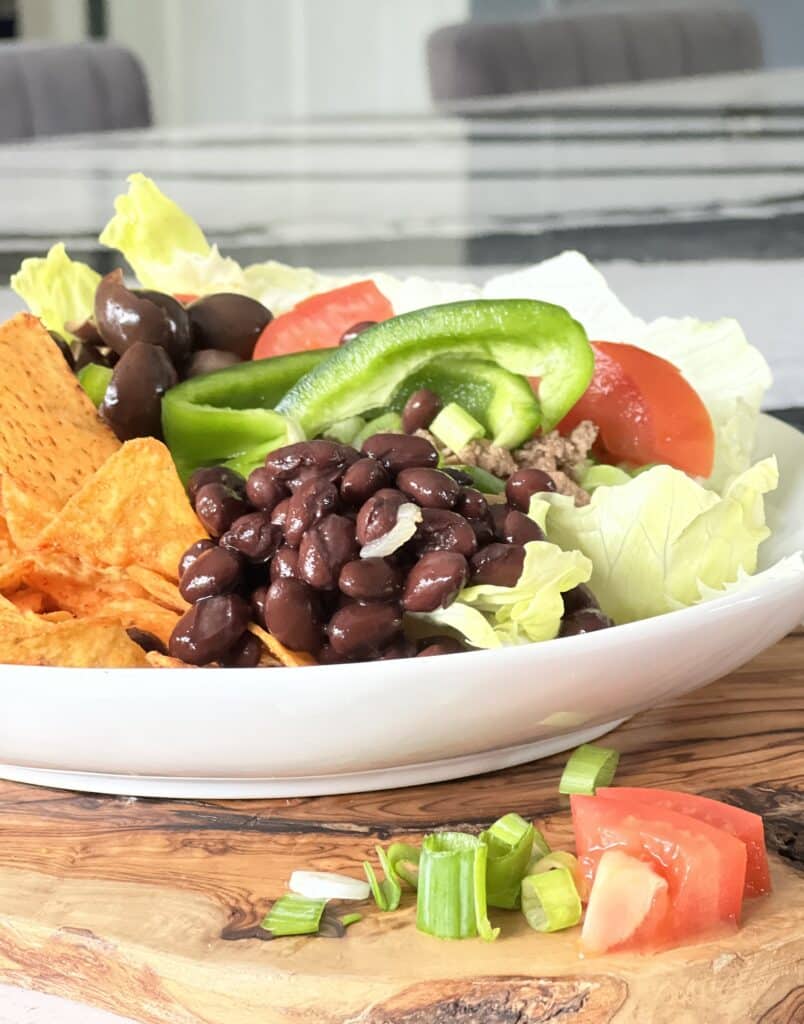 Enjoy your love of Mexican food and stay healthy with these healthy Mexican salad recipes!
Cheers!

Don't Forget to Pin It!
Pin the image below to your boards on Pinterest (just click the Pin button in the top left corner). You can also follow along with me on Pinterest!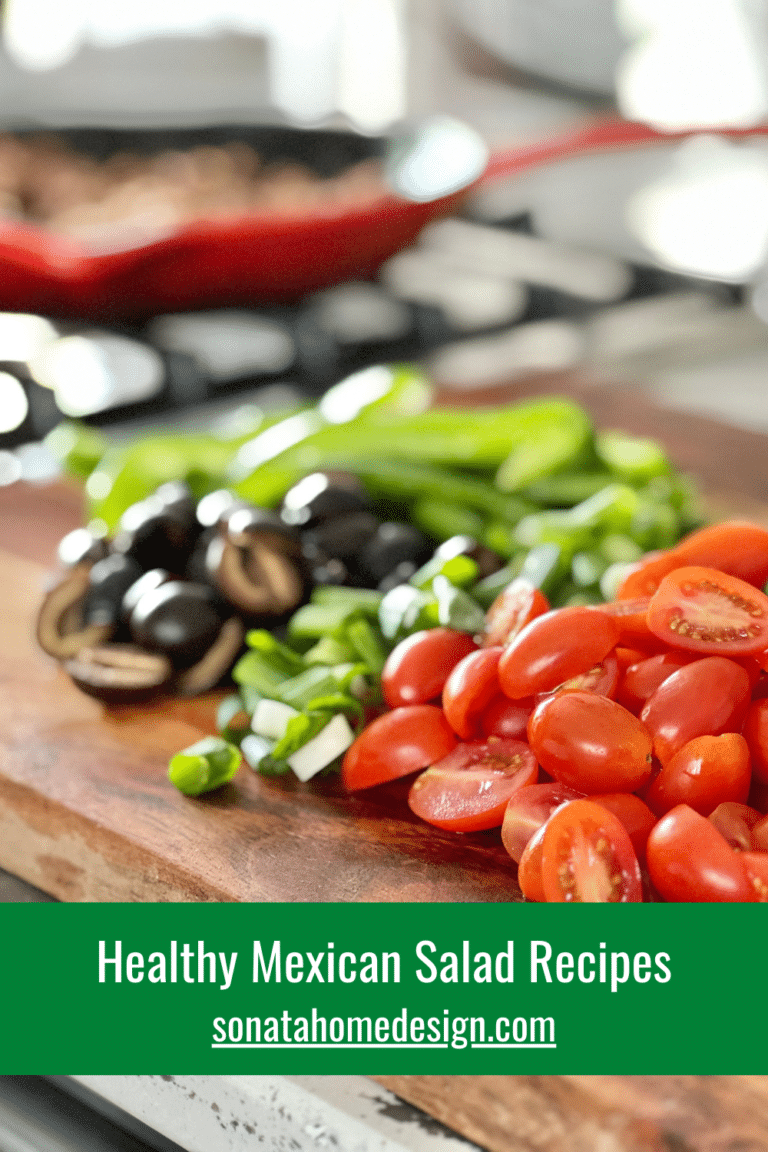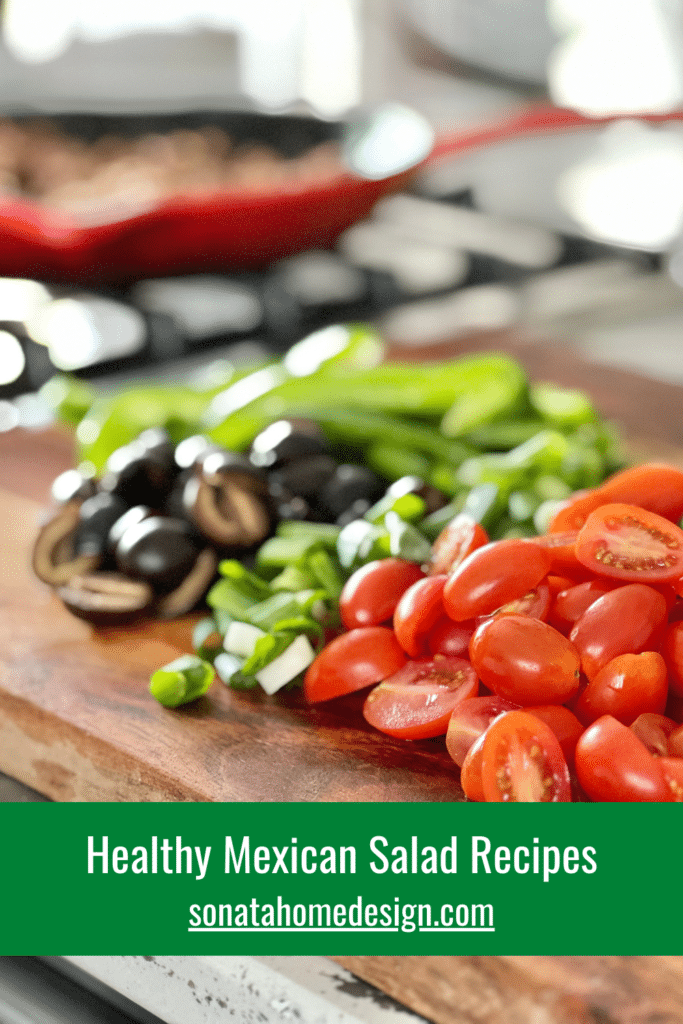 For Dessert
Since you had a healthy dinner, you can perhaps splurge a little on dessert? Give these sweet recipes a try!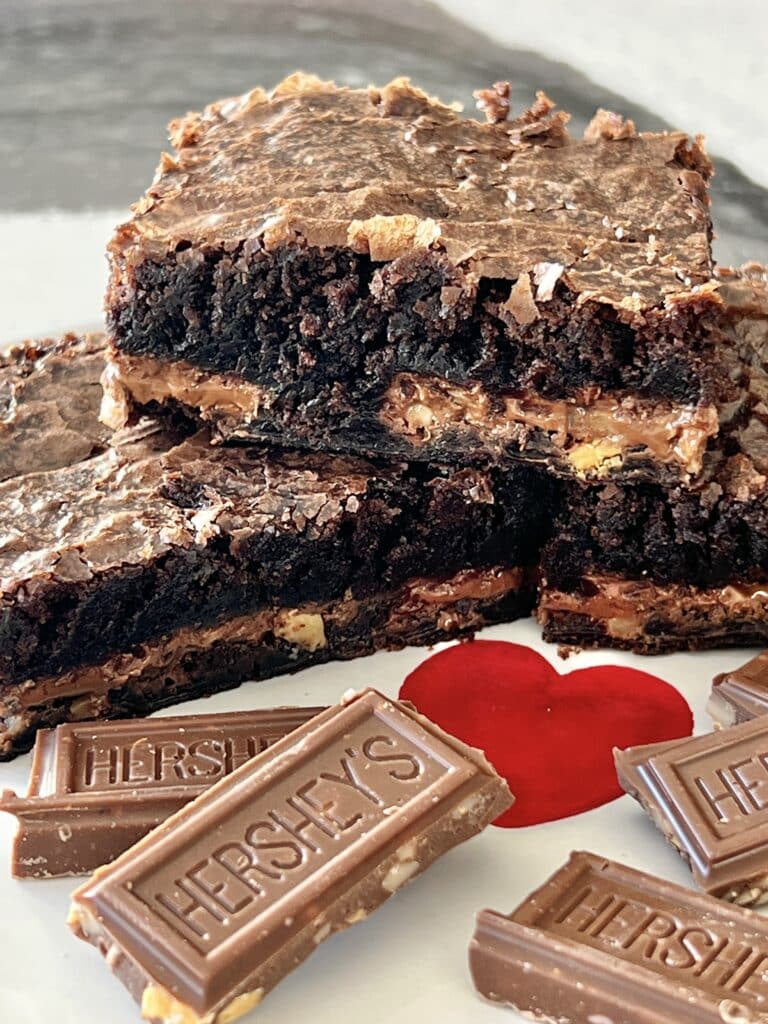 Peanut Butter Cornflake Cereal Cookies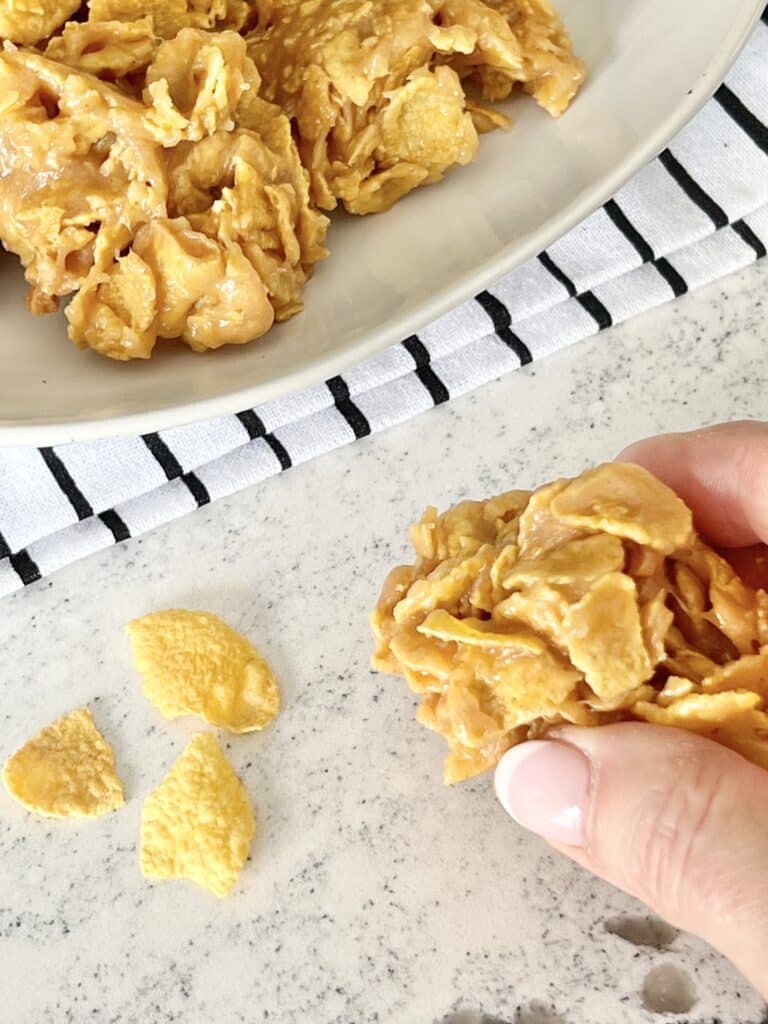 Melt in Your Mouth Chocolate Trifle