How to make a Wine Bottle Floral Arrangement with Labels
Are you looking for a unique and elegant way to display flowers in your home? Look no further than a wine bottle floral arrangement complete with labels! It's a fun and creative DIY project that will not only brighten up your space but also add a touch of sophistication to any room.
 In this step-by-step guide, I'll show you how to transform an ordinary wine bottle into a stunning floral centerpiece that will have your friends and family saying, "Cheers!"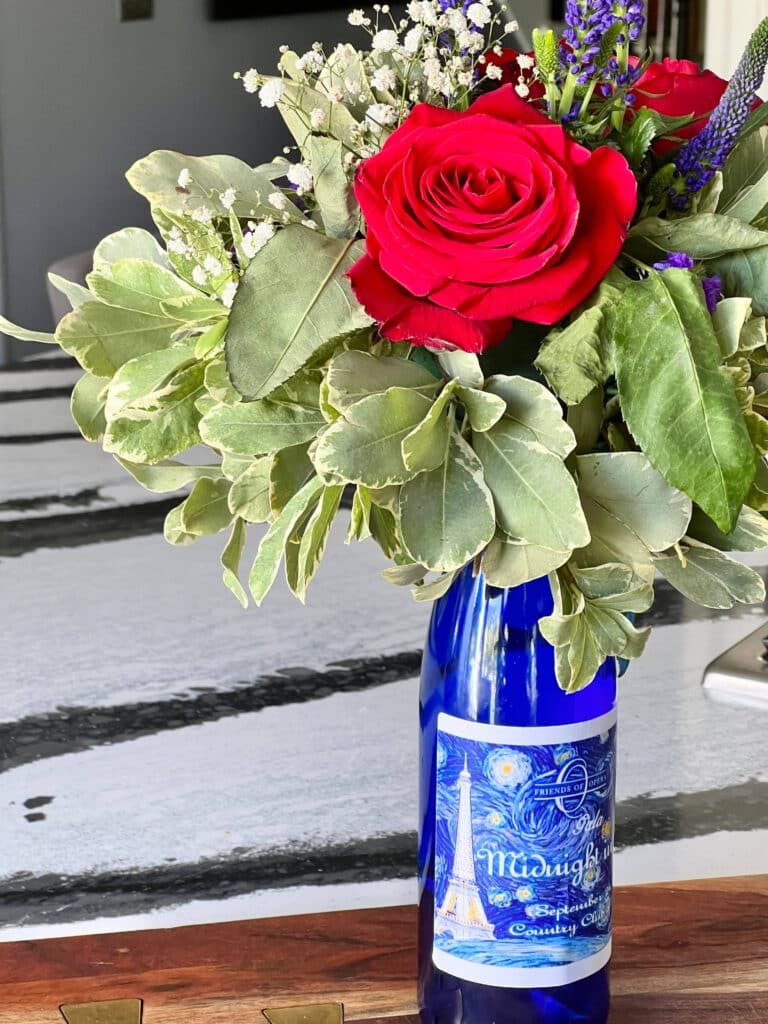 This blog contains affiliate links. This means a small commission is earned if you make a purchase by using this link. The price you pay will be the same whether you use the affiliate link or go directly to the vendor's website using a non-affiliate link.
Tra la la la la!
Some of you may know that I was a high school vocal music teacher for 32 years. I loved it! Creating music every day with young hearts and voices filled my days!
But did you know that, once upon a time, I sang opera?
TRA LA LA LA LA!
I didn't sing professionally…mainly college and regional choruses. But I have a love for the beauty, drama, and musicianship of opera.
A Gala Event
I am happy to be on the board of the Friends of Opera, an organization that supports the University of Nebraska Opera program, its outreach program, and its talented singers. 
And I was thrilled to take on the task of decorating the venue for the annual Gala with this year's theme, "Midnight in Paris!"
As I pondered how to bring a little Parisian flair to the event, the first thing that came to my mind were wine bottles. After all, the French are wine experts!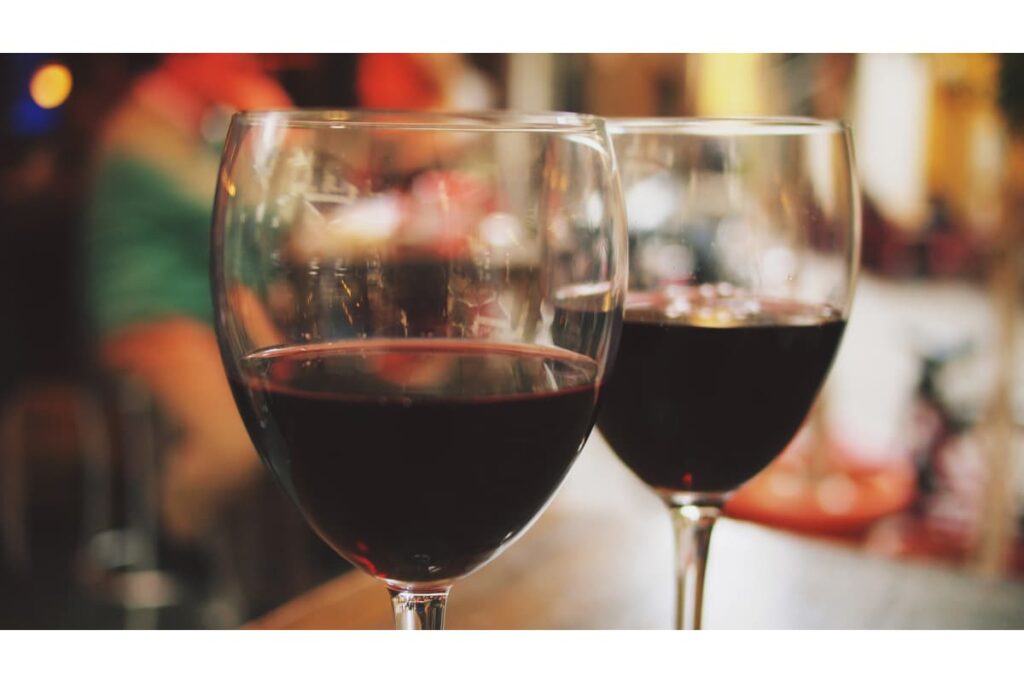 So, after collecting empty bottles of wine, I had fun decorating each bottle with custom labels and floral arrangements.
How to Make a Floral Arrangement from a Bottle of Wine
Come along and I'll share this floral project as well as glorious gala details!
Materials You'll Need:
An empty wine bottle: Choose a bottle with an interesting shape or color for added character. It doesn't have to be a brand name…just a bottle that you like.
Floral foam: Easily available at craft stores, floral foam will hold your flowers in place.
Fresh flowers: Head to your local grocery store or flower market to pick out your favorite blooms.
Greenery: Consider adding some fresh greenery like eucalyptus or fern leaves for a lush look. You could also use faux greenery.
Scissors or floral shears: Essential for cutting and shaping your flowers and greenery.
Flower Food: Keeps your blooms lasting longer.
A DIY wine label: Personalize your arrangement by creating a wine label with a special message or design.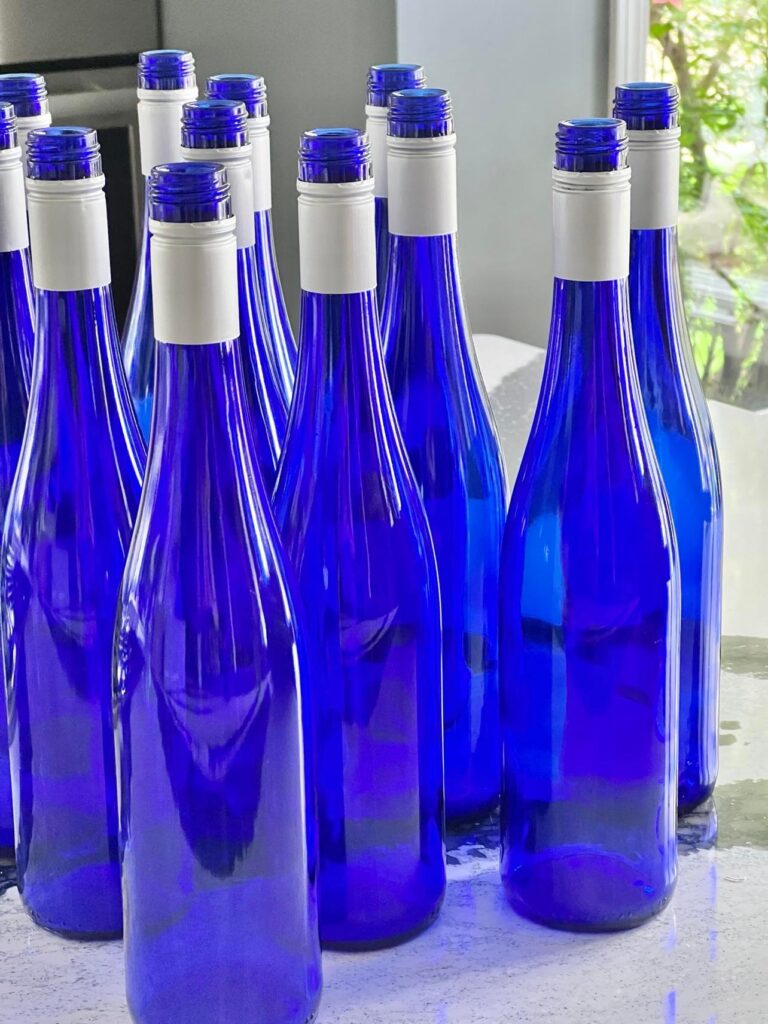 Prepare Your Wine Bottle
Start by thoroughly cleaning your wine bottle. Remove any labels or residue, and make sure it's dry. If you are using the original label, you can do so but try to keep it dry as you work with your arrangement.
If you want wine bottles but don't drink wine, you can ask for empty bottles at restaurants or liquor stores.
.
Cut the Floral Foam Collar
We need something to hold the flowers and floral foam is the answer.
Flip a wine bottle upside down and press it into a block of floral foam. Push the bottleneck into the foam as far as you can. Remove the bottle and whittle out the rest of the whole in the foam.
Next, cut the floral foam with a serrated knife into the width that you want for the bottle. I cut mine so there was about two inches from the hole to the outer edges of the foam. If the foam is too big, the collar will be too heavy. Too small, and the foam will break apart under the weight of the flowers.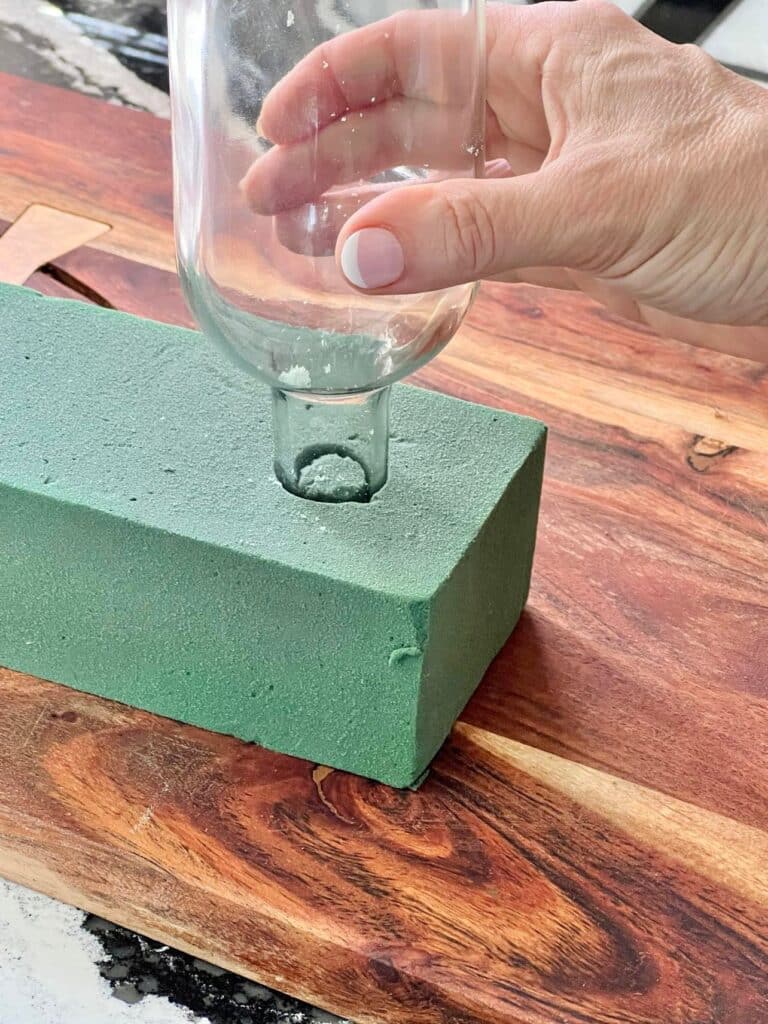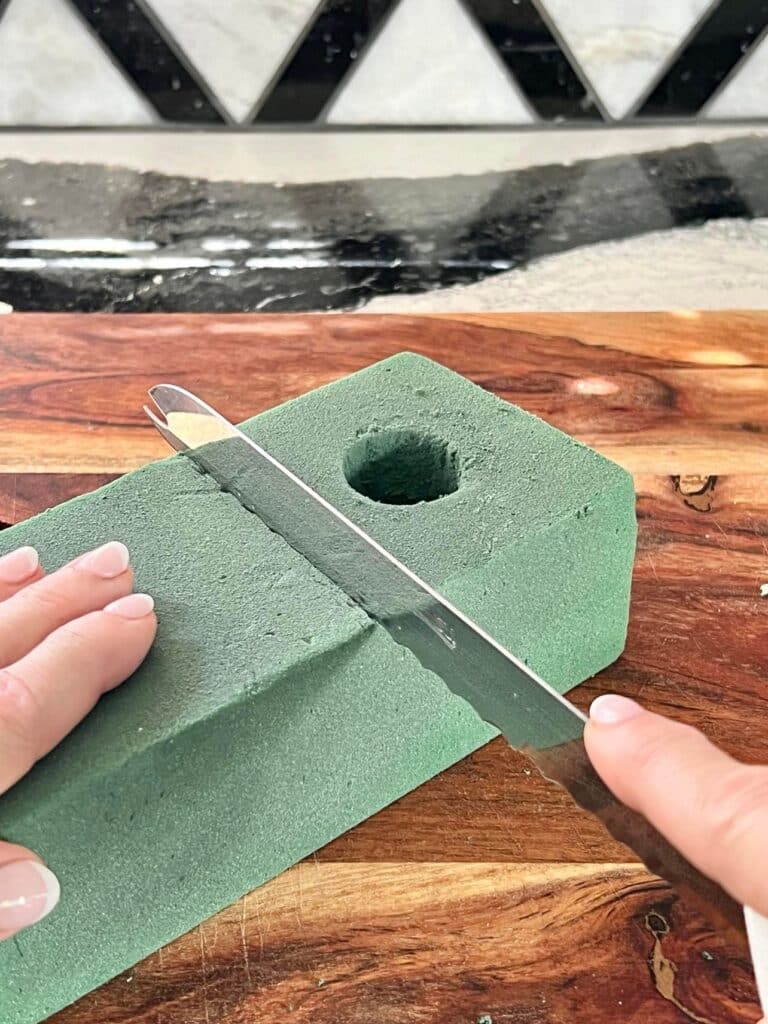 Soak the Floral Foam
Once cut, soak the floral foam in a bowl of water until it's fully saturated. This will keep your flowers fresh for longer. You can add flower food to the water for an extra boost of nutrients.
Tip: Don't push floral foam into water and hold it. Instead, set the foam on top of the water and let the block absorb the water itself. This way, the foam is saturated with water clear to the center of the block.
Gently push the saturated floral foam onto the neck of the wine bottle.  This foam will act as a stable base for your flower arrangement. Now you can start arranging flowers!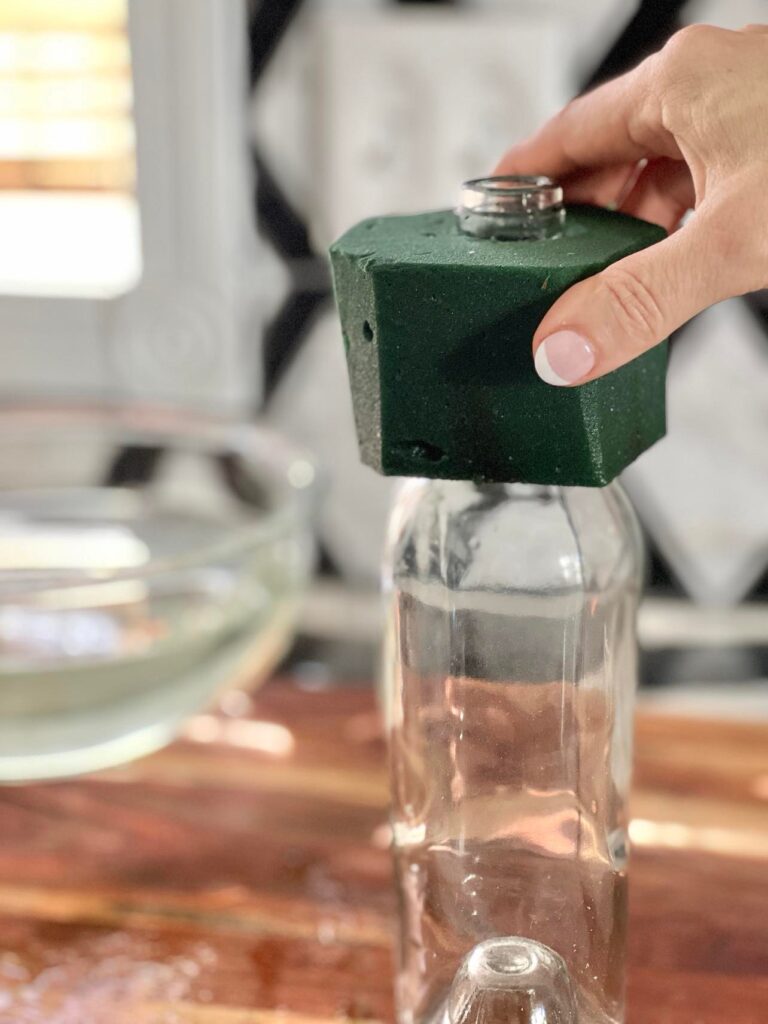 Arrange Your Flowers
Now it's time to prepare and arrange your flowers and greenery. There are different ways to approach floral arrangements but this is how I like to roll…
Trim the stems at an angle using your floral shears to the desired length. Remember that you can always trim them shorter later, so start longer if you're unsure.
Start arranging your flowers by inserting them into the floral foam. Begin with your focal flowers (the larger, more eye-catching blooms) and place them toward the top of the foam. This will form the central part of your arrangement. You can choose a color scheme that matches your room's decor or go for a mix of your favorite colors.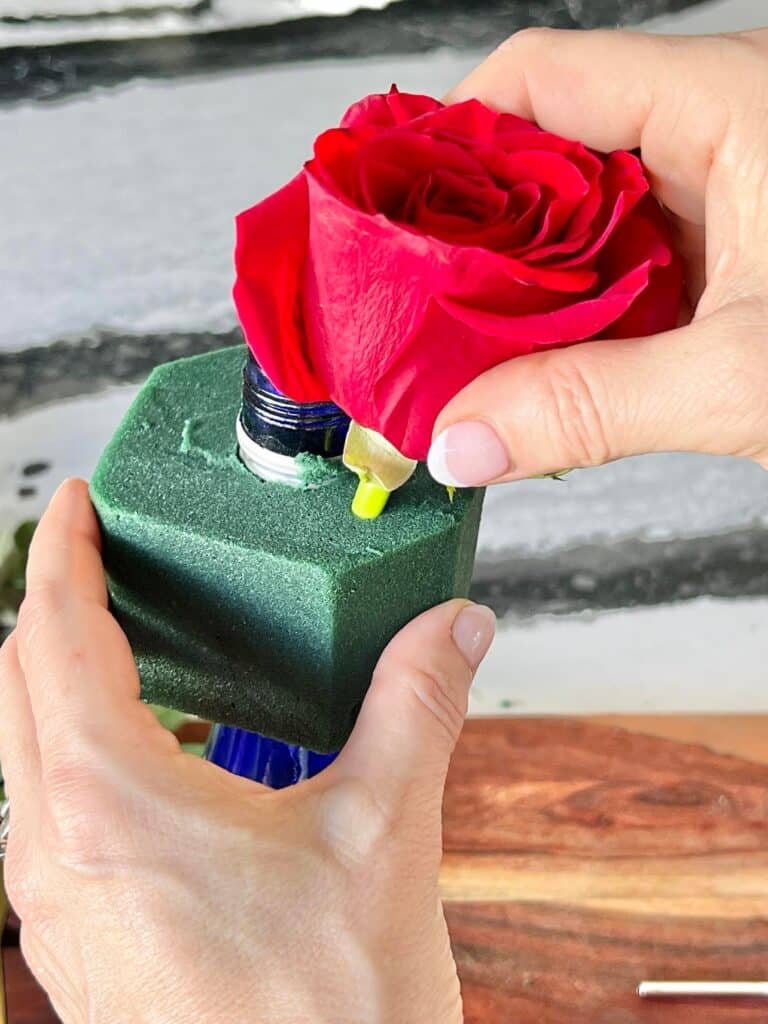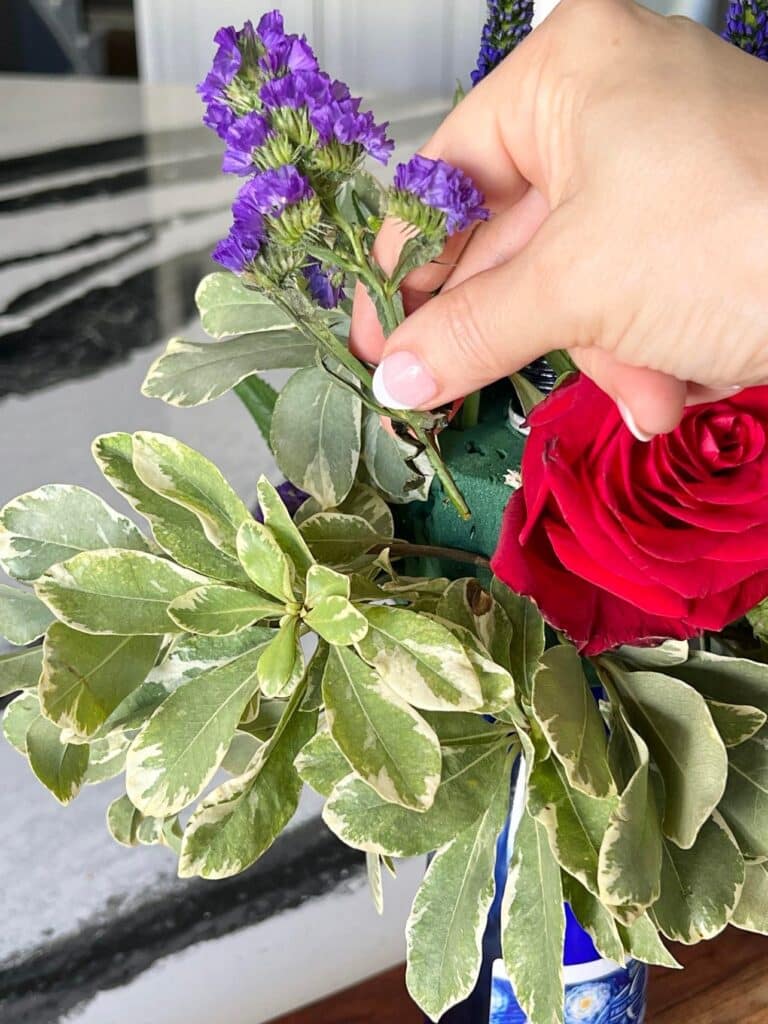 I wanted red roses as a focal point in each arrangement but didn't want to damage the blooms. So, I used a steel drinking straw to push a pilot hole into the foam. Then, it was so easy to nestle the roses into the foam without squishing them.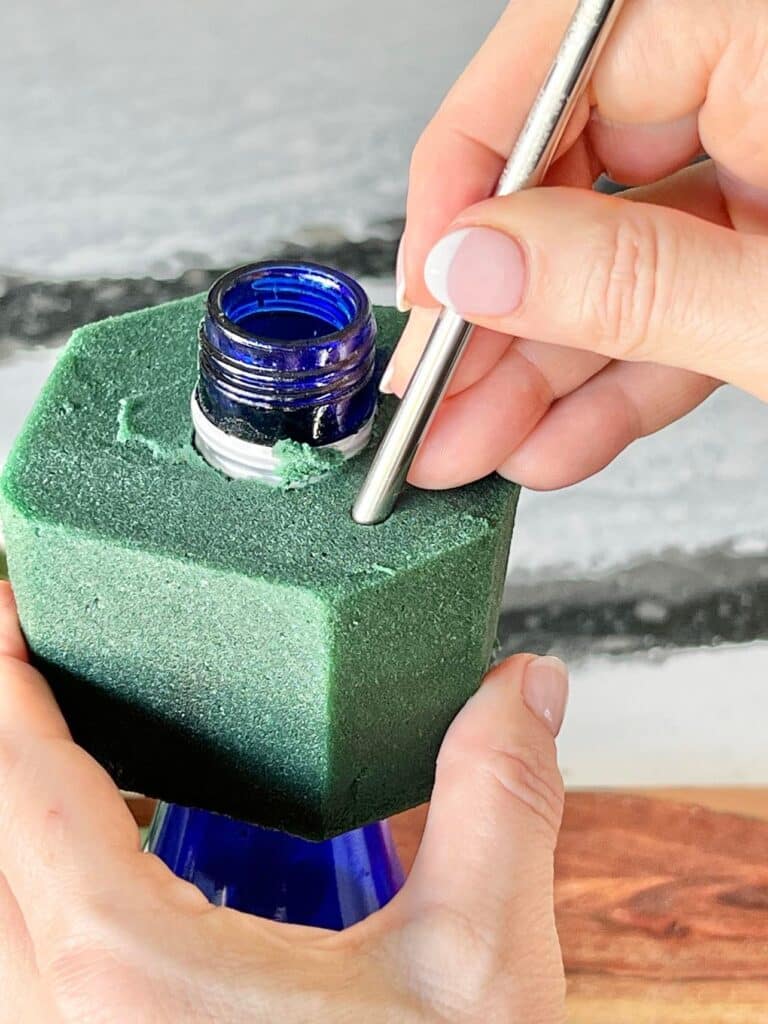 Add Greenery
Next, insert the greenery into the lower part of the foam. You will also want to fill in the gaps and add volume to your arrangement. Place the greenery strategically to create a balanced and lush look. It's okay to trim some leaves to achieve the desired shape.
DIY Wine Bottle Labels
Creating your own wine labels is a great way to add a personal touch to your flower arrangement.
To add a charming touch to your wine bottle floral arrangement, create a DIY wine label. You can design one on your computer and print it yourself or take it to a printer. This is also a quick task if you have a Cricut machine.
Use your own text and add a special message, date, or design that holds meaning for you. You can have fun coming up with fanciful names for your wine labels!
The invitation to "Midnight in Paris" was a beautiful graphic that referenced Van Gogh's famous painting, "Starry Night." So with a midnight blue sky and swirling gold stars, this invitation immediately became my inspiration for the label design.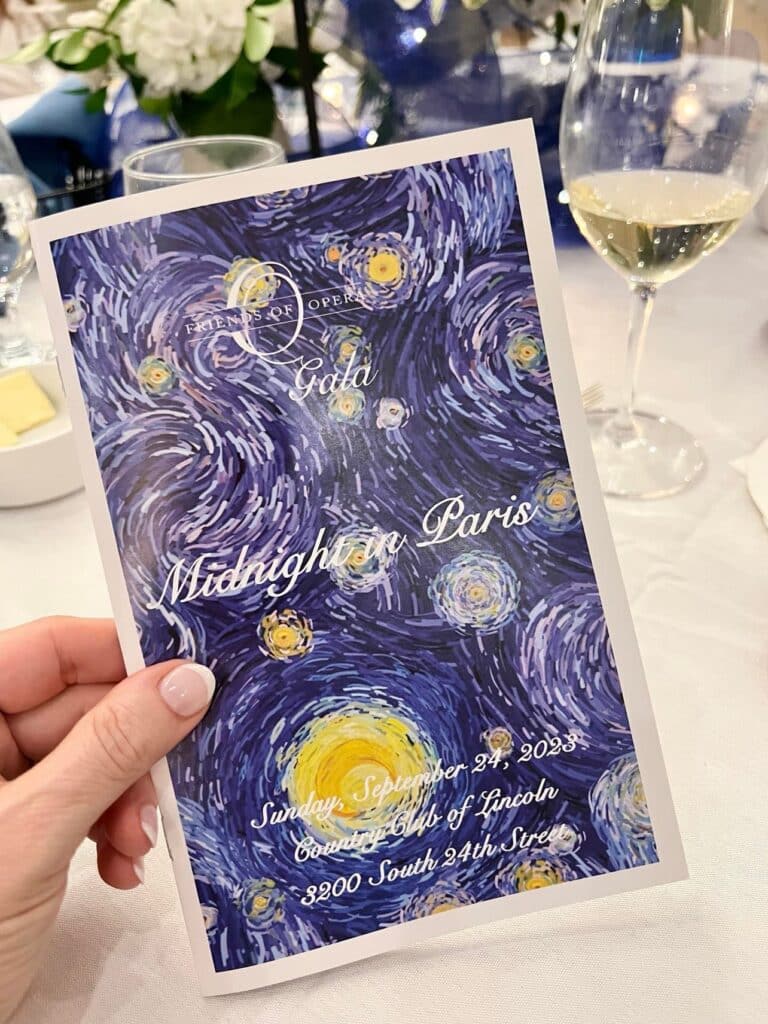 I wanted the labels to be high quality and printed on label paper. Thanks to fellow board member, Janet Palmtag, for taking care of printing these beautiful labels!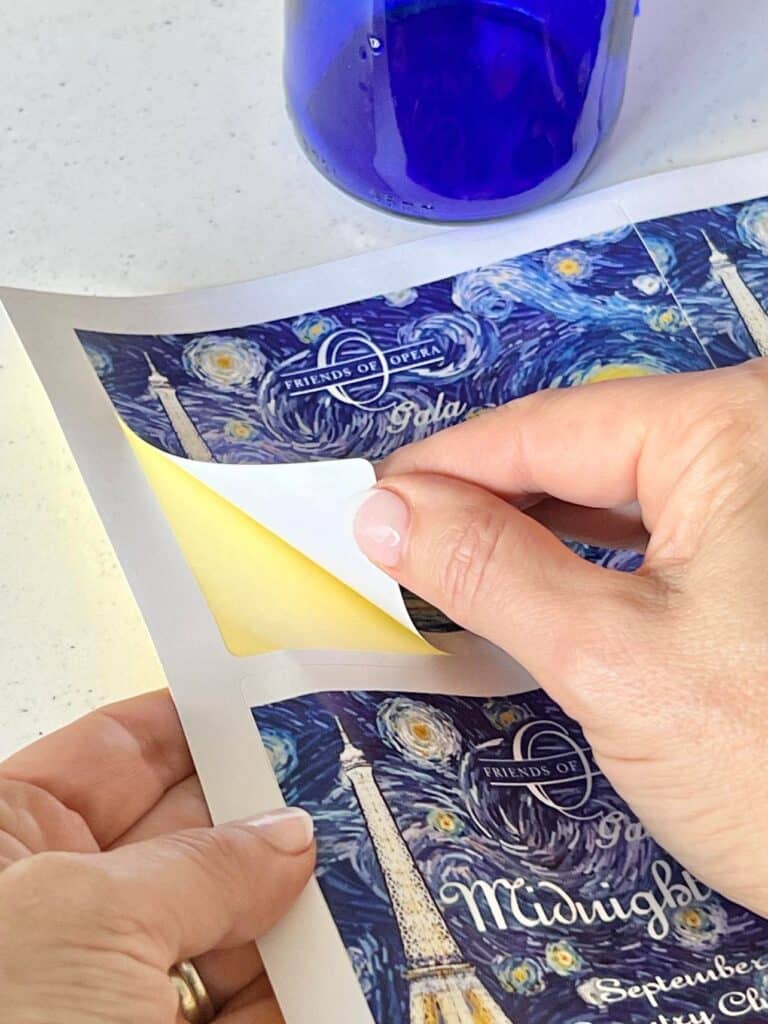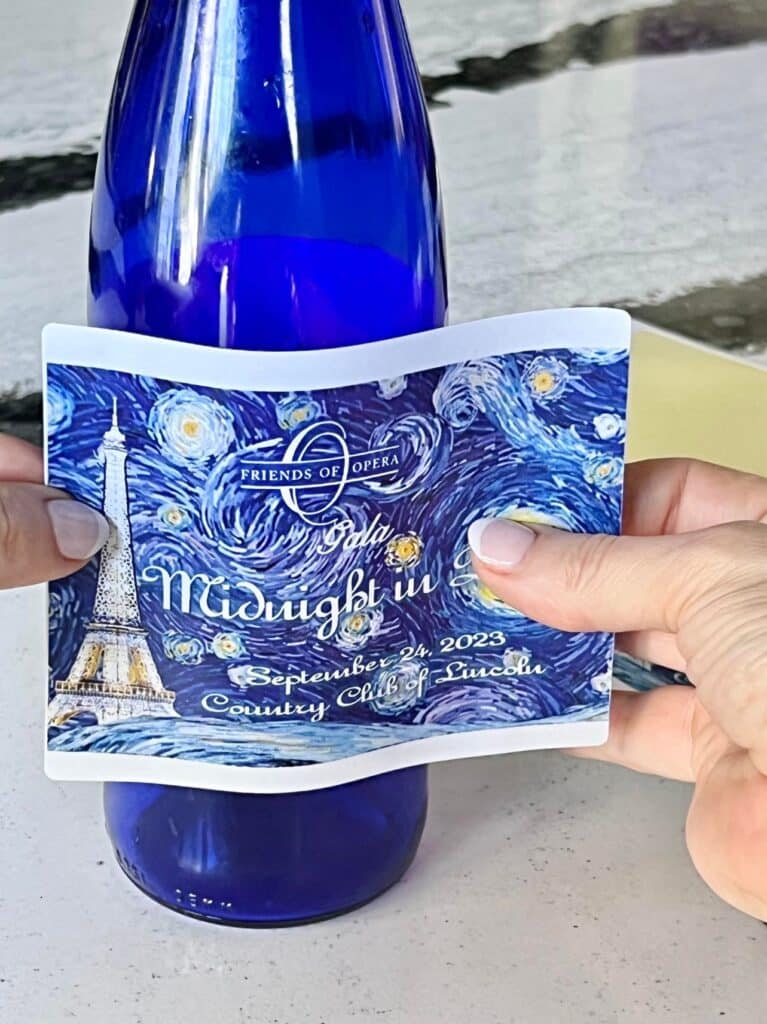 These wine stickers were so easy to peel and stick onto the bottles. They gave the bottles such a unique and elegant look.
Voila! Custom wine bottle label!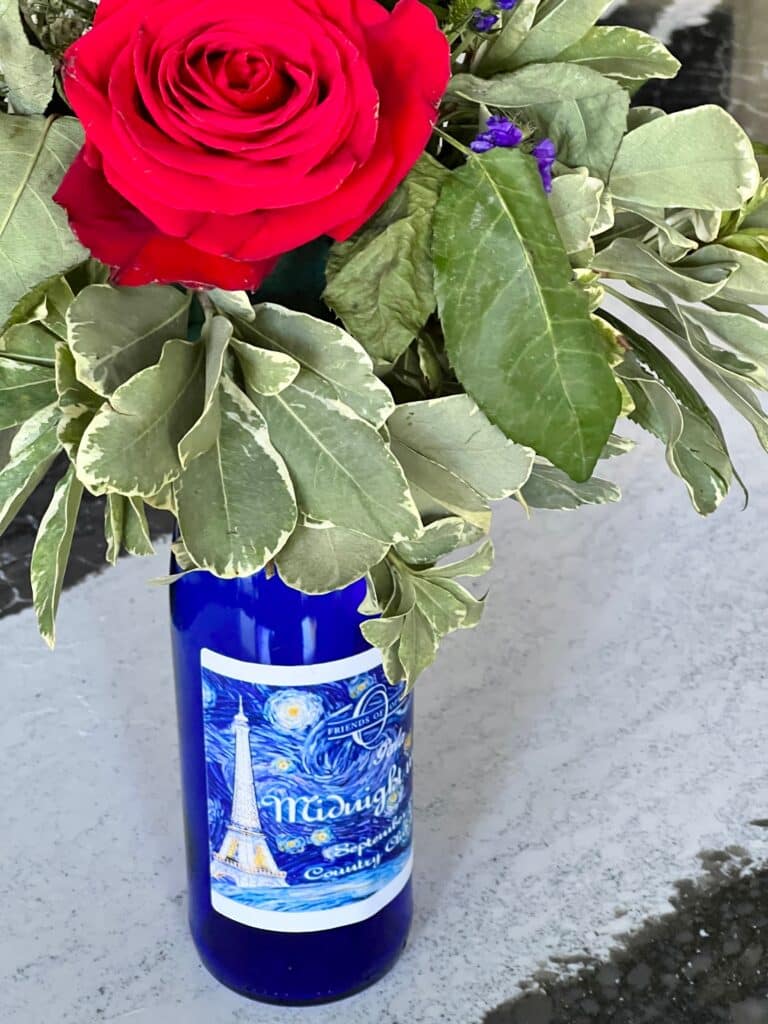 Remember This Tip: Create the floral arrangement before adding the rectangular labels to avoid getting them wet after you place them on the bottles.
Ideas for Using Wine Labels
There are so many ways you could use a personalized wine label!
Make special labels for both red wine and white wine and serve at dinner parties.
Create your own personalized wedding wine label for the happy couple.
Advertise your business by personalizing wine bottles at corporate events.
Corporate gifts
Create a wine bottle label template for your homemade wine.
One of these arrangements would make the perfect gift for your favorite wine connoisseur.
You can label other bottles! Use waterproof labels on water bottles and have them available at your special events.
Maintenance Tips:
Keep the floral foam hydrated by adding water as needed.
Trim any wilted or browning flowers to keep your arrangement looking fresh.
If a few flowers start to look a little wilted, simply swap them out with a fresh replacement!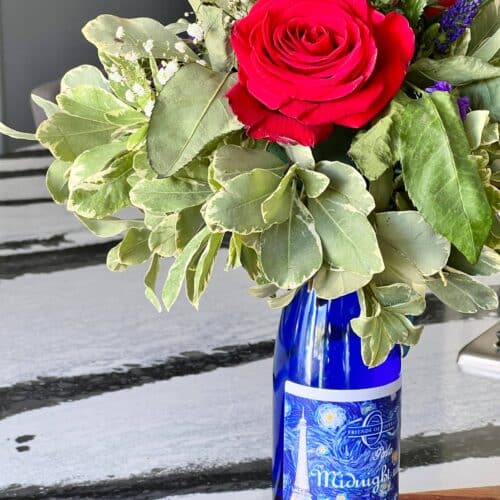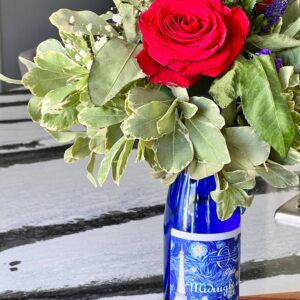 Wine Bottle Floral Arrangement
Add a touch of elegance by transforming an empty water bottle into a stunning table centerpiece with flowers and your own custom wine labels.
Equipment
1 Scissors or floral shears

1 stainless steel straw

1 knife
Ingredients
1

bunch

fresh flowers

1

bunch

greenery

1

wine bottle

1

block

floral foam

1

printable label

1

bottle

flower food
Instructions
Clean the wine bottle and, if creating your own label, remove the pre-existing label.

Press the top of the wine bottle into a floral foam block to create an imprint. Cut out the circle in the floral foam.

Soak the floral foam block in water. Once saturated, place the floral foam "collar" on the wine bottle neck.

Arrange your flowers. Start with your focal flowers on the top and add greenery around the bottom. Use a stainless steel straw to create holes in the floral foam for easy insertion.

Design a custom, personalized label for your event. Print the design on printable labels. Peel off the printed label and apply to the front of the wine bottle.
Friends of Opera Gala
I just have to share some views of the gala event!
The tables looked beautiful with crisp white tablecloths and gold charger plates just waiting for the first course to arrive!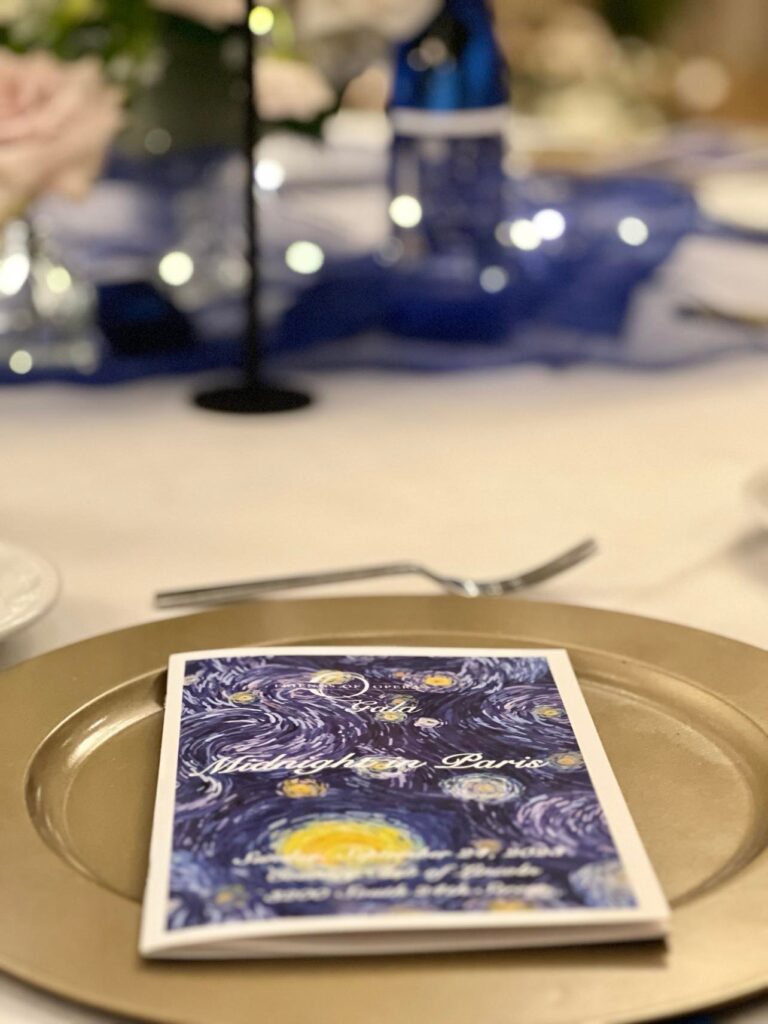 The wine bottle floral arrangements were nestled into clouds of midnight blue mesh fabric with tiny battery-operated lights woven through the material and the flowers.
The labels on the floral bottles were an extra special touch for the tables.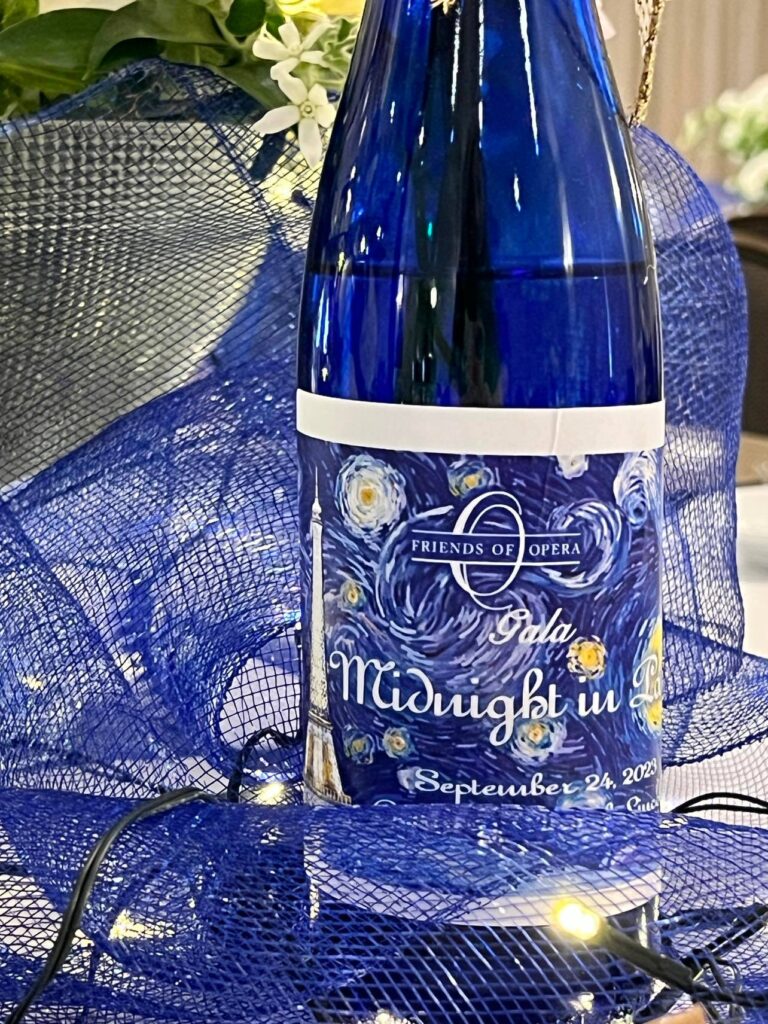 The Main Event
The purpose of the gala was to raise money to support the UNL Opera program. There was a successful silent auction, a live auction, and of course, a wine auction. All proceeds will go to support opera students!
But the best part of the evening was hearing the students SING!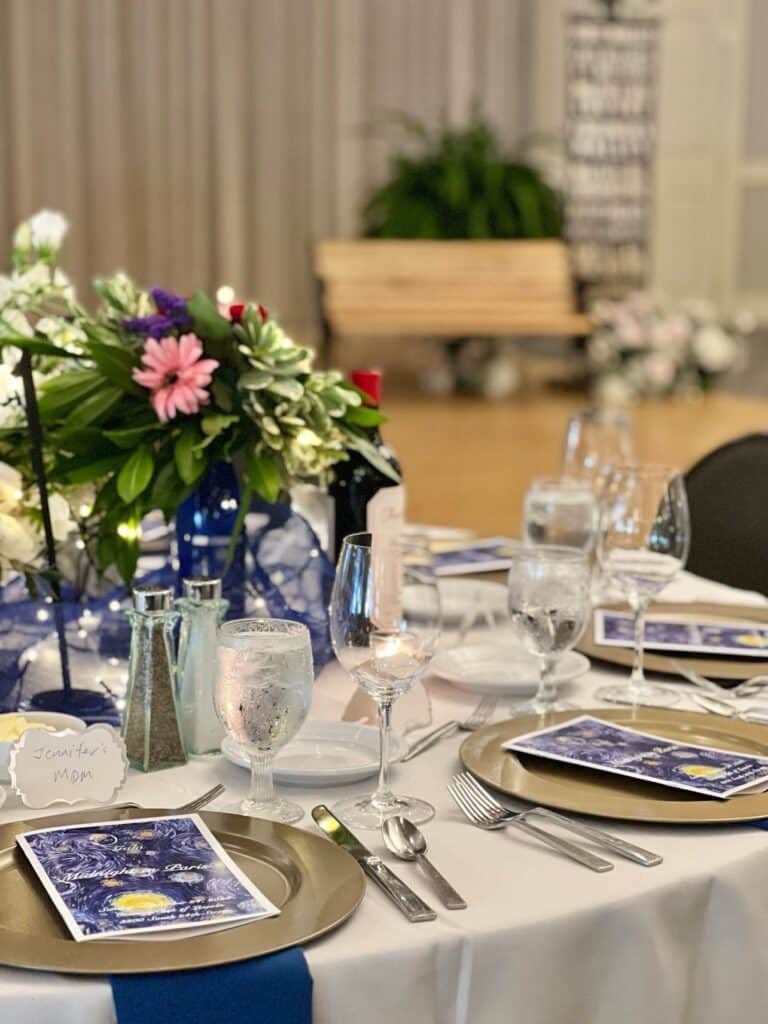 And in keeping with the Parisian theme, the programmed music had a French theme!
​I wanted to help "set the stage" for their performance so created a French park vignette complete with a park bench, classic lamp post, and a French metro landmark banner.
This would be so fun in someone's back yard!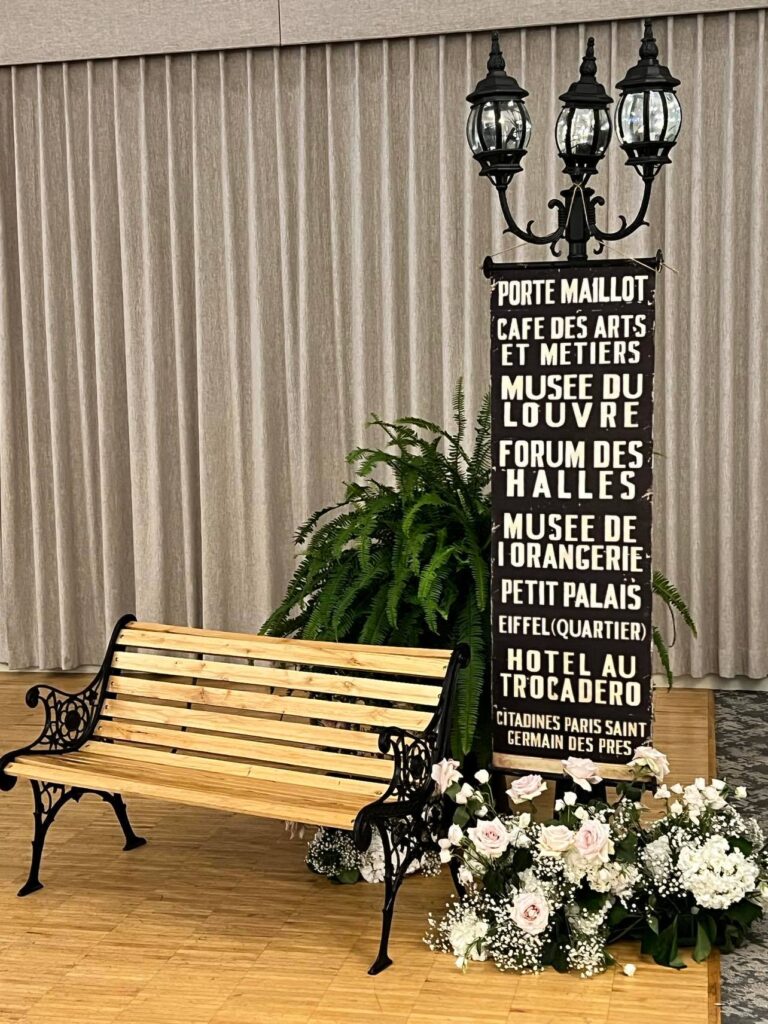 The lamp post was from a high school theatre department. Unfortunately, the lamps were bent and not working.
So, I flexed my muscles, straightened the lamps as best I could, and filled the glass with battery-operated lights.
It was a charming setting for all of the beautiful singing!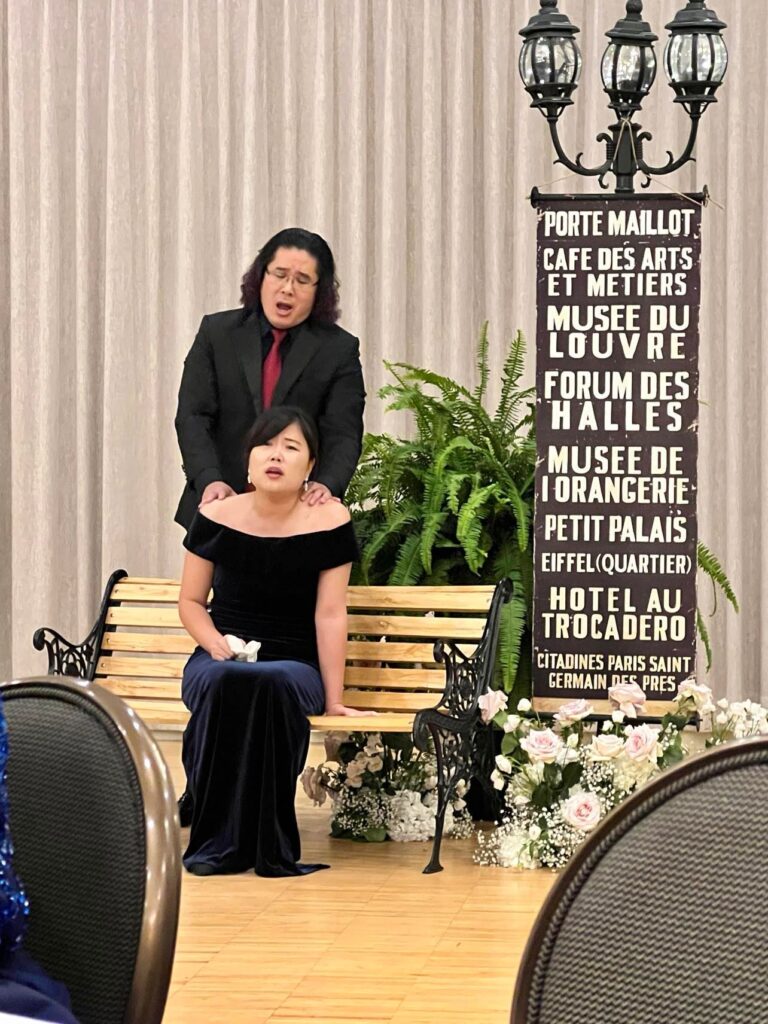 Sunmin Cha and Jaehyuk Choi sing Mimi and Rodolfo from "Donde Lieta" from the opera La Boheme by Giacomo Puccini.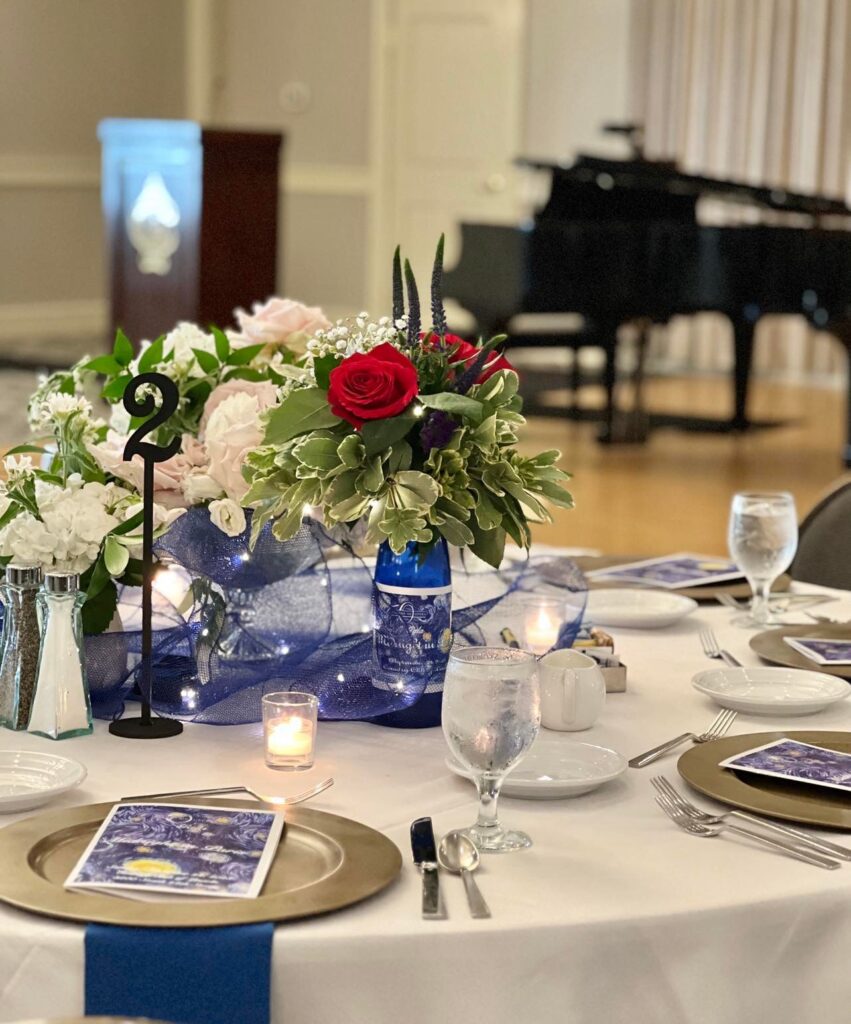 Bravo!
​Bravo to William Shomos, Director of UNL Opera, Dr. Suna Gunther, and the many talented UNL singers! Your performance was amazing!
Thank you to Co-Chairs: Janet Palmtag and Jim Griesen and to the Friends of Opera Board President: Anne Grey!
And special thanks to all who attended the Friends of Opera Gala and supported the arts and the next amazing generation of opera singers!
Sip, Savor, and Sing
Whether celebrating special occasions or just brightening up your everyday decor, give these wine bottle floral arrangements a try!
 Creating a wine bottle floral arrangement is not only a clever way to use wine bottles but also a wonderful way to flex your artistic skills and add a touch of nature's beauty to your home. So, gather your materials, uncork your imagination, and let your floral arranging skills sing!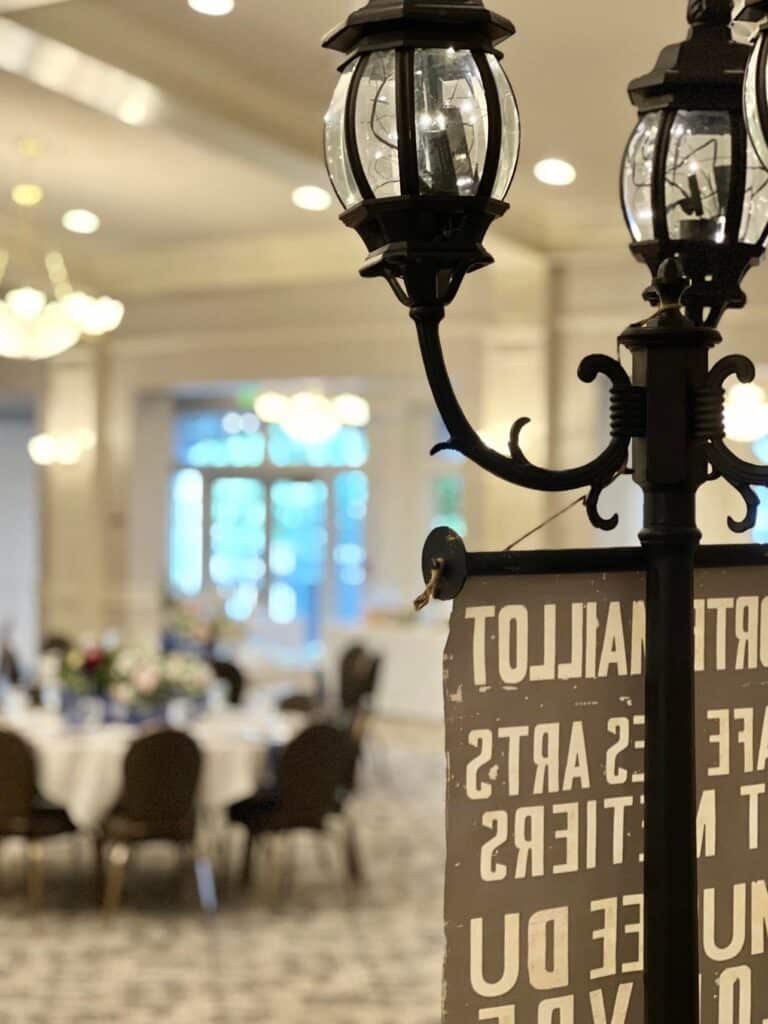 Cheers!

Opera is for everyone! Don't miss the upcoming UNL Opera production of O Pioneers! on Nov. 12, 2023 at the Lied Center for the Performing Arts!
Don't Forget to Pin It!
Pin the image below to your boards on Pinterest (just click the Pin button in the top left corner). You can also follow along with me on Pinterest!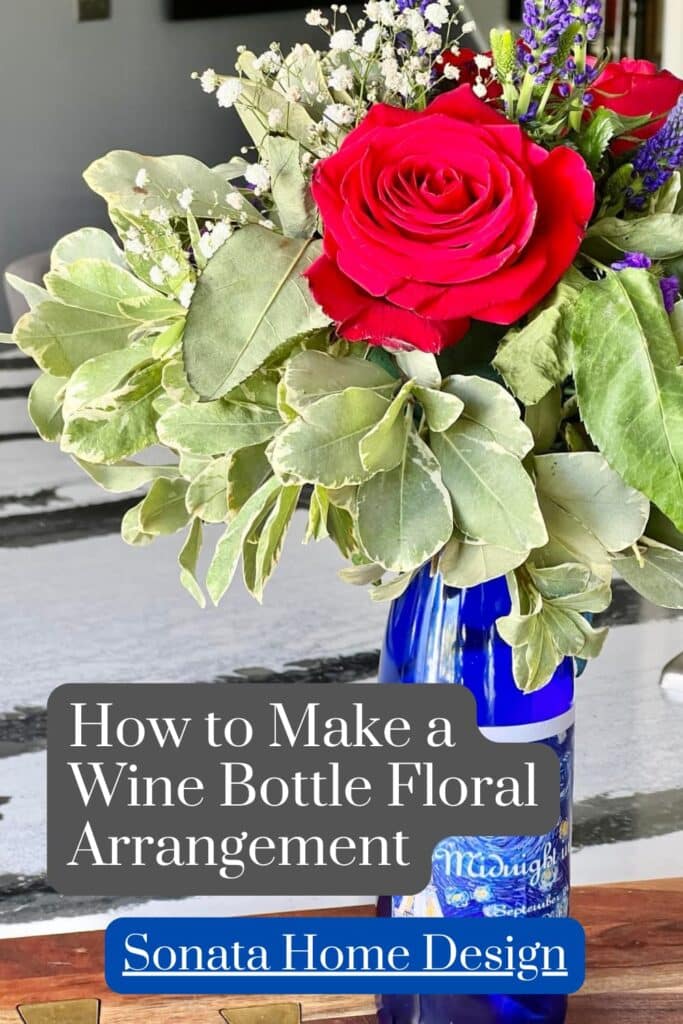 Scents for Your Home
50 Simple and Easy Everyday Table Centerpiece Ideas
The Best Table Runner Ideas for a Round Table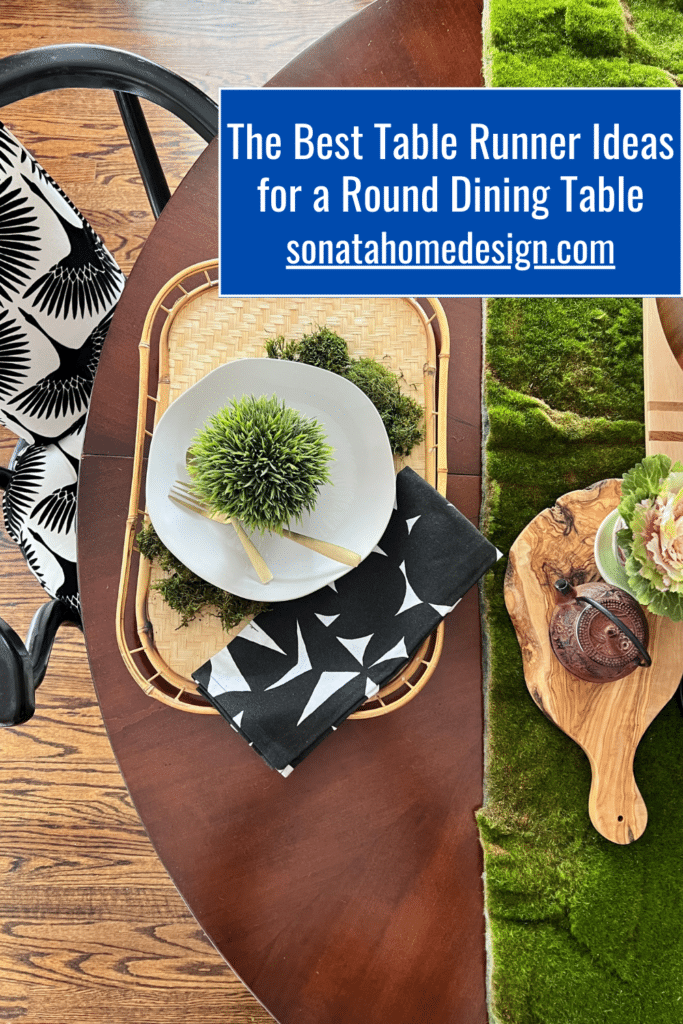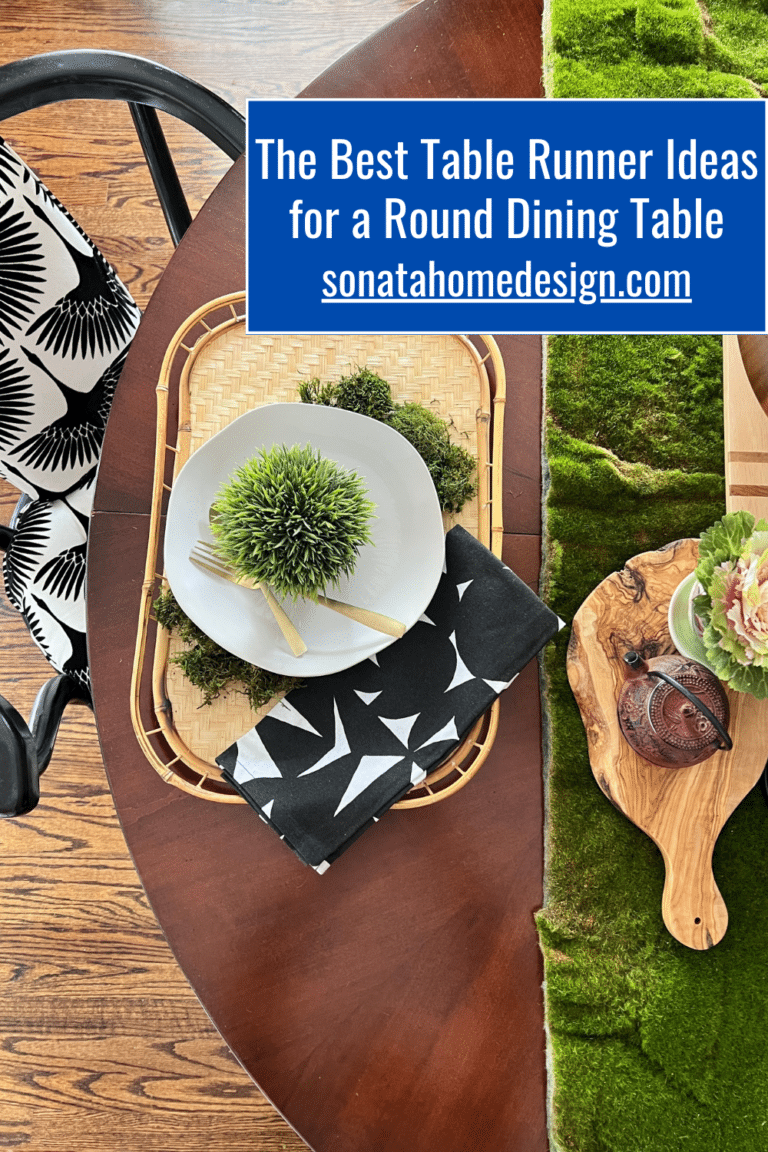 Simmer Pot Recipes for Every Season