5 Easy Christmas Centerpiece Ideas for Your Holiday Table
If you're like me, you probably start thinking about Christmas in July. By the time November rolls around, I'm ready to deck the halls and come up with some Christmas centerpiece ideas!
If you need some inspiration for your holiday table (or island, or bar, or coffee table) look no further. I've gathered 5 easy Christmas centerpiece ideas that will spruce up your table and make your guests feel festive. So break out the decorations and let's get started!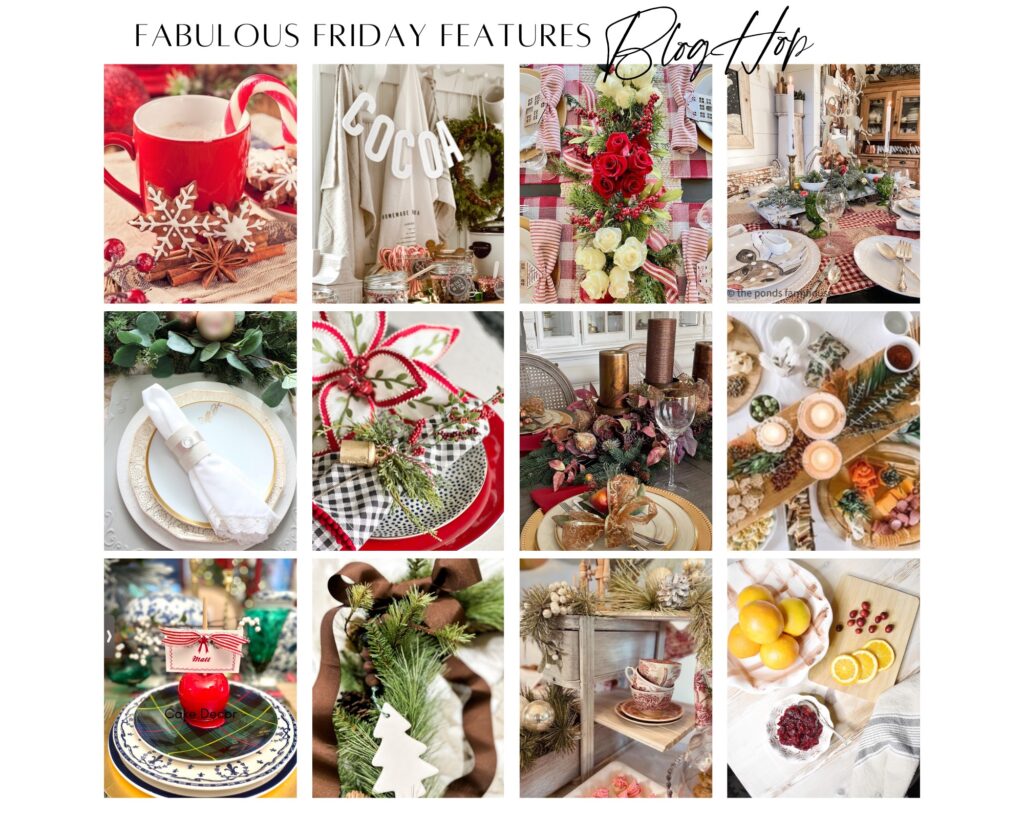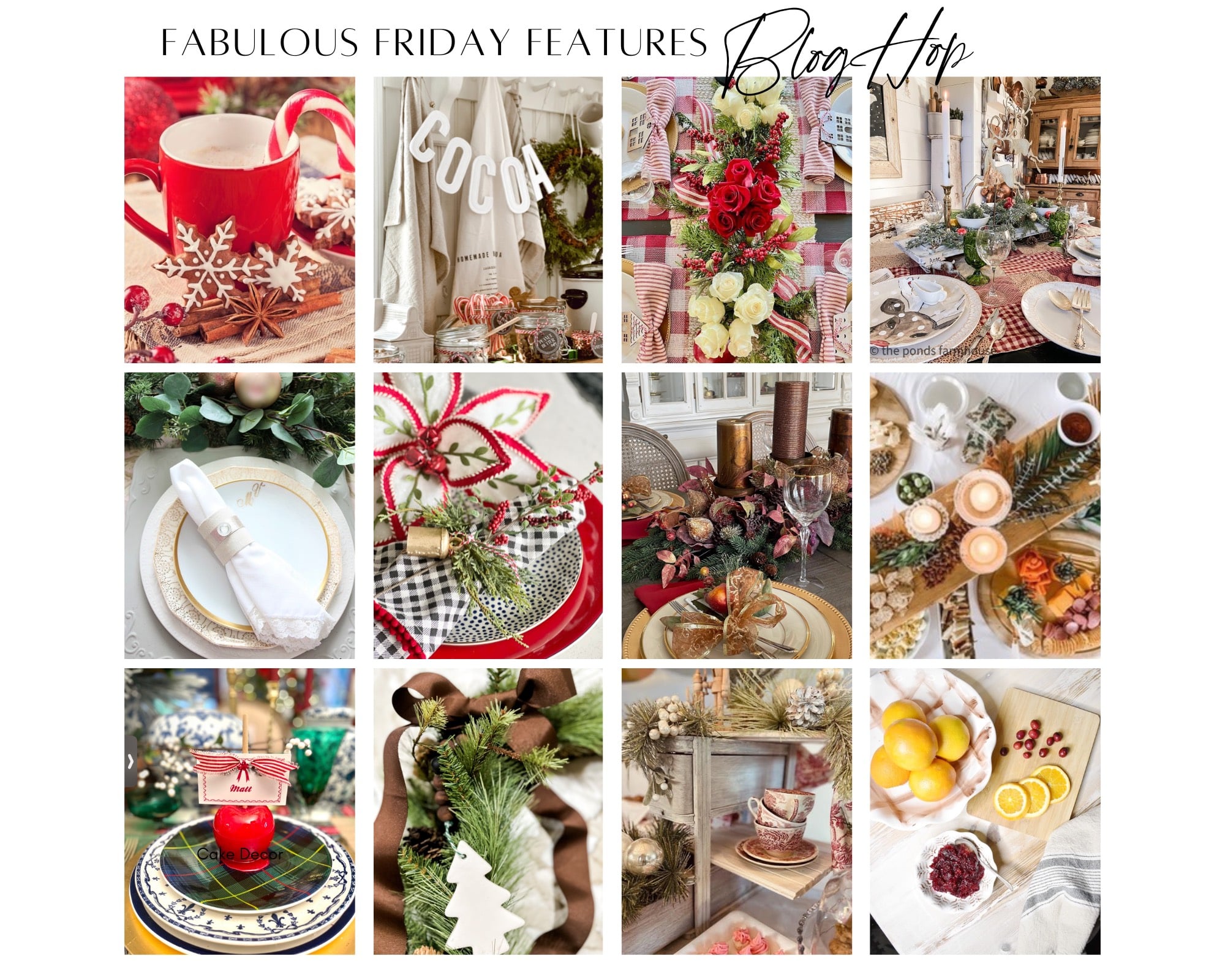 Welcome to the first Fabulous Friday Link Party Blog Hop! The Fabulous Friday Link Party is one of my favorite places to share blog posts. Every Friday, it is a joy to see all the home decorating creativity! Bloggers link their best posts every Friday and potentially get featured the following week. The Link Party has now extended its presence to some bloggers who link up regularly. I feel so lucky to join the 6 Hosts and 5 other Talented Bloggers in launching the 1st Fabulous Friday Blog Hop. Follow along to see all of the amazing Christmas Entertaining Inspiration. All the links to the Hosts and the Featured Blogger Friends are at the end of the blog.
I am so thrilled to be part of this blog hop. THRILLED!
Perhaps you have just come from Kim's post at Perfecting Places and saw her simple Christmas brunch ideas? (She always has such great ideas!)
Welcome to Sonata Home Design! Have a seat and enjoy!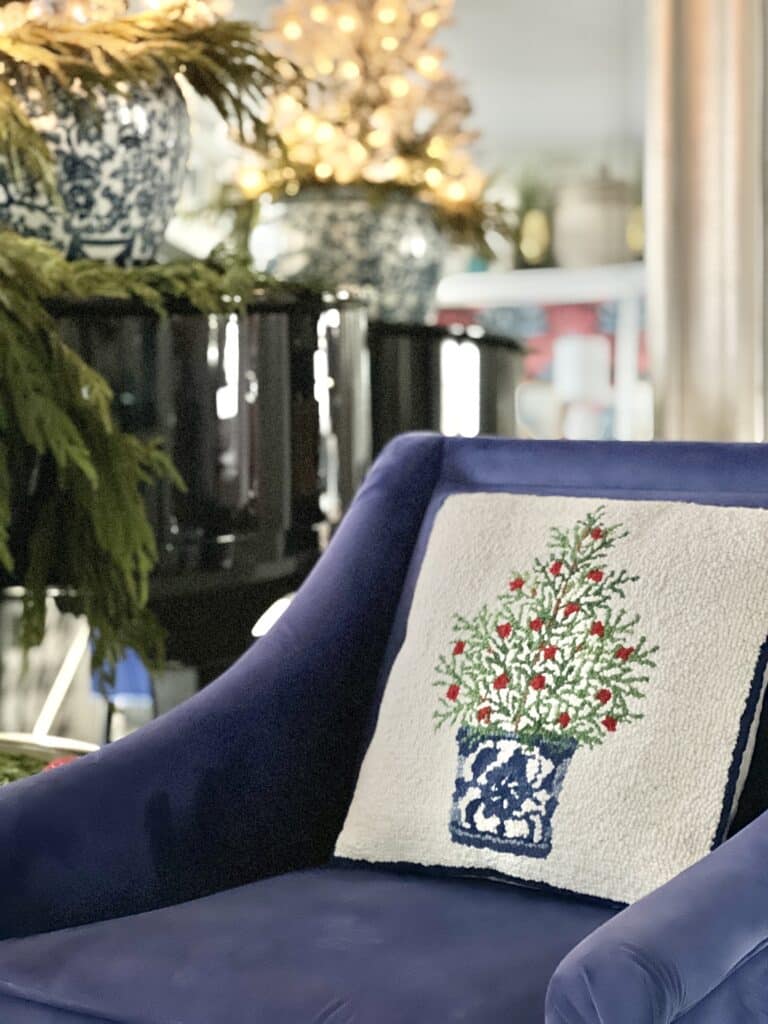 Christmas Entertaining Ideas
Christmas is a perfect time for a blog hop because Christmas is a time of gathering!
And gathering means entertaining!
I'm excited to share some easy centerpiece ideas with you today.
My centerpiece advice…Keep It Simple!
As much as I love centerpieces, I am also a practical creature and want to make food "management" as easy as possible for me and for my guests.
So, I like to combine form and function in my centerpiece displays.
And simple can be stunning!
Here are 5 Christmas centerpiece ideas that are easy to put together and add some festive punch to your gathering!
Get on Board!
Charcuterie is a huge trend right now and the accompanying boards are one of the most versatile home decor pieces out there.
Use a charcuterie board (or a simple wood cutting board) as the base for a centerpiece that can hold plates and napkins for your guests.
Bonus… it can be easily be moved from spot to spot for entertaining.
For the napkins, I started with a few "tools"
A faux cedar napkin ring adds a natural elements around a gingham check napkin.
Next, I tied a small brass bell to the napkin ring and tucked a sprig of faux winterberries into the napkin ring.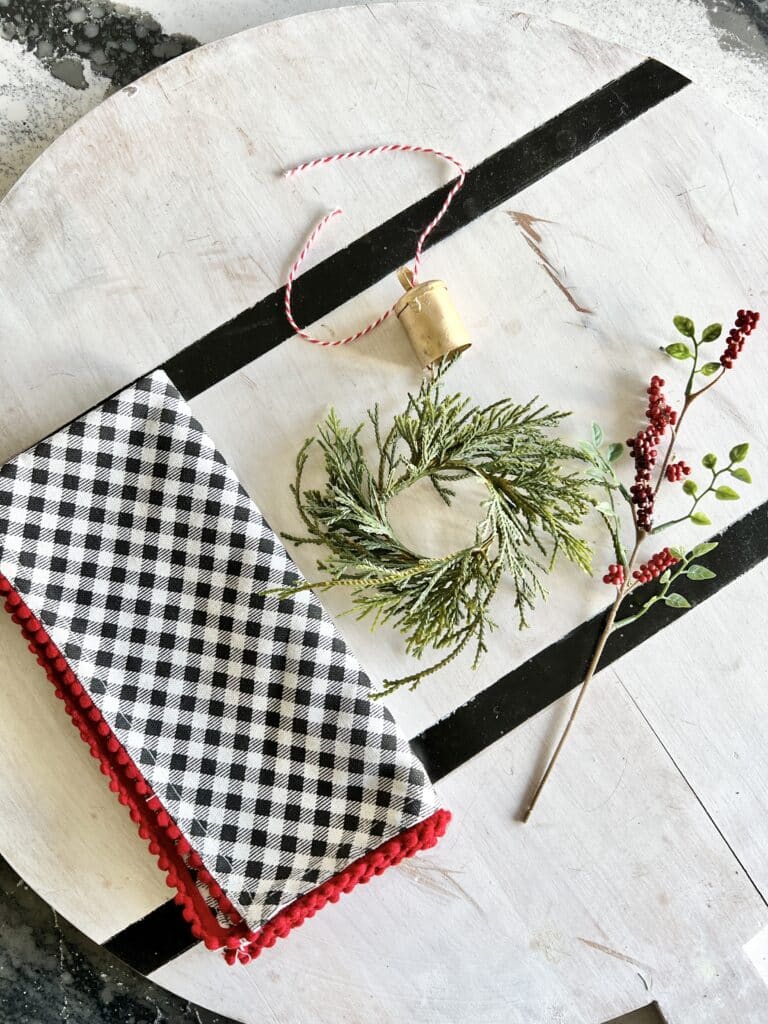 It's a basic series of simple "tucks" but it looks so pretty!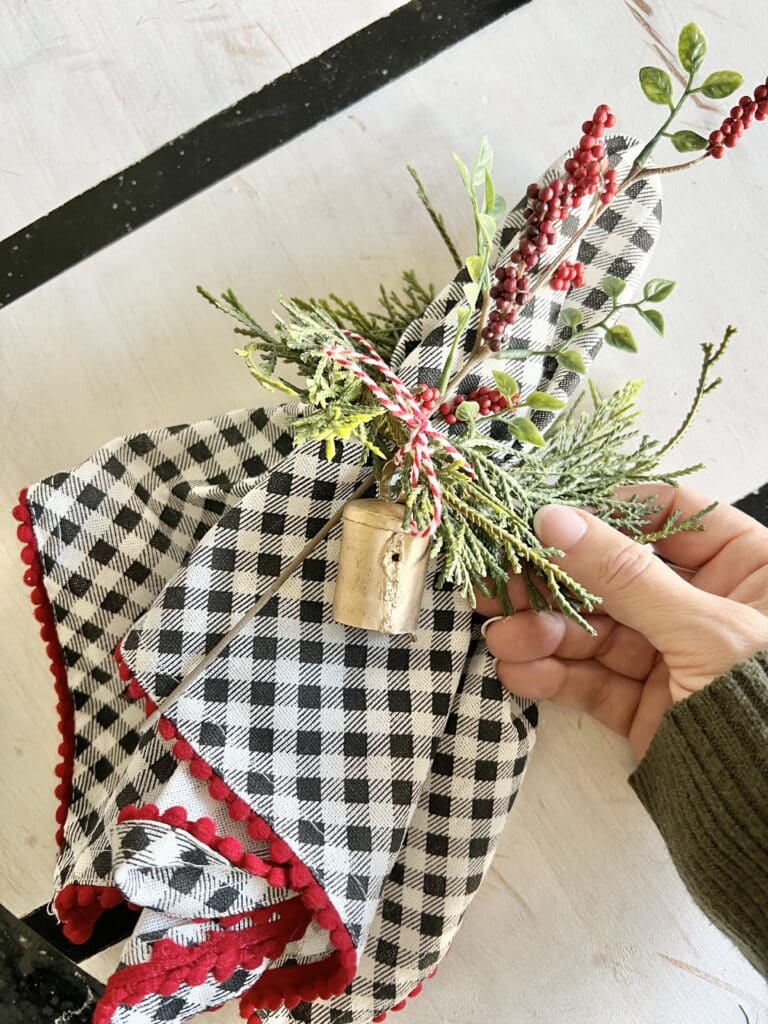 Using the board as the base, stack some plates, pile up the "tucked" napkins, and add a pitcher full of Christmas greenery.
Simple!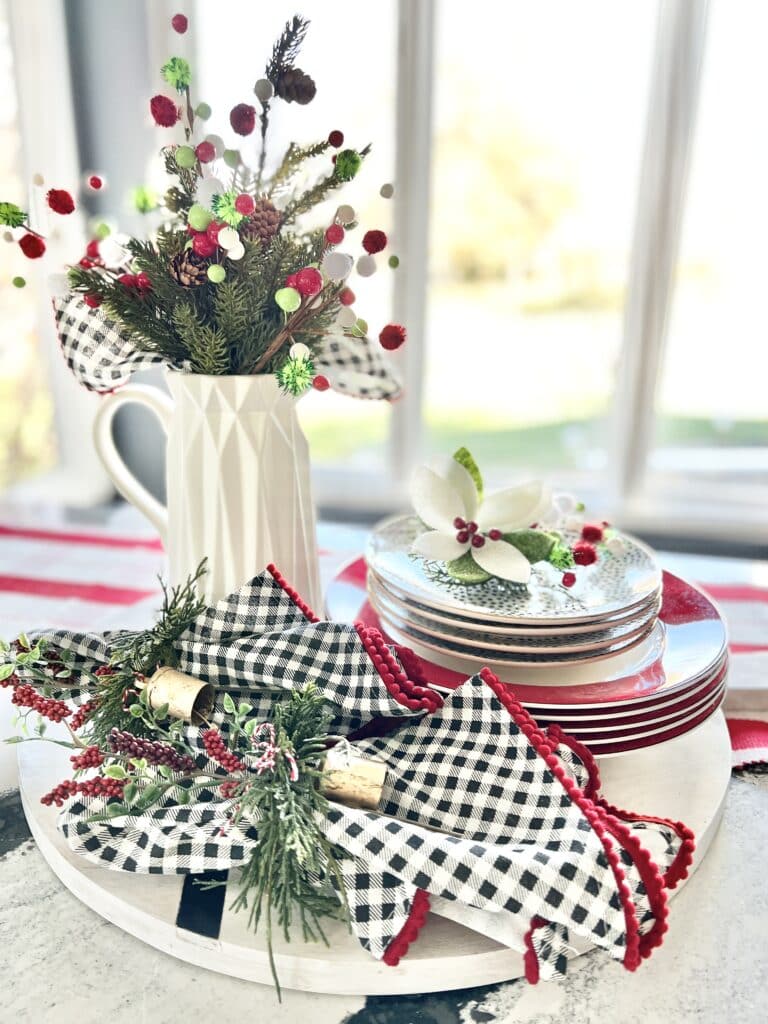 Using a cohesive color scheme puts the "ease" in "easy!"
Red, green, and white with some punchs of black is classic yet fresh.
If you want to keep your plates separate from the centerpiece, just add a larger sized floral in the same color scheme as the new focal point.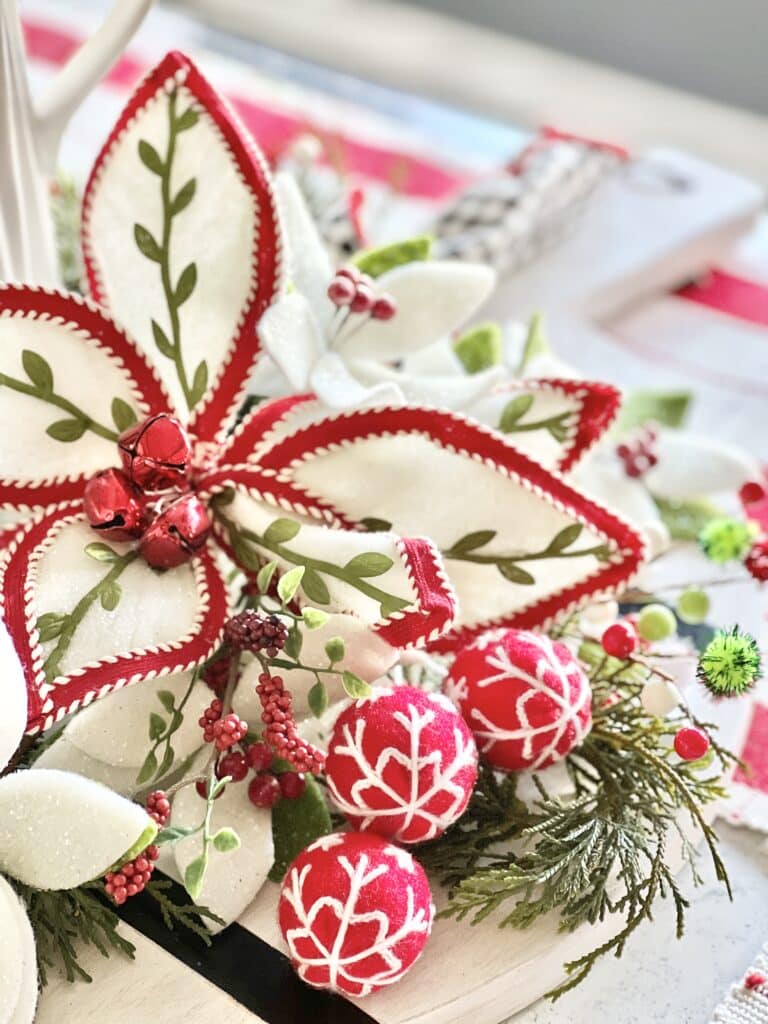 It is truly just tucking, stacking, and piling!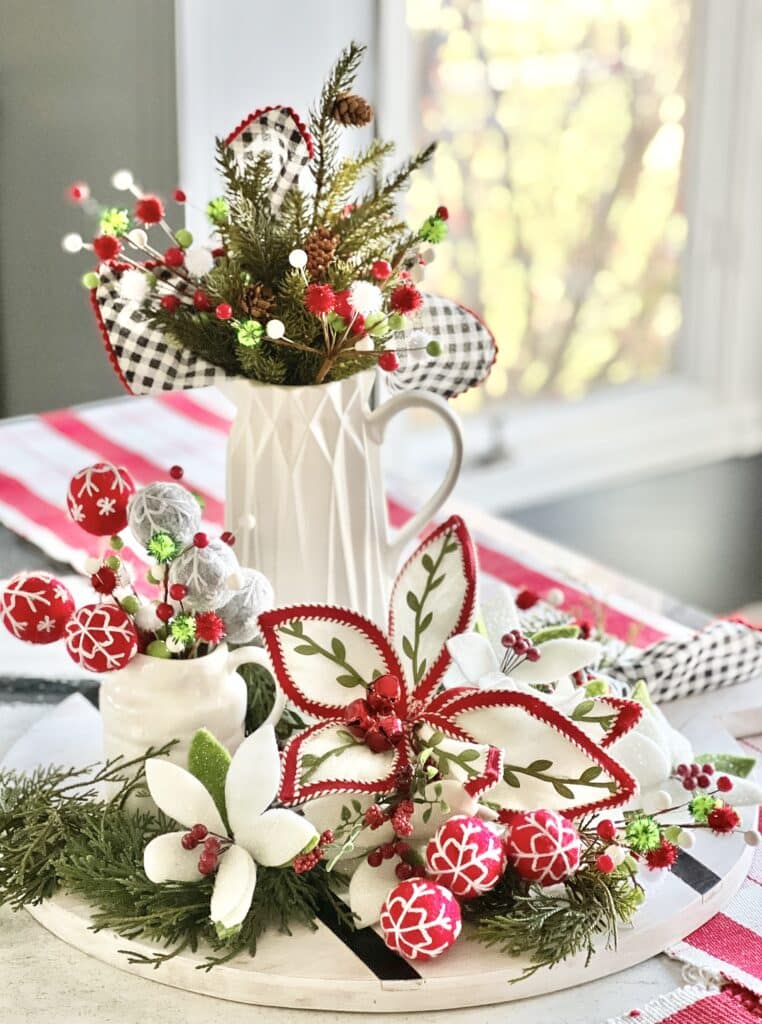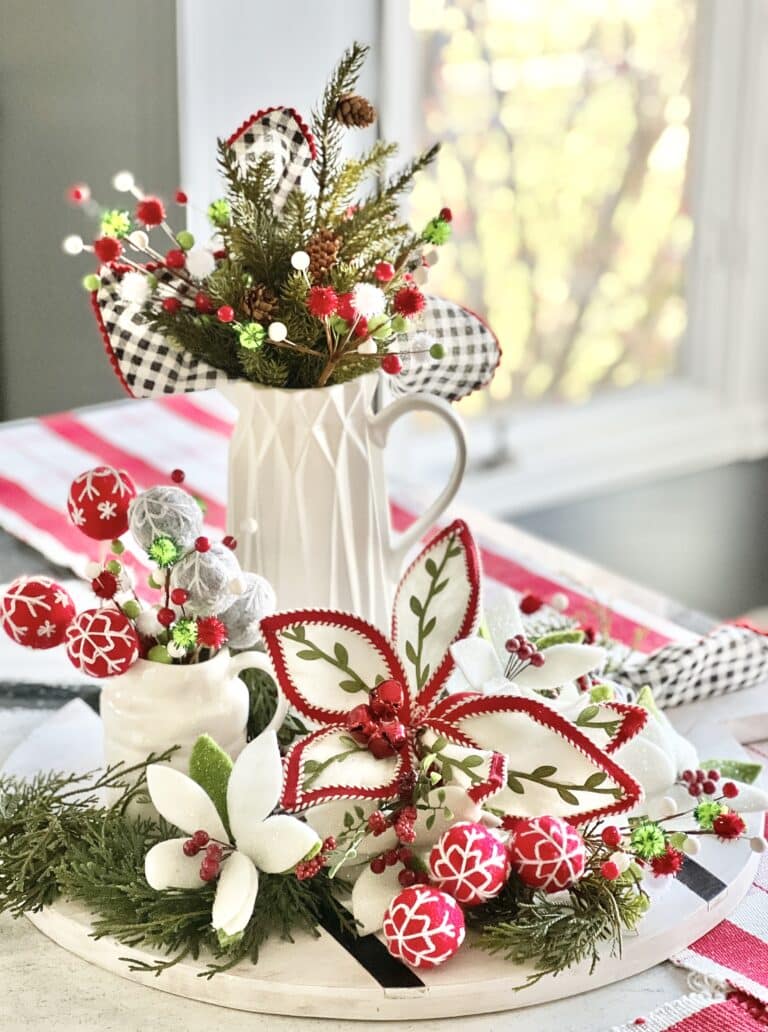 A Simple Bow
This centerpiece can be made even simpler!
Take the same napkin and wrap a simple bow around a bundle of birch logs.
Lay on a natural wood cutting board and add a Christmas candle.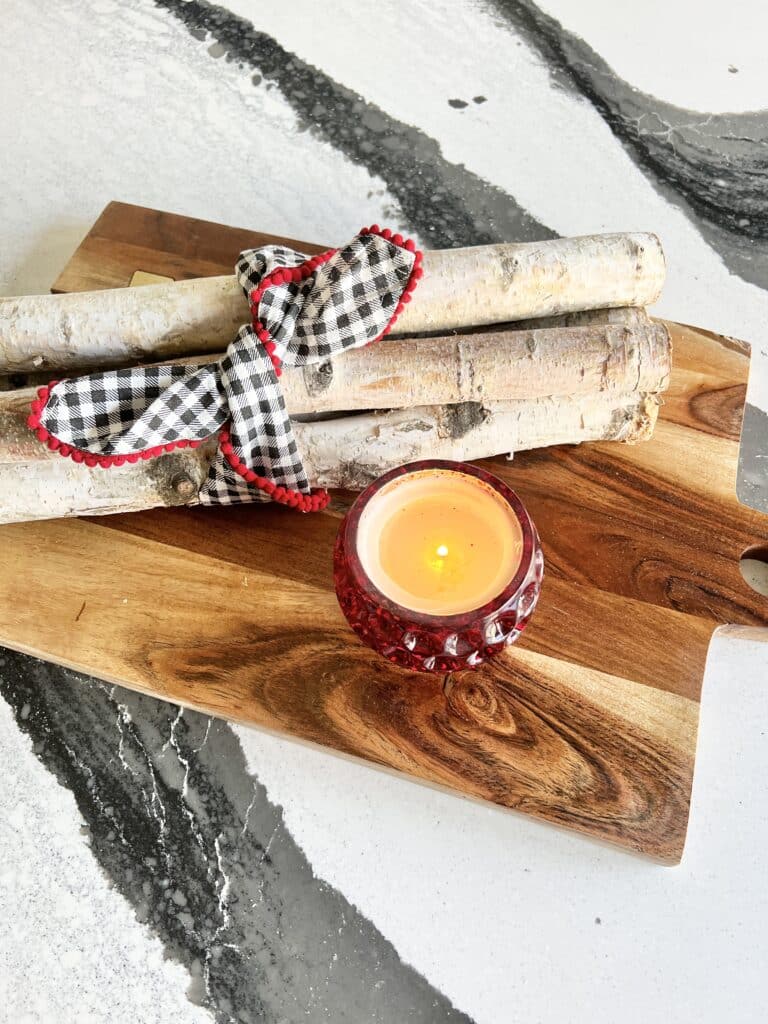 This didn't even require a "tuck!"
Place on a serving surface for a cozy, homey centerpiece!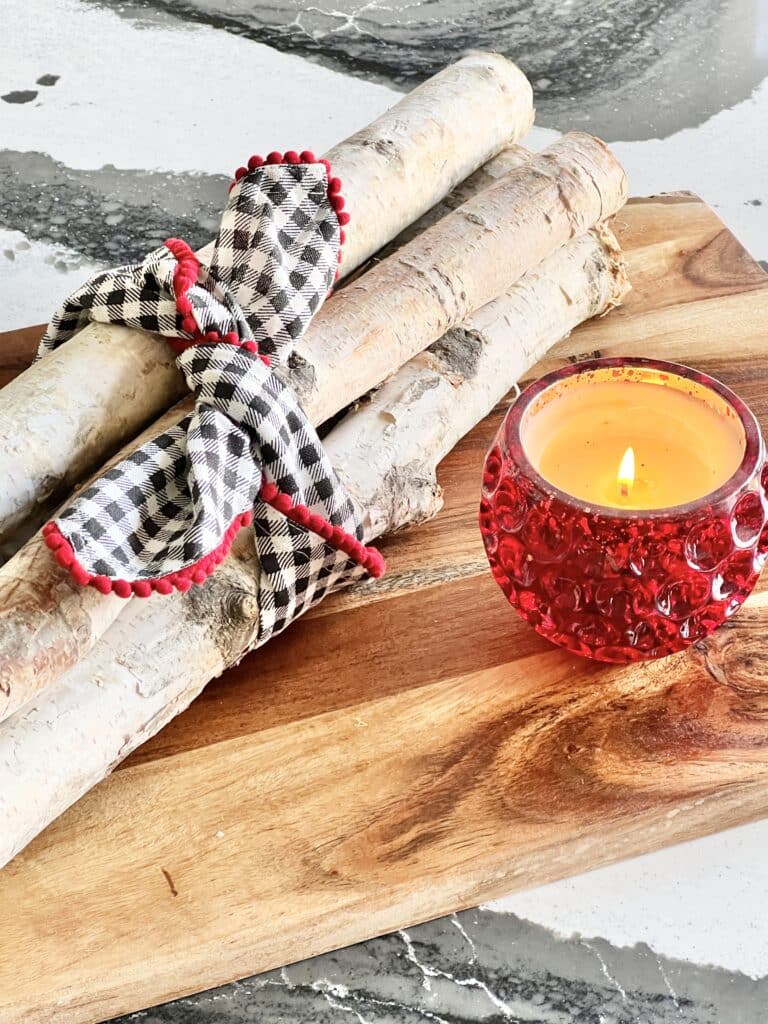 Soups on!
Centerpieces aren't just for formal dining tables.
Turn your kitchen island or peninsula into a serving buffet line. (This can also work for a dining table!)
One of our family's traditions is serving clam chowder soup on Christmas Eve.
I love to set up our kitchen island in "help yourself" mode. Here is a Christmas centerpiece idea for a casual gathering in your kitchen.
Set up this rambling centerpiece by laying a holiday runner across the width of the island or table.
Next, create a woodland scene with holiday trees and reindeer.
A small open-air greenhouse helps to ground the setting and serves a a focal point.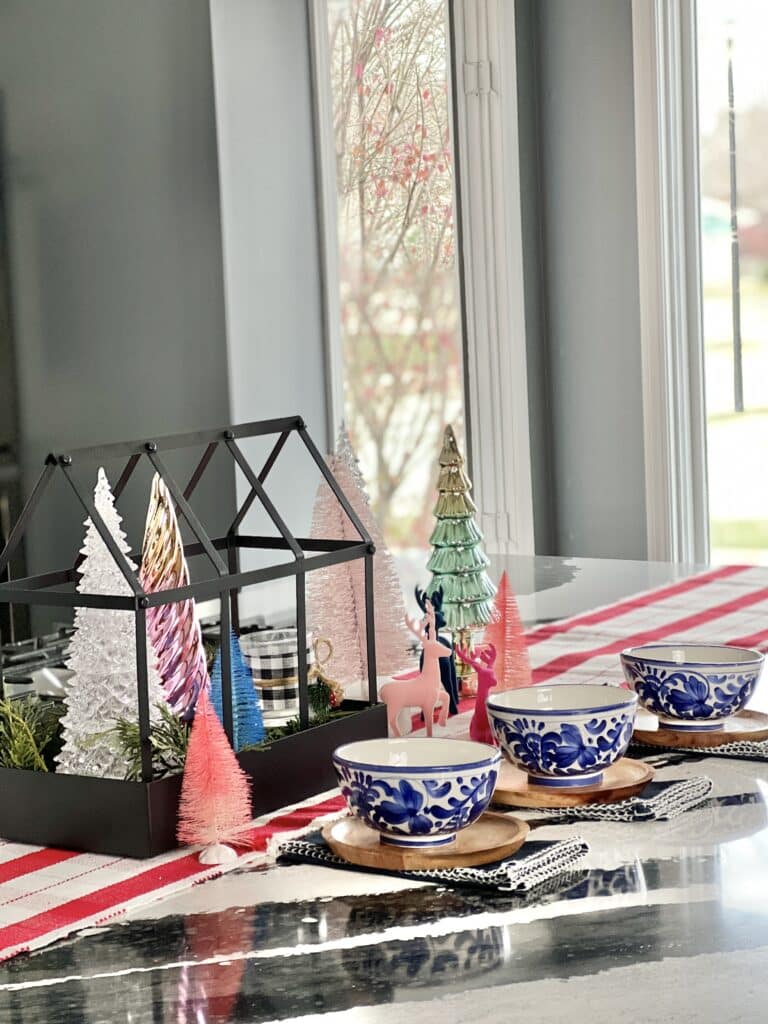 Adding different types of small trees adds nice color and texture.
Bring on the bottle brush trees, glass trees, lighted trees...even natural tree greenery.
Setting the soup bowls alongside the woodland scene gives guests the go-ahead to help themselves whenever they want!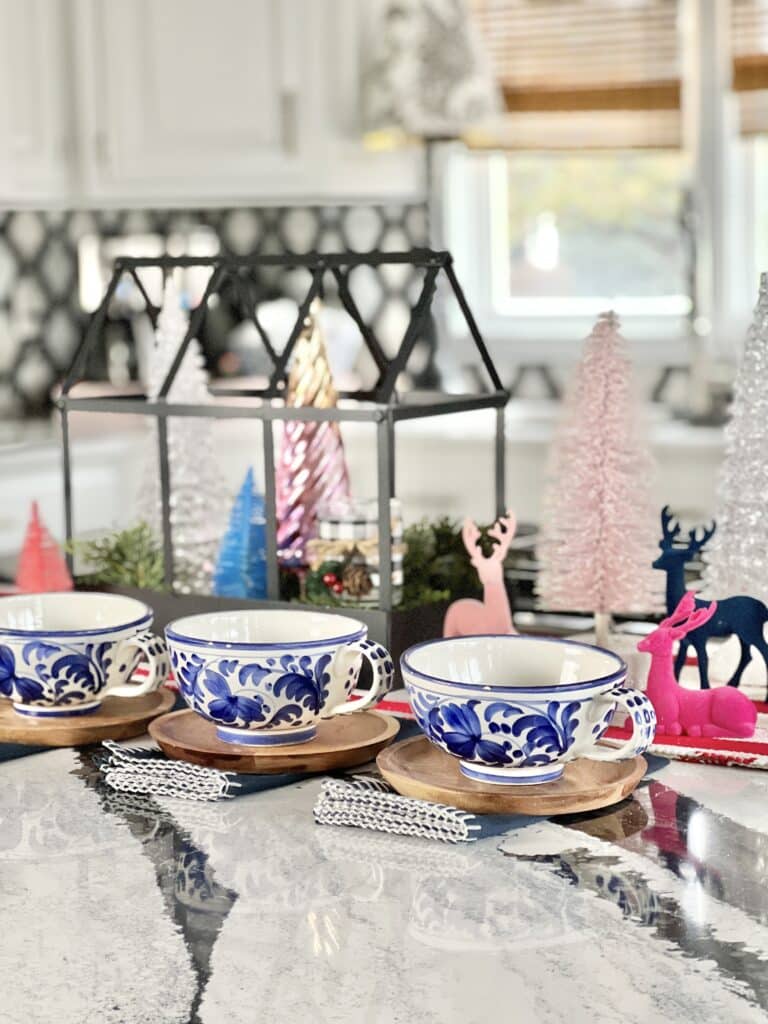 You could stop here but adding some small reindeer increases the charm.
I found these little flocked reindeer in the bargain aisle at Target!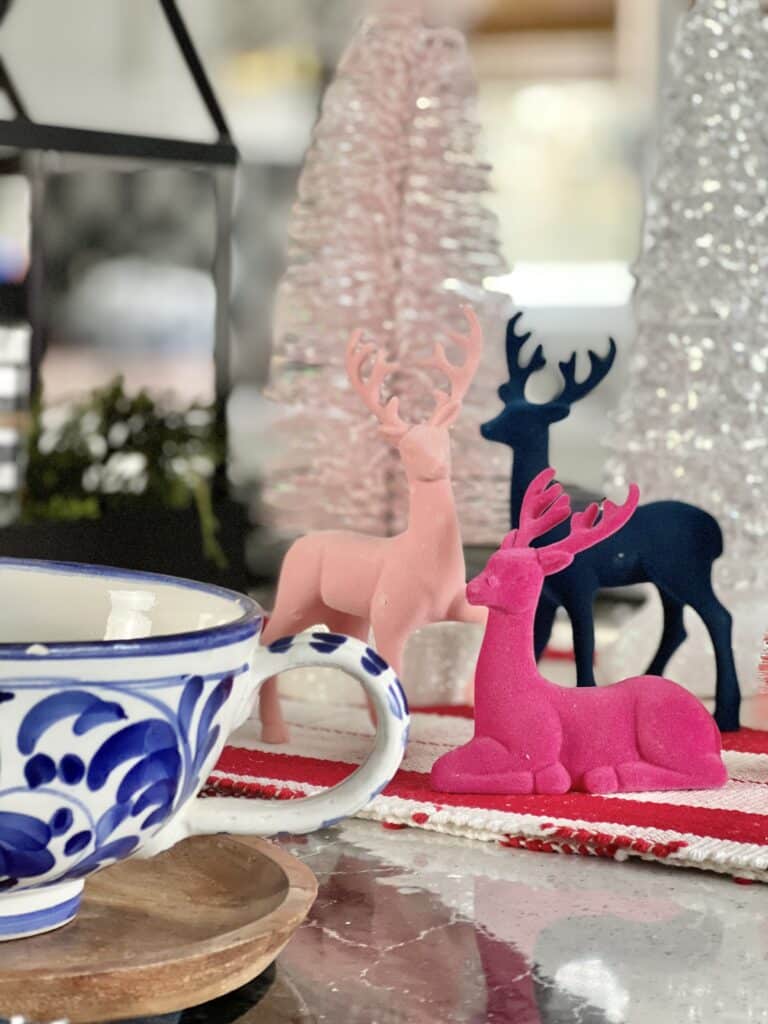 Tea Time Christmas Centerpiece Idea
While I am avid coffee drinker, I do love a nice tea party and Christmas is the perfect time for a tea party!
I'm thinking I'll invite my Mother over for tea! (We've been rewatching all the episodes of The Crown together!)
However, I didn't have a spot for this until I had a lightbulb moment…
I can move my furniture!
A very quick fix… I moved our coffee table from the center of the room to the spot between two comfy chairs.
A simple shift of the chairs inward creates a cozy, friendly tea-time seating area.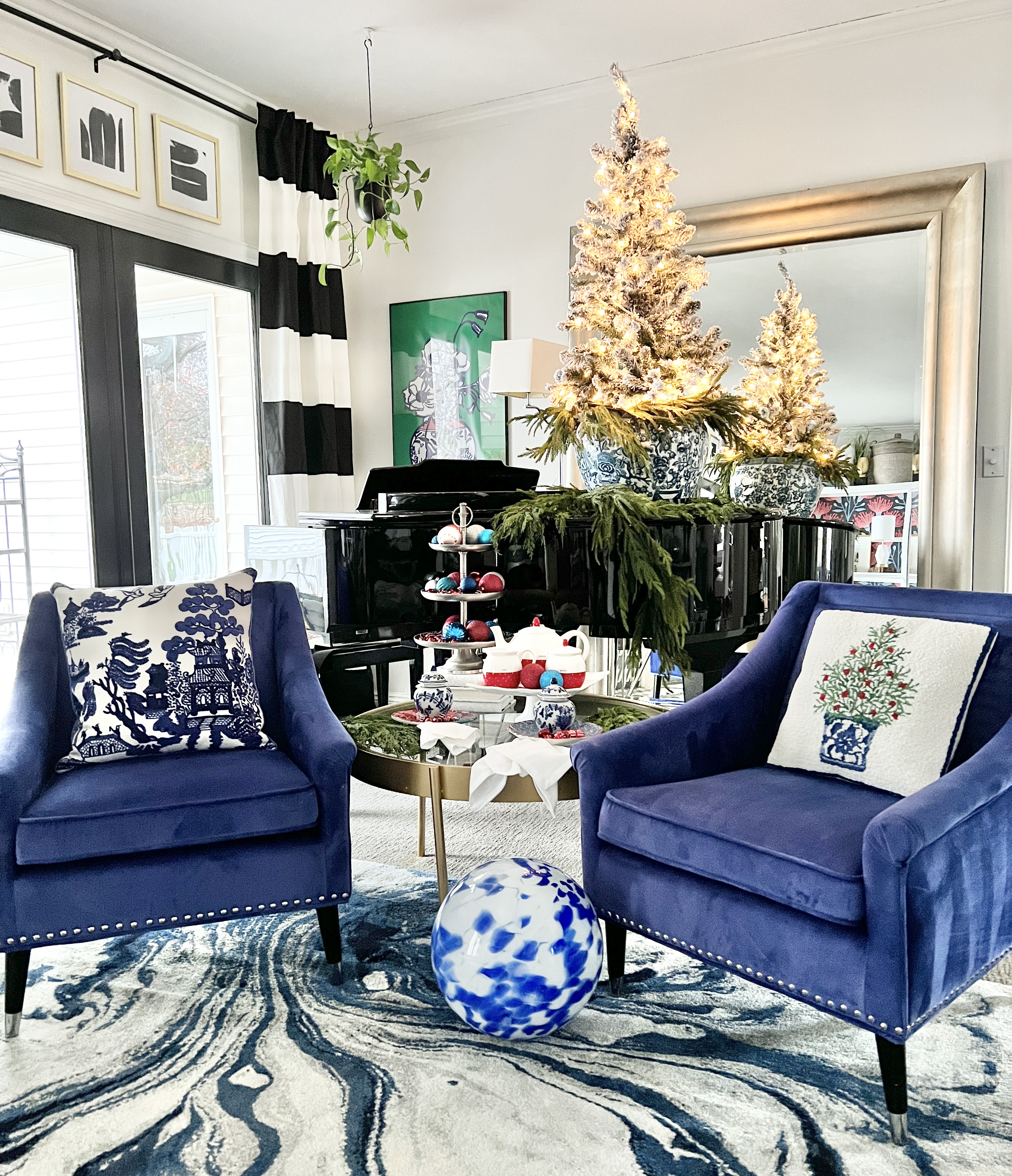 A tiered tray can, of course, hold cookies during the tea party.
But, maybe you want to keep this centerpiece going after you've eaten the cookies? (We are a family who eats ALL the cookies!)
In the absence of cookies, a bevy of ornament balls and food-themed ornaments decorate the tray alongside a cheerful red and white tea set.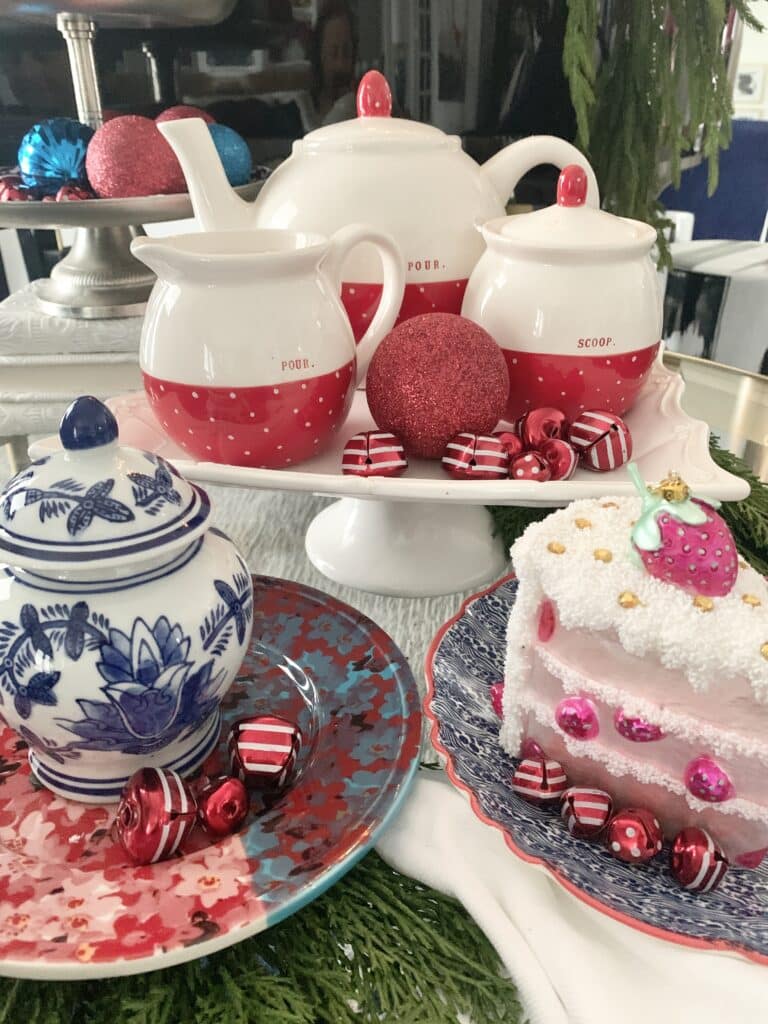 Fireside Hot Chocolate
Can I share a secret?
Now that we are empty nesters, we don't eat at the kitchen table like we used to.
Many of our meals are shared sitting in a comfy chair by the fireplace or…full confession…in front of the TV!
Perhaps we need to formalize a little? How about a bar cart by the fireplace to set our apres-dinner hot chocolate?
A glass container full of multi-colored ornaments is the simplest of centerpieces.
It goes beautifully with my pool noodle Christmas ornament wreath!
Big mugs of hot chocolate sit on top of hand-crafted felted wool ball trivets.
Perfect for the upper level of the bar cart!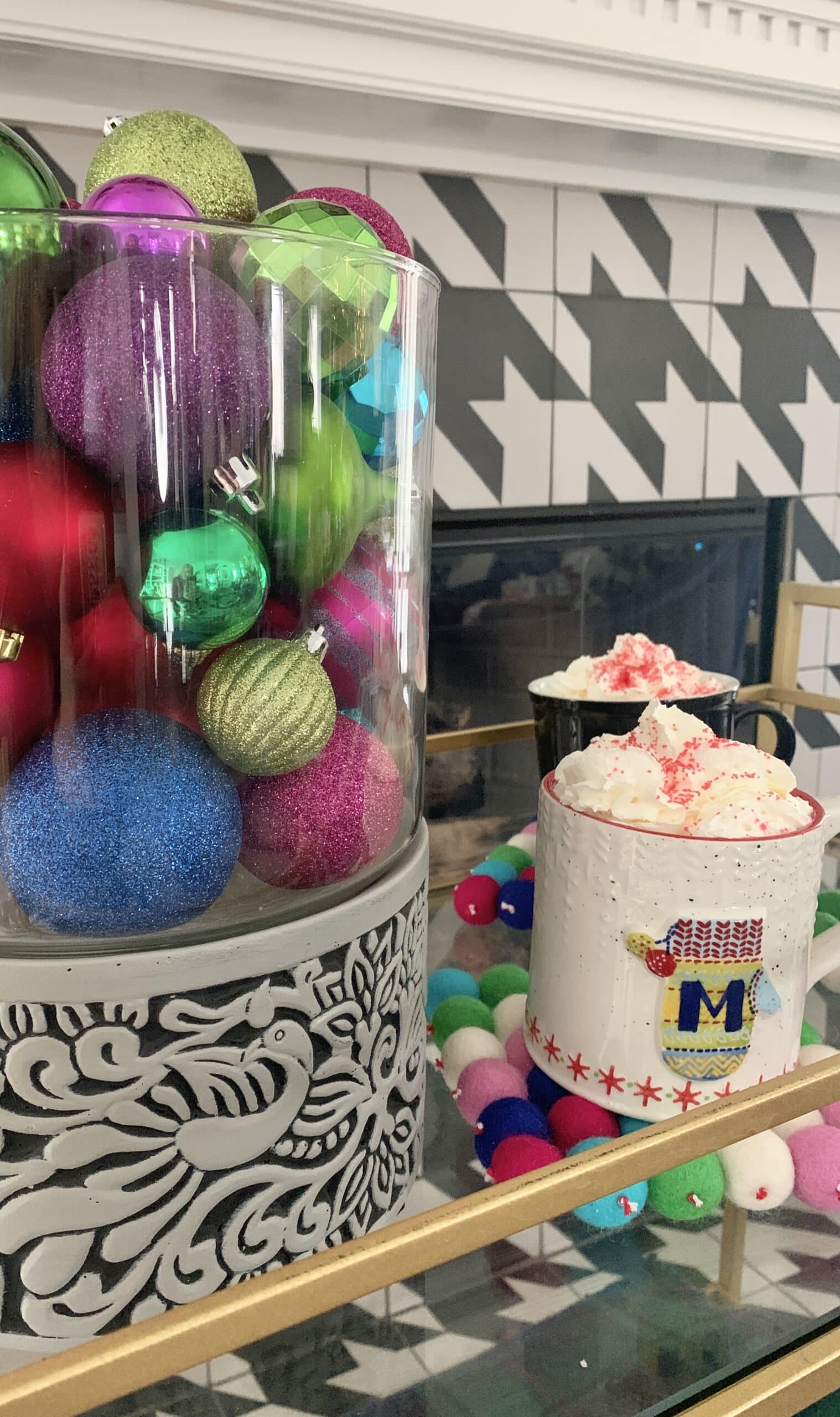 But let's not forget the second tier.
Notice how the idea of "Simple" can still pack a punch!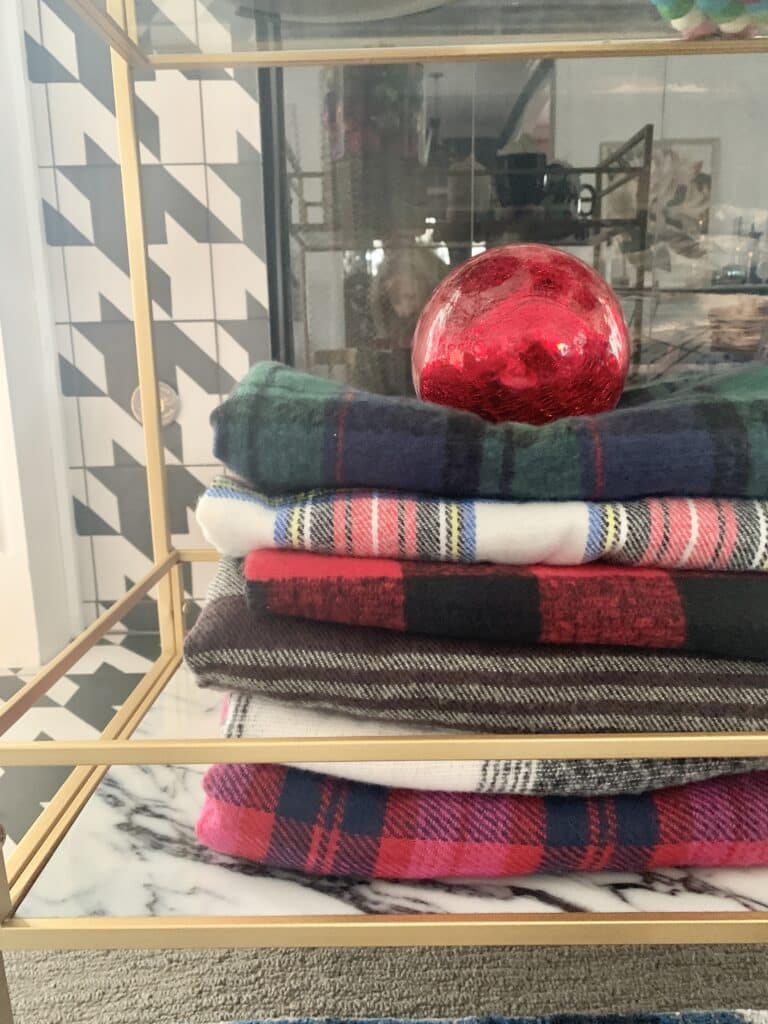 Papa Bear, Mama Bear, and a lucky guest are quite content with this simple arrangement!
I guess that makes us Three Bears!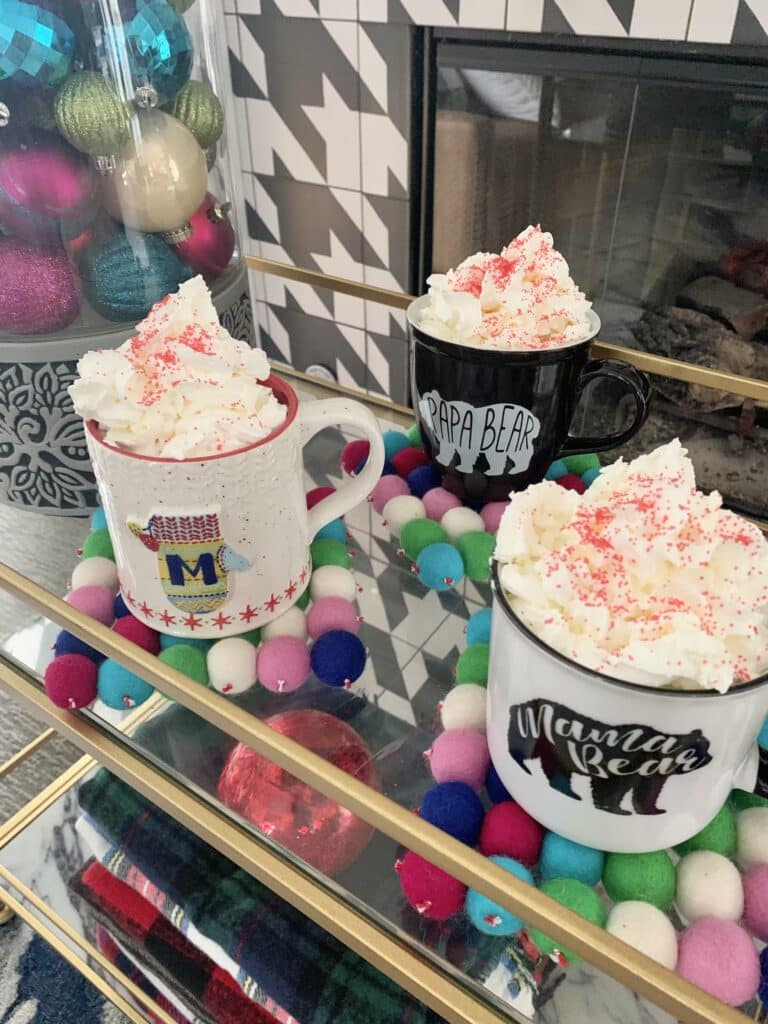 Christmas is a time for family, friends, and festive fun!
And what's more fun than decking the halls with festive centerpieces that set the mood and get everyone in the holiday spirit?
Remember…don't overthink it. Simple can be stunning!
Head on over to The Crowned Goat…CoCo has a fantastic napkin ring DIY for you!
I want to give the Fabulous Friday Link Party hosts a huge "Thank you!" for including me in this blog hop. You are really are…Fabulous! (Be sure to check out all of their links below!)
Cheers!

Don't Forget to Pin It!