Easy Colorful Easter Tablescape Ideas You Should Try
Get your table ready for Easter with these vibrant and elegant tablescape ideas. Create a colorful, spring-inspired setting in no time!
If you're looking for an Easter tablescape that will make your home look as colorful and fanciful as the holiday season itself, then I've got just the tips for you! From flowers to table runners, these easy ideas will bring some much-needed cheer into your space and make it a great backdrop for all that delicious food!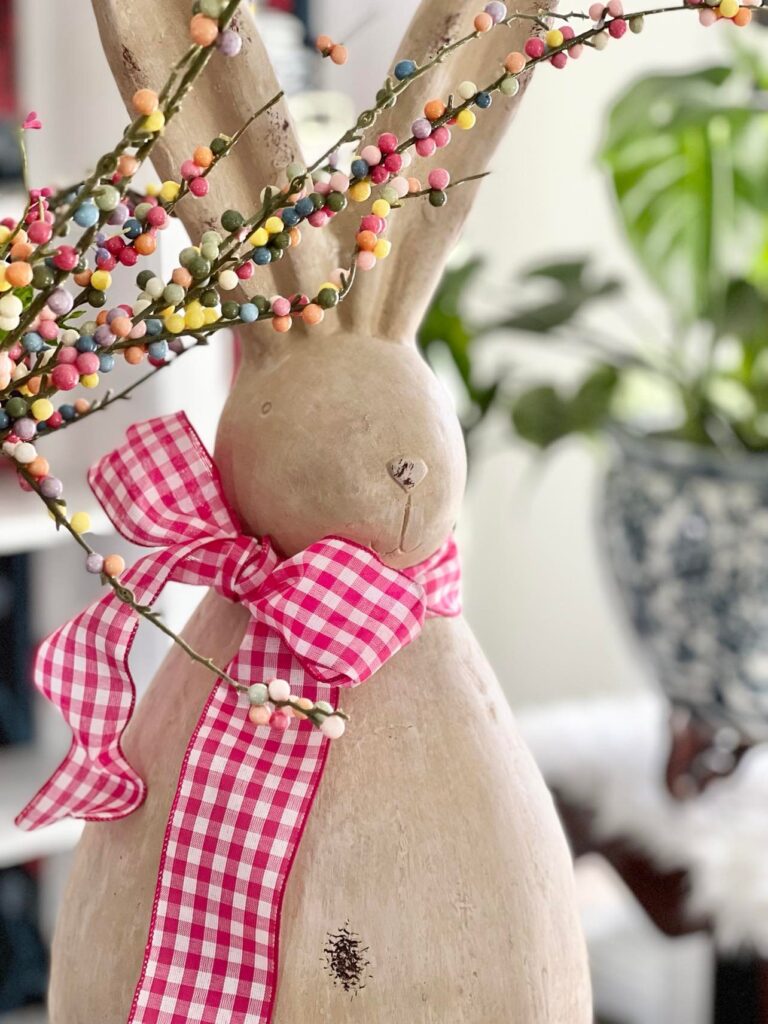 ***This post contains affiliate links that help to buy me coffee in my retirement. (Have a cup with me!) Sonata Home Design is a participant in the Amazon Services LLC Associates Program, an affiliate advertising program designed to provide a means for us to earn fees by linking to Amazon.com and affiliated sites. Additional affiliates links are also included for your convenience.
As a child, I could hardly wait for the Easter egg hunt that occurred immediately upon waking as well as the Easter basket that was filled with sweets and treats just for me!
The Easter Bunnies
I put a little twist on this tradition when my twin daughters were young. You see, I was a church choir director for 10 years. And that means a very EARLY and very BUSY Easter morning each year.
Mommy Bunny and Daddy Bunny used this to their advantage…
"Mommy is so tired from her busy morning and needs a little nap," said Daddy Bunny. " Let's go to the park!"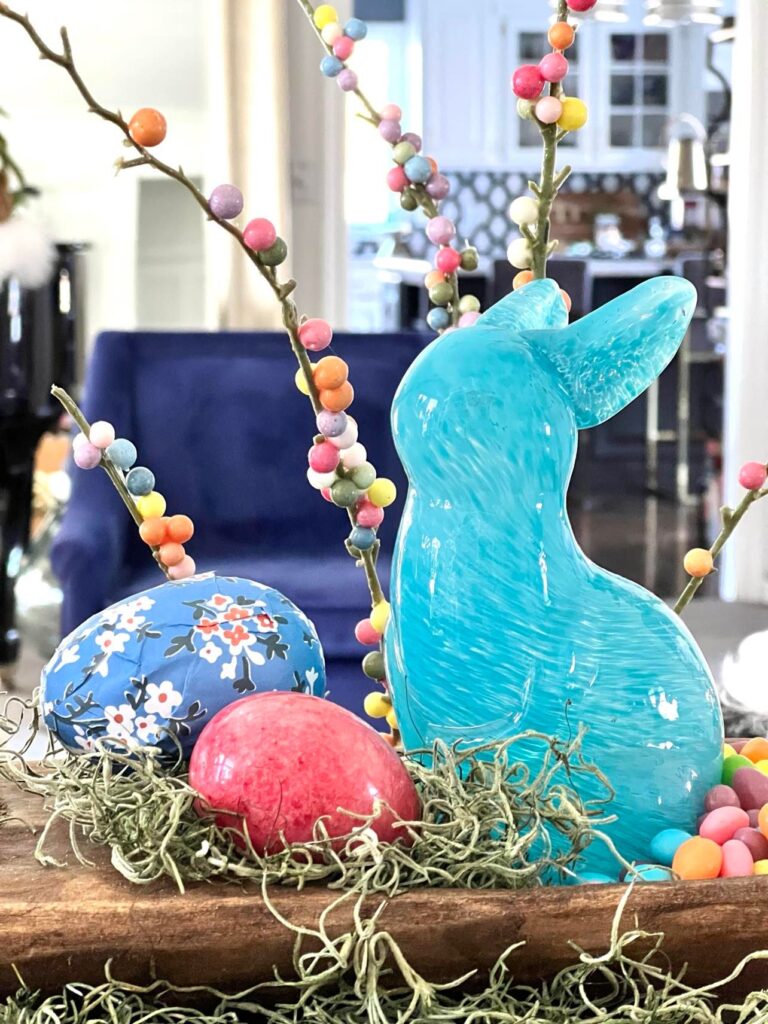 So, Daddy Bunny took the girls to the park while Mommy Bunny got busy setting out colorful baskets tucked into a nest of green grass.
Mommy Bunny was very fast and could easily lay down to fake a nap upon their return.
The girls were always so amazed that I slept through the Easter Bunny's visit and didn't get to see him. (wink, wink)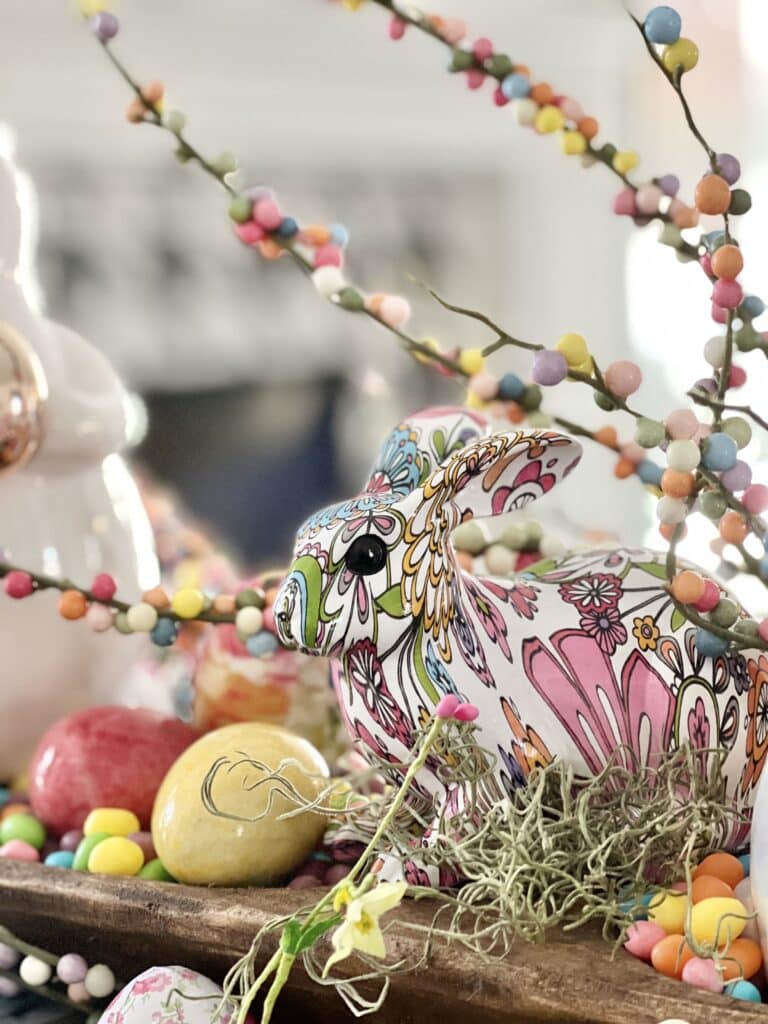 The incredulous dismay quickly turned to JOY as they dove into their basket full of jelly beans, bottles of bubbles, and, of course, a chocolate bunny! Bunny fun was always followed by Easter dinner with extended family.
The Easter Tablescapes
Our girls are grown and now know that when I need a nap, I REALLY DO NEED A NAP! No faking anymore!
The joy of Easter is also in the tradition of gathering for Easter dinner.
So, a special Easter table is in order!
But here is the first dilemma…as much as I love our dining room, it is impossible to comfortably seat 12 people in the room.
No problem! We will just use two rooms!
The dining room sits adjacent to the kitchen (Thank you kitchen reno!) and we can easily seat 9 in the dining room and 5 in the kitchen.
My second dilemma? I don't have 12 of everything I want to use. (silverware, napkins, etc.)
Here is how I solved the problem but kept the Easter tablescape theme cohesive!
Easter Tablescape #1
I usually start a table setting with the inspiration of the plate and a placemat. This year, I am keeping it simple with my mother's white china and a lovely blue chinoiserie print placemat.
The bonus of this placemat is that is non-slip and washable if something should spill on it. On top of that, it is not a specifically holiday-themed placemat and I can use it any time of the year. Can we say "new favorite!" Absolutely!
You can see this Chinoiserie Placemat HERE.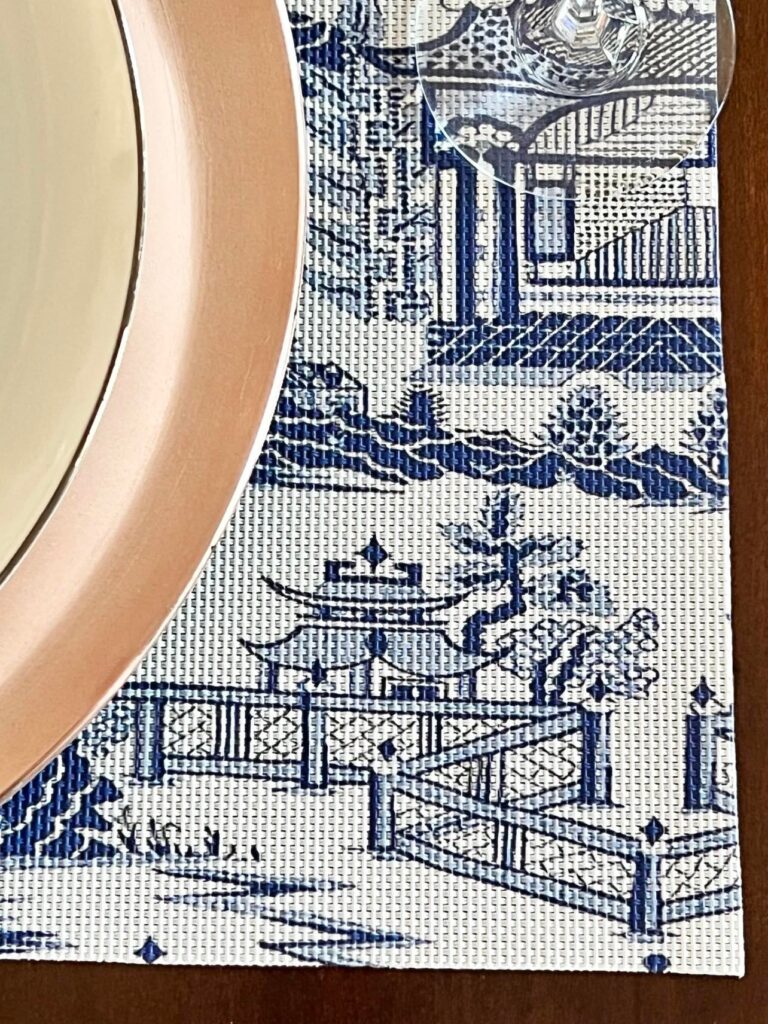 A little layering with a rose gold charger plate and some cloth napkins in a geometric pattern.
I'm mixing metals by adding gold silverware to the rose gold chargers. Metallic rebellion!
Not so dramatic…I just love the combination of the metals!
You can see these metallic Rose Gold Charger Plates HERE.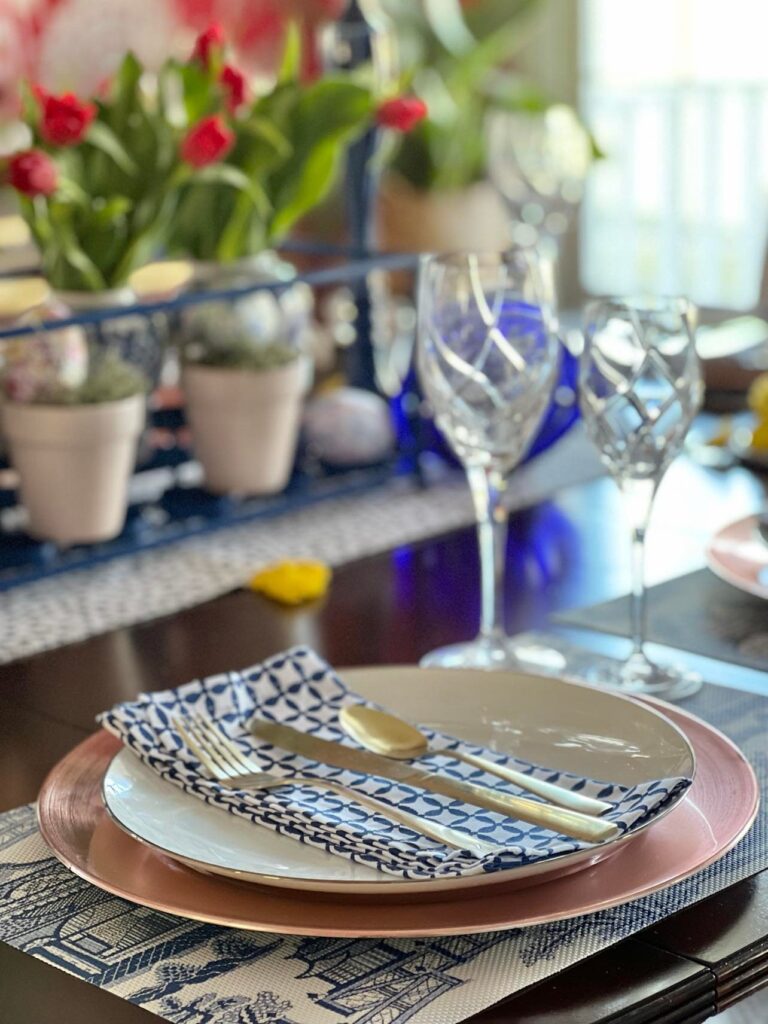 The centerpiece has experienced a couple of transformations. Originally a black votive candle holder that I bought at a thrift store, it got its first makeover with some green paint, Spanish moss, and paper-covered eggs. This was a beautiful arrangement that graced our kitchen countertop for several weeks.
See How I Thrifted a Charming Easter Table Centerpiece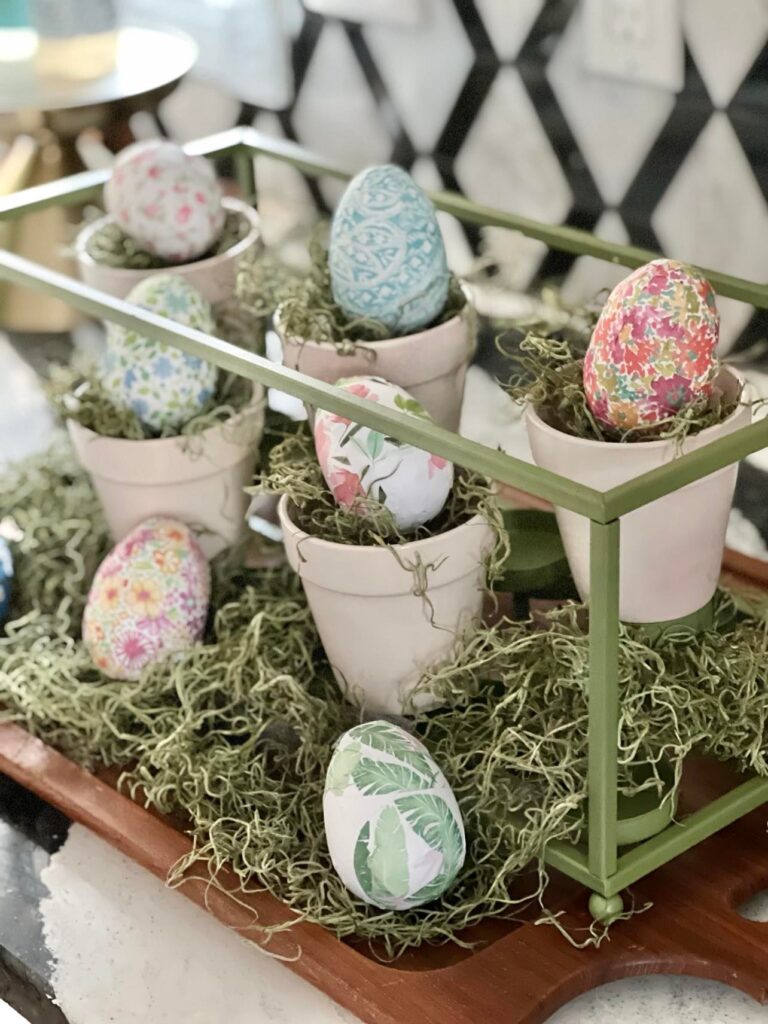 Then, I changed my mind!
It happens. A lot!
With the inspiration of my new favorite blue and white chinoiserie placemats, I gave the candleholder another spray paint makeover…this time in blue!
I kept the pink pots, Spanish moss, and paper-covered eggs. But I swapped out a few of the pots for some chinoiserie ginger jars (minus the lids) filled with fresh Trader Joe's tulips.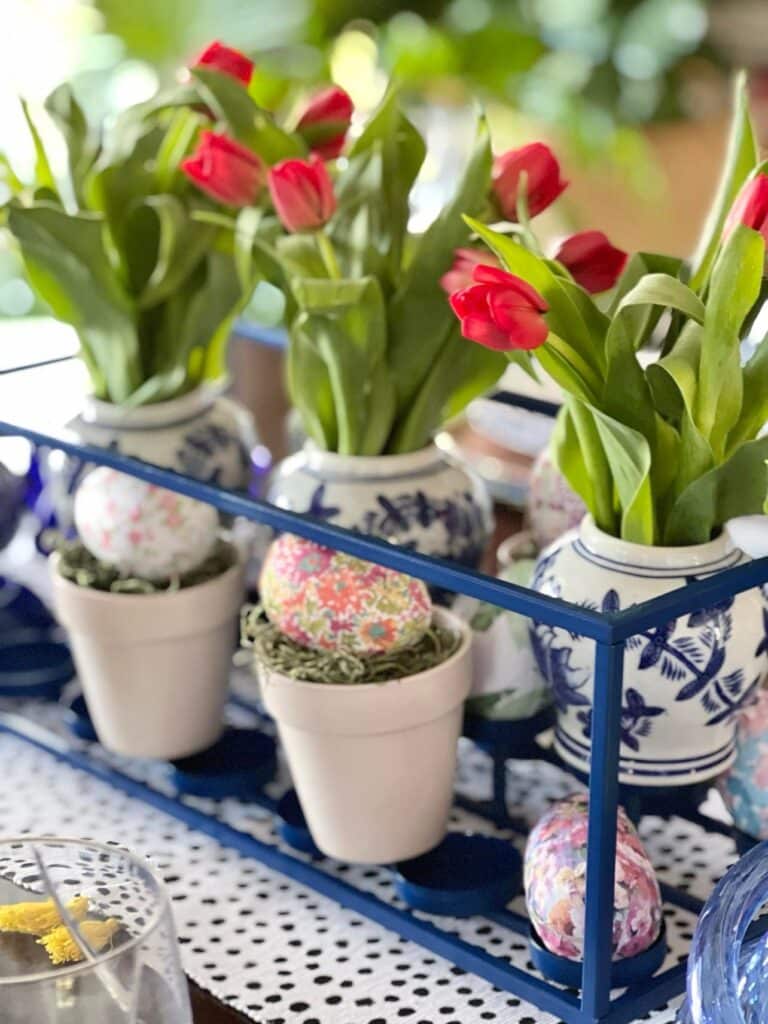 Lovely!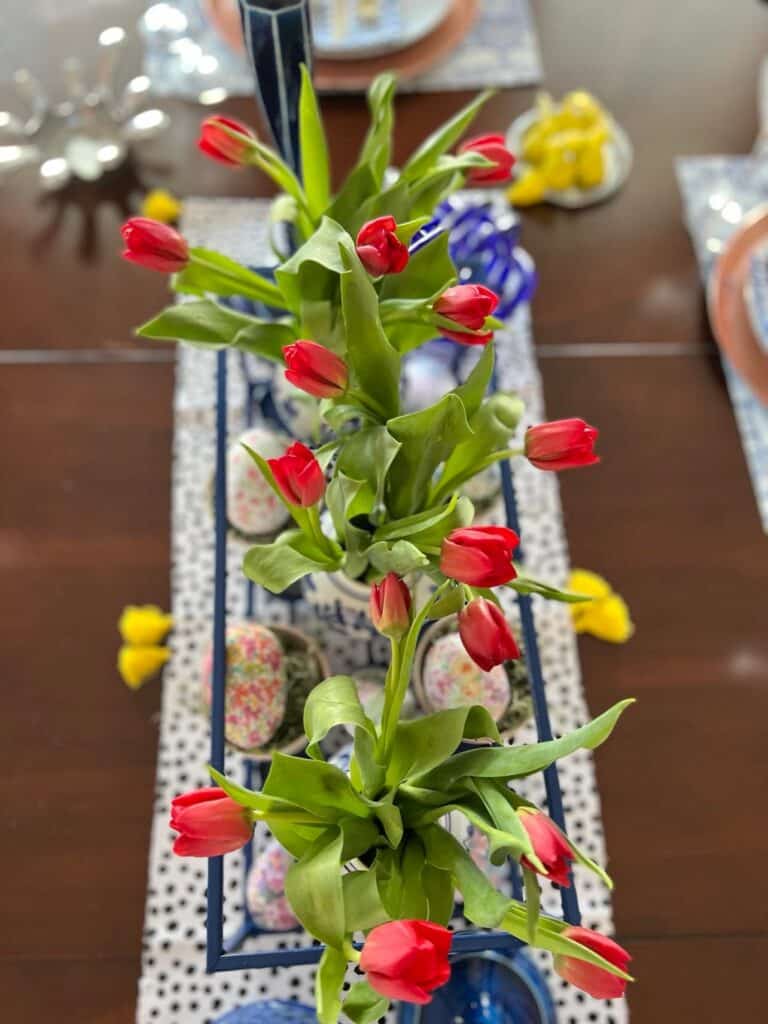 Easter Tablescape #2
Our second Easter table is actually our kitchen island. Perhaps a little more casual than the dining room but still a lovely place to eat and enjoy each other's company.
Same placemats and plates but this time with some patterned paper napkins.
However, I don't have enough rose gold chargers or gold silverware for this room. So, instead of mixed metals, this setting gets a punch of color through some cobalt blue water goblets. (Another fantastic thrift store find!)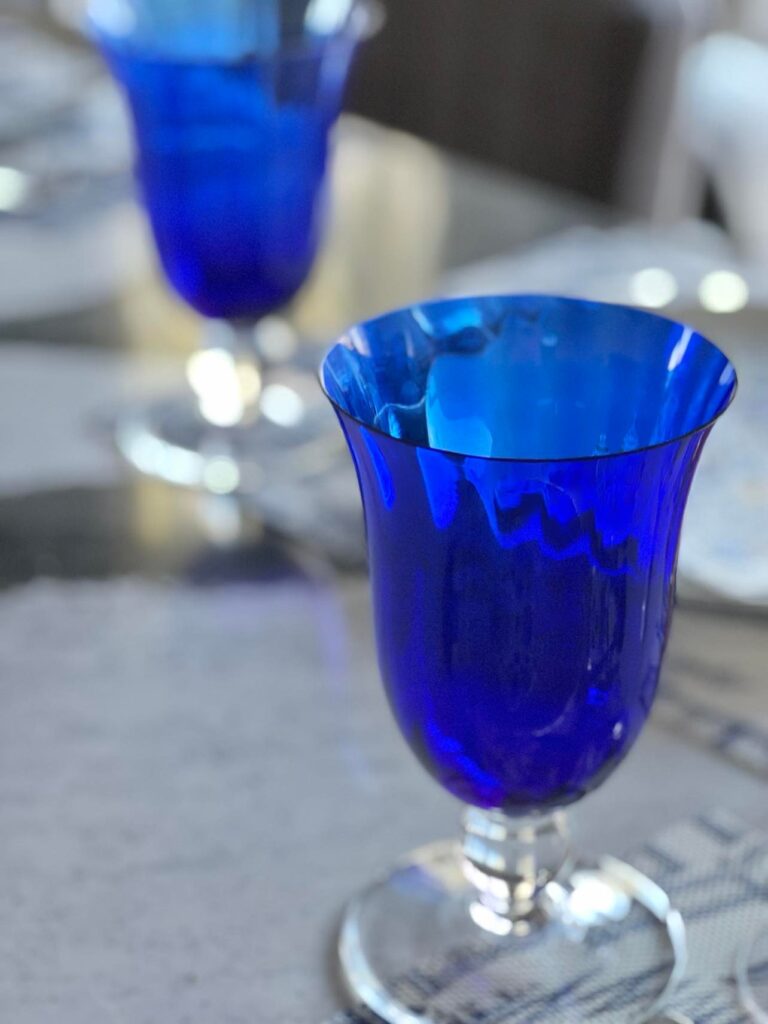 A dough bowl display from the Living Room gets a new home on Table #2!
Bunny Central!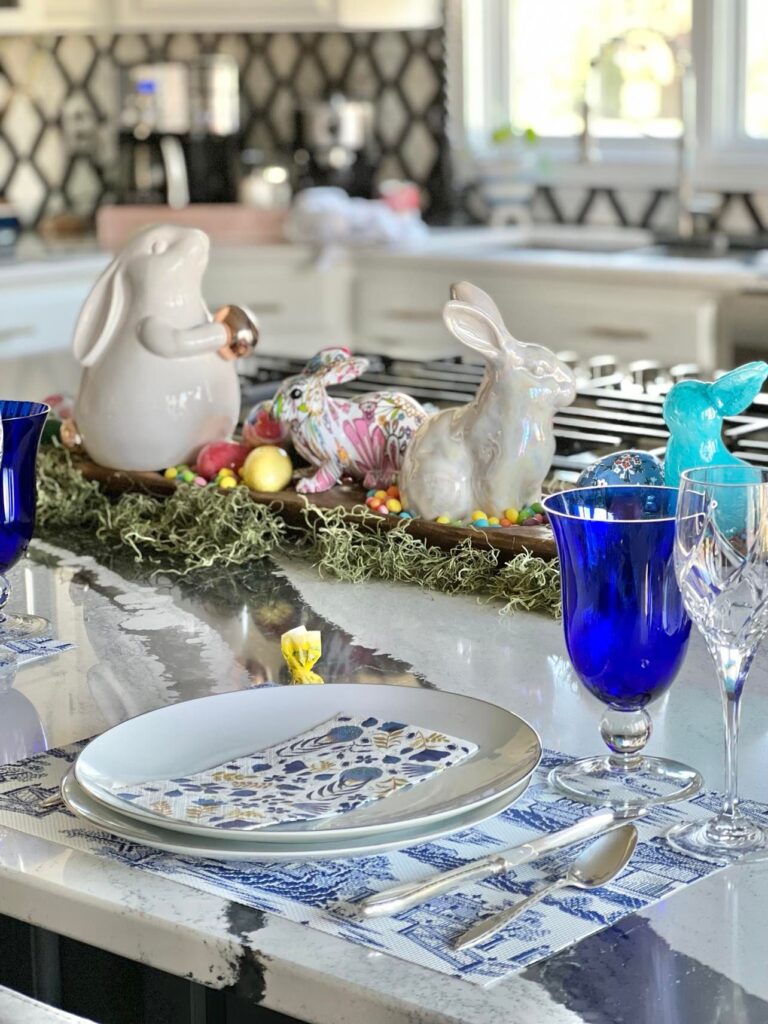 Both tables will get a little surprise for the end of Easter dinner with some yummy limoncello chocolates.
Every Easter tablescape needs a little chocolate!
But, did I buy these for the chocolates? Or for the fun Easter yellow wrapping?
Honestly…for both reasons!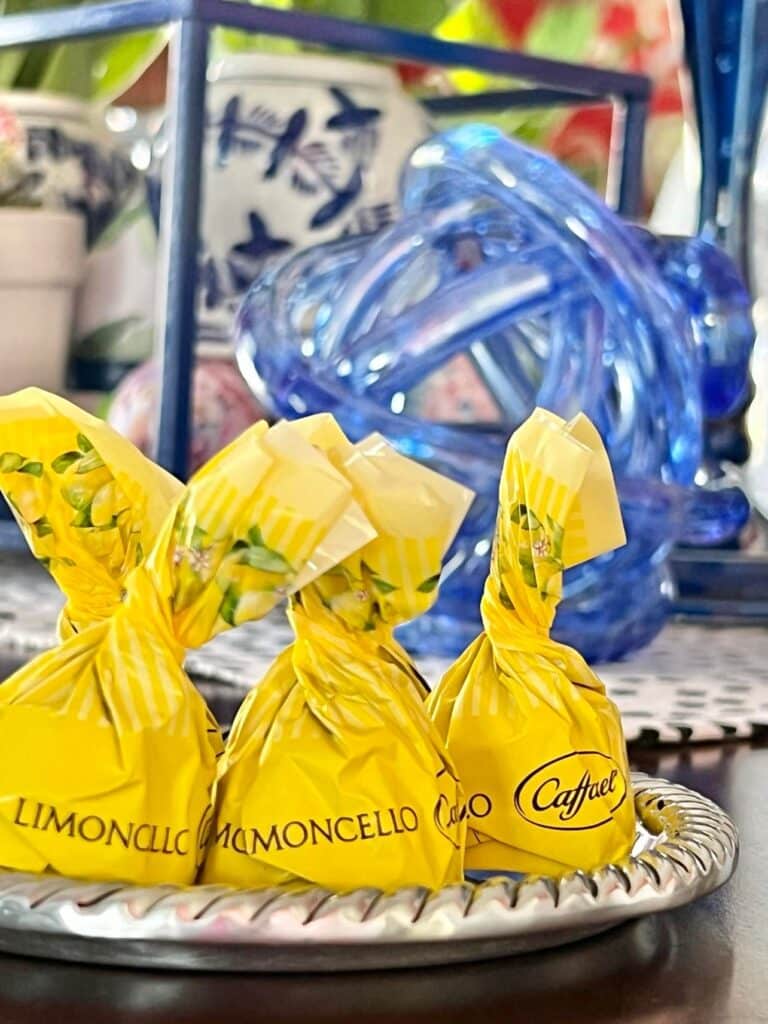 Use your Easter tablescape as an opportunity to show off a little bit of your personality. Whether it's through bold statement centerpieces or coordinating plates and tablecloths, adding a splash of color and whimsy can really elevate the decor of your celebration.
Don't feel obligated to stick to pastel shades–have fun with it!
Your Easter table will be one that makes people say, "Now that's an interesting take on the classic Easter tablescape!"
So get creative, add in some personal touches, and don't forget — even the bunny needs variety sometimes. Add color and whimsy to your Easter tablescape, you won't regret it!

Don't Forget to Pin It!

Pin the image below to your boards on Pinterest (just click the Pin button in the top left corner). You can also follow along with me on Pinterest!
What's in My Easter Basket