Like Mother, Like Daughter Decorating
In honor of Mother's Day, I am dedicating each Sunday in May to a different mom who has intrigued, influenced, and inspired me with her design style, career choice, decorating aesthetic and/or all of the above! Click here to read about last week's featured mom.
Happy Mother's Day!
Of course, since it is Mother's Day, who else would I write about but…my MOTHER!
This woman who raised me, guided me, and supported me will always be such an inspiration and anchor for me.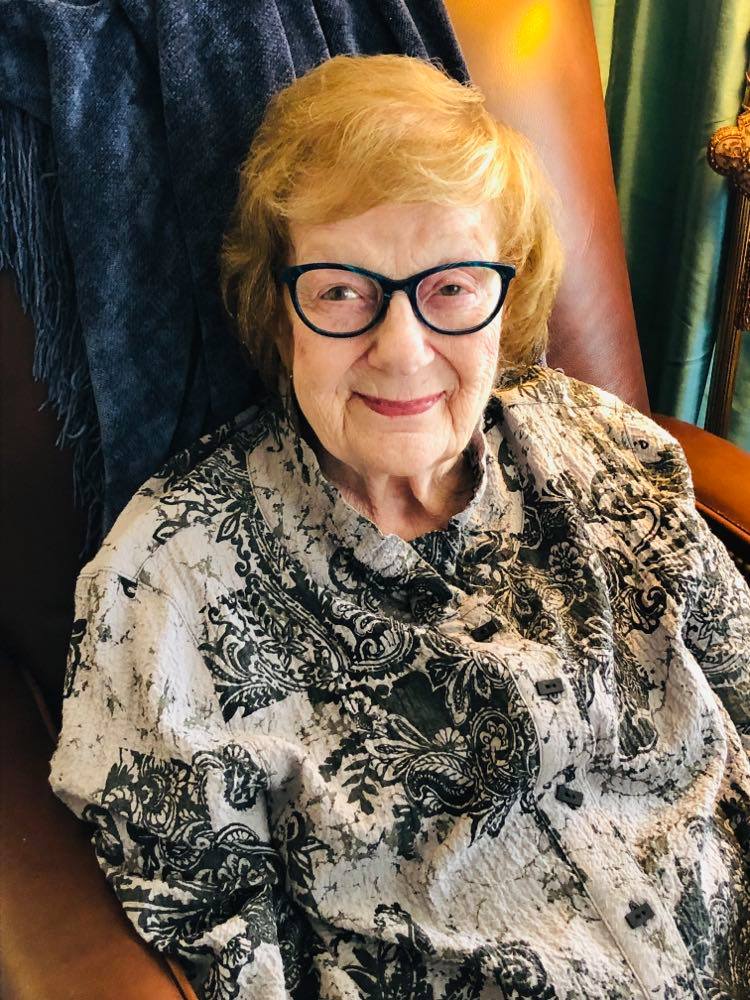 Adjectives to describe my mother: intelligent, stylish, caring, eccentric (in the best way!), funny and kind. She is one of the BEST cooks in the world, is an expert at quirky trivia, and has a ROCKIN' wardrobe and jefwelry collection. She is Iris Apfel of the Midwest. And, she always, ALWAYS, has a beautiful home.
She is my first and strongest decorating influence.
But wait…HOLD THE PHONE!
My mother does not like decorating.
(Pause for dramatic effect.)
My mother does NOT like decorating!
How can this be true? Her home is beautiful. Down to the last detail. We have designed together, decorated together, and shopped together. I thought this would be easy when I gave her some questions to answer about her decorating style, influences, favorites, etc.
Her response: "I don't like decorating."
I am still shaking my head. From the architecture to the design to the chotchkes on the piano, my mother's style is undeniable. I always thought she loved it.
Her correction: "I don't love decorating but I love shopping for my home."
Well, I'm starting to breathe a little easier as my DNA finds its origins again!
My mother's instructions: "Just write about me as you see it."
With great power comes great responsibility…Here we go!
Mother's decorating style is a little hard to pinpoint. If I have to label it, I would say it is "Traditional Curated Eclectic."
When I think of her greatest decorating influence on me, it is probably her skill with accessorizing her home. She loves unique art and accessories that are traveled, curated and most of all, unique.
Artwork
Mother loves unique wall art that is COLORFUL. She also loves textures as evidenced by these metal tulips gathered in an asymmetrical wood basket.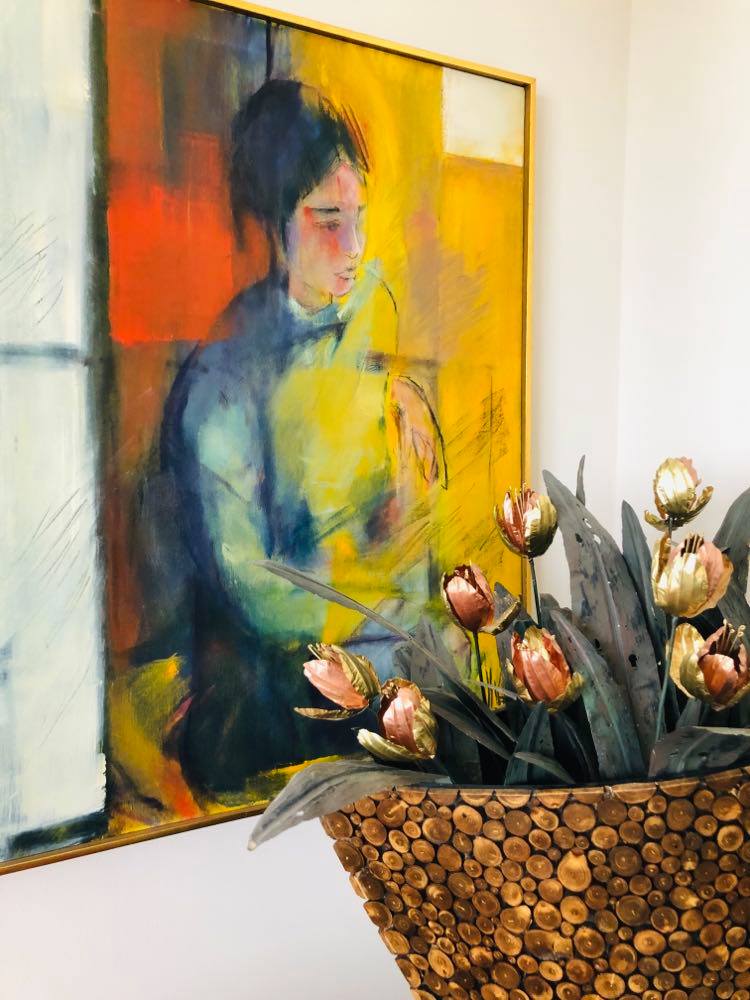 Color
Color and lots of it, please! This is actually a chair that I reupholstered for her in colorful, embroidered fabric that she chose. I have to admit, this is one my favorite upholstery projects!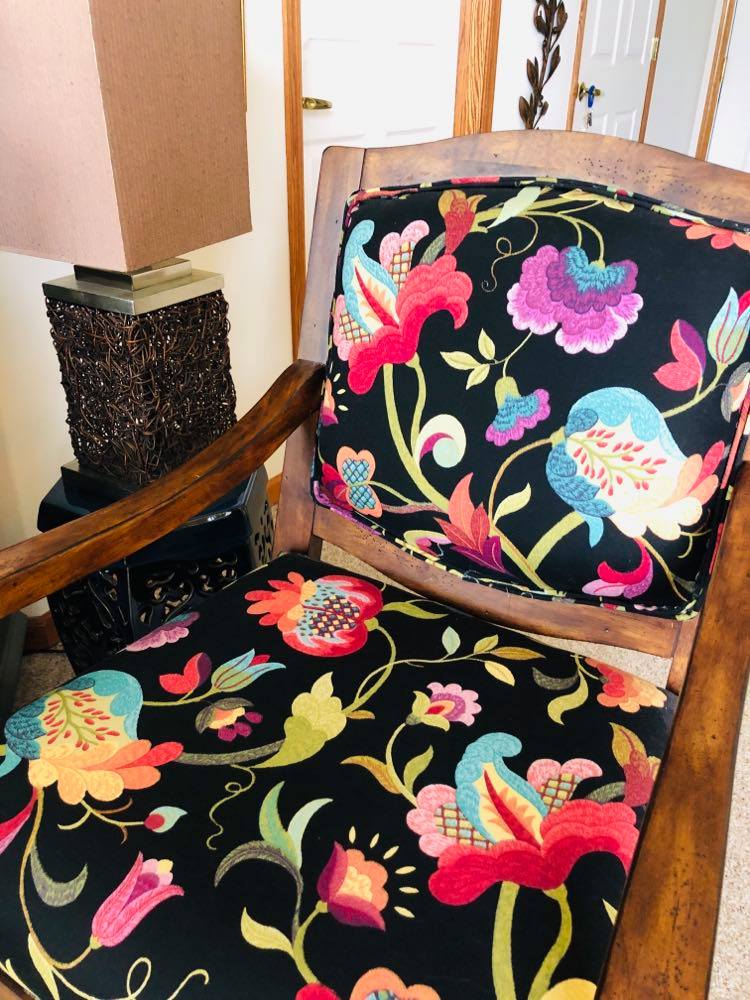 Collections
Oh how my mother loves a collection. So much so that it is a bit of a running joke in our family. Funny, because she doesn't collect things one at a time; she decides on what she wants and collects two, three, or four at a time. Instant collection!
Here is her collection of Sid Dickens Memory Blocks. If you look in my house and my sister's house, you will find similar collections. We all love Sid Dickens and enjoy each other's collections as much as our own.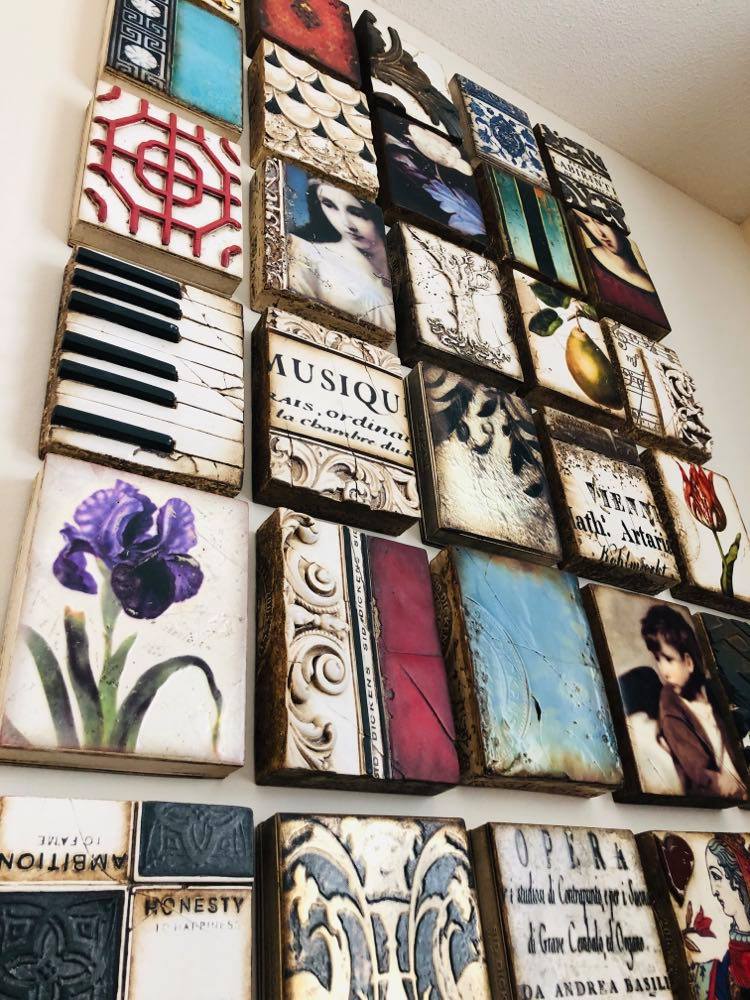 Perhaps I got my love of blue from her. This blue and cream Sid Dickens memory block is one of her favorites. One of mine too!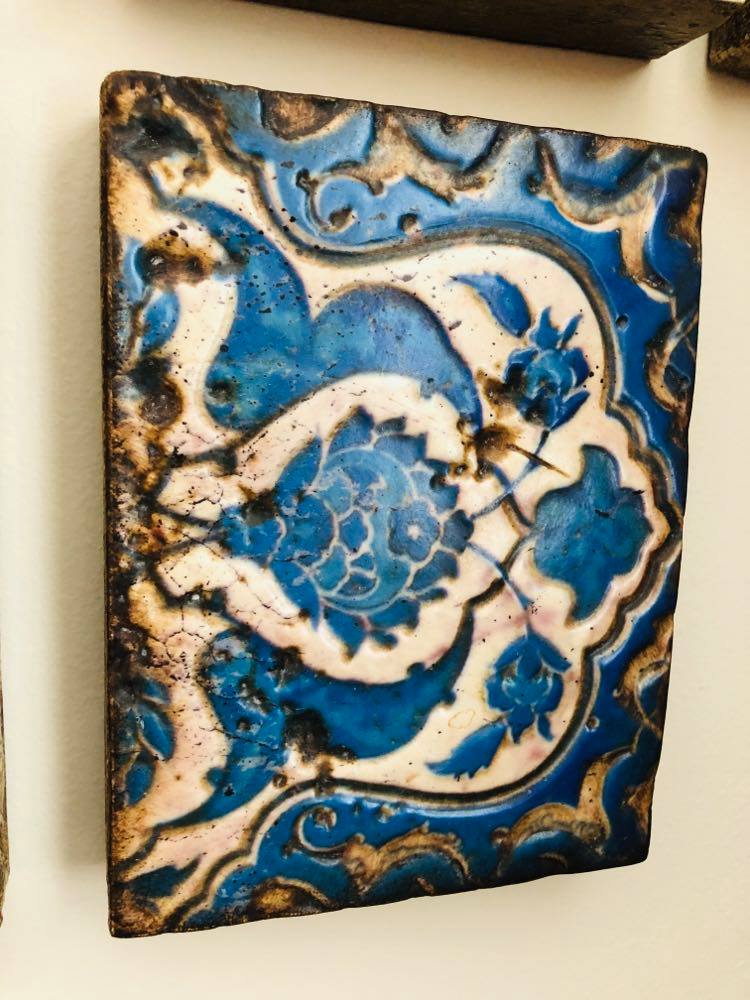 Connection to Family
Mother got her love of reading from her father and always has stacks of interesting, quirky book titles. Here she displays her father's camera and a framed silhouette of herself as a child.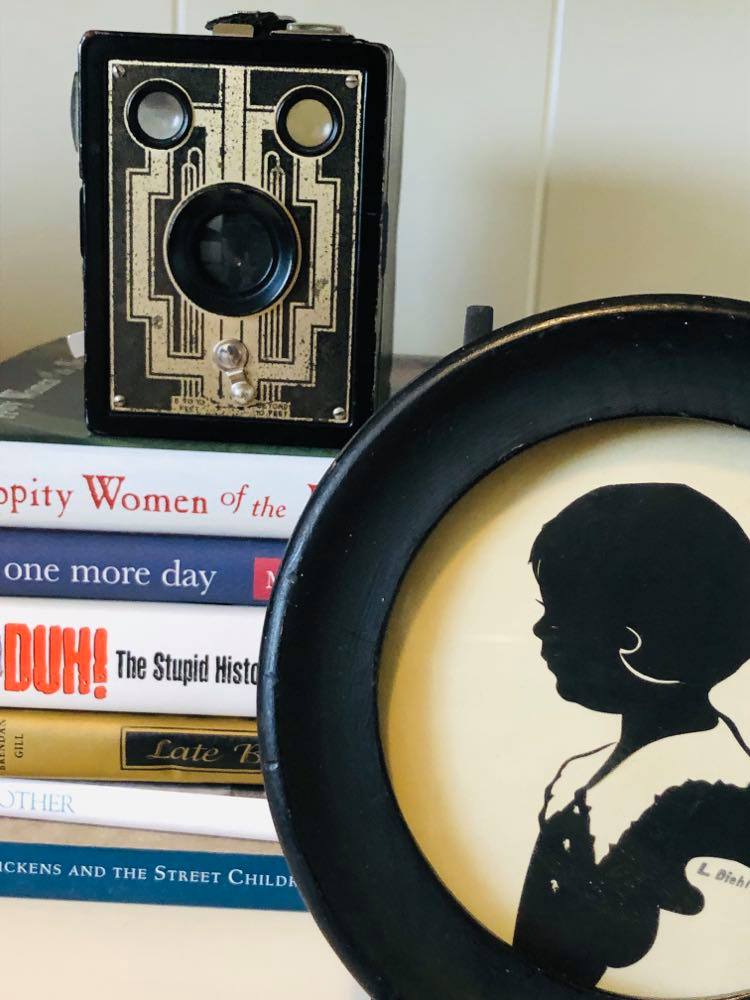 Who could not love a basket of baby shoes! Those are my baby shoes on top combined with those of my siblings. Another decorating tradition that I have used as well with my own children's baby shoes.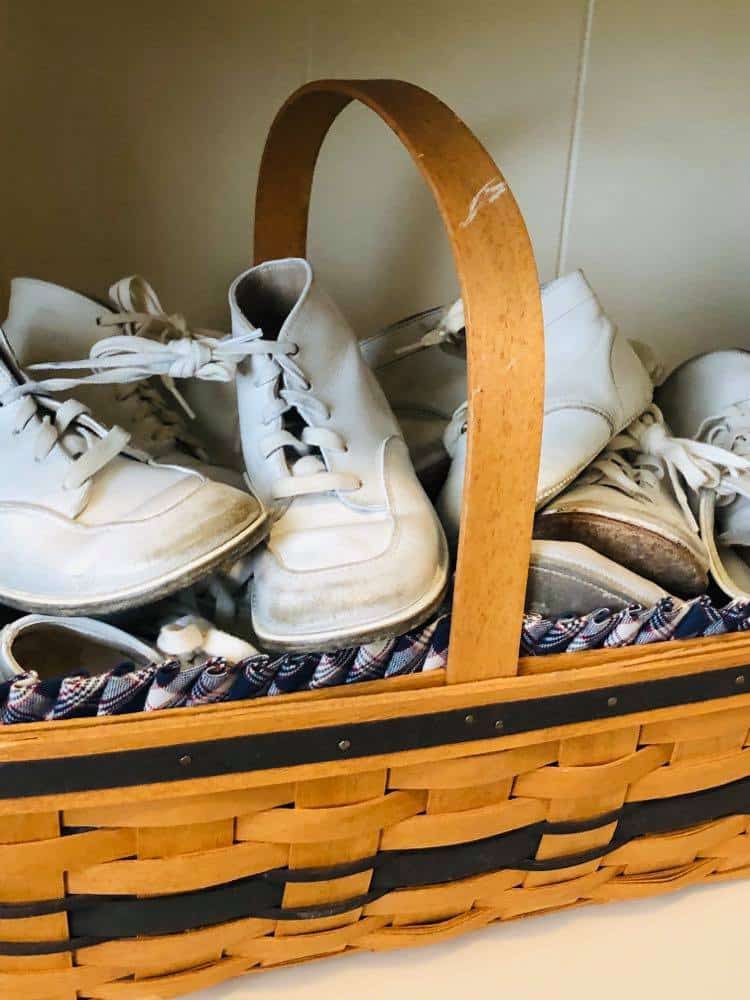 Accessories with meaning are all the more fabulous. This beautifully painted box is actually a purse that my grandmother carried for years. In front is the husband/wife carving that Mother bought early in my parent's marriage. She said it was the first "real" home decoration that she bought after she married my father.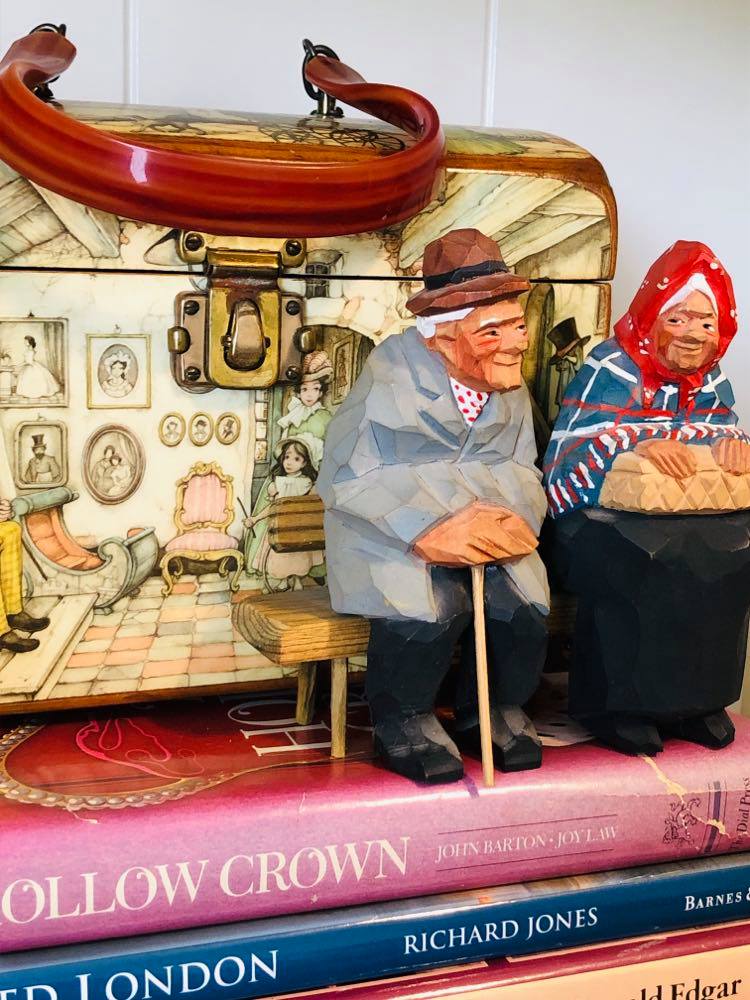 If you look around our home, it becomes pretty obvious that my mother has been a big influence on how I accessorize. Often, when I am accessorizing a shelf or a table, I think of my mother and how she might do it.
So, I guess if we don't share a love of decorating (still in shock!), we do share a love of shopping and accessories. More importantly, we share a love of family and of each other.
I love you, Mother!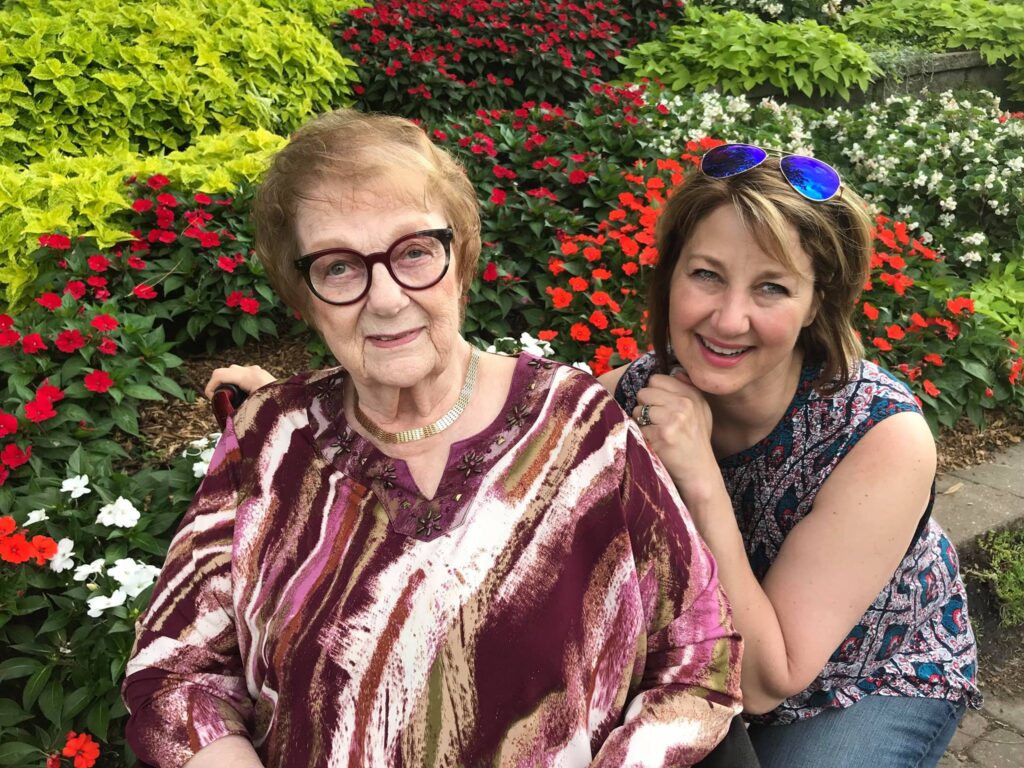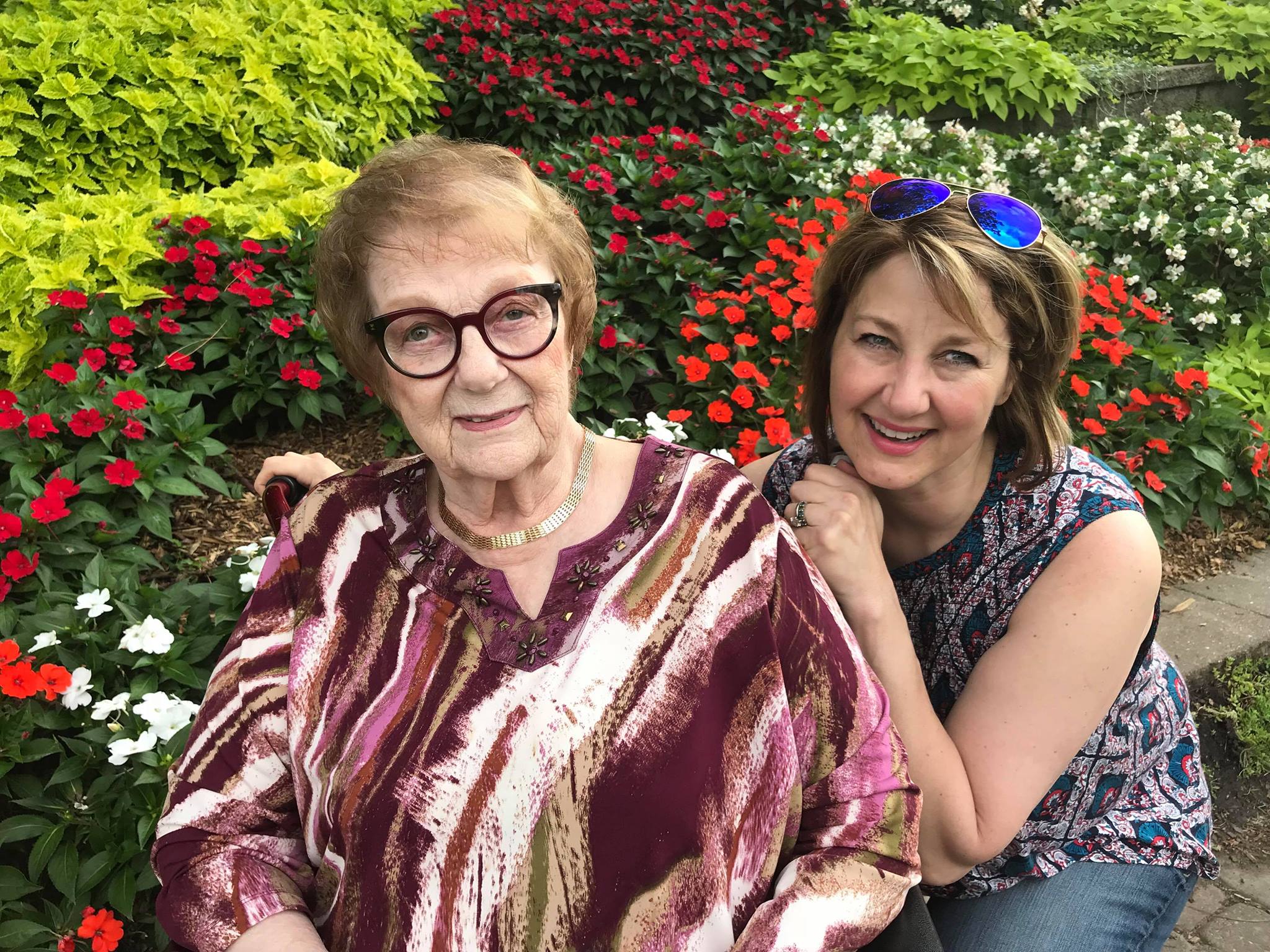 Happy Mother's Day to ALL MOTHERS! I wish you a beautiful Mother's Day where you are loved, honored, and celebrated! Here's to all of the important women in our lives who have helped us become who we are!
Happy Mother's Day!