What is an Occupied Staging? (or how to sing all the way to the bank!)
Pay Attention Homeowners and Realtors! Find the Freebie!
Spring is in the air and the real estate market is HOT!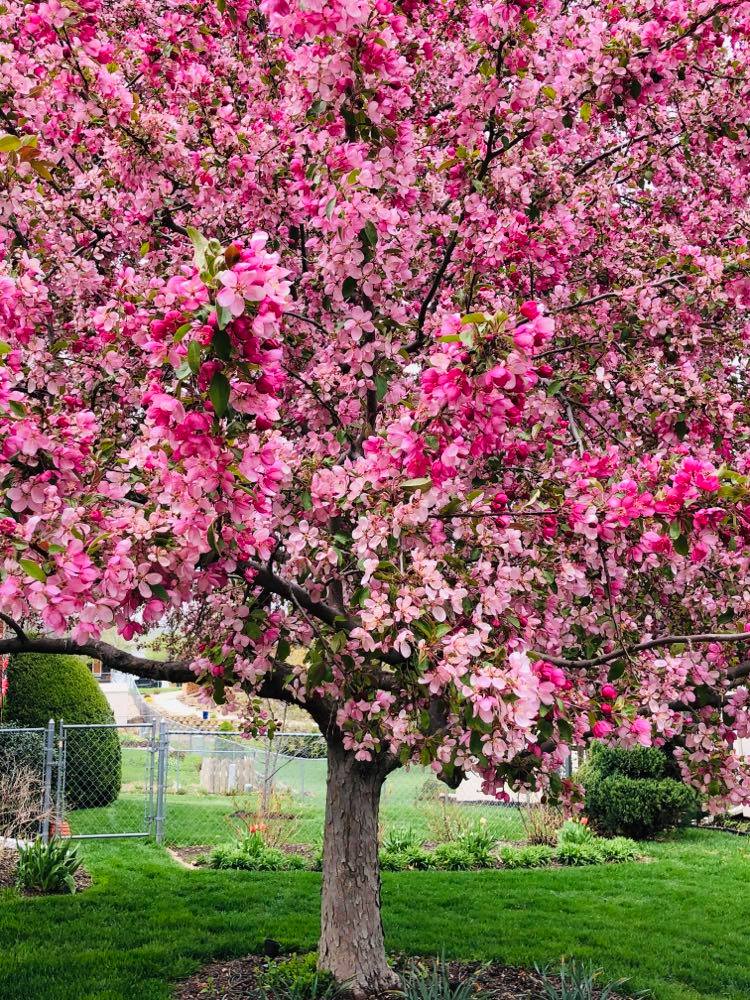 You want to sell your home.
You want LOTS of offers.
Yes, you want multiple HIGH offers.
You want buyers to sing "AHHHHHH!" as they tour your home, obsess over your kitchen, and jump into a bidding war with other buyers.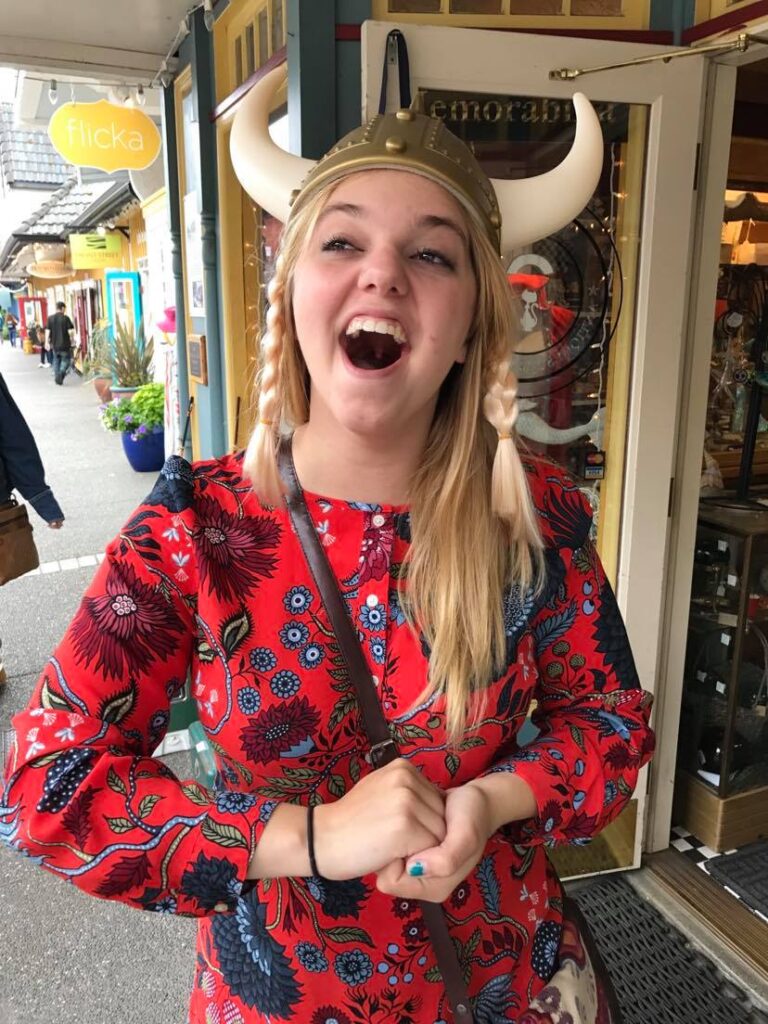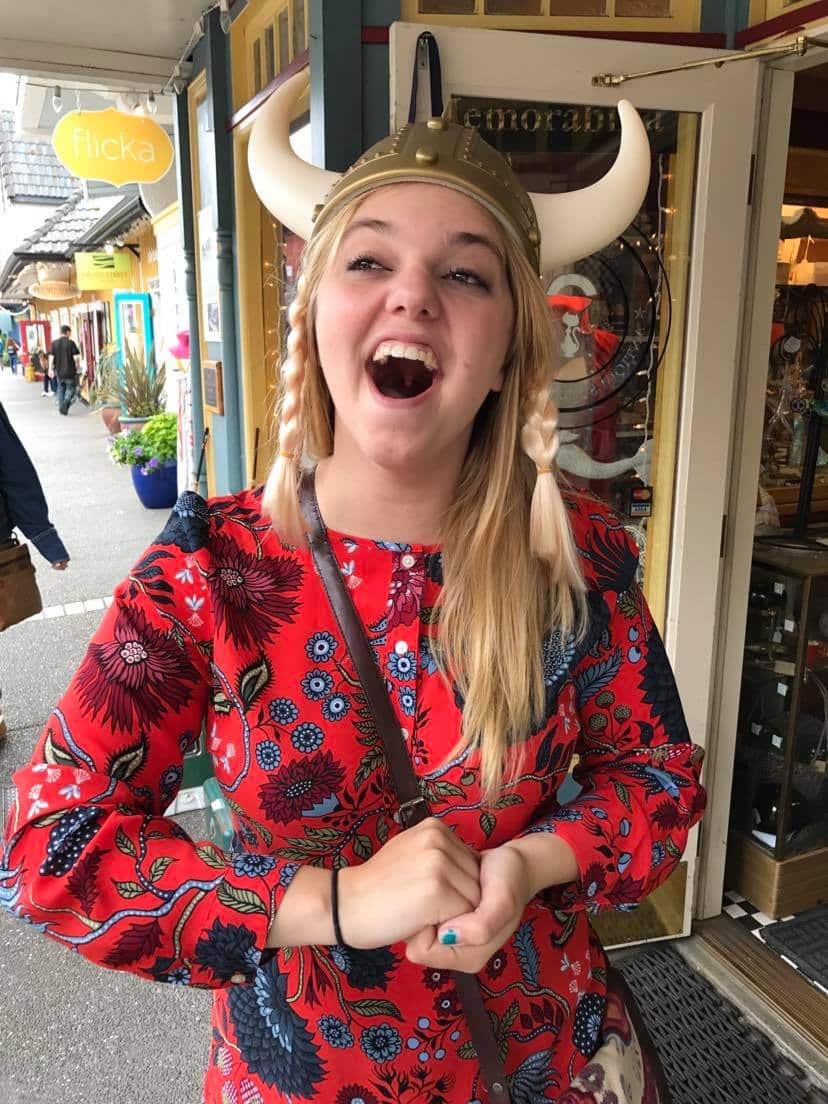 But you live in the house.
You have lived a life in your house.
You have a houseful of deeply personal decorating and organizational choices and memories.
Depending on these choices, you might live in HGTV camera ready bliss.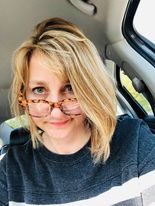 Or, maybe it is more of a comfortable state of family chaos with backpacks, dog dishes, and a wall of photos in the stairwell. Complete scuffs on the baseboards, the jiggly door handle on the basement door, and the light fixture you've been meaning to replace.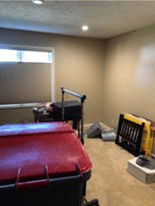 Not exactly HGTV.
Vacant staging is one thing. The house is either brand new or the inhabitants have moved out leaving a blank canvas. Pristine furniture, wall art, and accessories are creatively arranged to give buyers a view of what their new dream home could look like. Lights! Camera! Action!
To Stage or Not to Stage?
Occupied staging is the process of using what you have to create the same "camera-ready" dream home that every buyer wants. Sadly, it is often overlooked yet is a necessary process.
Trust me. It's necessary.
Homebuyers often make the mistake of thinking that if they make their bed, stack the magazines, and tuck photos away, they are ready to open their house up for tours.
Again, let's face it. The market is HOT! Like, sizzling HOT! Homes go on the market and are sold within days. Sometimes hours. There is not enough inventory and buyers are lining up for homes.
You could ride the tide. But you want multiple offers. And you want HIGH multiple offers. Every 1K up to and over your listing price makes your bank account sing. Cue the orchestra!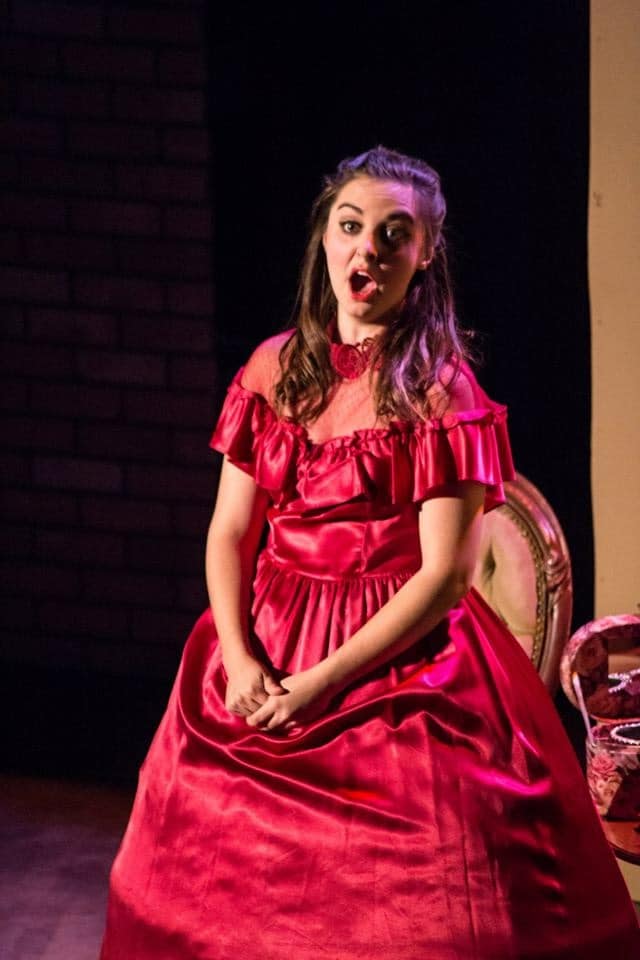 So, how can a homeowner make their home stand out in the pack? How does a homeowner bring in a higher ROI (return on investment) on their home?
Staging a home for sale is an INVESTMENT in the home. Yes, we get there through the creative process of decorating and design. But, make no mistake. This is designing for a return on your dollar. Your staging choices need to be smart and unemotional on the part of the homeowner so potential homebuyers become emotionally attached as they view the home.
My Perfect Staging Job
Deb and Paul (both singers!) were selling their beloved home. They moved into the home when their younger boys were teenagers, created magnificent memories and created a home that was welcome to family and friends.
They had already started to downsize and pack things up but wanted some help in staging their home in order to receive top dollar offers. When I received their call, I was thrilled to help them out!
The outside of their home was already a shining example of "We love our home and take care of it! Welcome and imagine yourself living here!"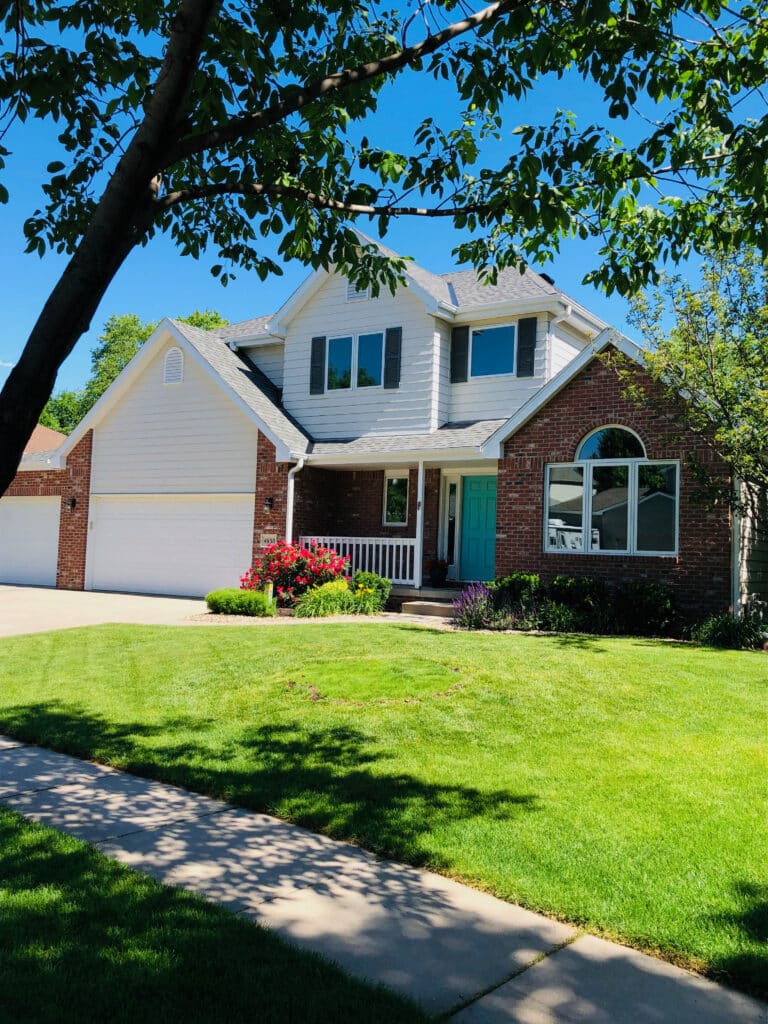 Great care was given to the front door. The front door is such a fresh, welcoming color. I suggested some fresh flowers to cheerfully greet all who enter. Red geraniums are just the ticket!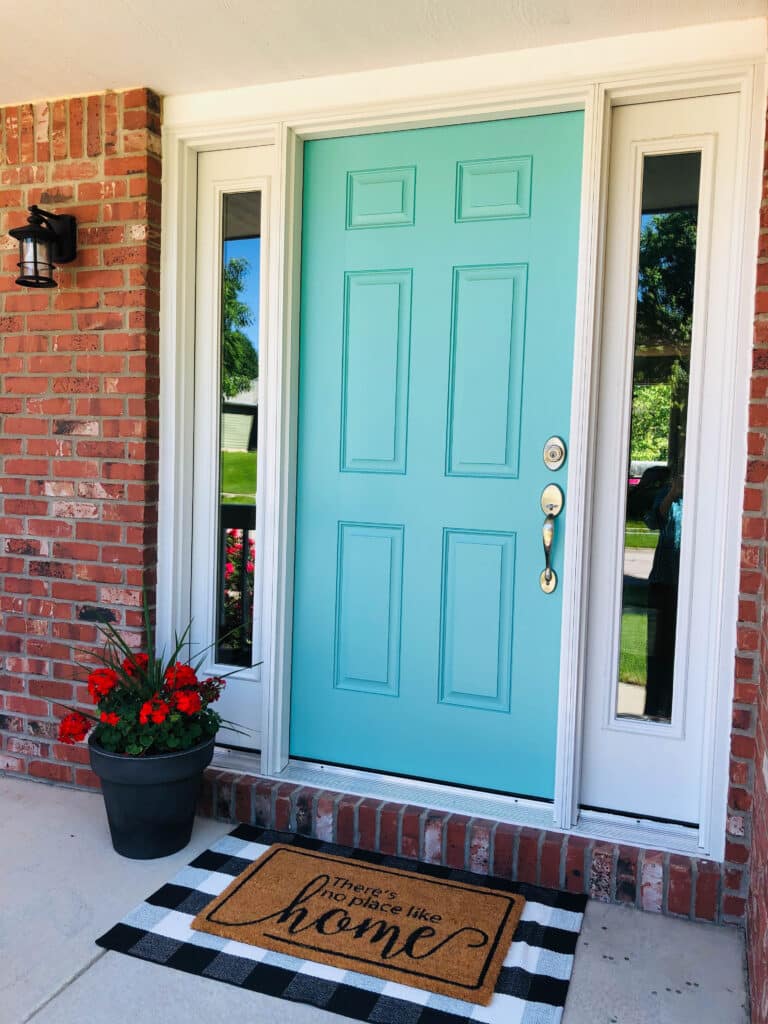 The interior of the home was in great shape. Paul and Deb had already taken care of minor repairs, freshened the paint in first floor rooms and had the carpet cleaned by a professional. They had given away some furniture and were willing to rent some furniture and accessories to create a look that would appeal to a broad audience.
The wood floors in the kitchen eating area are beautiful! However, they don't stand out because the table and chairs are the same wood tone.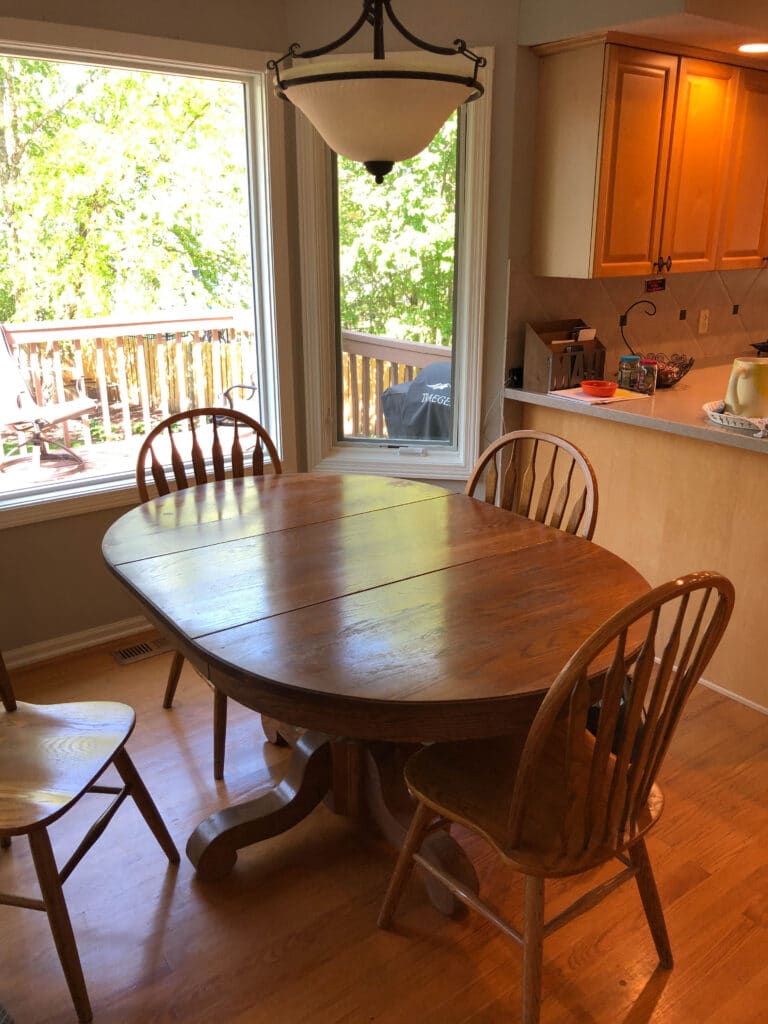 Paul and Deb purchased a new table and four chairs that they planned to take with them to their new home. I recommended a rug for under the table and a few accessories to warm up the space. Nothing says cheerful and fresh like a glass bowl of lemons!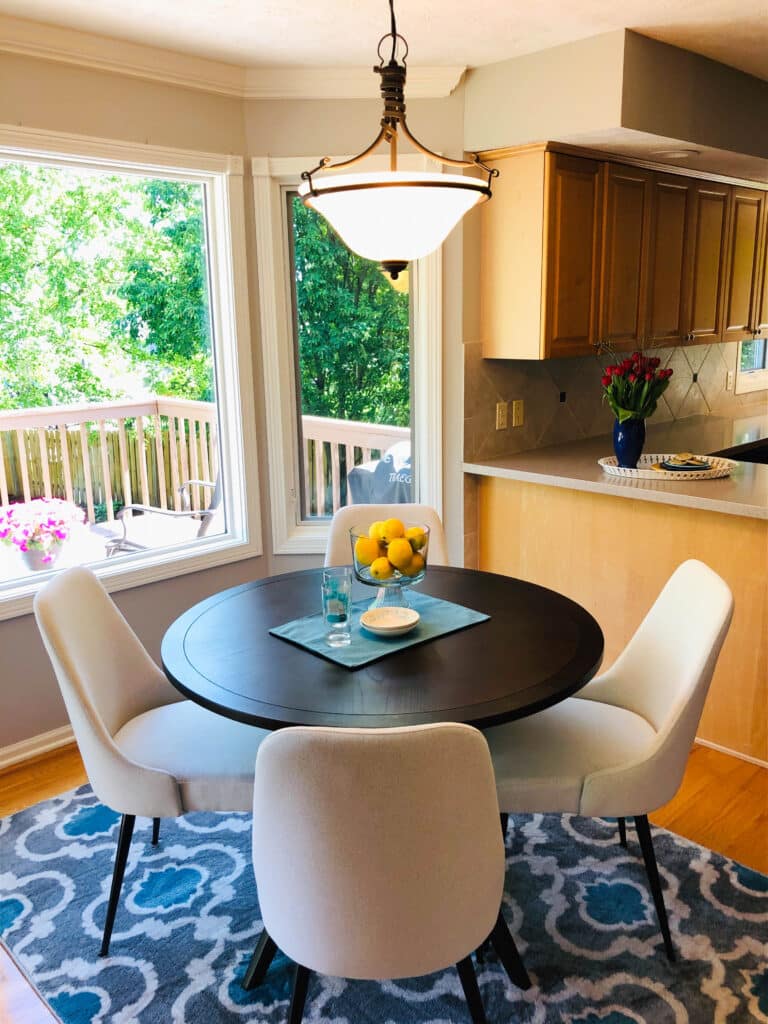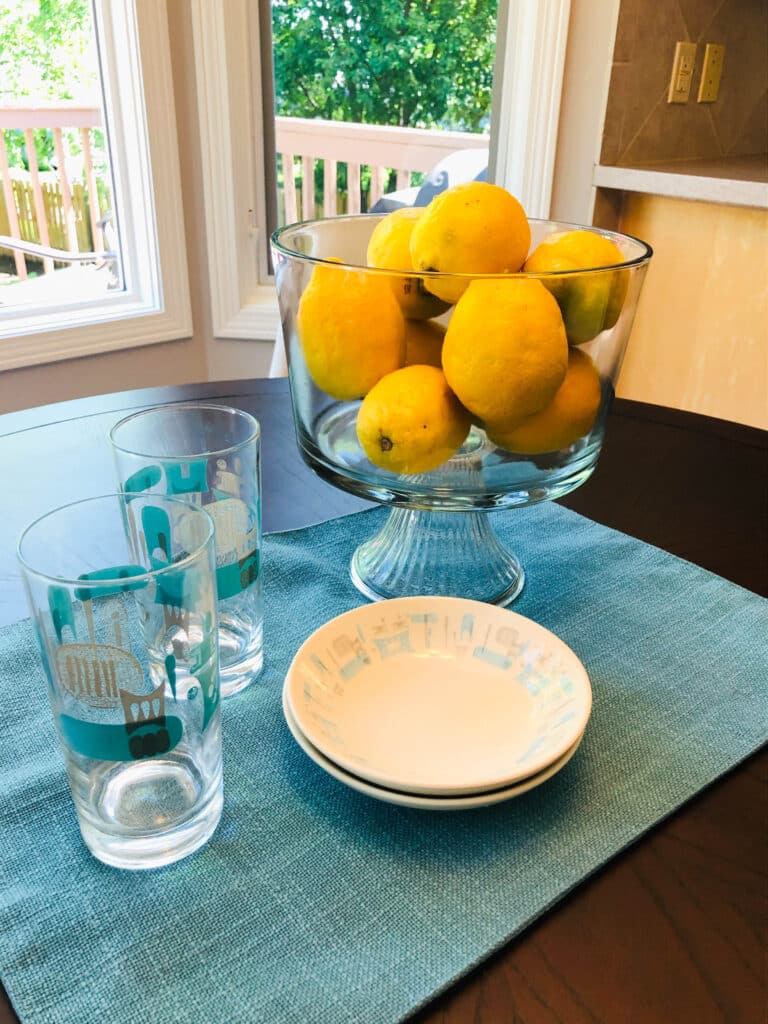 The family room is a spacious room that is great for lounging and watching television. However, the sofa was a deep red that darkened the room and made it feel smaller. The television was located in a media cabinet that was located opposite the sofa. While great for tv viewing, the furniture arrangement did not focus on the "money elements" of the room….that gorgeous fireplace and side bookcases.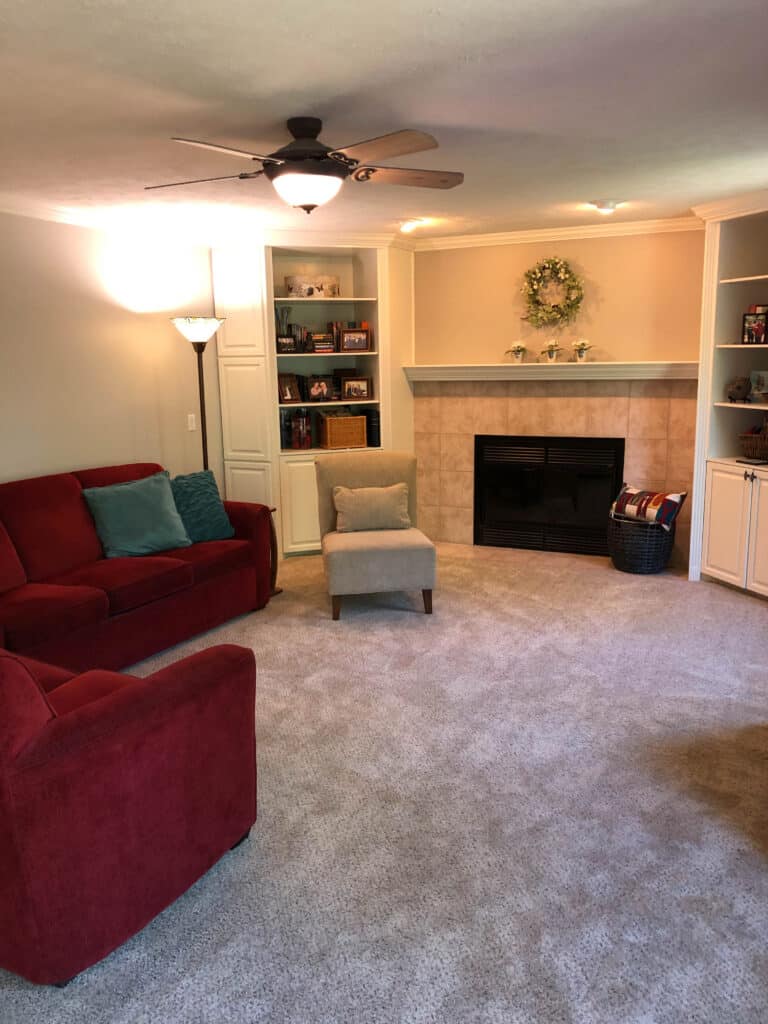 Here are changes I suggested. Paul and Deb sold the sofa and rented a gray sofa, patterned chair, side tables and lamps that opened up and brightened the area. I recommended that they mount the tv above the fireplace and edit bookcase accessories. Even I wanted to curl up by the fireplace and read a book!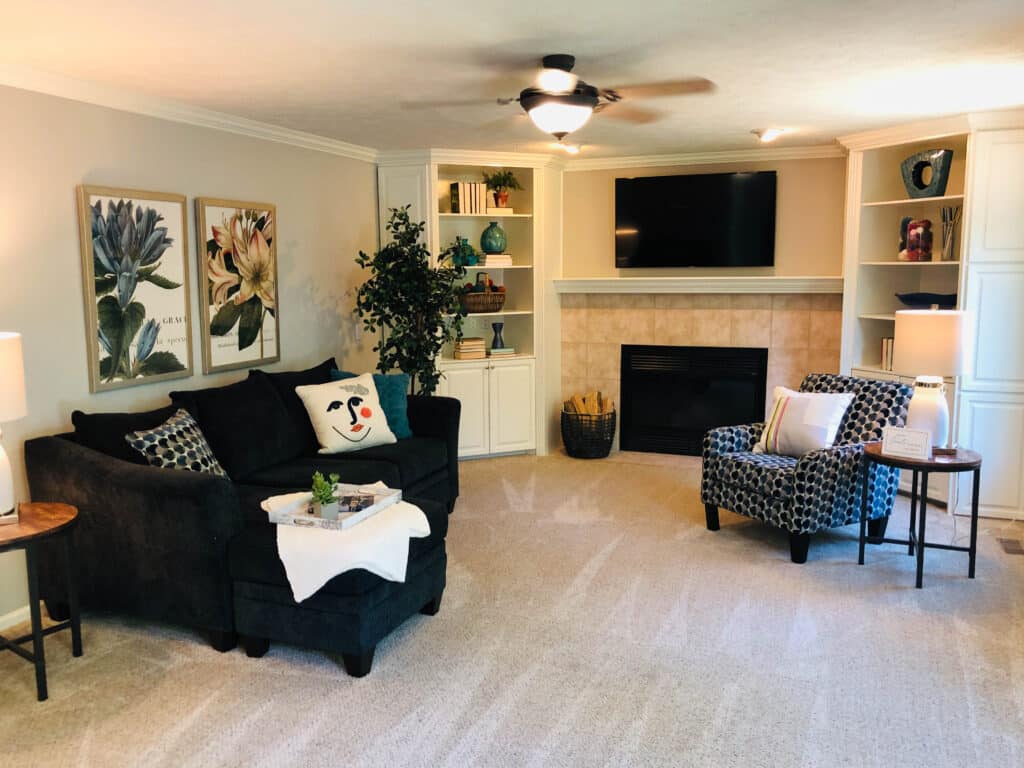 Paul and Deb were such troopers! I would make a suggestion and it would be done the next day! I brought in some wall art, pillows, faux plants, a tray and other accessories and spent some time arranging their corner bookcases. These were simple changes that gave the room a lighter, brighter look that photographed beautifully for their online listing. Remember…those online photos are SO important!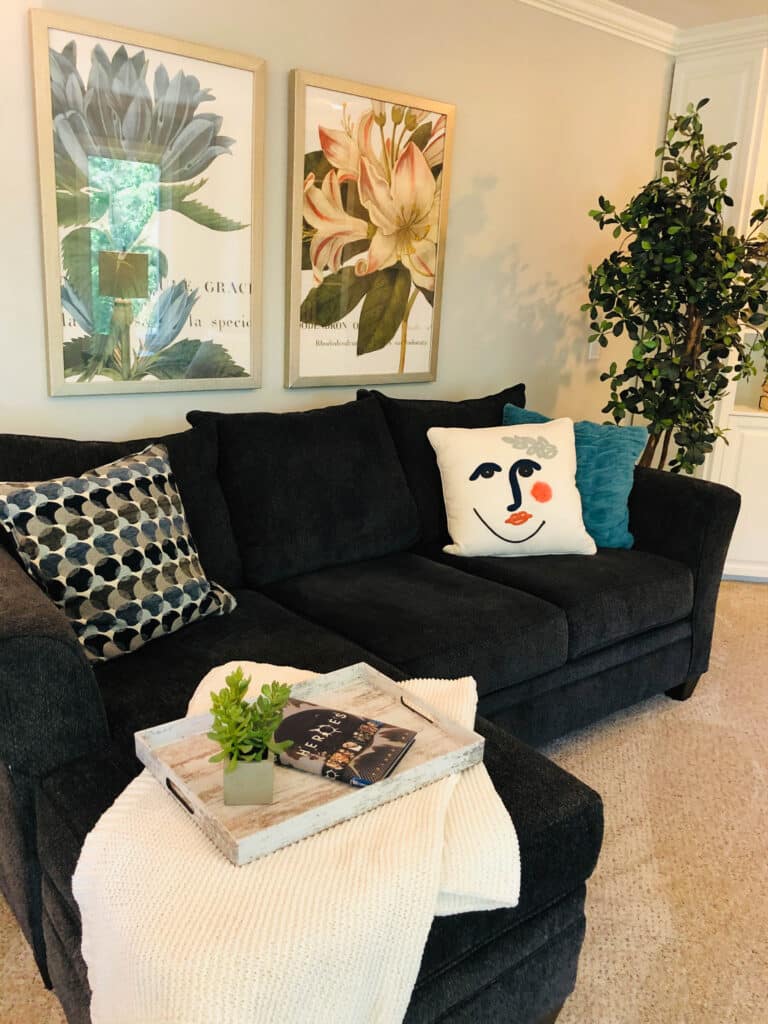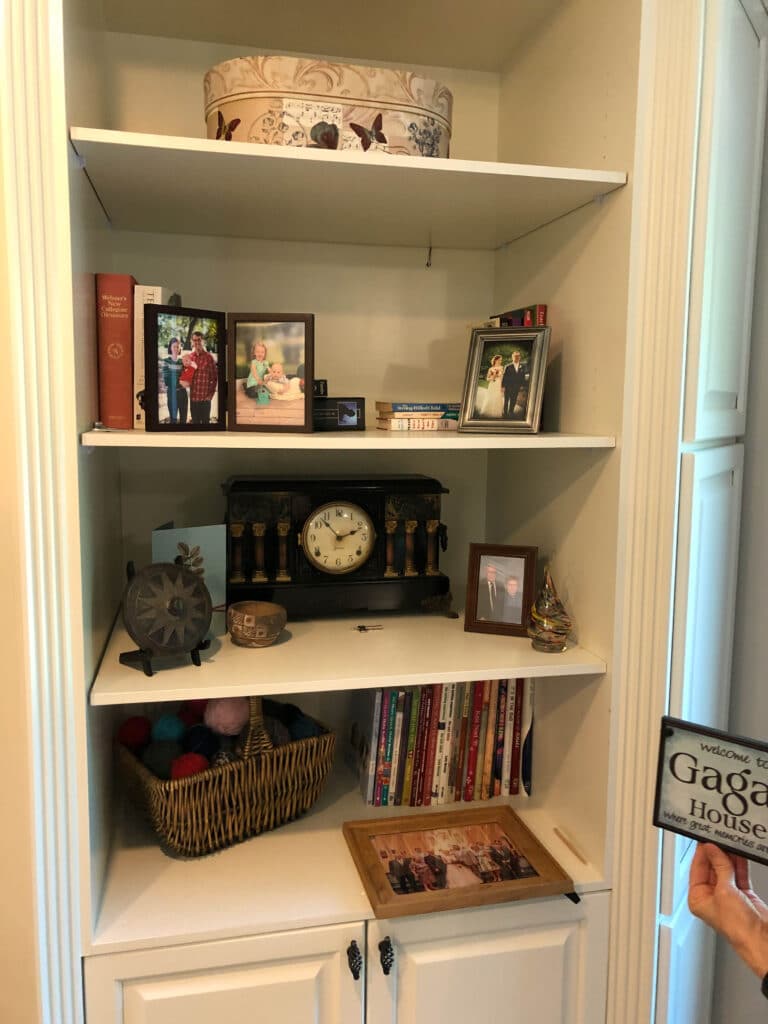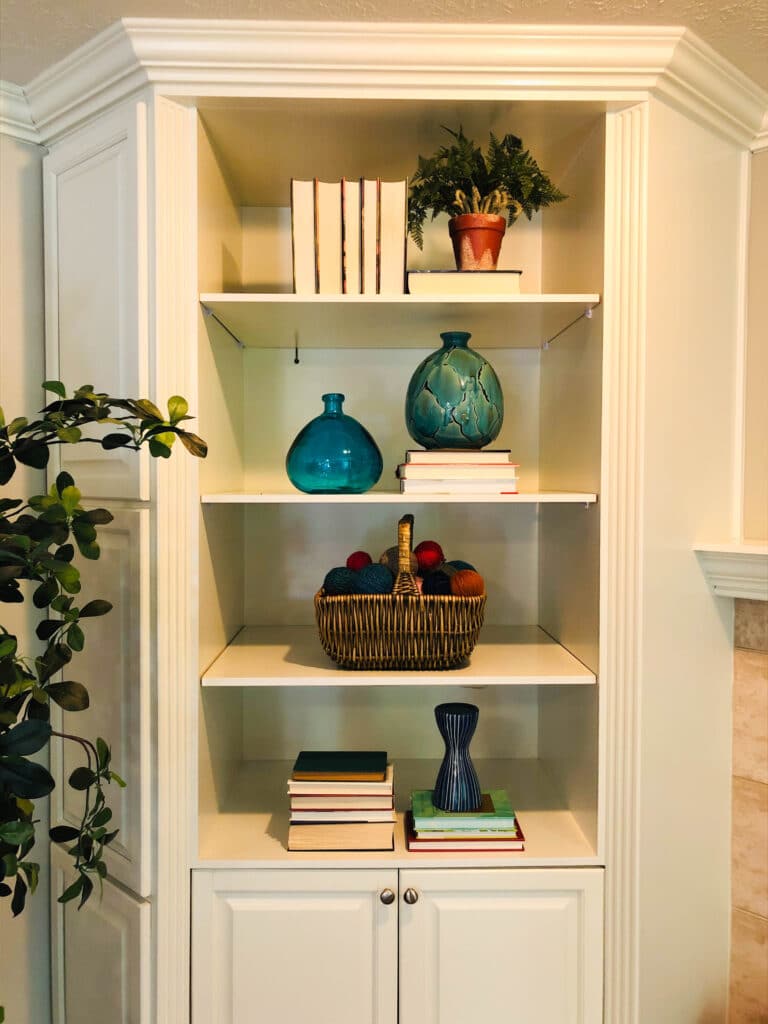 I flipped all of their hardcover books the opposite direction to neutralize the shelves. (Keep book titles of a political or religious nature tucked away.) Or, you can use my book cover trick with wallpaper or other specialty paper.
Paul and Deb were amazing clients. They understood the value of staging a home for sale and reaped the benefit. The house sold in a couple of days!
DIY Staging
It is absolutely possible for you to do this.  It can be hard, but it is possible for a homeowner to step back and objectively evaluate what needs to be done to stage their home for sale.  Remember: No Emotion! Staging is not just decorating but rather consists of investment decisions. If you fall into this category, here is a FREE Staging Cheat Sheet.  It will give you some important things to do as you prepare your home for sale.
If this list seems overwhelming or you aren't quite sure where to start, then an Occupied Staging Consultation is for you! As a professional home stager, my expertise is partnering with realtors and homeowners like you, offering home staging consultation and preparation in order to obtain more listings, market the listings better, sell the homes faster, and for more money.
You better warm up your vocal pipes! With the right staging for your occupied home, you will be singing all the way to the bank!
Cheers! ~Missy
*Sonata Home Design offers occupied staging consultation and staging services. Please see our home staging page for more information.
** This post contains affiliate links.