Ideas for How to Wear Monogrammed Clothing with Style
Hey there, fashionistas! Today, we're diving into the wonderful world of monogrammed clothing with ideas for how you can wear it with style. Monogrammed pieces add a personal touch to your wardrobe, making a statement that is uniquely you.
Whether it's jewelry, bags, sneakers, or shirts, here are some fabulous ideas on how to embrace monogrammed clothing in your everyday outfits. Let's jump right in!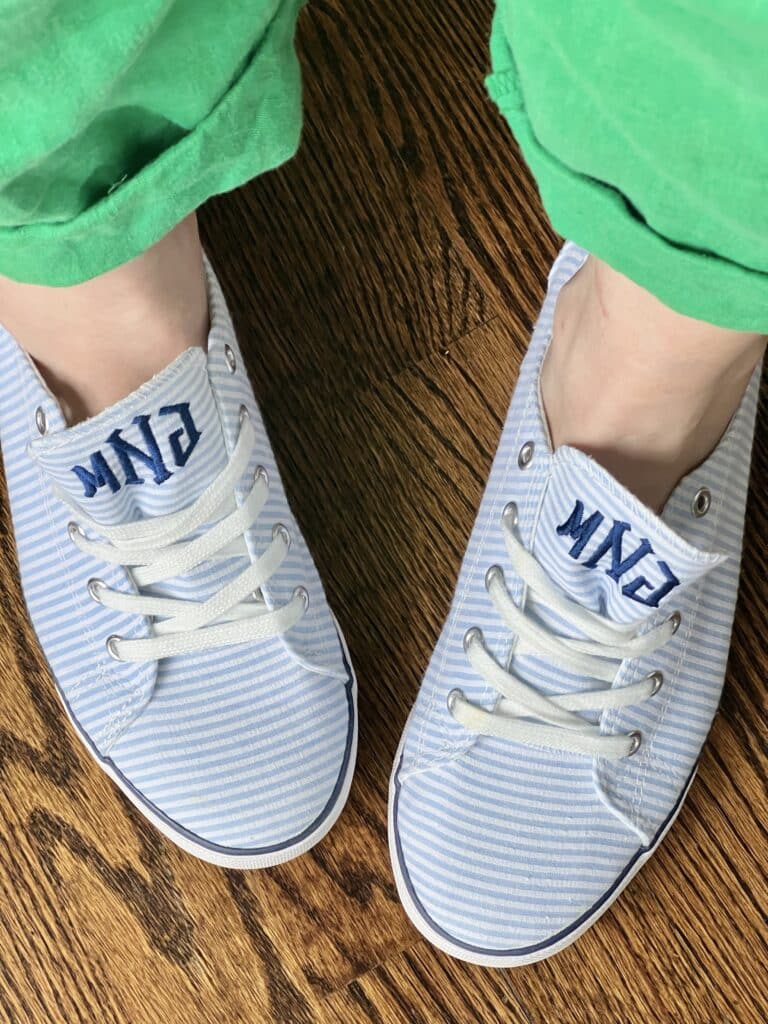 This blog contains affiliate links. This means a small commission is earned if you make a purchase by using this link. The price you pay will be the same whether you use the affiliate link or go directly to the vendor's website using a non-affiliate link.
Monograms have been around for a long time, dating all the way back to the ancient Greeks. However, I think it was the famed designer, Gabrielle Chanel (aka Coco!) who put monogramming on the map with her famous double "C" trademark logo.
The monogrammed apparel category has strong roots as a Southern tradition. But is easily translated for us Midwesterners as well!
Monograms are often found on towels, pillowcases, and other linens.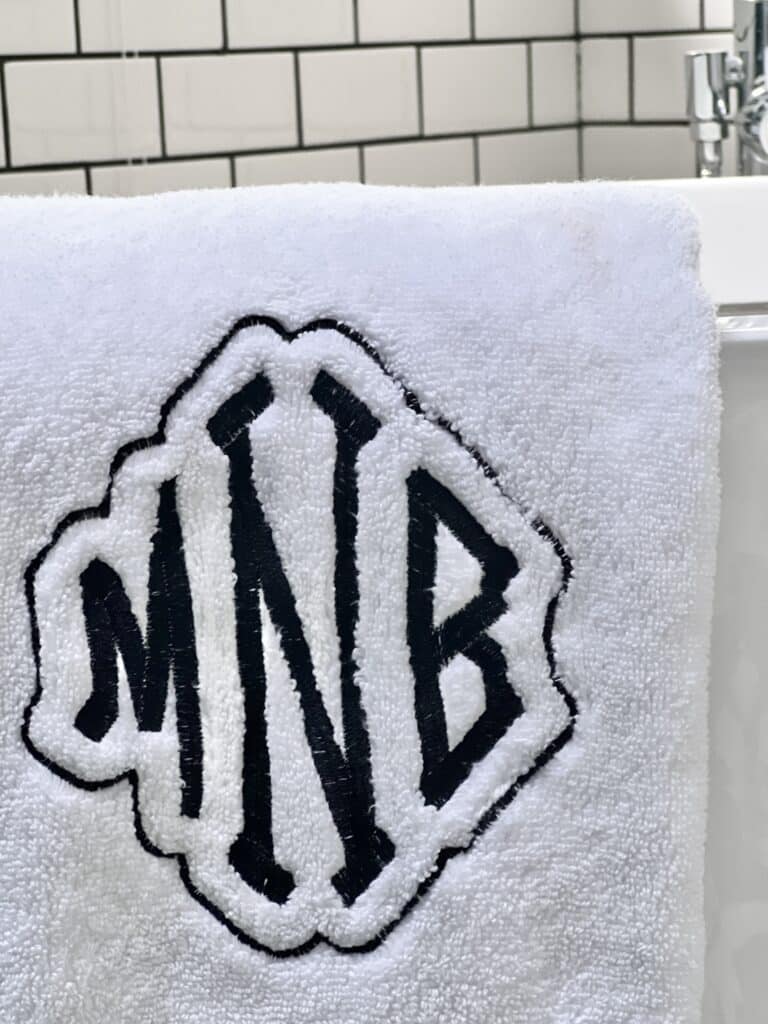 But clothing and accessories are prime opportunities for monograms.
Monogram clothing is a great way to celebrate a special occasion, give the perfect gift, or celebrate the person behind the letters…YOU!
Often used for baby clothes, classic children's clothing, or a men's dress shirt, there is a new movement toward adding monograms in unexpected places.
How do you arrange a 3-letter monogram?
When arranging a three-letter monogram, there are several options to consider.
The traditional approach is to place the initial of the person's last name in the center, flanked by the initials of their first and middle names. This creates a balanced and symmetrical design.
2. Another option is to arrange the initials in a straight line, with the initial of the first name on the left, the initial of the middle name in the center, and the initial of the last name on the right.
3. Alternatively, you can experiment with different font styles and sizes to add a unique touch to your monogram arrangement.
Ultimately, the choice is yours, and it's all about creating a monogram that reflects your personal style and preferences.
Monogrammed Jewelry
Let's start with the bling! Monogrammed jewelry is a fantastic way to add a touch of personalization to your ensemble.
Opt for a delicate monogram bracelet that rests at the narrowest part of your wrist.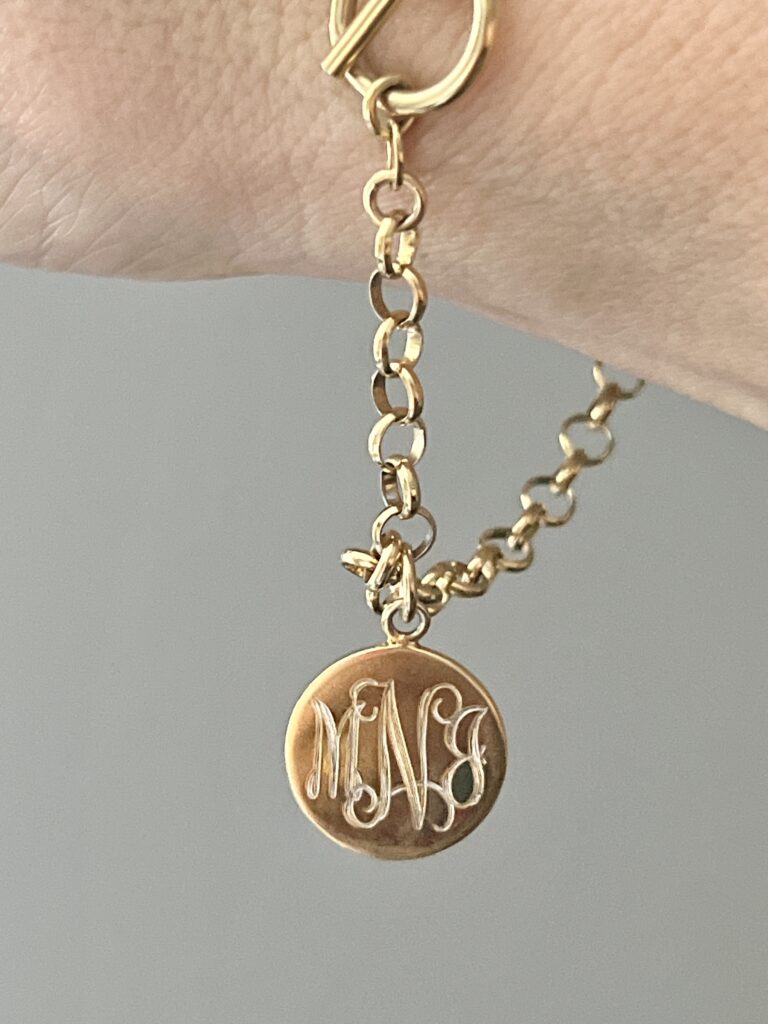 Or go for a bold monogrammed piece that catches everyone's attention.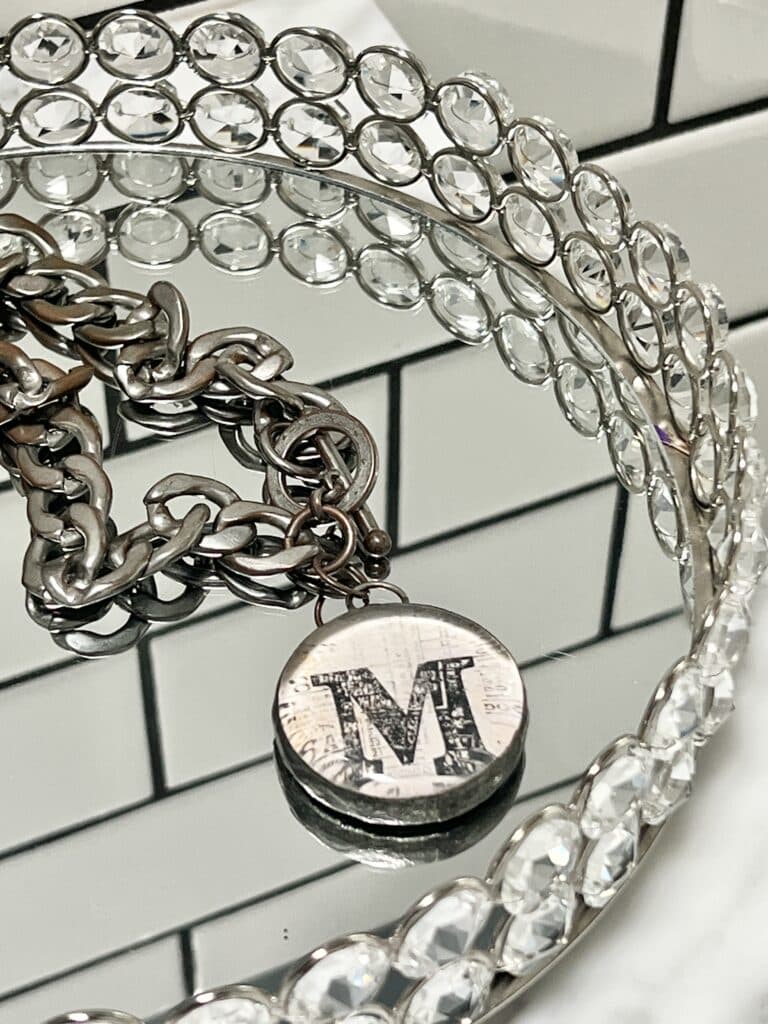 You can even mix and match different monogrammed pieces for an eclectic and personalized look. From bracelets to earrings, let your monogrammed jewelry be the perfect finishing touch to elevate any outfit.
Monogrammed Bags and Totes
Now, let's talk about bags and totes. A monogrammed bag is not only a practical accessory but also a stylish one.
Consider a monogrammed tote for your daily errands or a chic monogrammed clutch for a night out.
The key is to choose a bag with a tasteful monogram design that complements your personal style. Pair it with a monochromatic outfit to let the monogram shine or mix it with patterns and colors for a playful and trendy look.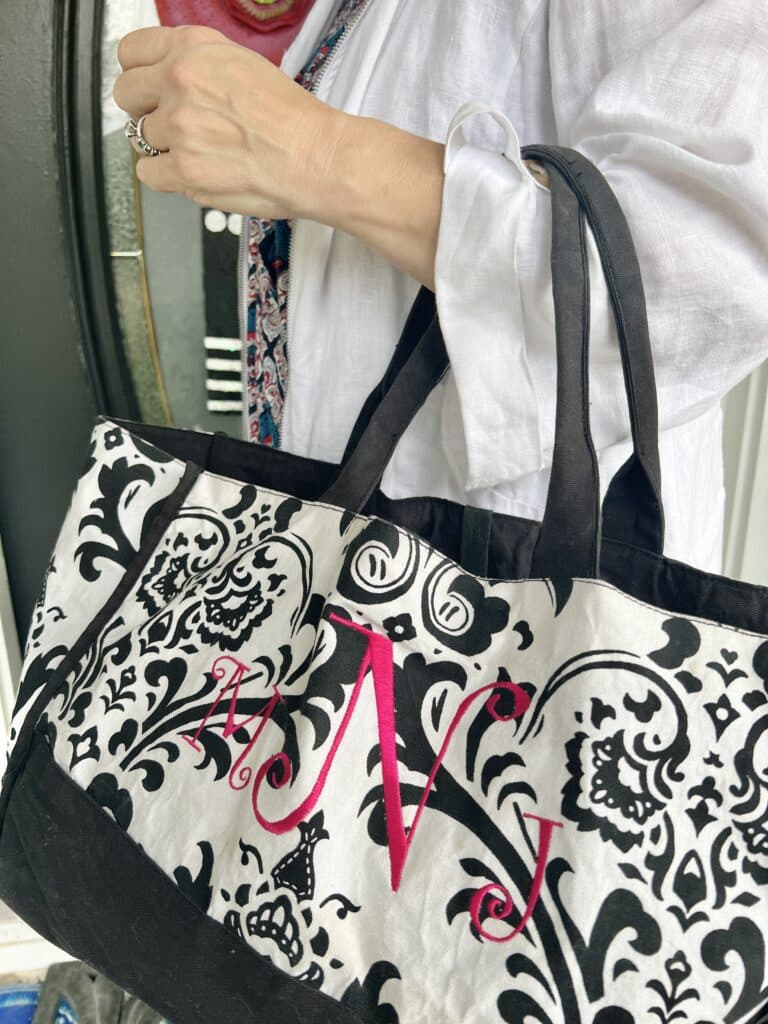 Monogrammed Sneakers
Who said monograms are limited to accessories? Let's bring some flair to our feet with monogrammed sneakers.
These kicks are a fun and fashionable way to showcase your unique style. Take your favorite brand of sneakers and give them a monogrammed lift!
Whether you prefer classic white sneakers with a subtle monogram detail or bold-colored sneakers with a prominent monogram, they'll effortlessly elevate your casual outfits. Pair them with jeans, skirts, or dresses to add a personalized touch to your look while staying comfy and stylish.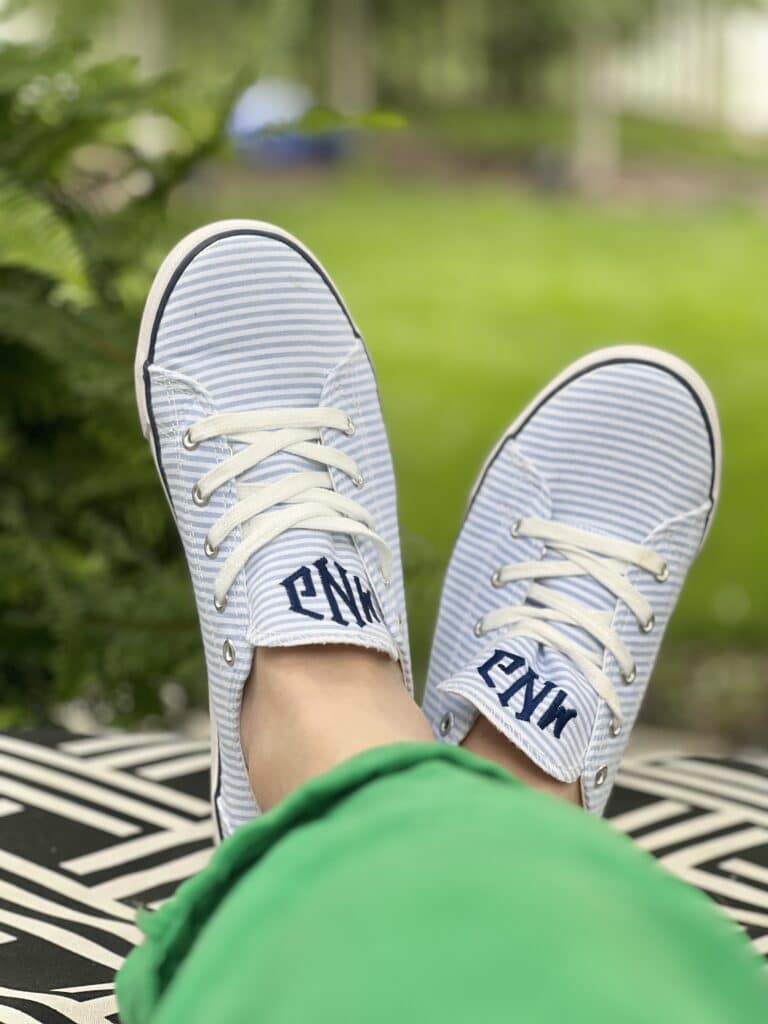 Monogrammed Shirts
We can't talk about monogramming without talking about the shirt monogram, the epitome of personalized fashion. From classic button-downs to cozy sweatshirts, there's a monogrammed shirt for every occasion.
For a preppy look, go for a monogrammed Oxford shirt paired with tailored pants or a skirt.
Embroider the front pocket for a long sleeve custom dress shirt. Or, add a small monogram on your shirt cuffs!
If you're aiming for a laid-back vibe, opt for a monogrammed graphic tee or a cozy sweatshirt to team up with your favorite jeans or leggings. Embrace the versatility of monogrammed shirts to express your style in a uniquely personalized way.
There you have it, fashion followers! We've explored some fabulous ideas for how to wear monogrammed clothing with style. Whether it's through jewelry, bags and totes, sneakers, or shirts, monogrammed pieces offer a personalized touch that adds a special flair to your outfit.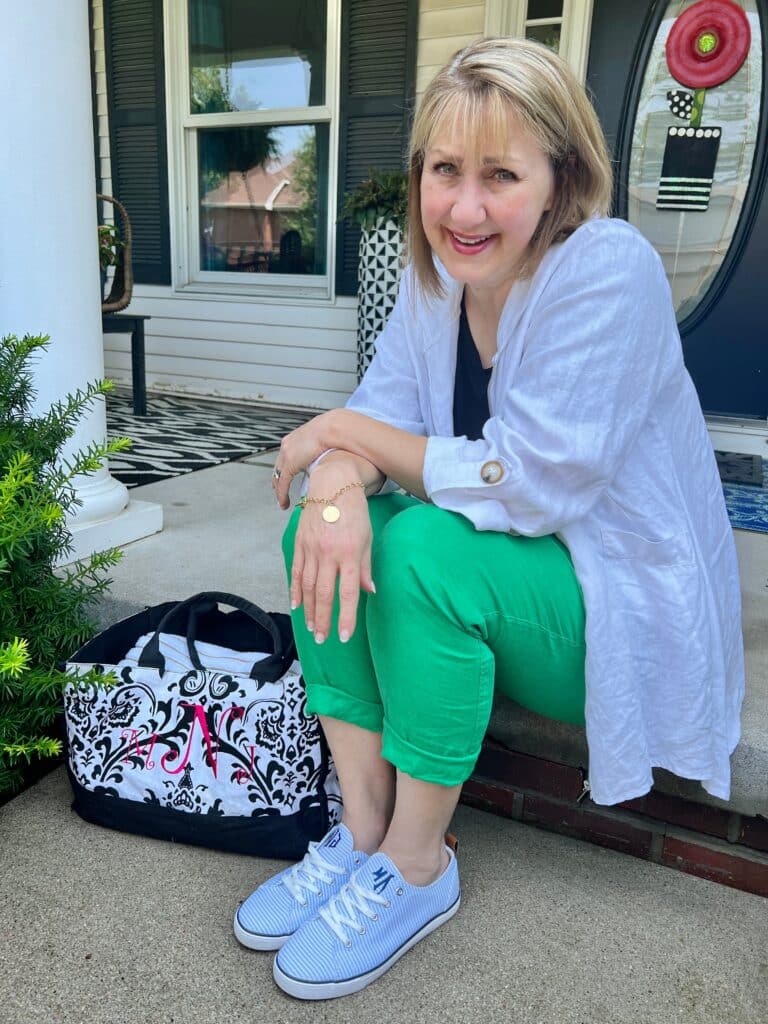 Monogram a single item or fill your entire wardrobe with monogrammed magic! I am hooked on monograms and this girl's closet is ready for more!
Now it's your turn! How do you love to style your monogrammed clothing? Share your ideas and favorite monogrammed pieces in the comments below. Happy styling!
Cheers!

Don't Forget to Pin It!
Pin the image below to your boards on Pinterest (just click the Pin button in the top left corner). You can also follow along with me on Pinterest!