Tips for Incorporating this Quirky Trend into your Home
Walk the halls of any museum and you will come across the typical, classical style BUST.
Yikes! You know…the head and shoulders sculptural representation of a historical figure. (Careful! if you Google the word "bust", you might get some links that you don't necessarily want.)
Mostly male and, often, with very serious faces and empty eyes. At first look, these are not exactly the warm fuzzy that we want in our homes. In fact, some of them kind of give me the CREEPS!
Yet, many are fascinating! I am drawn to their expressions. Sad, mad, glad….they can make me look twice and prompt me, on occasion, to offer a greeting! No judgment, please!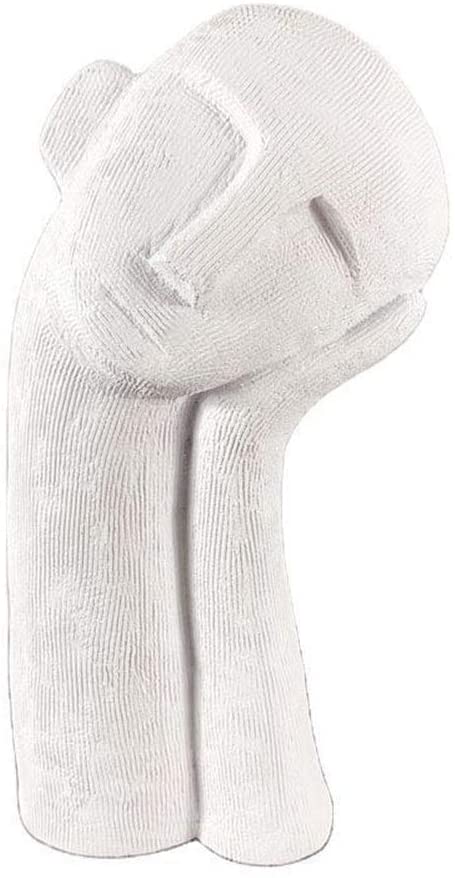 Let's think about this! How in the name of Michelangelo can we incorporate this into our decor? This sculptural medium has become a quirky trend that is finding its way into the average home.
No longer only for grand mansions and estates! Whether traditional, modern or just plain kooky, here are some tips on how you can incorporate some "busty" personality into your home.
Bring the Outside In
Outdoor sculptures have long enjoyed great popularity. More and more we are seeing more than terra cotta bunnies and metal frogs. The human head, often filled with plants or flowers, makes for a charming indoor guest on a coffee table or entry console.
This is my favorite outdoor bust. I call him "George" (aka George Clooney!) He has a sort of a strong-jawed, Roman soldier look that is softened by the draping plants that cascade from the back of his head. This photo was taken last August when we both were experiencing "Pandemic Hair" and needed a trim. Even George could have a bad hair day!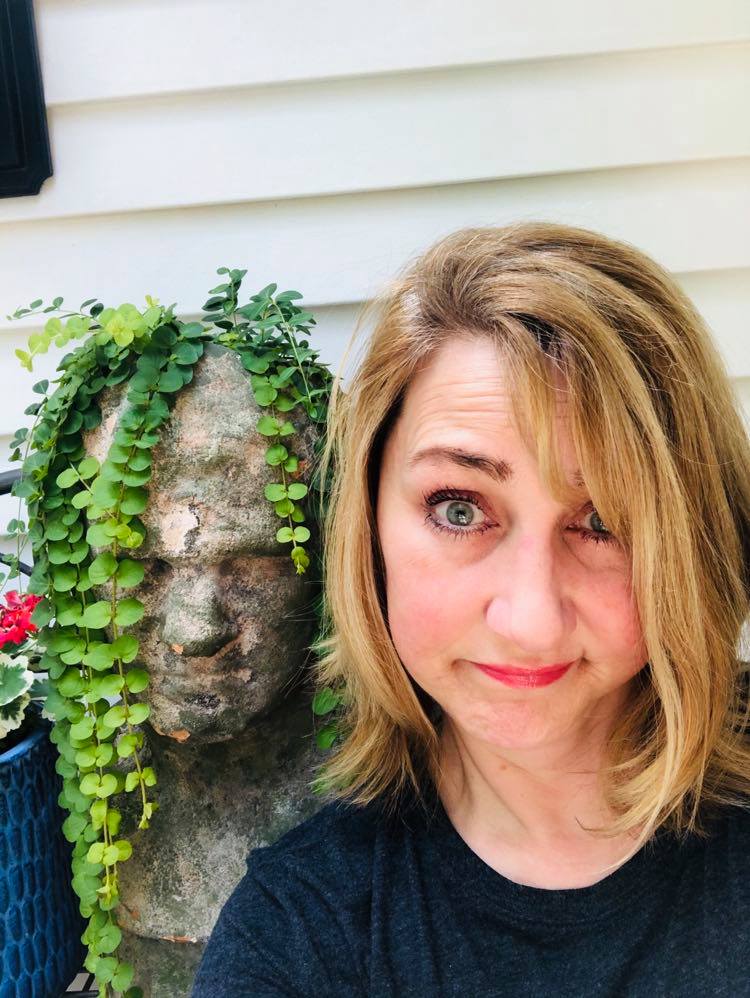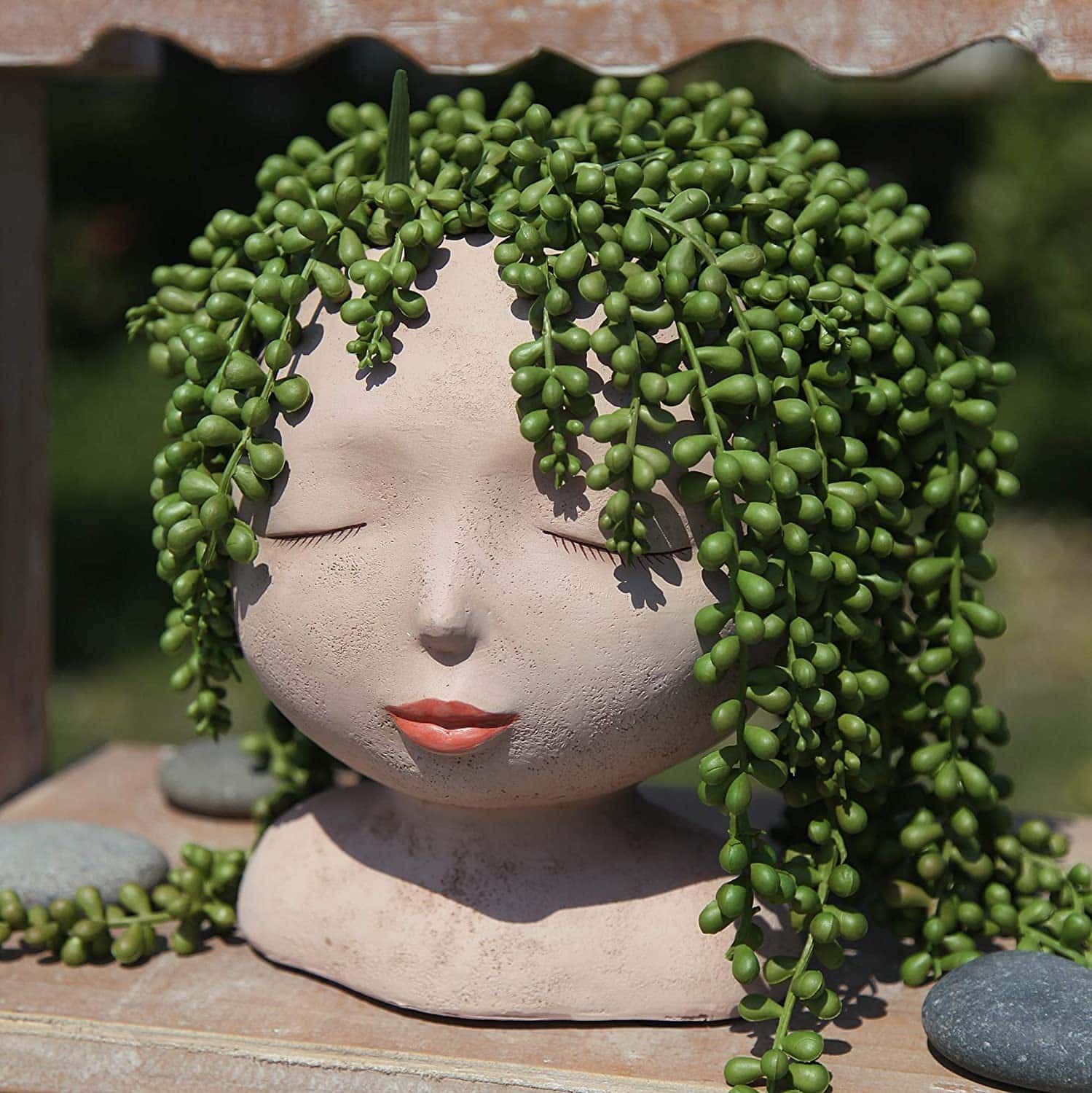 Cherchez la femme
"Look for the woman" is the French translation. (Usually used when a man changes his behavior to impress a woman.)
There are increasingly more female head sculptures that are readily available. Place her in the office as a reminder of who is in charge! Or, give her a place of honor on a vanity table or jewelry station. Better yet, dress her neck in a set of classic pearls, a funky choker or a snazzy scarf so she can inspire your accessory choices. She has a sense of humor and so should you!
While I am already the mother of two daughters, I particularly enjoyed adding this glass, ghostlike female to the household. I call her "Madam" because of her graceful yet purposeful gaze. I'm thinking I should start calling her "Madame Vice President!"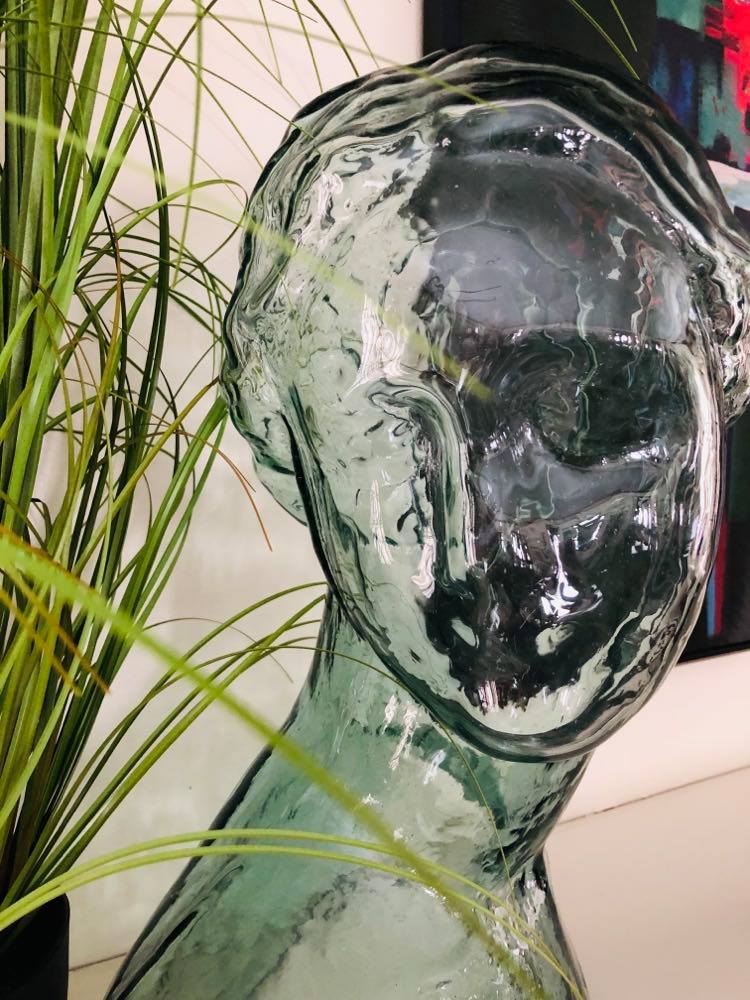 Minimalist meets Maximalist
Choose a bust with minimalist features for a dramatic focal point in either a traditional or modern décor. Let the bust stand alone for a statement that says "Look at me and ONLY me!
If the lines of the minimalist look are too stark for you, warm up the vignette by tucking the sculpture amidst the green foliage of plants. Place beside your coffee pot as a stoic barista for your morning brew. Place in the entryway beside the guest towels and hand sanitizer. Add layers of artwork, foliage, books, and other accessories to create a thoughtful, traveled, curated look.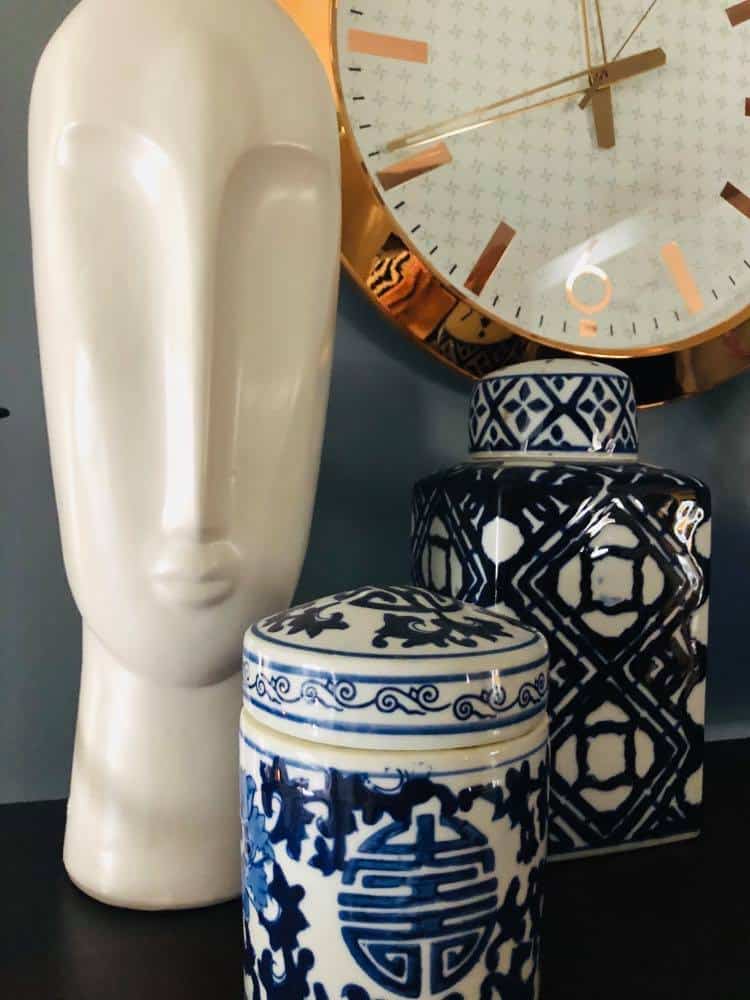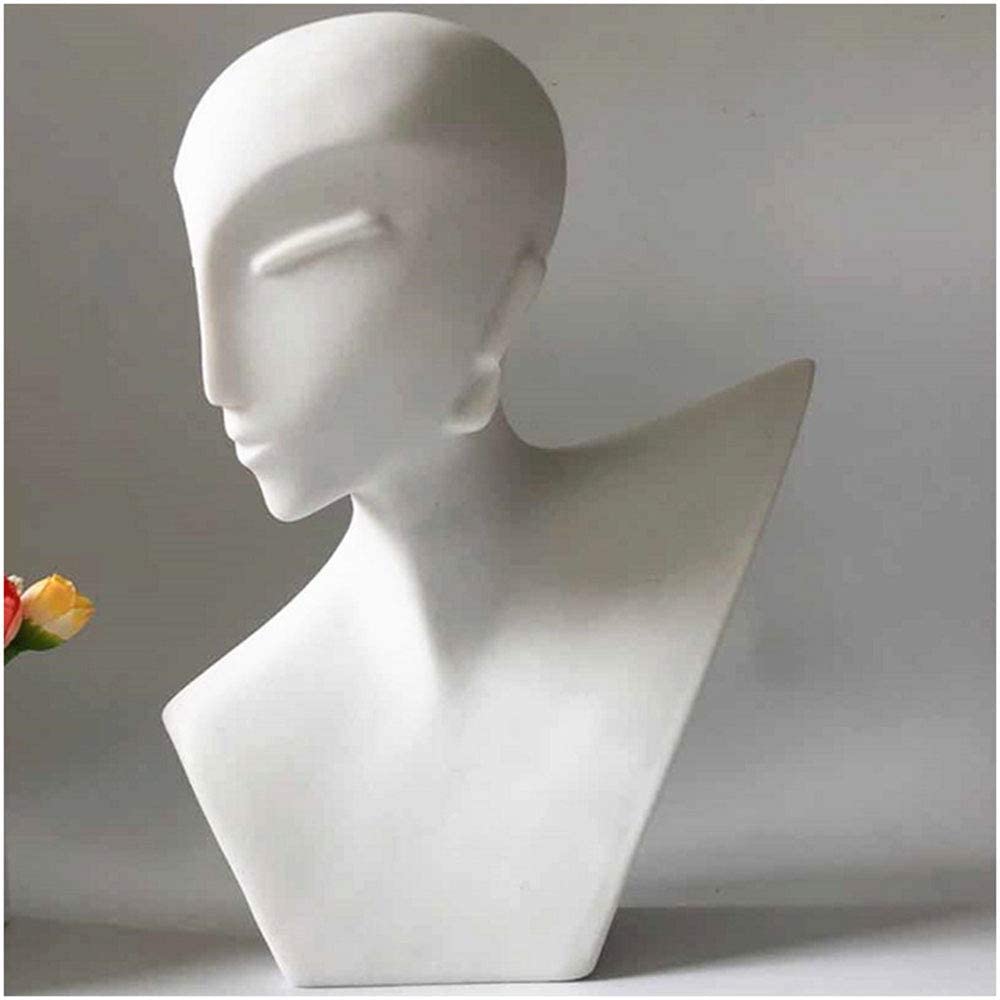 Family Gathering
There is no rule saying that a head bust needs to stand alone! Create a friendship between two or more busts. If you vary the height and scale of the gathered pieces, the eye will have lots of "interesting" to take in.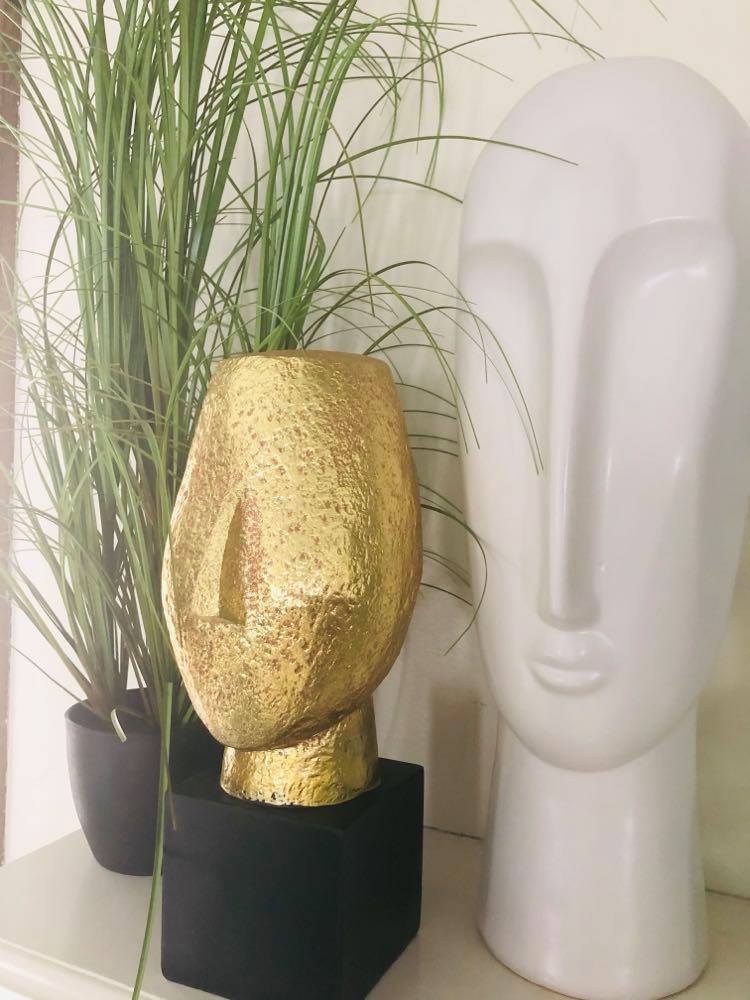 You could gather a couple of busts together on a shelf. Add some greenery and VOILA!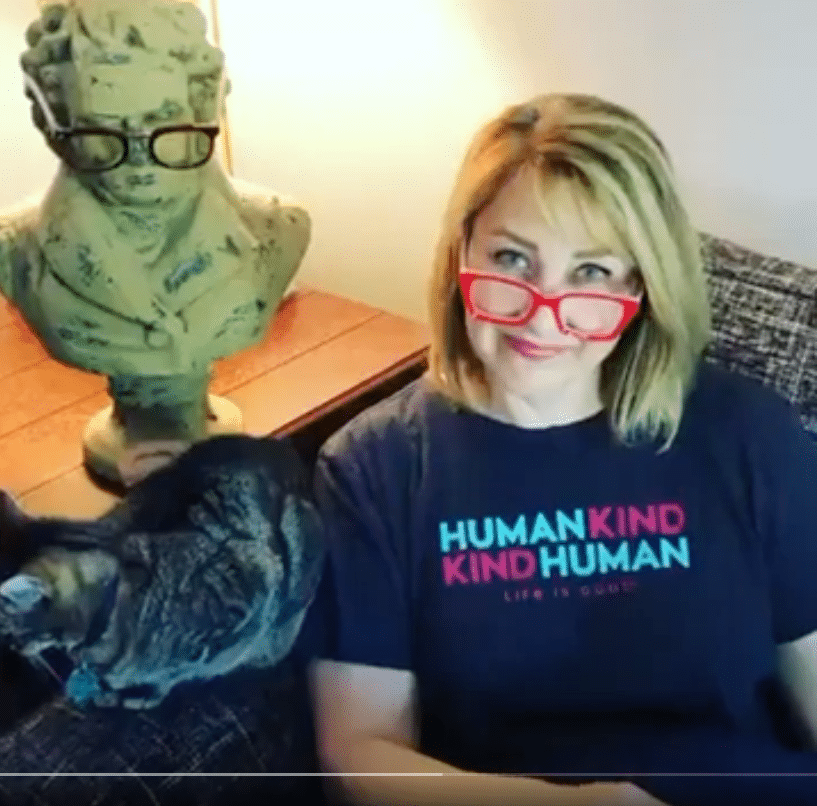 Regardless of where you display your sculpture, keep some basic tenants of decorating in mind.
Display in threes: The bust is one. A plant could be two. A stack of books could be three.
Vary the height: Bust is tall. Plant are medium. Stack of books is short.
Add texture to soften the hard surface: Plants are my favorite go-to as they give green, living texture that is a fabulous back-drop for a bust.
Let's be honest. This is a trend that may be short-lived. However, bust sculptures have found a relatively inexpensive market with average homeowners. (If you want to go high-level museum quality….more power to you!) Use these easy tips to add this fun trend to your home. And don't be surprised if you find yourself in conversation with it!
Cheers!
Missy 

Make sure to follow me on Instagram and Facebook.